These healthy meal prep ideas will make your life easier for the rest of the week! With recipes for breakfast, lunch, dinner, and snacks, you'll always have healthy options at your fingertips.
If the term "meal prep" has you picturing yourself eating the same meal over and over again, you'll be happy to know it doesn't have to be that way.
Instead of prepping a big batch of a recipe, you can prep individual ingredients, like a cooked protein, chopped veggies, whole grains, and a delicious sauce or two, to help add variety to your week. You'll quickly be able to assemble delicious meals in just minutes, thanks to a little prep work ahead of time. The video below will walk you through this process and meal ideas.
I've also included some healthy desserts and snacks, so your sweet tooth will be covered. For even more recipes, be sure to browse the options below!
Healthy Meal Prep Recipes: Video Tutorial
Follow along with my healthy meal prep video below, where I walk you through 10 easy meal prep ideas step-by-step.
You can download the shopping list & meal ideas for this video, if you want to skip some of the planning process.
Breakfast Recipes
If you're looking for healthy breakfast ideas, these options are easy to make in advance. You can reheat them for a fast morning, or choose a no-cook option if you want something you can enjoy straight from the fridge.
Sweet Potato Toast. This is one of the easiest recipes to meal prep (simply slice & cook in advance). You can pop it in the toaster, just like you would a slice of bread! Sweet potatoes won't become crispy like real toast, but these slices are warm, comforting, and filling when you add your favorite toppings.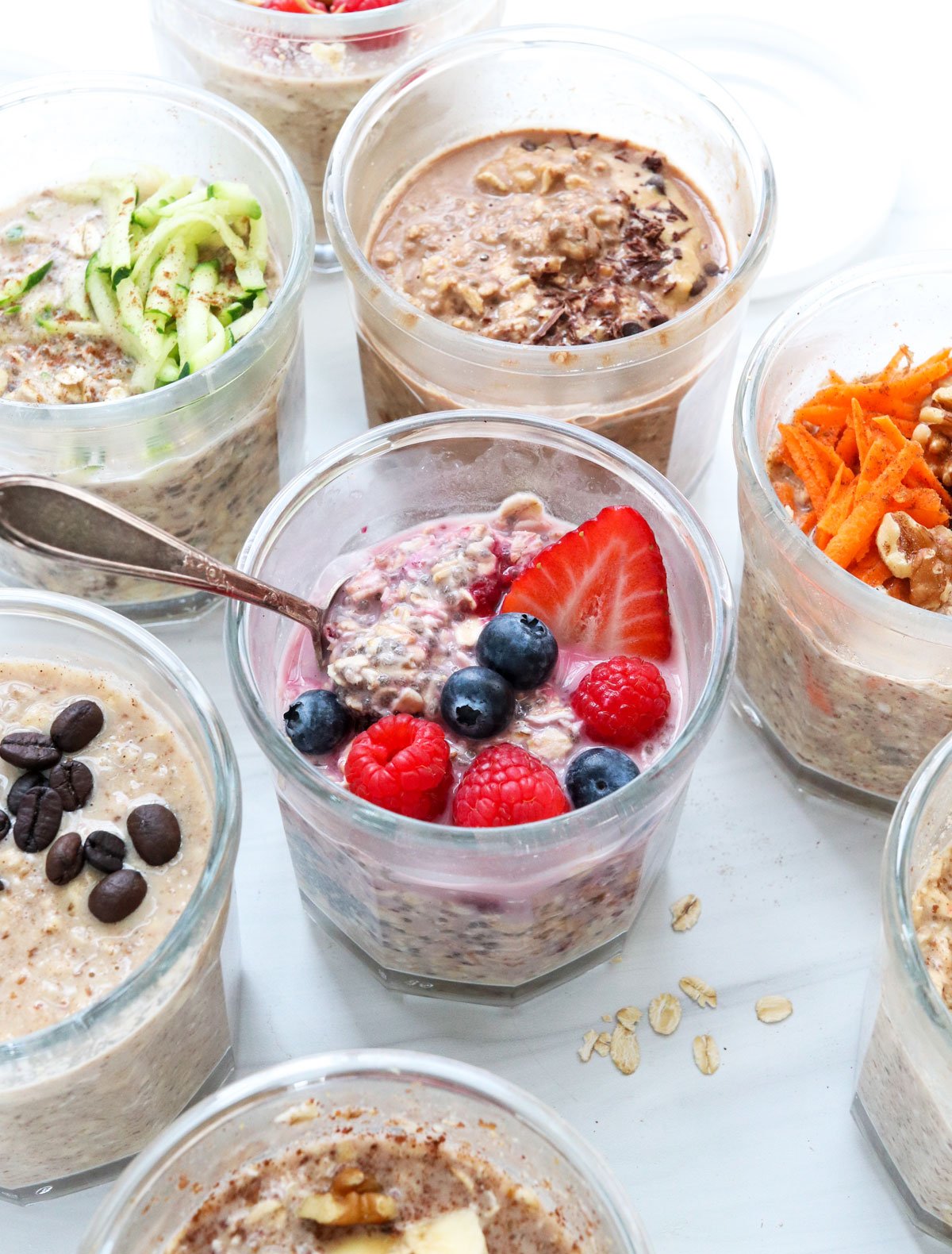 Overnight Oats. These jars are quick to assemble, and you can make multiple flavors at once! They will last up to 5 days in the fridge, so you can have breakfast handled during a busy week.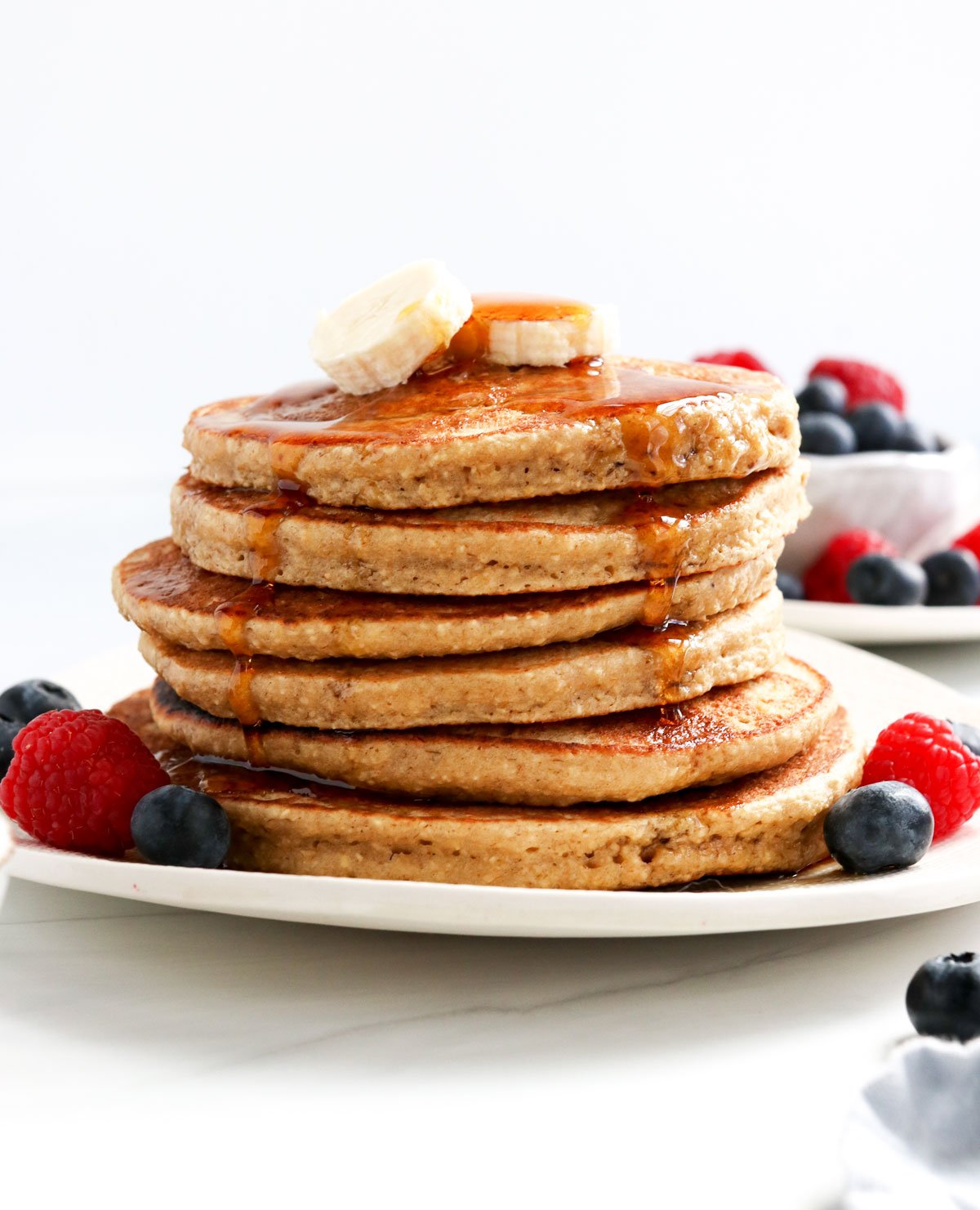 Banana Oatmeal Pancakes. Baking these pancakes in your oven is a game-changer for meal prep. They cook all at once, without any added oil, and then you can pop them in your toaster to reheat! Top them with peanut butter and sliced banana for an easy breakfast option. (This is great for kids before school, too!)
Buckwheat Waffles. When you prepare these in a classic waffle iron (not as thick as a Belgian waffle iron) they are easy to freeze and pop in the toaster for a fast morning. They are naturally gluten-free, too!
Baked Banana Oatmeal. If you love oatmeal, but don't want to assemble it from scratch every morning, this is an easy option. The slices are easy to reheat for a quick morning!
Chia Pudding. If you want to change up your breakfast routine, try chia pudding for a change. It's similar to overnight oats, but made with filling chia seeds instead. There are 6 flavors to try!
Breakfast Bowls. When you take the time to prep a few ingredients in advance, you can assemble these savory and protein-packed breakfast bowls in just minutes. Feel free to use up any other veggies you have on hand, too.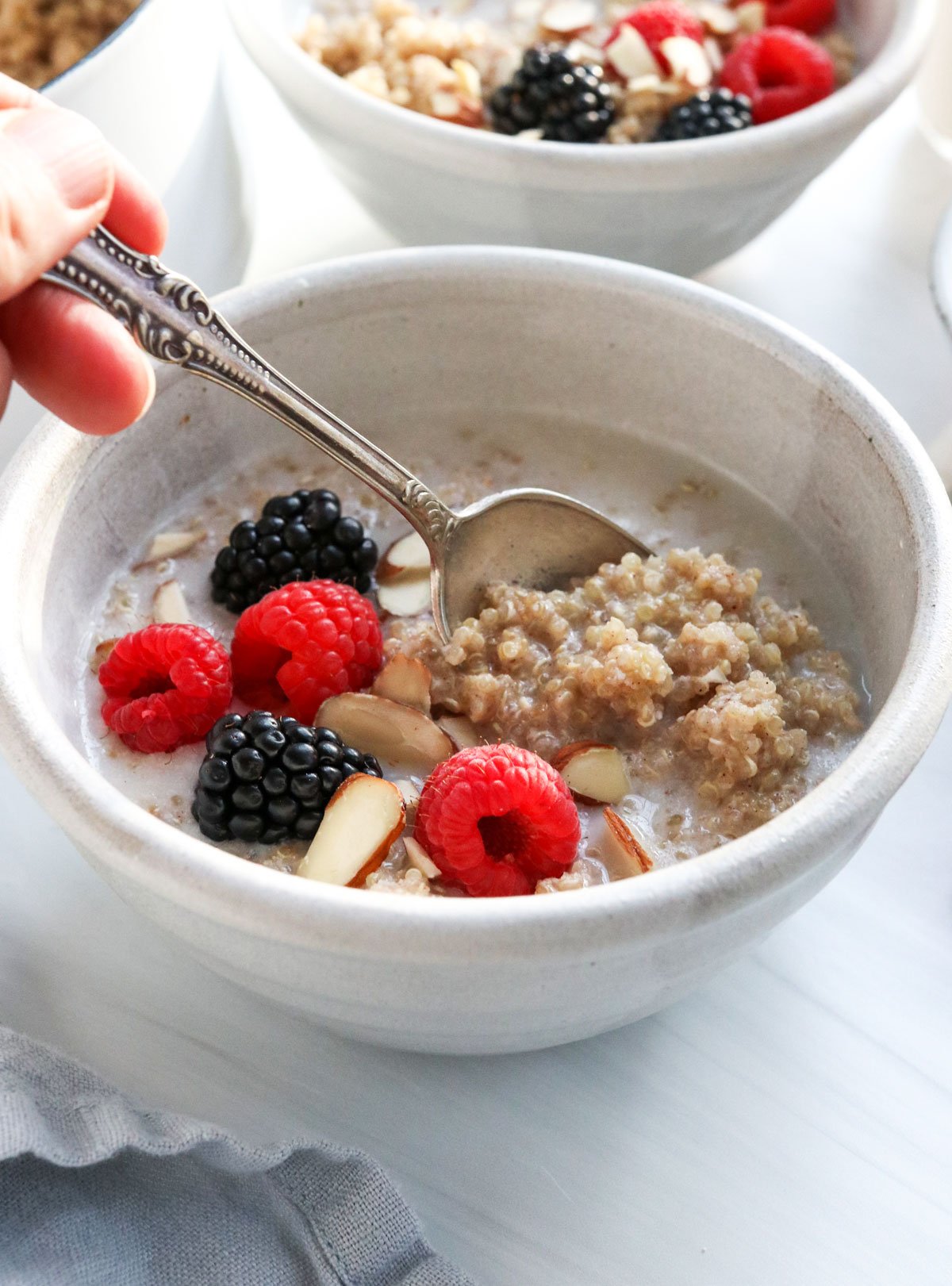 Quinoa Porridge. Cook a big batch of creamy quinoa with this method, then serve it as a cold cereal with your favorite toppings. It's similar to oatmeal, but with more protein in each bite.
Egg Bites. If you love the egg bites from Starbucks, you'll love this easy homemade version. They reheat quickly for a fast morning on the go, and are cooked in a regular muffin pan. You won't believe how similar the texture is to the sous-vide version!
Homemade Granola. You can pick from peanut butter granola, chocolate granola, or a healthy granola made without oil. Serve with yogurt or milk, and sliced banana or berries on top.
Muesli. This no-cook breakfast can be mixed together in just 5 minutes. It's cheaper than buying a mix from the store, and makes a hearty breakfast that is shelf-stable, in case your fridge is crowded.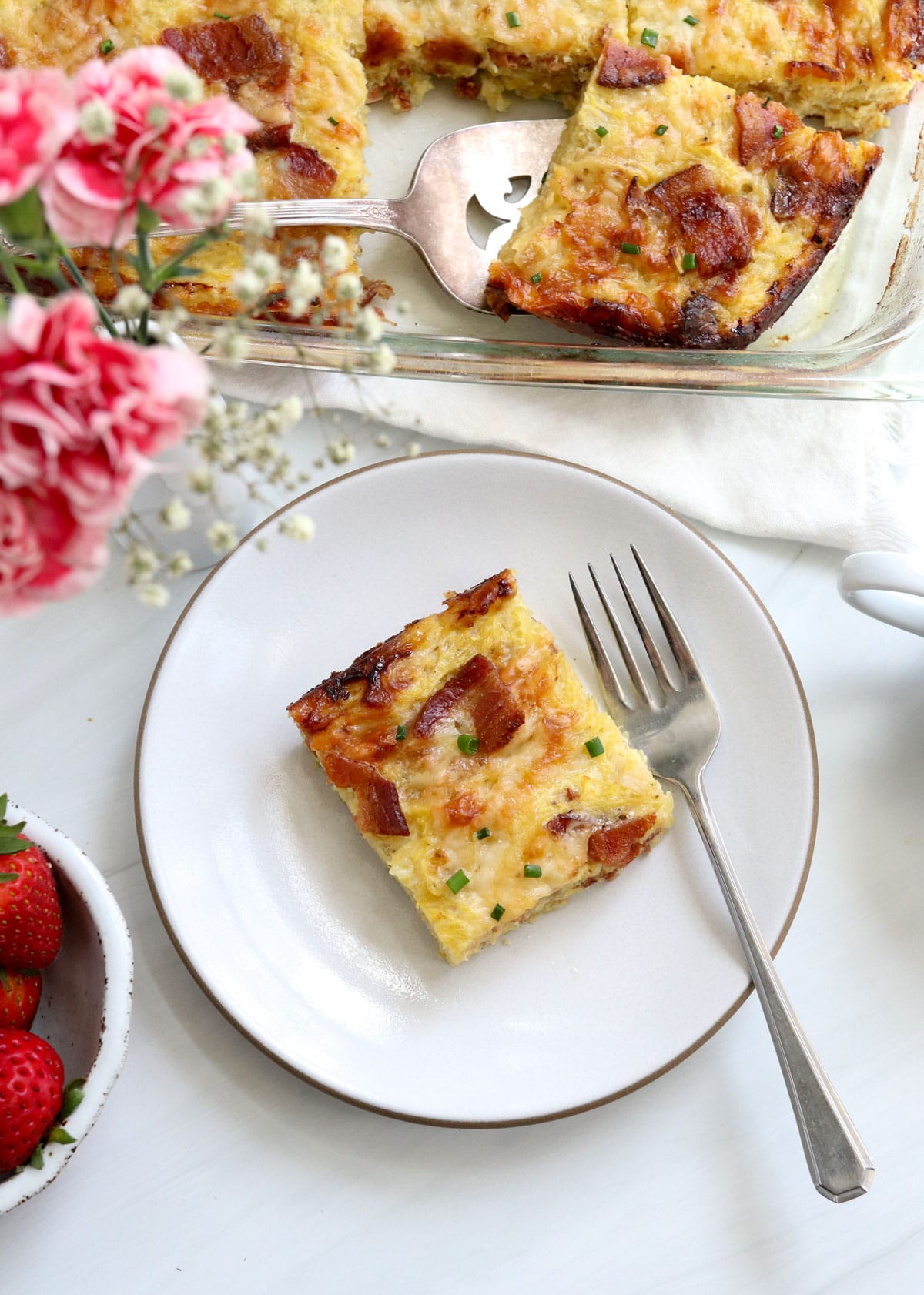 Healthy Breakfast Casserole. This recipe replaces the bread and heavy cream found in traditional recipes with 3 pounds of veggies, but it's still just as comforting and delicious. The slices are easy to reheat for a fast morning!
Almond Flour Banana Bread. This gluten-free quick bread tastes like the real thing, but is made with protein-rich almond flour. It makes an easy breakfast or snack on the go!
Meal Prep Bowls & Salads
Bowls are an easy lunch or dinner option, especially if you have individual ingredients already prepped! (Check out the "Meal Prep Basics" section later in this post for ideas.) You can assemble your own bowls using what you have on hand, or try one of the recipes below for something quick & easy to grab from the fridge.
Best Quinoa Salad. This quinoa salad is made with fresh veggies and herbs, so it's packed with flavor. It's an easy lunch that that keeps well for days.
Looking for another variation? This Black Bean & Quinoa Salad features Southwest flavors and keeps well in the fridge for an easy packed lunch.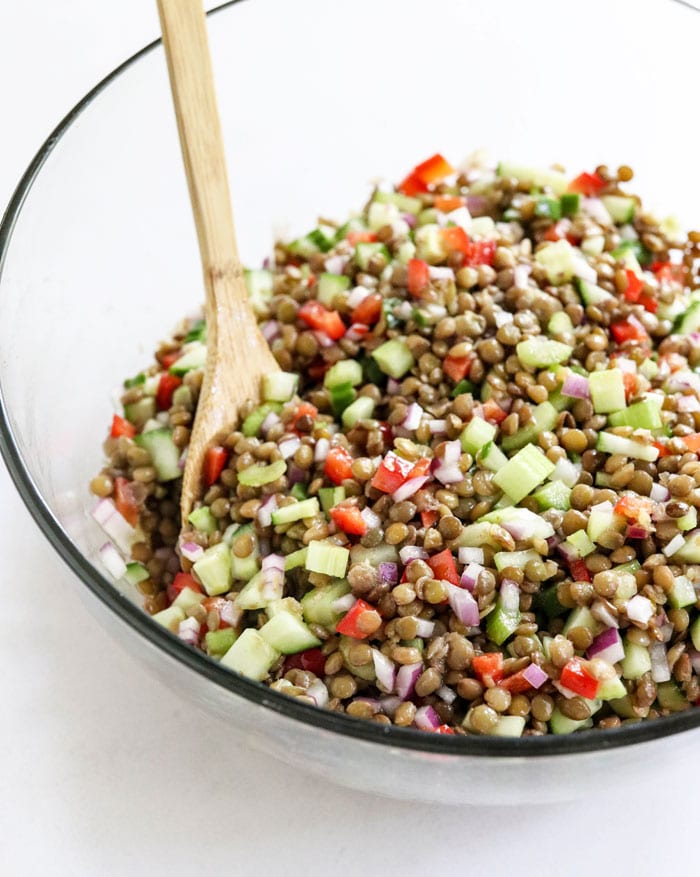 Lentil Salad. This recipe will feed an army, or one to two people for several days in a row. It's a great way to sneak more fiber into your life!
Cowboy Caviar. You can serve this recipe with tortilla chips for an easy, fiber-filled snack, or enjoy it straight-up as a filling salad.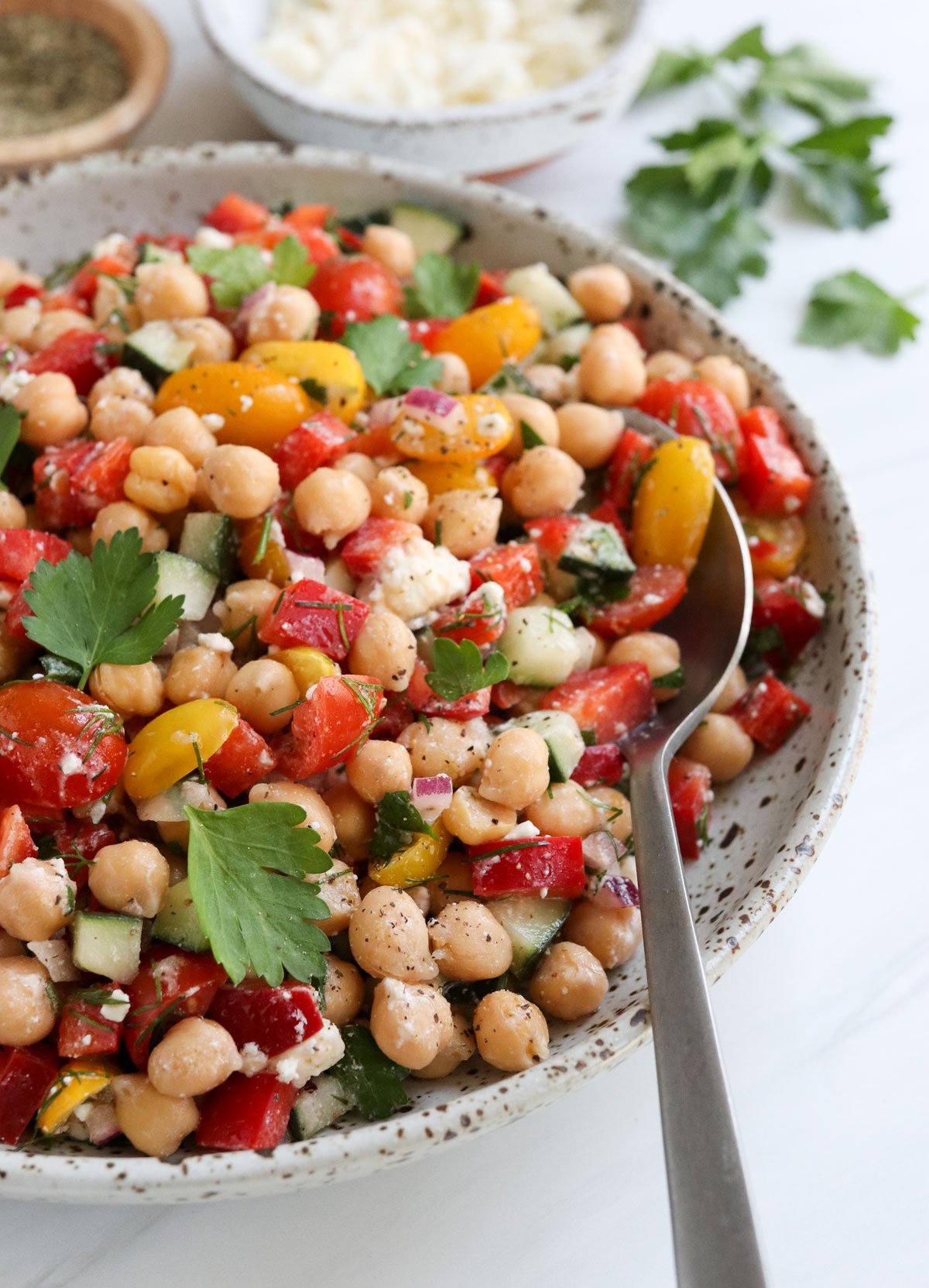 Mediterranean Chickpea Salad. This salad is loaded with flavor, and you can change up the toppings as you like. Try it with baked chicken or creamy feta cheese on top, or leave off the cheese for a vegan option.
Mason Jar Salads. Choose from a Mediterranean flavor or a Fall-inspired combination. Packing your salads in a jar this way prevents them from getting soggy, and when you pour them into a serving bowl, the dressing will coat the ingredients as it pours out.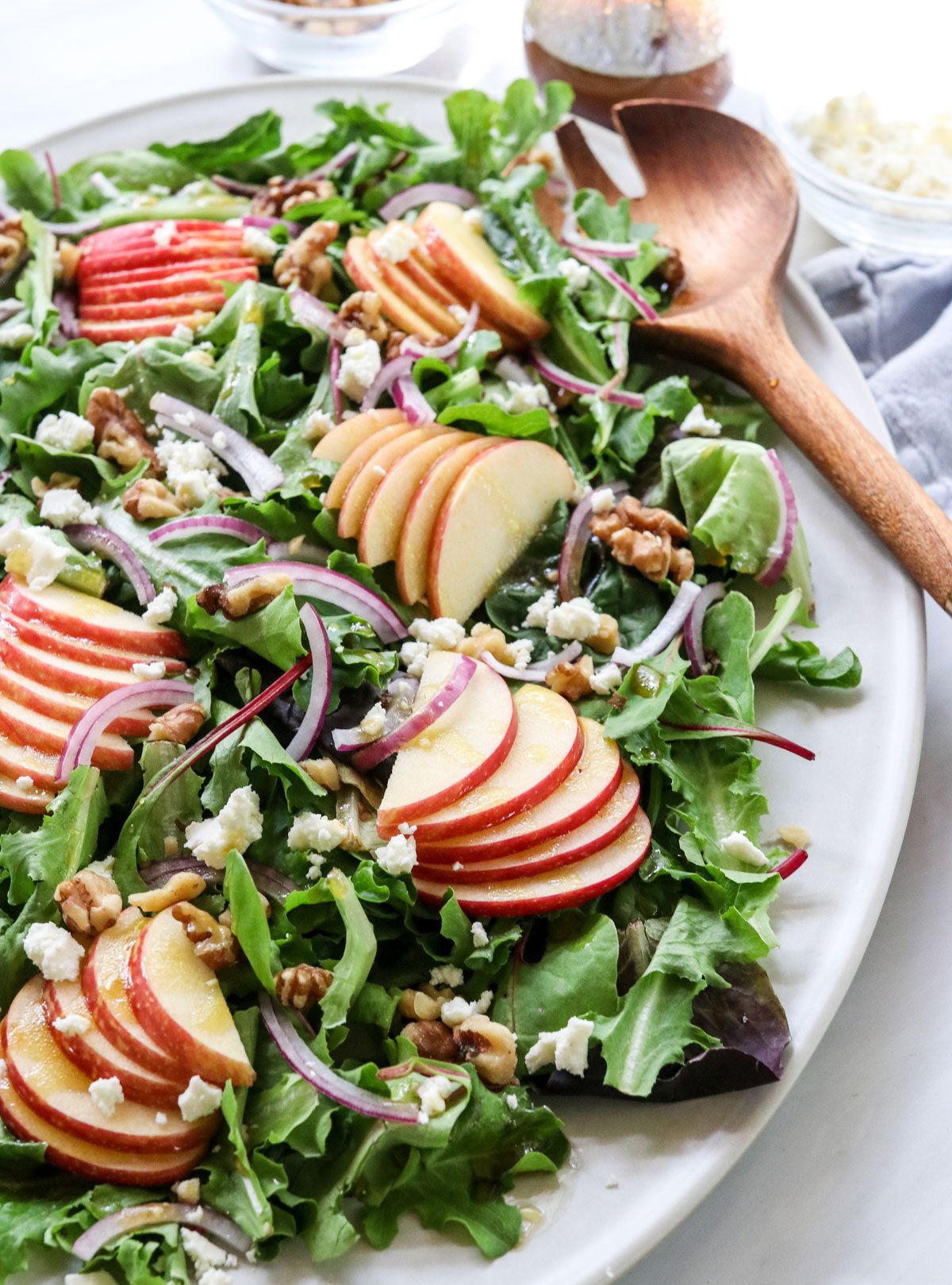 Apple Walnut Salad. This salad is so delicious, you might want to eat it every day! Top it with your favorite protein to round-out the meal.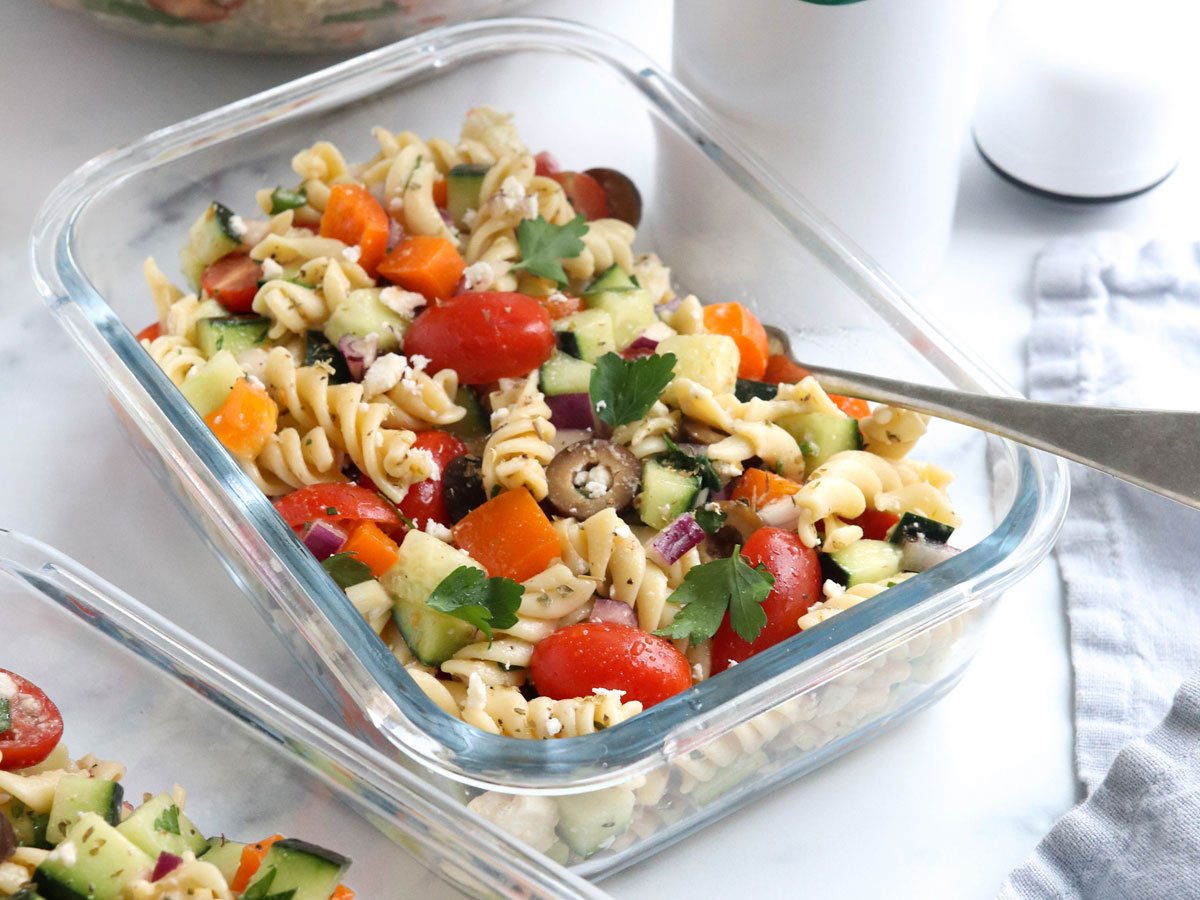 Greek Pasta Salad. Since pasta salad is served chilled already, it makes an easy meal prep lunch option! Store it in individual containers for an easy packed meal.
Quinoa Bowls with Creamy Pesto Dressing. The dressing recipe for these bowls will make you crave your next meal! Once you prep the quinoa and dressing, they are easy to assemble for a quick meal.
Soups & Stews
Soups and stews tend to freeze well, so you can make a big batch and store them for months in your freezer. To thaw, transfer them to your fridge for up to 48 hours before you plan on reheating them again. (Or reheat straight from frozen in a pot on the stove top and stir often.)
Vegetarian Chili. This hearty recipe relies on canned beans for convenience, so it's easy to make! Serve it with crunchy tortilla chips or cornbread, for a comforting meal.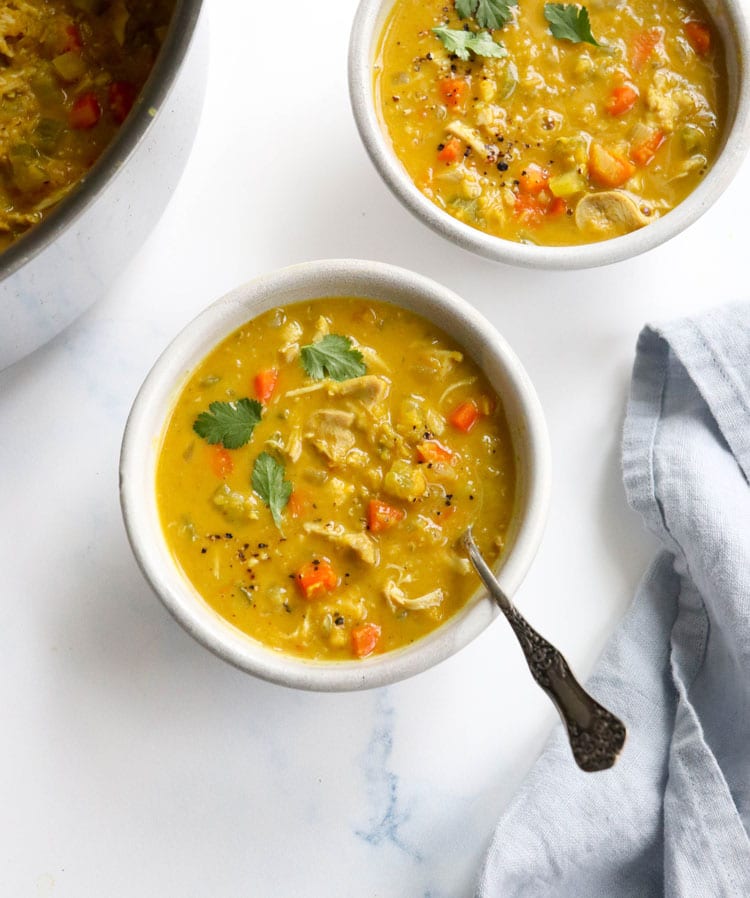 Curry Chicken Soup. This is one of the most popular soup recipes on my website! The combination of creamy curry flavors, paired with chicken and lentils, makes it filling, comforting, and delicious. You may want to make a double-batch of this one! Leftovers can be served over cooked rice or quinoa, for another variation.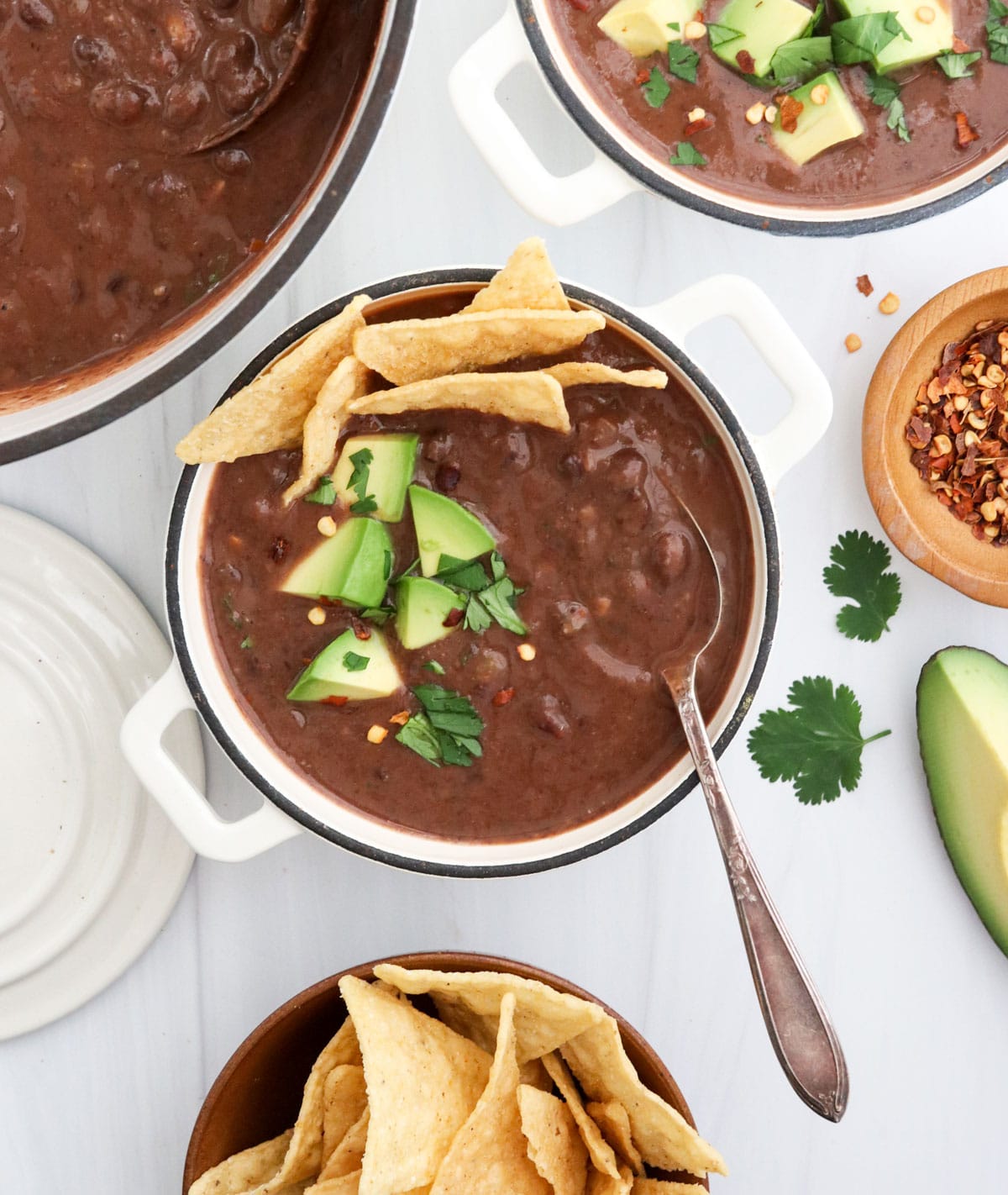 Black Bean Soup. If you miss the black bean soup from Panera, this one tastes even better and is easy to make at home. The flavor is so impressive, I like to make it for dinner guests!
Healthy Broccoli Cheddar Soup. This recipe has a sneaky ingredient that adds creaminess, but also makes it more filling, with extra fiber and protein in each bite. When you are looking for healthy comfort food, this is a delicious option!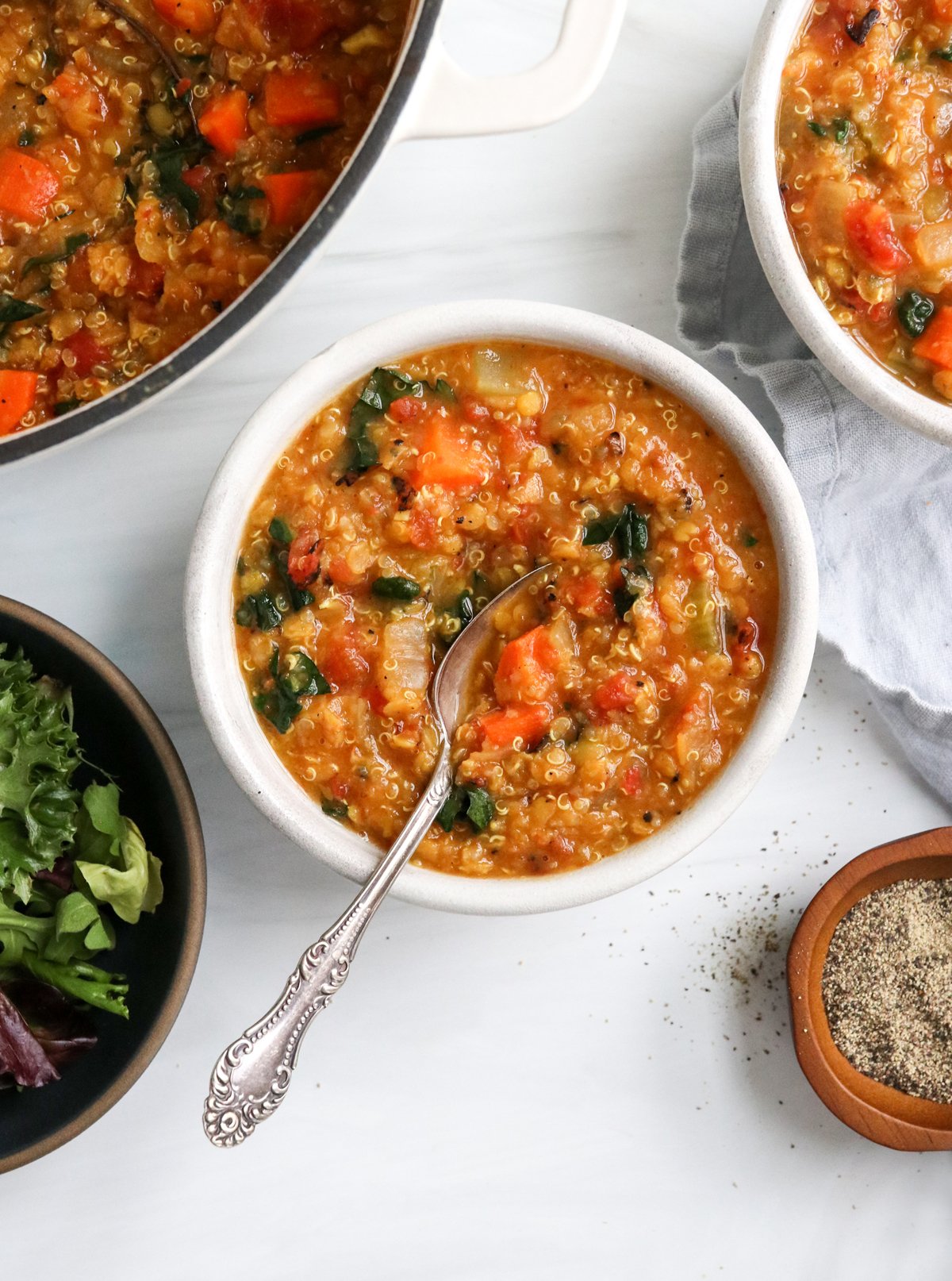 Hearty Quinoa Soup. This soup is inspired by a popular Annie's brand canned soup, and features quinoa, which is a complete source of plant-based protein. Feel free to swap the veggies to use what you have on hand.
Chickpea Noodle Soup. A delicious alternative to chicken noodle soup, this recipe is especially good when you use a legume-based pasta, such as chickpea pasta. The gluten-free noodles will help thicken the broth as they cook!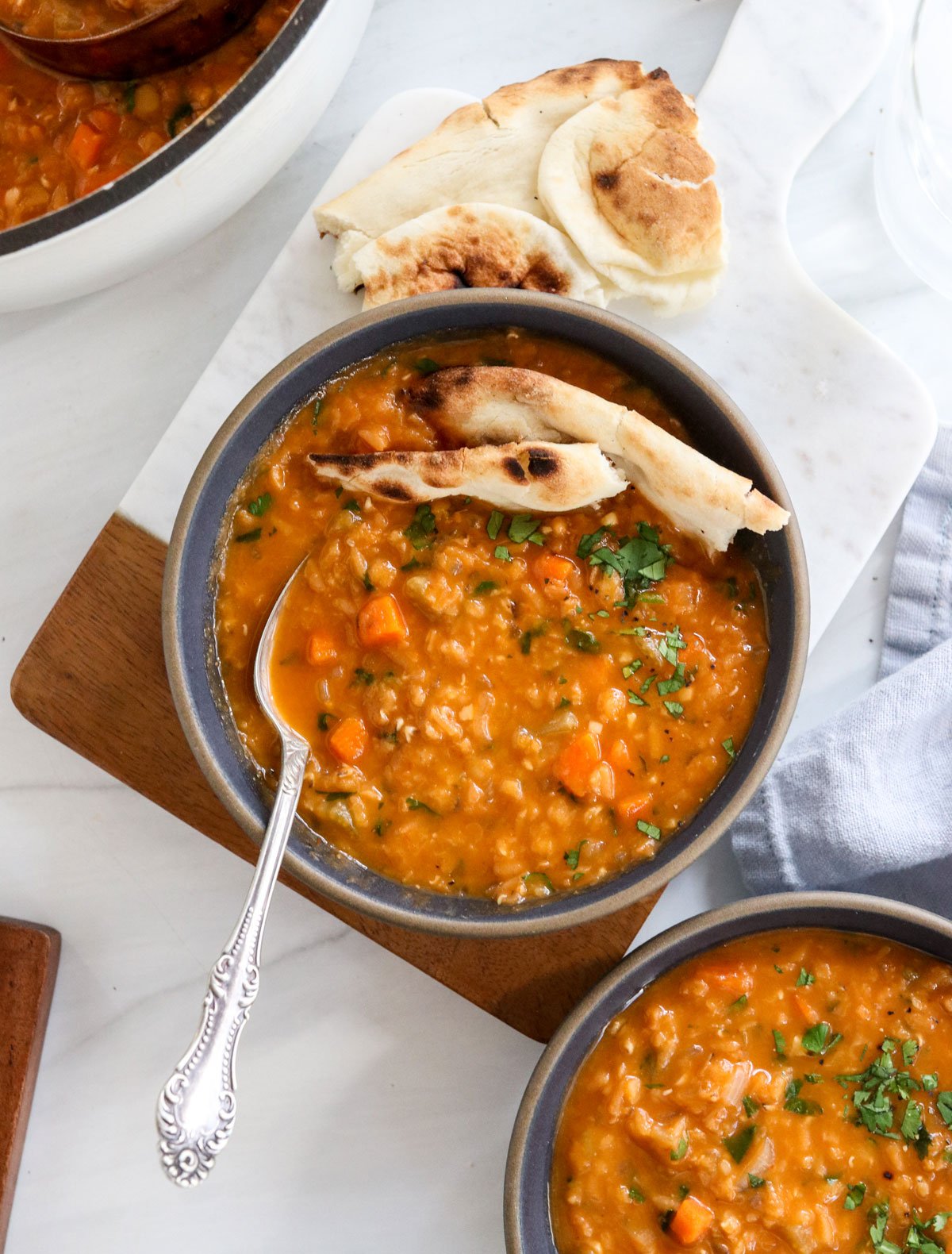 Red Lentil Soup. Red lentils are the fastest-cooking variety of lentils, so this soup is ready to eat in less than 30 minutes, and the flavor is out of this world! Serve it with crusty bread, or a side salad for a complete meal.
Mexican Chicken Soup. This soup has the flavor of tortilla soup, only without the fried tortillas. It makes a filling lunch or dinner, and you can top it with a cooked grain, such as quinoa or rice, or fiber-rich black beans, to help round-out your meal.
Healthy Snacks & Sweet Treats
Having a healthy snack on hand is a game-changer when you're trying to stick to your healthy eating goals. The options below require just 10 to 15 minutes of effort, and will make your life easier for the rest of the week.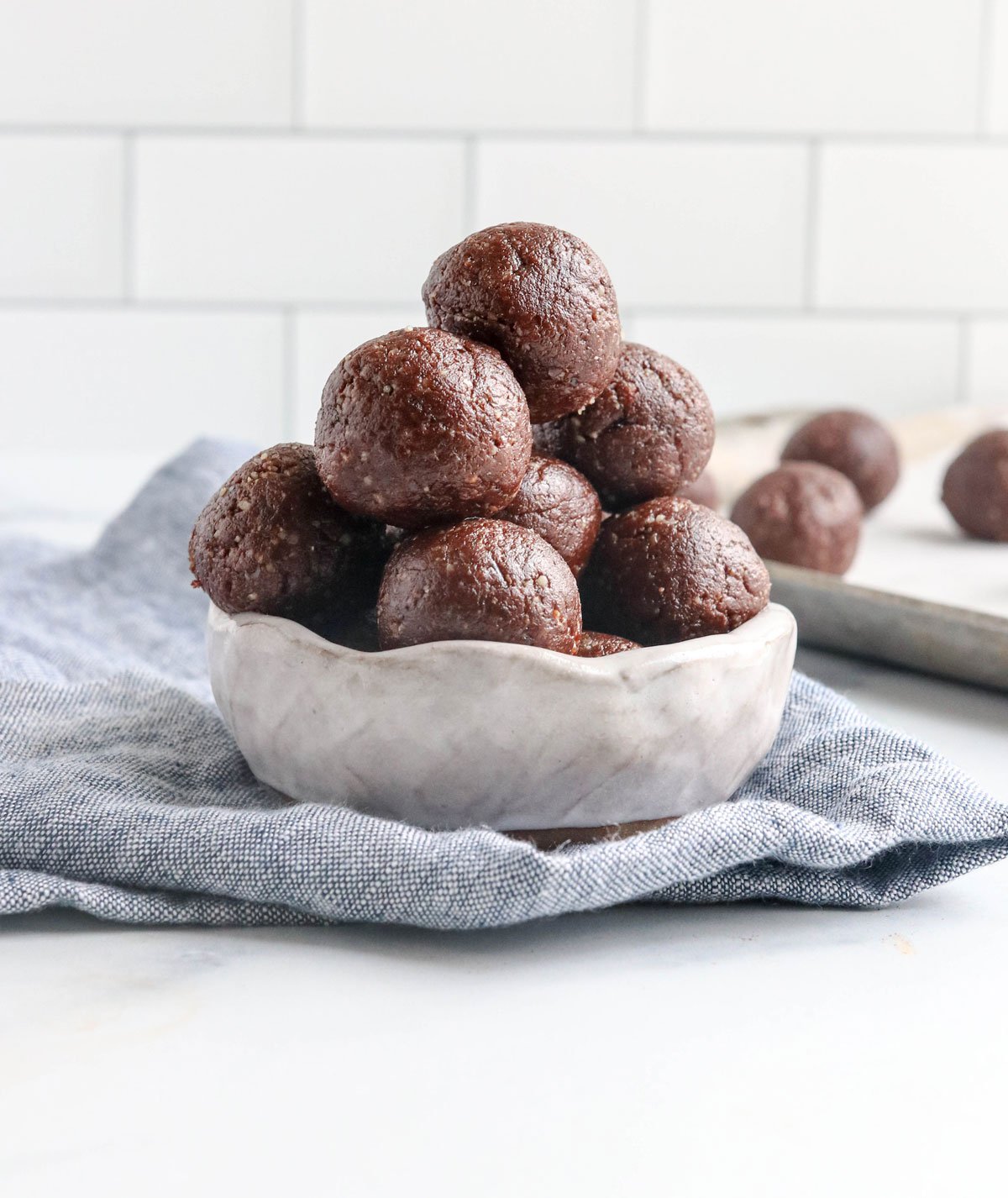 Chocolate Energy Balls. When you are craving more of a brownie flavor, try this no-bake option. They are loaded with fiber, and antioxidant-rich cacao powder. Try Date Energy Balls for a non-chocolate version.
Don't have a food processor? Try Peanut Butter Protein Balls for a variation you can stir together in just minutes.
Homemade Granola Bars. These granola bars are naturally sweetened with honey, and taste better than the store-bought variety! You can add any mix-ins you love to make them more filling, such as hemp hearts or crunchy nuts.
Hummus. This filling dip is made with a combination of chickpeas and tahini, and you can whip it together in just 5 minutes! It tastes better than anything you'd buy at the store, and you can use it in a number of different ways. Try spreading it on a sandwich or wrap, serve it with sliced veggies, or add it to pasta for extra creaminess.
The Best Bean Dip. If you want another dip option, this one is perfect for tortilla chips or veggies. All you need is 15 minutes to make it!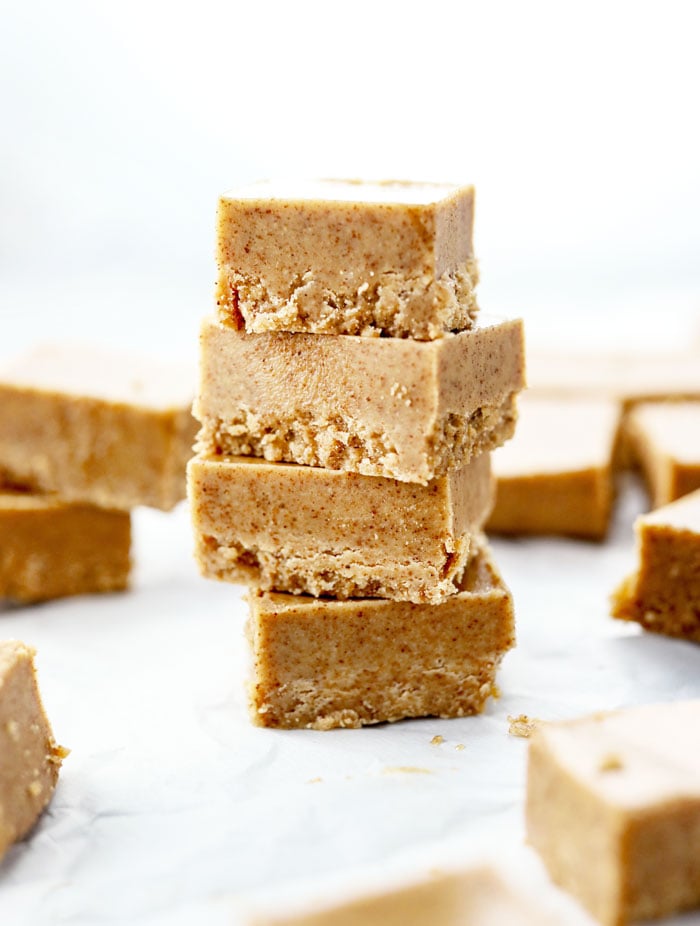 Almond Butter Fudge. This sweet treat is naturally sweetened, and takes just 10 minutes to stir together. Keep it stashed in your freezer for a quick way to satisfy your sweet tooth. If you prefer a chocolate version, try Vegan Fudge, instead.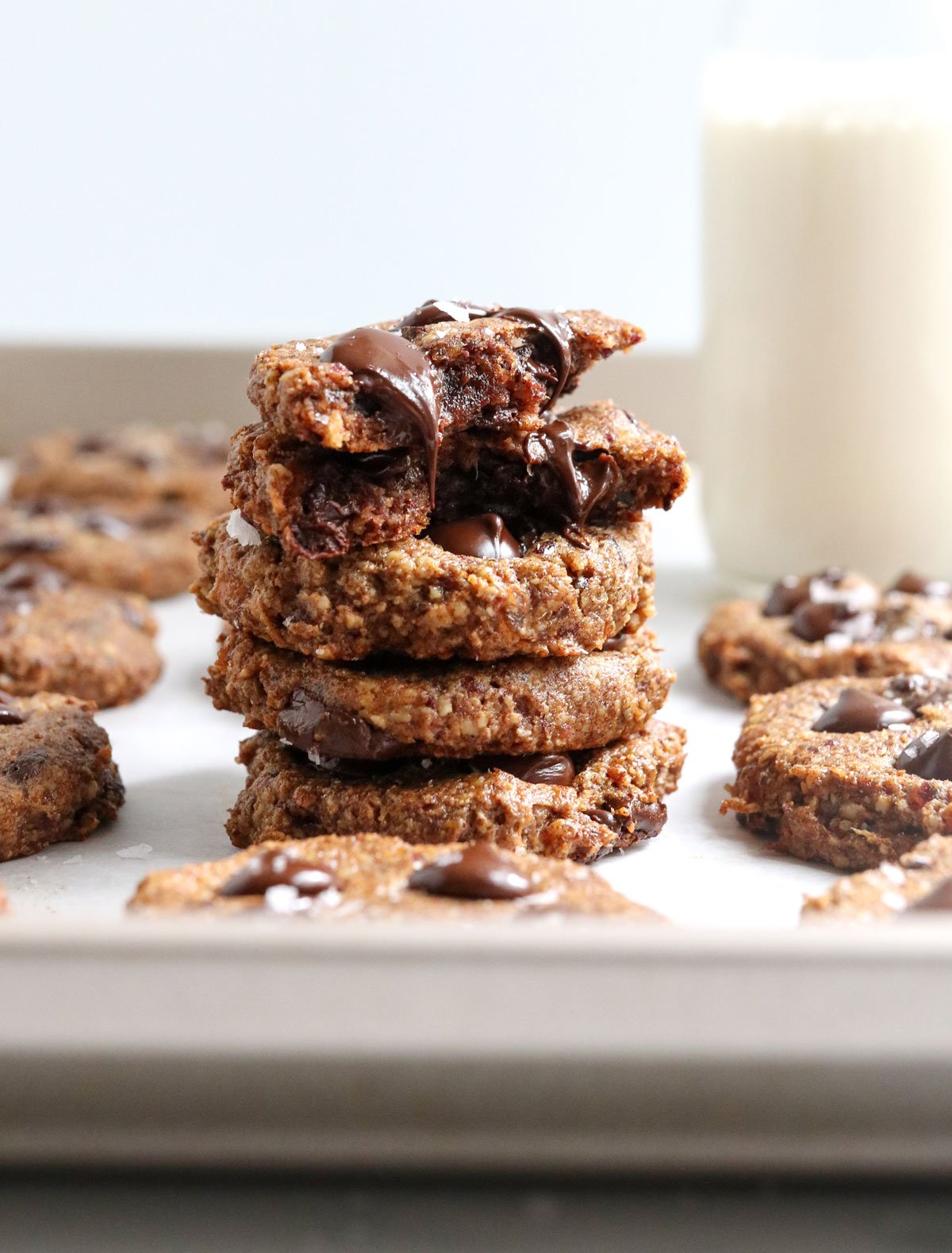 Healthy Cookies. These cookies taste unbelievably authentic, but they are made with dates instead of sugar! Keep them stored in your fridge for an easy treat.
Banana Oatmeal Cookies. Made with just 4 ingredients, these cookies come together in just minutes and are a great way to use up any ripe bananas you have on hand. You can even enjoy them for a fast breakfast on the go!
Meal Prep Basics
Cooked Protein & Main Entrees
Taking the time to prep some protein ahead of time will help keep your meals filling and satisfying. Feel free to pick two options this week, and then try two more next time!
Sauces & Salad Dressings
A simple dressing or sauce can add tons of flavor to your next meal! Make one or two to help keep your week interesting, and then try a different one next time, to help add variety.
Whole Grains & Legumes
Cooked grains make an excellent base for curries and stir-fries, and you can also turn them into a quick meal, like Veggie Fried Rice or Quinoa Fried Rice. It's also great to have cooked beans or lentils on hand, for adding extra fiber and protein to your next salad or bowl.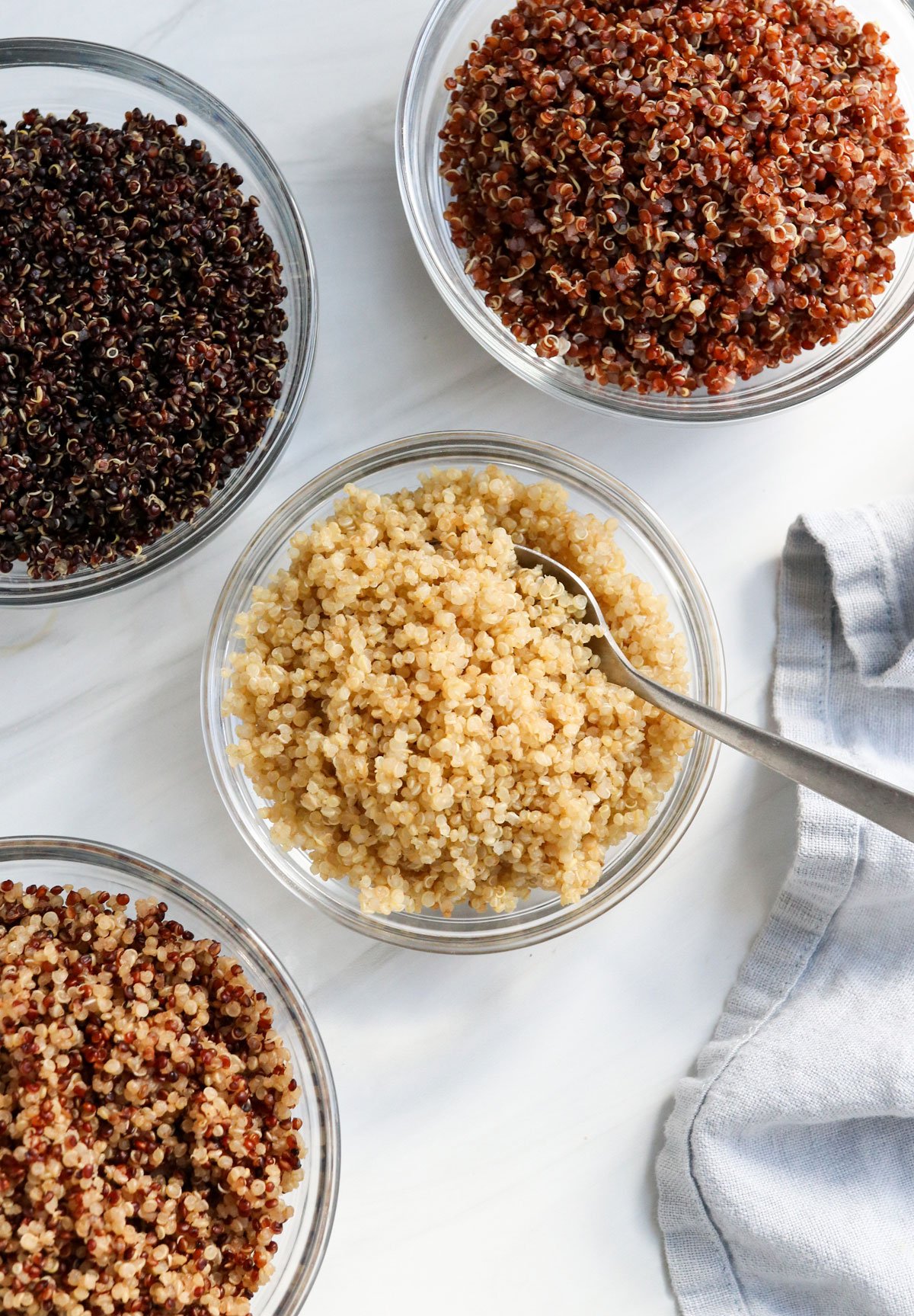 Handy Vegetables
If you want to squeeze some more nutrients into your day, the following veggies are helpful to have on hand. You can keep them in the fridge for up to 5 days to add to your meals throughout the week.
65 Healthy Meal Prep Ideas: Lunch Bowls with Thai Peanut Dressing
Looking for healthy meal prep ideas? These recipes & tips will make your life easier for the rest of the week.
Ingredients
Cooked Quinoa
2

cups

dry quinoa

3

cups

water
Thai Peanut Dressing
3

tablespoons

fresh lime juice

2

tablespoons

rice vinegar

1

tablespoon

toasted sesame oil

⅓

cup

pure maple syrup

1

garlic clove

, minced

1

inch

freshly minced ginger

½

teaspoon

crushed red pepper flakes

½

teaspoon

fine sea salt

2 to 4

tablespoons

water

, as needed to thin
Topping Ideas
2

(15 oz.) cans

chickpeas

, drained and rinsed

2

red bell peppers

, chopped

½

head

cabbage

, shredded

1

heart

romaine lettuce

, chopped

2

green onions

, chopped
Instructions
To cook the quinoa, add the dry quinoa to a fine mesh strainer and rinse it until the water runs clear. Transfer the drained quinoa to a small saucepan and cover it with 3 cups of fresh water. Bring it to a boil over high heat, then lower the heat and cover with a lid. Cook for 10 minutes. When the timer goes off, remove the pan from the heat but keep the lid on for an additional 5 minutes. Then fluff with a fork and set it aside to cool.

To prepare the dressing, add the peanut butter, lime juice, vinegar, sesame oil, maple syrup, garlic, ginger, red pepper flakes, and salt to a 16-ounce glass mason jar. Use a whisk to stir well, then add in water, just a tablespoon at a time, until it reaches a consistency you like. Keep in mind that this dressing will thicken when chilled, so you may need to add more water later, too. (Up to a 1/4 cup total.) Secure the lid on the jar and store in the fridge until you're ready to use it.

Prepare any toppings you like, such as the drained chickpeas, sliced peppers, shredded cabbage or lettuce, and green onions, and store them in separate airtight containers in the fridge. This will be a like a "salad bar" in your fridge, so everything is ready to go when you are ready to eat.

To assemble a lunch bowl, start with a base of cooked quinoa (about ¾ cup per serving), and add your favorite toppings, such as a ½ cup chickpeas, 1 to 2 cups of assorted raw or cooked veggies, and then top it off with a generous drizzle of dressing (about 3 tablespoons). Stir well with your fork to distribute the dressing, then enjoy! The individual components will keep well in the fridge for up to a week.
Video
Notes
Nutrition information is for 1 of 8 servings, assuming you use the portions suggested above. For more protein, add baked chicken breasts or baked tofu on top.
Quinoa bowls are easy to customize, so feel free to use any other veggies or toppings you have on hand. You can also use a different sauce or dressing to change up the flavor each week. Be sure to check out the sauces and dressings section in this post for more ideas.
Nutrition
Calories:
384
kcal
,
Carbohydrates:
54
g
,
Protein:
14
g
,
Fat:
14
g
,
Saturated Fat:
2
g
,
Polyunsaturated Fat:
5
g
,
Monounsaturated Fat:
6
g
,
Sodium:
408
mg
,
Potassium:
627
mg
,
Fiber:
9
g
,
Sugar:
13
g
,
Vitamin A:
1083
IU
,
Vitamin C:
61
mg
,
Calcium:
96
mg
,
Iron:
3
mg
If you try one of these healthy meal prep ideas, please leave a comment and star rating below letting me know how like them! And if you have other meal prep requests that you'd like to see in the future (Maybe budget friendly? Or vegan?) be sure to let me know that, too.