These Healthy Cookies are about to be your new favorite cookie recipe! They are made with 100% whole food ingredients: no flour, no added oil, and no added sugar. And oddly enough, they remind me of the popular "soft batch" cookies I used to eat when I was growing up.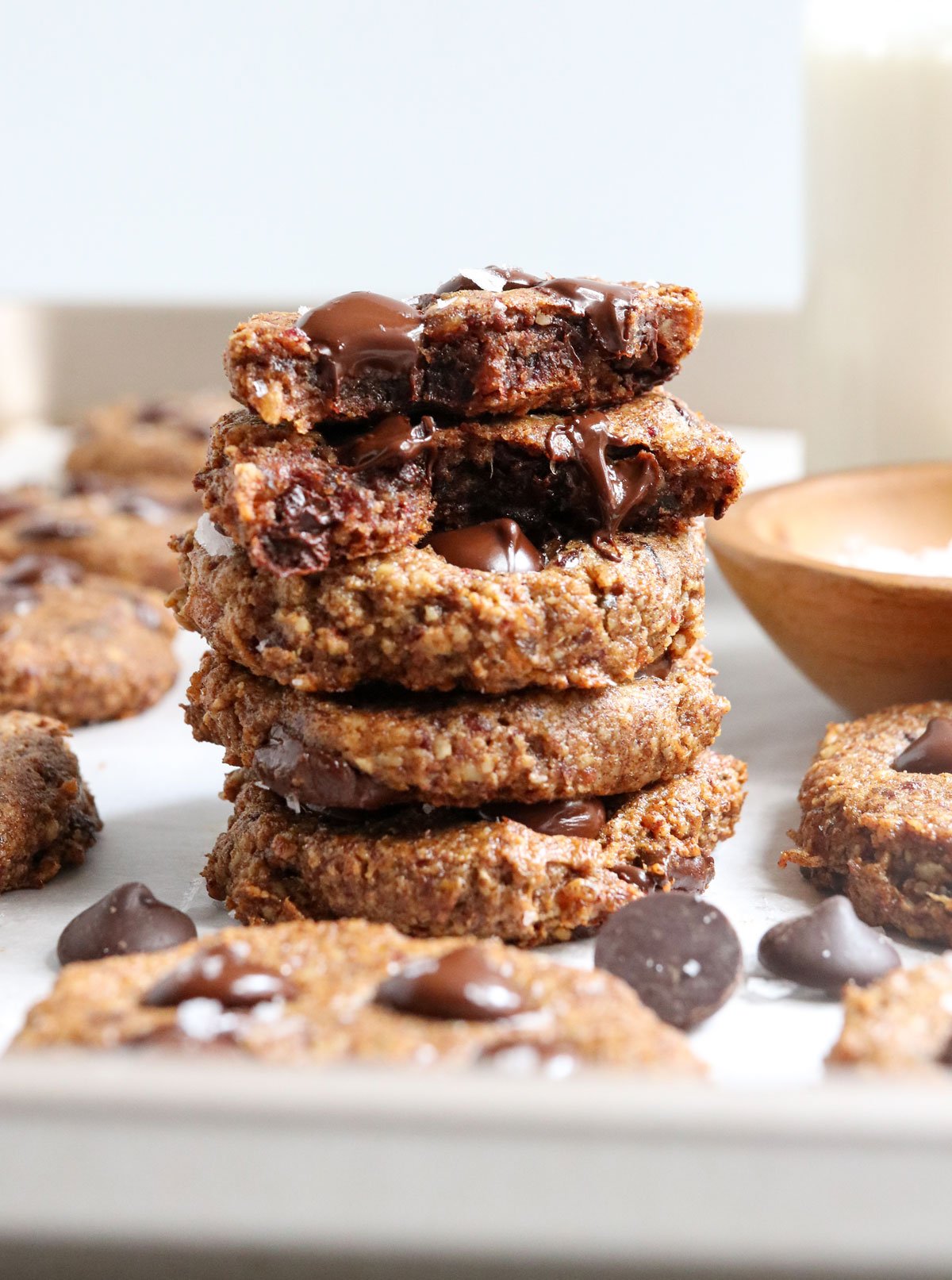 Why You'll Love Them
This recipe is what I consider the "healthiest cookies ever." They are made with ingredients that you may already have in your pantry, and because they're flourless, they're naturally gluten-free, too.
Ingredients You'll Need:

Walnuts: Walnuts are a plant-based source of omega-3 fatty acids, specifically the essential fat alpha-linolenic acid (ALA). Research shows that eating ALA may help to lower your risk of heart disease. The polyphenols found in walnuts may also help to fight inflammation.
Dates: Dates are loaded with fiber and may be beneficial for controlling your blood sugar. Dates are considered a low-glycemic food, and have a high antioxidant content that may help lower inflammation and reduce the risk of diabetes.
Flax Seeds: Ground flax seeds may help to lower cholesterol and they may help to lower blood pressure, too. Eating ground flax seeds regularly may even help to expedite weight loss, as well!
Baking Soda + Vinegar. This combination helps them rise, without using eggs.
Vanilla + Salt. Contributes to the classic cookie flavor you love.
Dark Chocolate Chips. Or, you can use cacao nibs, raisins, or extra nuts as a sugar-free mix-in.
I use the flax seeds as an egg substitute in this recipe, and I think it keeps them a nice and soft in the center– which I love. If you would rather use a real egg, you can replace the flax seeds and water with one for a little more protein in this recipe.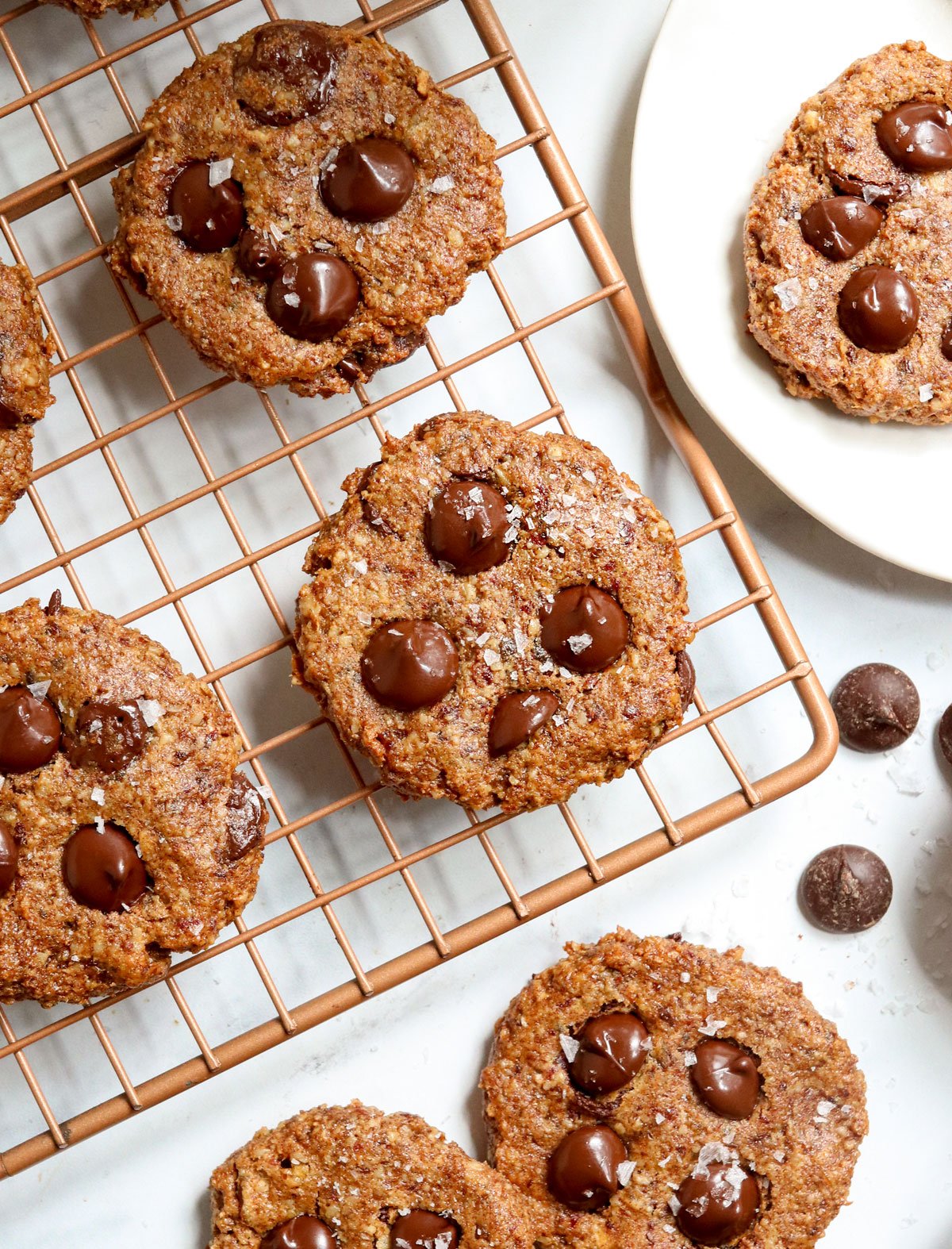 Substitution note: I'll often use pecans when I don't have walnuts on hand, and the results are just as delicious! I think that buttery nuts work best in this recipe, so macadamia nuts would probably work well, too.
How to Make Them
Grind the nuts. Add the walnuts to a food processor, and process briefly until they have a coarse, crumbly texture.
Make the cookie dough. Add in the dates, salt, baking soda, vanilla, flax seeds, water, and vinegar (which reacts with the baking soda to help the cookies rise) and process again, until a sticky cookie dough is formed. Add in the chocolate chips, and process again briefly to mix them in.
Scoop. Use a tablespoon or 1-ounce cookie scoop to scoop the cookie dough onto a lined baking sheet.
Bake. The cookies will bake for 12 minutes or so, at 350ºF.
Enjoy! Let the cookies cool completely on the pan. They are fragile when they are warm, but they firm up as they cool.
These healthy cookies have a soft and tender texture that reminds me of my childhood favorite "soft batch" cookies. If you prefer a firmer cookie, simply store them in the fridge or freezer, and serve them cold!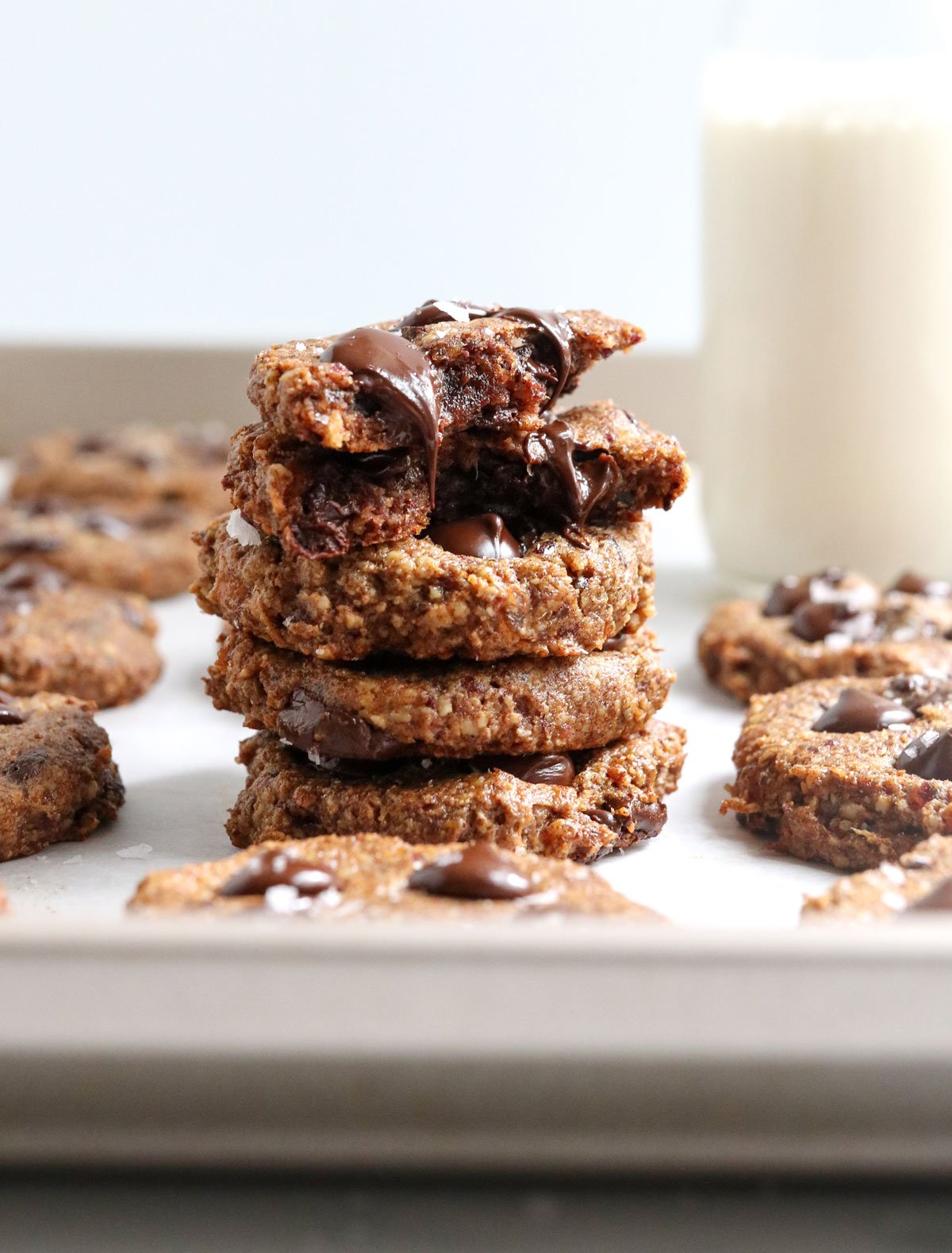 How to Store Them
These grain-free cookies will become softer if you store them in an airtight container at room temperature. I recommend storing them in the fridge or freezer and serving them cold after the first 24 hours.
(They usually sit out just fine at room temperature for the first day!)
More Healthy Cookie Recipes
If you have other ingredients on hand and are craving a cookie, you might also enjoy these healthy recipes:
I hope you'll enjoy these cookies whenever your sweet tooth strikes! Because they are made with nutrient-rich ingredients, I find that they leave me feeling satisfied much longer than a traditional cookie recipe.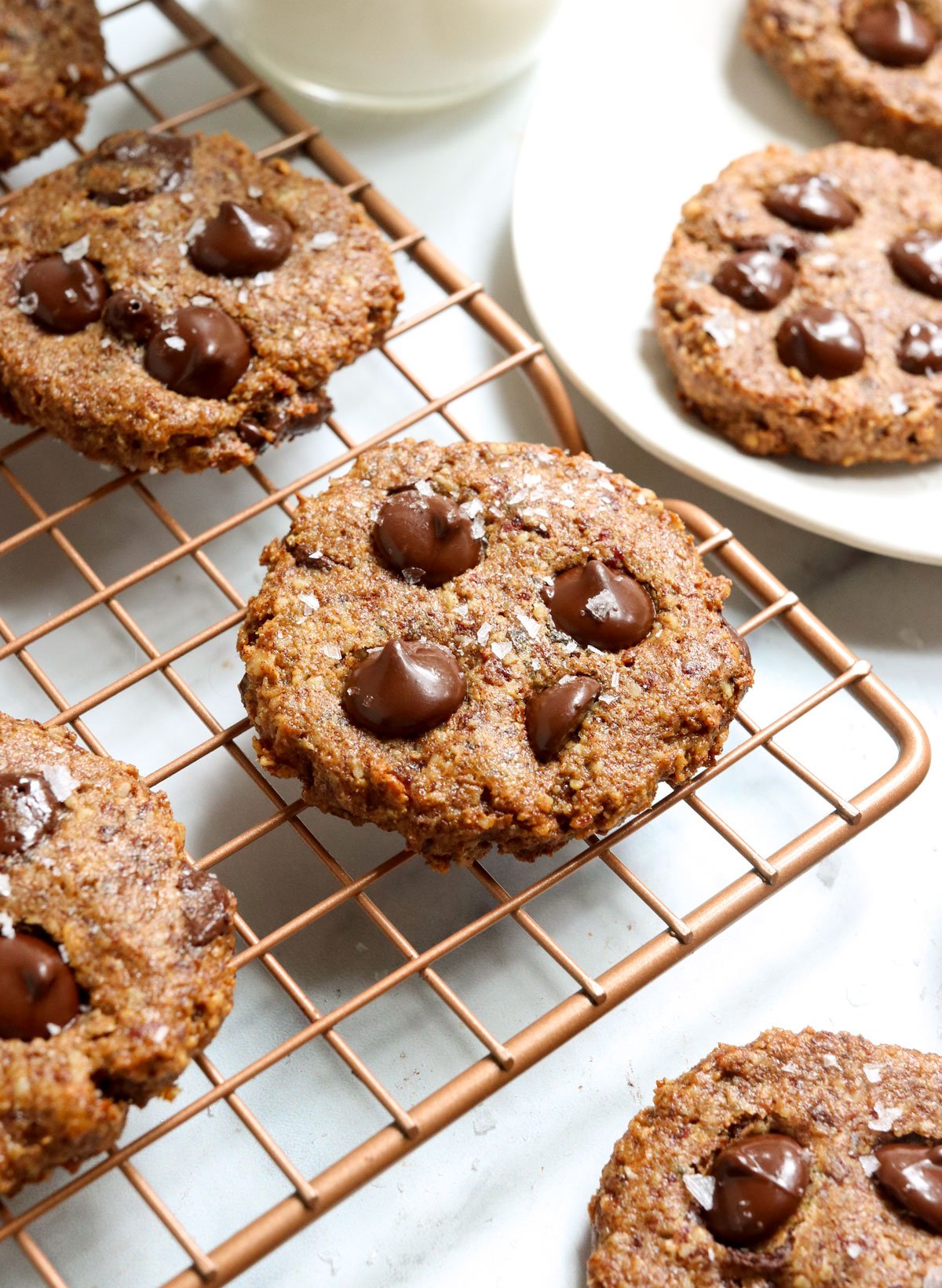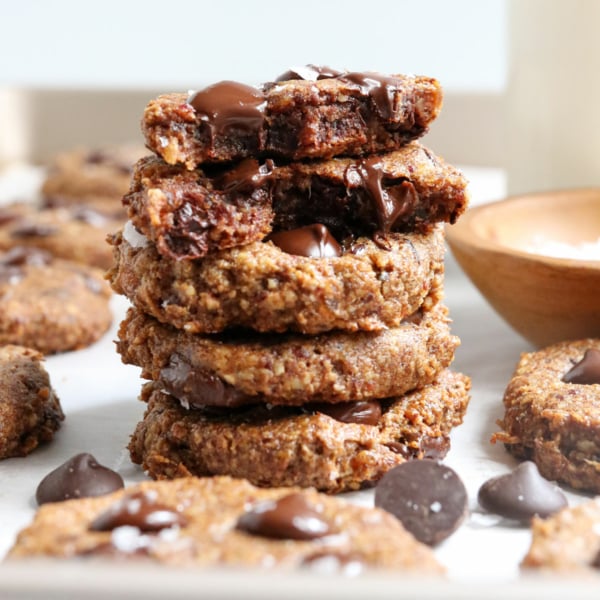 Healthiest Cookies Ever
These healthy cookies are made with 100% whole food ingredients, but they taste like a soft batch cookie. They are so easy to make!
Equipment
Instructions
Preheat the oven to 350F and line a baking sheet with parchment paper. In a large food processor fitted with an "S" blade, briefly process the walnuts into a crumbly texture.

Add in the dates, salt, baking soda, vanilla, flax, water, and vinegar. Process again, until the batter looks relatively smooth and sticky.

Add in the chocolate chips, or any other mix-ins you like, and process briefly to mix them in. Use a tablespoon or 1-ounce cookie scoop to scoop the dough.

Drop the cookie dough onto the lined baking sheet, and use your fingers to flatten and shape the cookies. (They don't spread much on their own.) I usually get about 16 to 18 small cookies from this batch.

Bake at 350ºF for 12 minutes, or until the edges are lightly golden. While the cookies are still warm, you can add a few more chocolate chips on top (if there are any spots that look bare). Let them cool completely on the pan, as they will be fragile while they are still warm. Store the cookies in an airtight container in the fridge or freezer, and serve cold for the most firm texture.
Notes
Nutrition information is for 1 of 16 cookies. This will vary if you get more or less cookies out of the batch, and is just an estimate, not a guarantee.
I love the buttery flavor of these cookies when made with walnuts, but I have a feeling that pecans or almonds would work well, too.
If you don't have access to dates, raisins can be substituted in most cases, but the flavor will be slightly different.
If you don't want to use a flax egg, one chicken egg can be used instead.
Optional add-ins that are free of added sugar include: cacao nibs, raisins, shredded coconut, chopped nuts
Nutrition
Calories:
144
kcal
,
Carbohydrates:
15
g
,
Protein:
2
g
,
Fat:
9
g
,
Saturated Fat:
2
g
,
Polyunsaturated Fat:
5
g
,
Monounsaturated Fat:
1
g
,
Cholesterol:
1
mg
,
Sodium:
77
mg
,
Potassium:
187
mg
,
Fiber:
2
g
,
Sugar:
12
g
,
Vitamin A:
24
IU
,
Vitamin C:
1
mg
,
Calcium:
38
mg
,
Iron:
1
mg
If you try these healthy cookies, please leave a comment below letting me know how you like them!
—
Reader Feedback: What other date-sweetened desserts would you like to see in the future?

SaveSave
SaveSave