1. I'm in love with a new all-natural cleaning product.
Thieves household cleaner! A client actually introduced me to this stuff a couple weeks ago, at a time when I was looking for natural mold and mildew killers, and I'm already hooked. A blend of antiviral, antiseptic, antibacterial, anti-infectious essential oils, this concentrated cleaner may seem a little pricey, but I can already tell that this one bottle is going to last me for a couple years. You only need a few drops mixed with an entire spray bottle of water to create an effective cleaner!
Not only have I been using this diluted concentrate as a all-purpose spray, I've also been adding a few drops to a bowl of boiling water for an instant diffuser. The smell is one of my favorite aspects of this cleaning solution– it smells like Christmas spices!– and while it makes my house smell good, it's also cleaning my air.
From the Thieves product page:
Studies conducted at Weber State University (Ogden, UT) during 1997 demonstrated its killing power against airborne microorganisms. One analysis showed a 90 percent reduction in the number of gram positive Micrococcus luteus organisms after diffusing for 12 minutes. After 30 minutes of diffusing, the killrate jumped to 99.3%. Another study against the gram negative pseudomonas aeruginosa showed a kill rate of 99.96 % after just 12 minutes of diffusion.
Luckily, Austin loves the smell, too. It's rare that we agree on what "smells good," so that's a definite bonus!
—
2. Another new thing this week, is my moisturizer.
Up to this point, I've mostly used coconut oil as my body lotion, but I've heard that certain oils maybe more moisturizing than others, so I've decided to experiment with different types of pure oils to see if I find something I like better. This time around, I'm trying 100% pure jojoba oil, which is rich in vitamin E–> a powerful antioxidant that's great for the skin. It doesn't have much of a scent, but I love the way my skin feels since using it!
—
3. If you've been following me on Facebook, you've seen one of my latest dessert obsessions.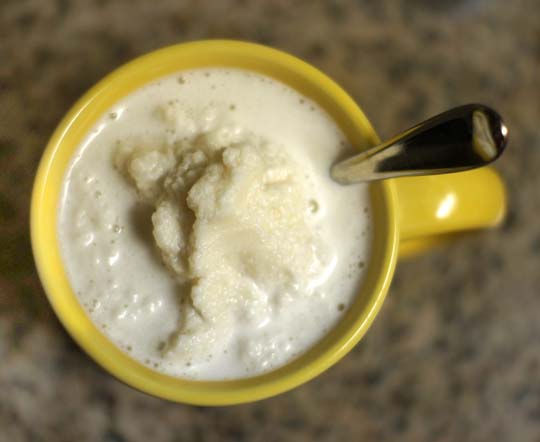 It's a cross between vanilla ice cream and a slushie, and it's whipped up in the blender in less than two minutes.
I don't have an exact recipe to share, but I usually combine a cup of homemade almond milk, a splash of vanilla extract, a splash of pure maple syrup and two large handfuls of ice in the blender. The Vitamix pulverizes this into a thick, icy shake, but I'm sure it would be delicious in a standard blender, too!
—
4. I'm also really excited about another dessert experiment.
I finally figured out a good use for leftover almond pulp–> raw cookie dough bites! It's taken me forever to find a "good" recipe for almond pulp, because the taste and texture are not ideal after much of the flavor and fat content is strained from homemade almond milk… but if you add enough other ingredients to it, it can be put to good use!
However, it's a good reminder that almond flour should NOT be replaced with dried almond pulp in recipes! It's not the same, and the results won't be nearly as good.
I'll be sure to post the recipe soon!
—
*Update: The winner of The Fresh Energy Cookbook has been posted! You can click here to reveal the winner.
Reader Feedback: Have you tried anything new this week?