These Coconut Flour Cupcakes are light & fluffy, and my kids have declared them to be one of the best cupcakes I've ever made. They are perfect for those who need a gluten-free or Paleo cupcake recipe!
My Secret Ingredient
What makes these cupcakes extra special is that they have a sneaky healthy ingredient inside— zucchini! I've been adding zucchini to this recipe for years, because it replaces the oil without affecting the sweet vanilla flavor. You truly can't taste it!
I've tried making this recipe with applesauce and banana instead of zucchini, and both options work, but they don't fool my kids. The applesauce flavor is especially noticeable, so if you want a truly vanilla-flavored cupcake, stick with the zucchini.
The Best Way to Sweeten Coconut Flour Baked Goods
I originally posted this recipe in 2013, but recently decided to test it again to see if I could make the cupcakes even more fool-proof. I tested them with coconut oil, instead of using zucchini, and guess what? The zucchini version is WAY better! Coconut oil can make coconut flour baked goods become greasy fast.
I also tested this recipe with both maple syrup and coconut sugar. I've noticed that maple syrup tends to sink to the bottom of coconut flour baked goods, and it's not too noticeable in recipes like my Lemon Poppy Seed Muffins, but I definitely notice it in these subtle vanilla cupcakes.
That's why I now recommend making these coconut flour cupcakes with coconut sugar, instead. The coconut sugar makes the cupcakes turn out a little more tan in color, but the sweetness is much more evenly distributed. And the cupcakes turn out perfectly fluffy, without being too moist!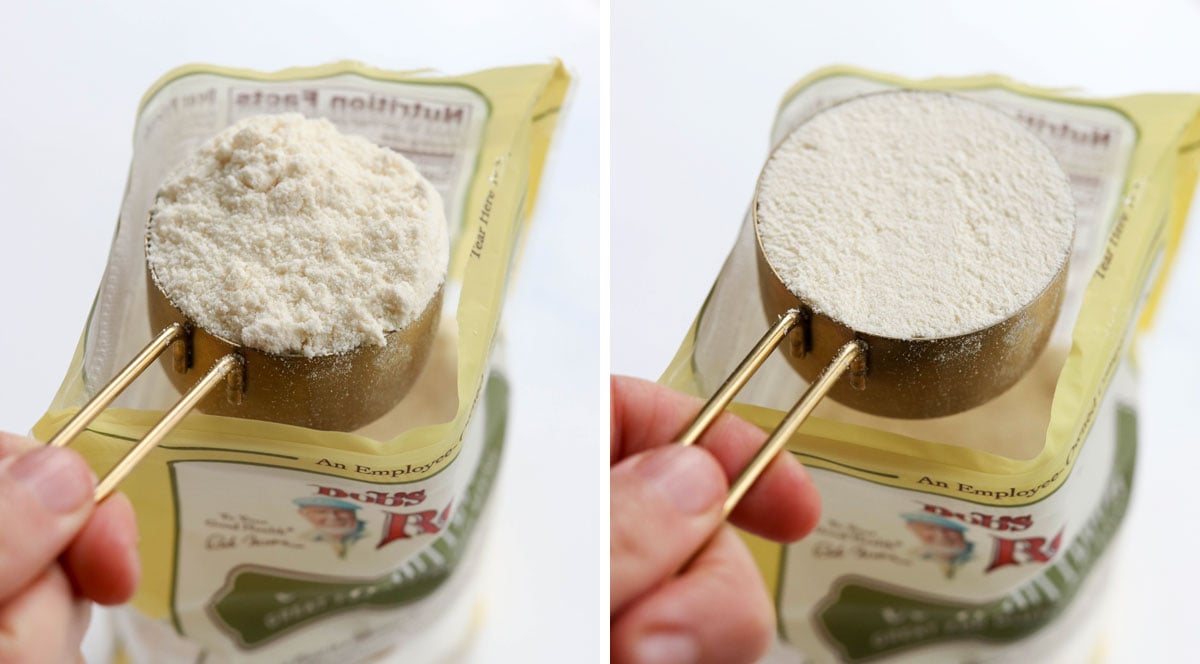 How to Work with Coconut Flour
If you've never worked with coconut flour before, there's a couple things you should know before you get started.
Always measure correctly. I like to scoop my measuring cup into the bag of coconut flour, getting a heaping cup, and then I use the back of a knife to level it off into a flat measurement. I've also included the weight of the measurements I use, in case you prefer to use a kitchen scale.
Don't make substitutions. Coconut flour isn't as forgiving as other flours in baking, so making a small modification could drastically affect the final outcome. Experiment at your own risk. In my experience, egg substitutes don't work very well with coconut flour baked goods, so if you need to be egg-free, try one of my vegan muffin recipes instead.
What I love about working with coconut flour is that it's naturally gluten-free, and it requires quite a few eggs, so the resulting baked goods are higher in protein. There is definitely a hint of coconut flavor, too, but it's not overwhelming in this recipe since it doesn't call for coconut oil, too.
How to Make Them
For best results, I recommend making these cupcakes in a blender. That way you can pulverize the zucchini, and get a super-smooth batter.
If your blender isn't high-powered, blend together the zucchini and eggs first, until the zucchini is totally pureed, then add in the rest of the ingredients and blend again.
Pour the batter into 10 cupcake liners, then bake! Coconut flour tends to stick to pans quite a bit, so I definitely recommend using a liner, so you can guarantee that they will release from the pan later.
Cool completely, then top them with your favorite frosting.
I have several healthy frosting recipes available, but my favorites are my Vegan Ganache (pictured here) and my Chocolate Vegan Frosting, which is fruit-sweetened.
For a non-chocolate frosting, try my Vegan Cream Cheese Frosting or my Purple Sweet Potato Frosting.
Coconut Flour Cupcakes (only 7 ingredients!)
These Coconut Flour Cupcakes are light & fluffy, while being naturally gluten-free! They are also oil-free, with a sneaky serving of zucchini in each bite.
Ingredients
1/2

cup

coconut flour

(58 grams)

1

cup

zucchini

, peeled and finely chopped (134 grams)

4

large eggs

(206 grams)

2/3

cup

coconut sugar

(100 grams)

2

teaspoons

baking powder

(9 grams)

1/4

teaspoon

sea salt

(2 grams)

1

tablespoon

vanilla extract

(12 grams)
Instructions
Preheat your oven to 350ºF and line a standard muffin tin with 10 cupcake liners.

In a blender, combine the coconut flour, zucchini, eggs, coconut sugar, baking powder, salt, and vanilla. Blend until very smooth. (If you don't have a powerful blender, blend together the zucchini and eggs first, until smooth. Then add in the rest of the ingredients and blend again.)

Pour the batter into the 10 cupcake liners. Bake at 350ºF for 25 minutes, or until the center of the cupcakes feels firm to a light touch.

Let the cupcakes cool completely before frosting and serving. If making them in advance, store these cupcakes in an airtight container in the fridge for up to 5 days.
Notes
After testing this recipe 10 times, I'm of the opinion that zucchini produces the best cupcake texture, without being oily or with a hint of "healthy" fruit or veggie flavor. If you want to try using applesauce, pumpkin, or mashed banana instead, you are welcome to try that, but keep in mind that the flavor will change with modifications.
Nutrition
Calories:
92
kcal
,
Carbohydrates:
14
g
,
Protein:
3
g
,
Fat:
3
g
,
Saturated Fat:
1
g
,
Cholesterol:
65
mg
,
Sodium:
119
mg
,
Potassium:
137
mg
,
Fiber:
2
g
,
Sugar:
8
g
,
Vitamin A:
120
IU
,
Vitamin C:
2
mg
,
Calcium:
46
mg
,
Iron:
1
mg
Nutrition information is for 1 of 10 cupcakes. This is automatically calculated, so it's just an estimate and not a guarantee.
Original Recipe (posted June 2013)
If you are in love with my original recipe, you can find the measurements for that below.
1/2 cup coconut flour
1/2 cup zucchini
1/2 teaspoon baking soda
1/4 teaspoon salt
1/2 cup maple syrup
4 eggs
Just like the directions above, you'll blend this together and bake at 350ºF for 25 minutes. If you've tried both versions, let me know which one you prefer!
Please leave a comment below if you try the recipe. I'd love to hear what you think! And if you make any modifications, I'd love to hear how that goes, too. We can all benefit from your experience.
—
Reader Feedback: What's your favorite flavor of cake or cupcake? Mine is carrot cake, so that's next on my list!