These Sweet Potato Brownies are ultra-rich and fudgy, so I'm not sure anyone will believe you when you tell them that there's sweet potato inside. I love that this recipe is naturally vegan & gluten-free. They taste just as good as my popular Avocado Brownies, only this version is egg-free!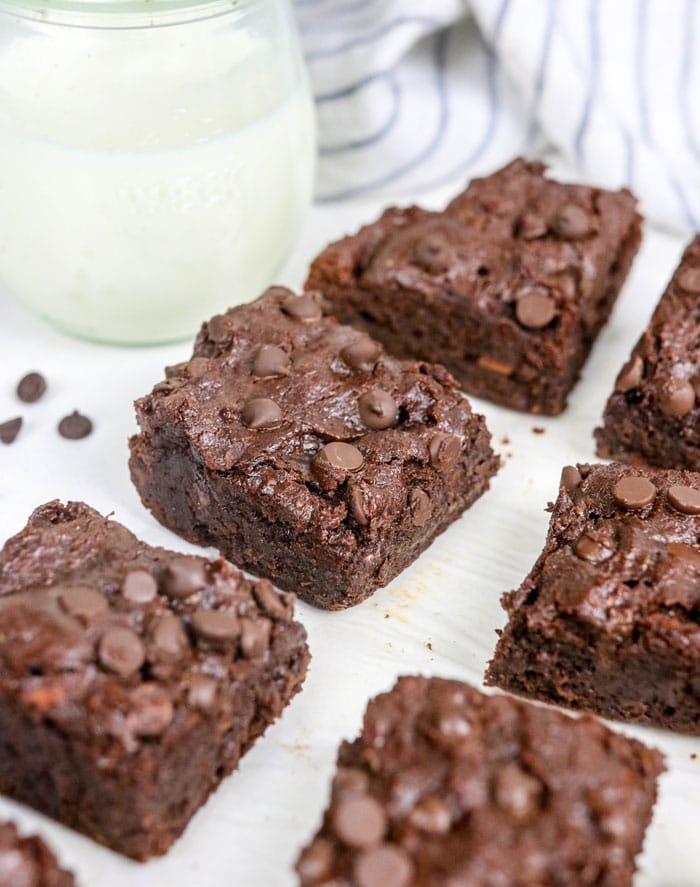 Why Add Sweet Potatoes to a Brownie Recipe?
Sweet potatoes are definitely not the "norm" in a brownie recipe, but they help act as an egg substitute (similar to flax eggs) in this recipe, helping to bind the brownies while keeping them moist and rich in texture.
They also add some extra nutrition! Sweet potato are loaded with fiber and are a good source of beta-carotene, which is converted to vitamin A in the body. Vitamin A is important for maintaining a healthy immune system (source), and may also help to lower inflammation in the gut. (source)
How to Make Them
To make sweet potato brownies, you'll need to start with pre-cooked sweet potatoes. You can bake them, pressure cook them (try Instant Pot Sweet Potatoes to avoid heating up your kitchen), or steam them until tender.
For the fastest method, peel and cut them into 1-inch cubes, then steam for 10 minutes, or until a fork can easily pierce them.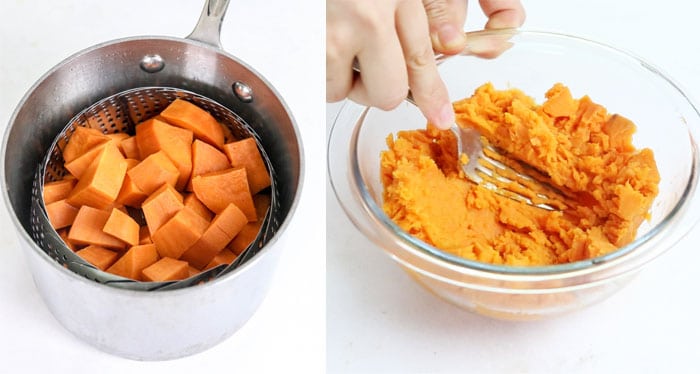 You'll use a fork to mash the sweet potatoes into a puree, then measure that for this recipe.
You can save any leftover cooked sweet potato for use in my Sweet Potato Smoothie, Sweet Potato Muffins, or in something more savory like my Sweet Potato Queso.
Once the sweet potato is cooked and measured, you'll just stir the rest of the ingredients together in a large bowl! Pour the batter into a pan, decorate with few extra chocolate chips, if you like.
Then bake until the edges of the pan start to look dry and the center of the pan has puffed up, about 35 to 40 minutes.
These brownies are very fudgy, so it's normal for them to stick to your knife as you cut them. If you prefer a less-fudgy brownie, I recommend adding 1/4 cup more flour to this recipe to help cut-down on the sticky factor.
I personally like desserts with a slightly under-baked texture, so if you're like me, try them as-written below.
What Do Sweet Potato Brownies Taste Like?
Sweet Potato Brownies taste remarkably like "real" brownies to me, but they are slightly less-sweet than a boxed brownie mix, because we're using low-glycemic coconut sugar.
If you replace that with white sugar or brown sugar, they will taste even more like the real thing.
You can taste the slightest hint of sweet potato when these are warm from the oven, but as they cool I think it becomes more undetectable. I actually recommend storing these in the fridge to help them firm up a bit, and the flavor gets better the next day!
Can you Freeze Brownies?
If you can't finish this whole batch of sweet potato brownies in one week, you can freeze the leftovers in an airtight container for up to 3 months. I would let them thaw overnight in the fridge before you want to serve them again.
Video Tutorial (1-minute):
Sweet Potato Brownies (Vegan + Gluten-free!)
These Sweet Potato Brownies are ultra-rich and fudgy, and don't taste like a "healthy" brownie at all! I love how easy they are to prepare, and how you can't tell there's a sneaky veggie inside.
Ingredients
3/4

cup

mashed sweet potato

(steamed, then mashed with a fork)

1/2

cup

creamy almond butter

(use raw almond butter for best flavor)

1/2

cup

cacao powder

, or cocoa powder (unsweetened)

1

cup

coconut sugar

1/3

cup

gluten-free flour mix

(I used King Arthur's all-purpose mix when testing)

1

teaspoon

baking powder

1

teaspoon

vanilla extract

1/4

teaspoon

salt

1/2

cup

dark chocolate chips

(optional; use a dairy-free brand like Enjoy Life to keep these vegan)
Instructions
Preheat the oven to 350ºF and line a 9-inch square pan with parchment paper.

In a large bowl, combine the mashed sweet potato, almond butter, cacao powder, coconut sugar, flour, baking powder, vanilla extract, and salt. Stir well, until a relatively smooth batter is formed. (You can do this in a food processor, if you prefer.)

Fold in the chocolate chips, if using. Transfer the batter to the prepared pan and use a spatula to smooth the top. Bake at 350ºF until the edges look dry and the center of the brownies have puffed up, about 35 to 40 minutes.

Let the brownies cool completely before slicing, or they will be too soft. Cut them into 16 small squares, and store the leftovers in an airtight container in the fridge. I think they taste even better when you serve them cold from the fridge the next day! Leftovers can be stored in the fridge for up to a week, or in the freezer for up to 3 months.
Nutrition
Calories:
132
kcal
|
Carbohydrates:
18
g
|
Protein:
3
g
|
Fat:
7
g
|
Saturated Fat:
2
g
|
Cholesterol:
1
mg
|
Sodium:
67
mg
|
Potassium:
181
mg
|
Fiber:
2
g
|
Sugar:
9
g
|
Vitamin A:
884
IU
|
Vitamin C:
1
mg
|
Calcium:
62
mg
|
Iron:
1
mg
Sweet Potato Brownie Nutrition (per square): Calories: 132, Fat: 7g, Carbohydrates: 18g, Fiber: 2g, Protein: 3g
Recipe Notes:
I have not tested this recipe with a traditional flour, but I imagine it might work if that's what you keep on hand. If you try it, please leave a comment below letting me know how it works out!
For a sugar-free brownie, try my Date Brownies, which are 100% fruit-sweetened. (They seriously fool my kids– and they are picky!)
For a nut-free brownie, you might want to try using coconut butter instead of almond butter, or you can use sunflower seed butter, too. Just keep in mind that any changes you make will change the flavor slightly.
If you try this recipe, please leave a comment below letting me know how you like it! And if you make any modifications, I'd love to hear how that works out for you, too. I can only test so many options in my own kitchen, so we can ALL benefit from hearing about your experience, too.
–
Reader Feedback: Have you tried adding sweet potato to brownie before? I tried it a few years ago and didn't love the recipe I used, so I'm happy to finally have a successful version to share with you!