This Sweet Potato Frosting is made from purple sweet potatoes, which gives it a vibrant purple color without using food coloring. It makes a fun healthy frosting for a birthday cake or cupcakes!
What You Need to Know About Purple Sweet Potatoes
The two most common varieties of purple sweet potatoes are Stokes Purple® or Okinowan sweet potatoes. Like most vibrantly-colored foods, these potatoes are high in vitamin C and they get their purple hue from an antioxidant known as anthocyanin.
Okinowan sweet potatoes are currently grown in Hawaii year-round, and the Stokes Purple® variety are grown in North Carolina. The peak season is during fall and winter months, and I usually have the most luck finding purple sweet potatoes at my local Whole Foods Market or at Asian grocery stores.
Keep in mind that any color of sweet potato will work in this recipe, if you can't get your hands on a purple one.
How to Cook Sweet Potatoes
For this recipe, I like to peel the sweet potatoes and cut them into 1-inch cubes so they will cook as quickly as possible. To steam the potatoes, fill a small saucepan with 1 inch of water and fit a steamer basket over that.
Pour the potatoes into the steamer basket, bring the water to a boil, then cover and cook until the potatoes are fork-tender, about 10 to 15 minutes depending on how large you cut them. Then you'll just need to drain them, and they are ready to mash for this recipe.
Sweet potatoes can be a little sweeter if you take the extra time to bake them, so check out my Air Fryer Sweet Potatoes tutorial or my Instant Pot Sweet Potatoes tutorial, if you'd like to try one of those methods, instead.
How to Make Sweet Potato Frosting
Once you have cooked sweet potatoes on hand, you'll mash them with a fork and measure out exactly one cup of mashed sweet potato. (Save any leftover cooked potato for my Sweet Potato Smoothie recipe.)
Add that to a blender, along with maple syrup, vanilla extract, melted coconut oil, and a pinch of salt, and blend until smooth!
At this point, you can adjust the frosting to your taste. I've always loved a touch of almond extract in buttercream frosting, so I've added that here and I highly recommend it. However, if you have an almond allergy in the family you can easily omit it and add any other extra flavorings to your taste.
Keep in mind that if you want to add cacao powder to this frosting, it will lose the fun purple color.
You may want to add a tablespoon or two of water, if needed to help facilitate blending, but usually if you use room-temperature maple syrup (that isn't cold from the fridge) there should be enough liquid for everything to blend easily. The coconut oil will thicken up when chilled, so you'll place this in the fridge to thicken up, and then it's ready to use.
I like to make this frosting the night before I plan on using it, so it will be as thick as possible. If for some reason you find it too thick, you can always stir in a tablespoon of almond milk or water to help thin it out before serving.
How Much Frosting Does This Recipe Make?
This recipe makes roughly 1 1/2 to 2 cups of frosting, which is enough to frost 12 cupcakes, a single layer 9-inch cake, or the top of a 9 x 13-inch cake. To frost a two-layer cake, as you can see in my Healthy Carrot Cake photos, make a double-batch of frosting.
More Healthy Frosting Recipes
If you need some other frosting ideas, try one of the options below.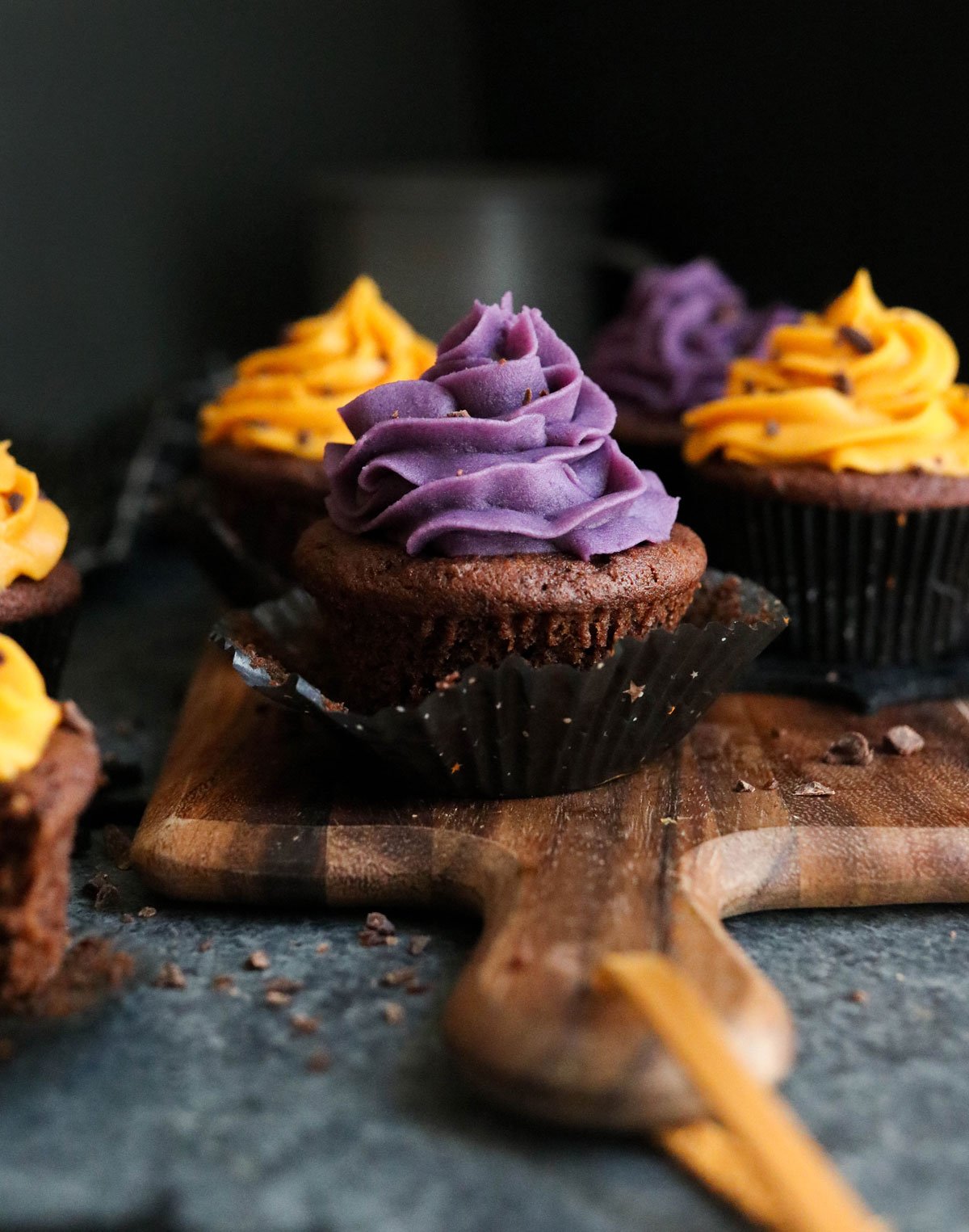 By the way, you can make this frosting with orange sweet potatoes, too! I think these two colors make an excellent Halloween cupcake topping.
Purple Sweet Potato Frosting
This Sweet Potato Frosting is made with purple sweet potatoes, which give it a vibrant purple color without using food coloring!
Equipment
Ingredients
1

large

purple sweet potato

(any sweet potato variety will work; about 12 oz. in weight)

1/2

cup

+ 2 tablespoons pure maple syrup

(at room temperature; 203 grams)

1/4

cup

melted coconut oil

(55 grams)

1

teaspoon

vanilla extract

1/4

teaspoon

almond extract

(optional; but recommended)

1/8

teaspoon

pinch of salt

2 to 4

tablespoons

non-dairy milk

, or water
Instructions
Peel and cut the sweet potato into 1-inch chunks. Arrange a steam basket in a 2-quart saucepan and fill it with 1 inch of water. Pour the potatoes into the basket and bring the water to a boil. When the water is boiling, lower the heat and cover the pot, letting the potatoes cook until tender, about 10 to 15 minutes. They should be very soft and easily pierced with a fork.

Drain the potatoes and mash them with a fork until relatively smooth. Measure out a tightly packed cup of mashed sweet potato, and reserve any leftover cooked potato for use in a smoothie later. (Try my Sweet Potato smoothie recipe!)

Add the cup of mashed sweet potato to a blender, along with the maple syrup, coconut oil, vanilla, almond extract, salt, and milk. I like to start with just 2 tablespoons of non-dairy milk and blend until very smooth, but you can add up to 2 more tablespoons if needed to help the blender along. This works best when the potatoes are still slightly warm, so that the coconut oil remains liquid while blending. Using a milk makes the purple frosting slightly lighter in color; using only water will make it a darker purple color.

Pour the blended potato frosting into an airtight container with a lid, and place it in the fridge to set. It should thicken up in about 8 hours, so it's best to make this the night before you need it so it can thicken overnight in the fridge.

Spread the frosting on your favorite cake or cupcakes. This recipe makes roughtly 2 cups of frosting, which should frost 12 cupcakes or a single layer cake. For a two-layer cake, I recommend making a double batch.
Notes
I use purple sweet potatoes for this recipe, but I've also made it with orange and white sweet potatoes. Feel free to use whichever variety is most convenient for you.
I use maple syrup to keep this recipe vegan, but you can use another liquid sweetener, like honey or agave to taste, if you prefer. I recommend starting off with less of those, since they are both sweeter than maple syrup. If you need more liquid for blending, use more coconut oil so the frosting doesn't become too runny when it's chilled. (Too much water or almond milk added to it will make it not set.)
Nutrition
Calories:
84
kcal
|
Carbohydrates:
13
g
|
Protein:
1
g
|
Fat:
3
g
|
Saturated Fat:
3
g
|
Sodium:
14
mg
|
Potassium:
103
mg
|
Fiber:
1
g
|
Sugar:
9
g
|
Vitamin A:
3022
IU
|
Vitamin C:
1
mg
|
Calcium:
23
mg
|
Iron:
1
mg
Nutrition information is for roughly 2 tablespoons of frosting. Nutrition is automatically calculated using generic ingredients, and is just an estimate, not a guarantee.
If you try this recipe, please leave a comment below letting me know how you like it. And if you make any modifications, I'd love to hear about those, too! We can all benefit from your experience.
–
Reader Feedback: What's your favorite type of frosting? Be sure to try my Vegan Chocolate Frosting if you want an easy chocolate option.