Almond Flour Biscotti is the perfect gluten-free recipe to serve with tea or coffee. This version calls for just 5 simple ingredients, and would make a great DIY gift. There are two flavors to choose from!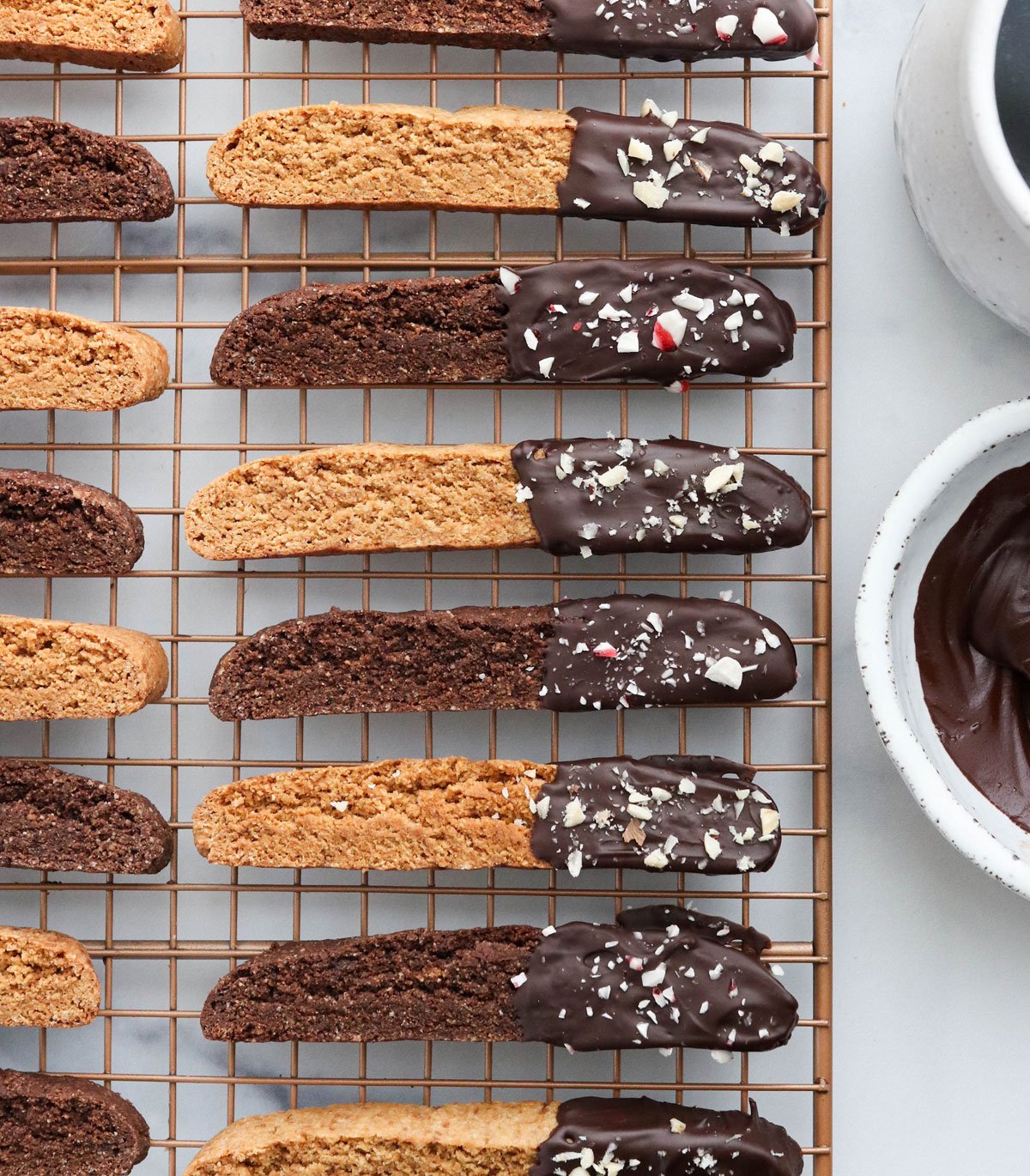 Biscotti Ingredients
To make almond flour biscotti, also known as cantucci, you'll need 5 simple ingredients:
Blanched almond flour
Coconut sugar
Egg (see notes for swaps)
Baking powder
Almond extract
I find that blanched almond flour works best for this recipe, since almond meal (which has brown flecks of skin) tends to make more soft, cake-like baked goods. If you can only find almond meal at the store, I think it's still worth trying, but the biscotti might need to bake a little longer to dry out in the middle.
Can't find almond flour at the store? You can make homemade almond flour, too!
How to Slice Biscotti
When slicing biscotti, it's important that the loaf is totally cool before you cut into it. Otherwise, it could mush together, or fall apart as you slice it.
I recommend letting the loaf cool at room temperature briefly, then placing the pan in the fridge or freezer to cool completely before cutting into it.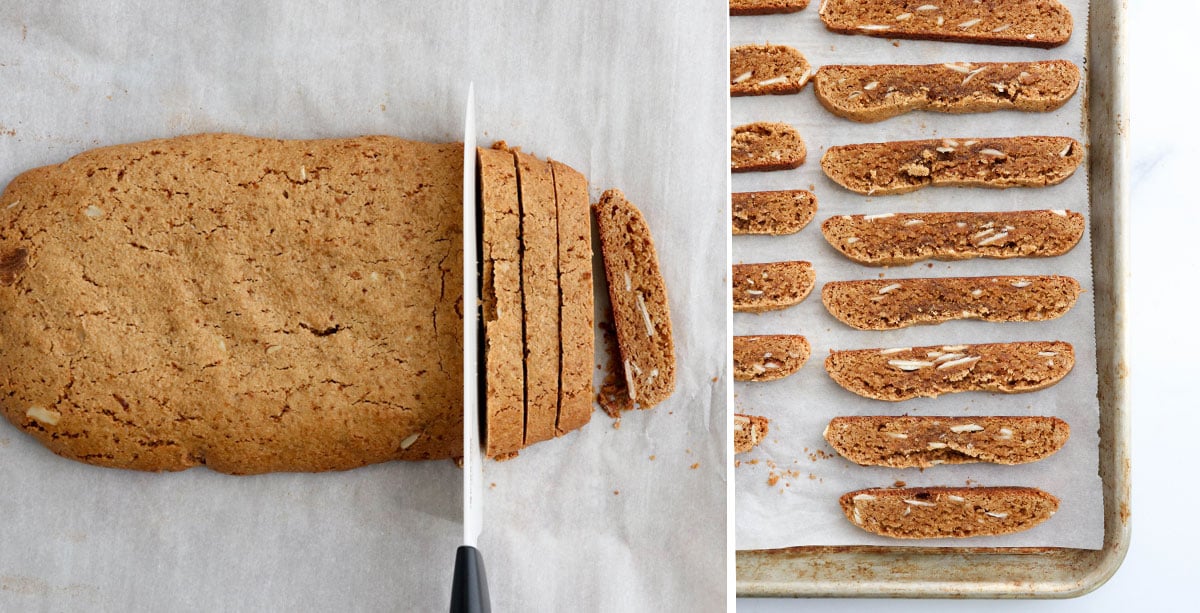 If this is your first time making biscotti, keep in mind that it's also easier to make clean slices if you leave out any extra sliced almonds.
Adding sliced almonds looks pretty, but they are trickier to cut through. If your knife isn't super-sharp, the almonds may not cut cleanly, and can create an uneven look, so this is something to consider.
What Makes Them Crispy?
Just like traditional biscotti, this recipe is twice baked to create extra-crunchy cookies. The thinner you slice the biscotti, the crispier they will be. Thin biscotti are also easier to bite into!
First, you'll bake the dough as a log at 350ºF, just until it's lightly golden.
Then, let it cool completely, so it will slice nicely. I recommend placing the loaf in the fridge or freezer, until the bottom of the loaf is cold to the touch.
Slice the log into thin strips, then lay each cookie on its side and bake at a lower oven temperature. This helps them crisp to perfection!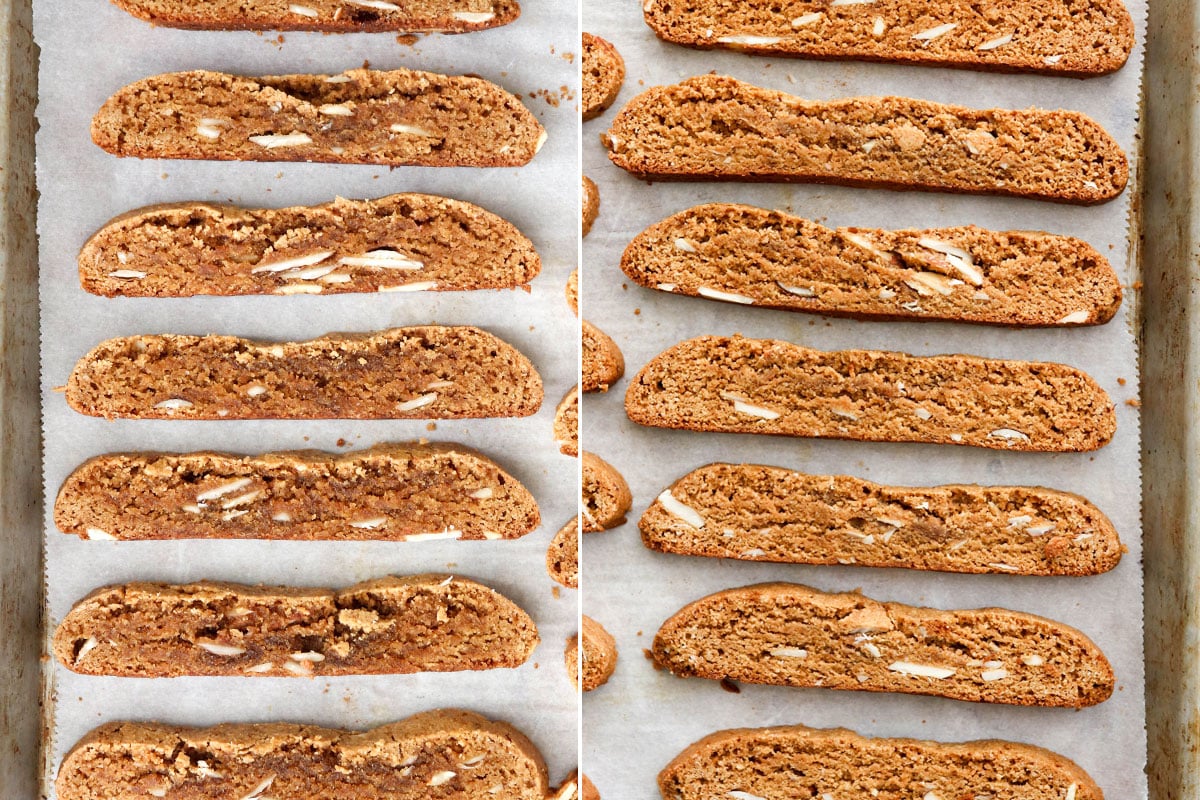 Baking the cookies at 250ºF ensures that they won't burn, keeping their flavor in tact.
Tip: Don't try raising the temperature on the second bake– even 300ºF is too much and will leave you with an unappealing taste. The almond flour can take on a slightly-burnt flavor, even without looking burnt.
When the biscotti are done baking, turn off the oven and let them continue to stay in the oven until it's cool. This will ensure that the cookies totally dry out, creating a crispy texture that is perfect for dunking in coffee or tea.
Need an Egg-Free Version?
I originally planned on making this recipe egg-free, but as it turns out, it's challenging to get the middles 100% dry without the egg. They are still delicious, but this egg-free biscotti is harder in texture, so be careful with your teeth.
These are definitely the type of cookie you'll want to soften by dunking in coffee first.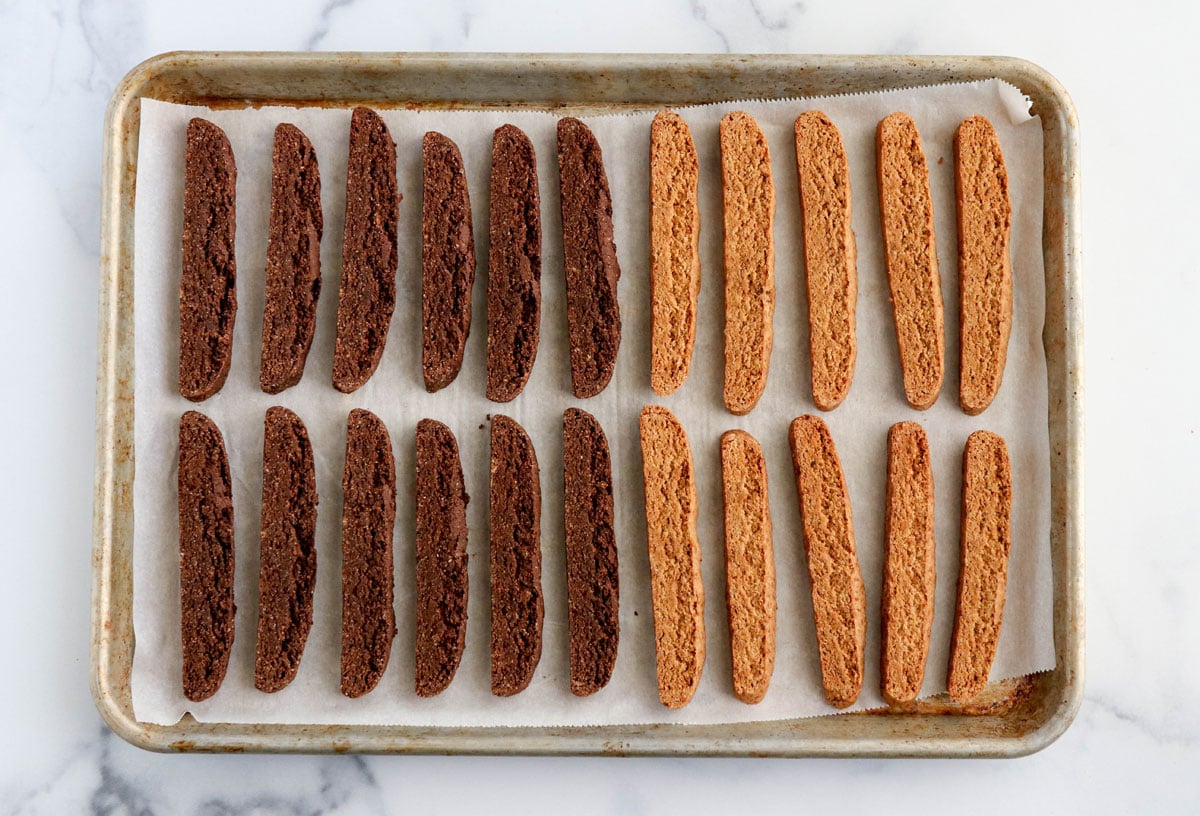 If you'd like to try an egg-free version, replace the egg with:
2 tablespoons of arrowroot starch
3 tablespoons of water
You'll bake as directed for the first round, but for the second bake, you'll add 15 minutes to each side. So, they'll bake for 45 minutes at 250ºF on one side, then you'll flip them and bake another 45 minutes.
Turn off the oven and let the biscotti cool in there, if you can. This ensures there will be no "soft spot" in the center of the biscotti, so they'll be ultra-crispy.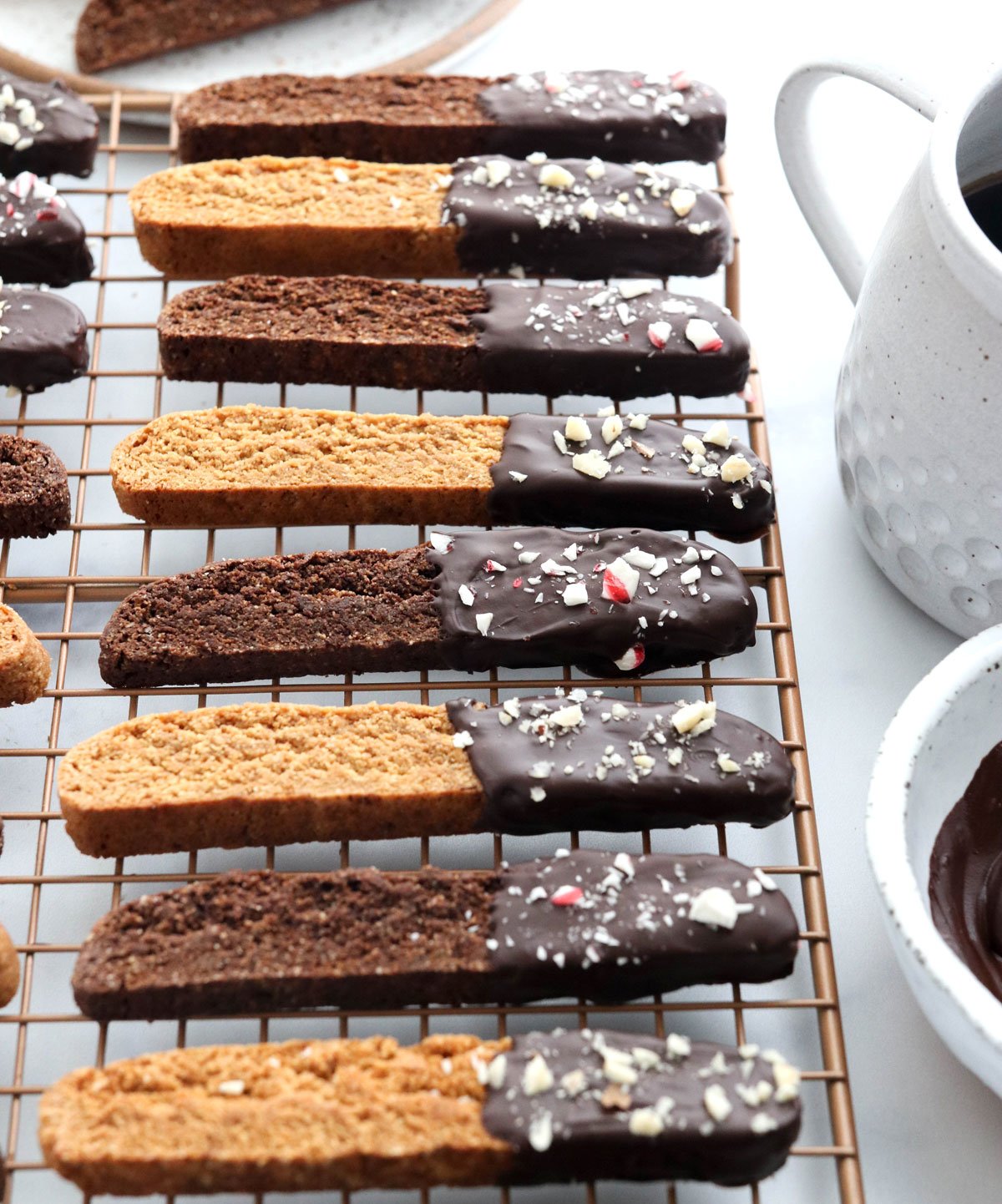 Making Chocolate Biscotti
I've included two flavor variations below, for both a classic almond biscotti, and a chocolate peppermint version.
If you'd prefer to leave out the peppermint, you can use 1/2 teaspoon of almond or vanilla extract instead. Either way, it's delicious!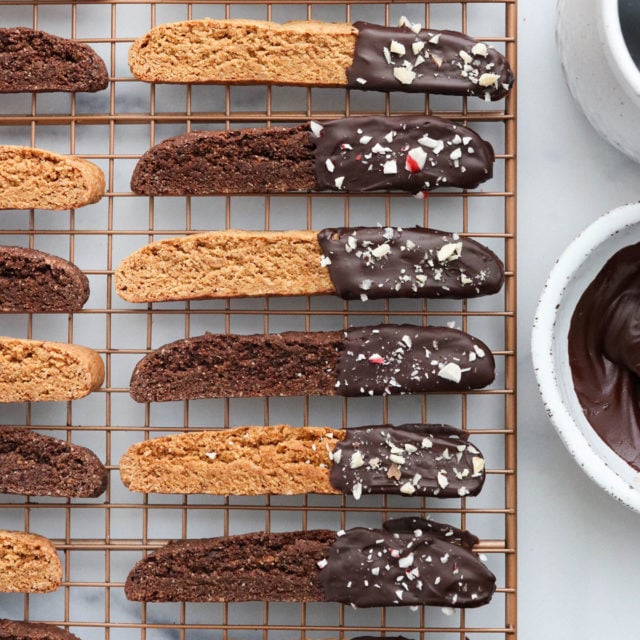 Almond Flour Biscotti
Almond Flour Biscotti is naturally gluten-free and is the perfect treat to dunk in tea or coffee. Egg-free option included for vegans!
Ingredients
Almond Biscotti
1 3/4

cup

blanched almond flour

(209 grams)

2/3

cup

coconut sugar

(94 grams)

1

teaspoon

baking powder

(5 grams)

1/8

teaspoon

salt

1

large

egg

(55 grams)

1

tablespoon

melted coconut oil

(10 grams)

1/2

teaspoon

almond extract

(2 grams)
Chocolate Peppermint Biscotti
1 1/2

cups

blanched almond flour

(177 grams)

1/4

cup

cacao powder

(25 grams)

3/4

cup

coconut sugar

(103 grams)

1

teaspoon

baking powder

(5 grams)

1/8

teaspoon

salt

1

large

egg

(55 grams)

1

tablespoon

melted coconut oil

(10 grams)

1/4

teaspoon

peppermint extract/flavor
Optional Add-Ins
1/4

cup

sliced almonds

1/2

cup

dark chocolate chips

, for topping

crushed candy cane or nuts

, for topping
Instructions
Preheat the oven to 350ºF and line a large baking sheet with parchment paper. In a large bowl, combine the dry ingredients, including the almond flour, coconut sugar, cacao powder (if making the chocolate version), baking powder, and salt. Whisk well to break up any clumps.

Add the remaining wet ingredients to the dry ingredients. Stir in the egg, coconut oil, and extract. Mix until a thick, sticky dough is formed. If you want to add in sliced almonds for texture, now is the time to do it.

Transfer the dough to the prepared baking sheet, and use your hands to press it into a "log" shape, about 8-9 inches long, and around 4 inches wide. You want the loaf to be about 1/2-inch thick. Once it's formed, place it in the oven to bake for 20 minutes, or until the edges are lightly golden.

Turn off the oven, remove the pan, and let the loaf cool completely. I recommend letting it cool at room temperature for 30 minutes, then transfer it to the fridge or freezer for 1 to 2 hours, to cool completely. This will make it easier to slice. Once it's cool, slice the loaf into 1/2-inch pieces, making about 20 to 22 slices.

Preheat the oven to 250ºF for the second bake. (Do not use a higher oven temp!) Carefully arrange the slices in a single layer on the baking sheet, and bake for 30 minutes. Then, remove the pan, flip the slices, and bake for another 30 minutes. Turn off the oven and let the biscotti stay in the oven as it cools. This will help them totally crisp up.

When the biscotti are cool, they should be perfectly crispy and read to serve. Almond flour baked goods will get soft if you store them in an airtight container at room temperature, so I recommend storing these in an open container at room temperature, or in the fridge in an airtight container to keep them crispy. They should last for 3-4 days at room temp, or up to 2 weeks in the fridge.
How to Decorate Them
If you'd like to dip the biscotti in chocolate to make them look fancier, melt 1/2 cup of dark chocolate chips for 1 batch of biscotti. I use a spoon to drizzle chocolate over the top of each biscotti, coating only 1/3 of each piece.

For the chocolate peppermint biscotti, I like to sprinkle some crushed candy cane on top of the chocolate. (I use YumEarth brand.) For the almond biscotti, you can sprinkle crushed almonds on top, or any other nut you like. (Hazelnuts are really nice, too!) Let the chocolate cool completely until hardened, then serve or store as directed above.
Notes
Nutrition information is based on the Almond biscotti, for 1 of 22 slices. This information is just an estimate, and not a guarantee.
Vegan Version: Replace the egg with 2 tablespoons of tapioca or arrowroot starch + 3 tablespoons of water. For the second bake, I recommend leaving them in the oven at 250ºF for 45 minutes on each side, then turn off the oven and let them cool for at least an hour before removing the pan.
Sliced Almond Version: If you'd like to add sliced almonds to your biscotti, add 1/4 cup into the batter after it's mixed, but before you form the log. Keep in mind that the added almonds may make it harder to slice, so be sure to use a super-sharp knife!
Nutrition
Calories:
75
kcal
,
Carbohydrates:
6
g
,
Protein:
2
g
,
Fat:
5
g
,
Saturated Fat:
1
g
,
Cholesterol:
8
mg
,
Sodium:
26
mg
,
Potassium:
22
mg
,
Fiber:
1
g
,
Sugar:
3
g
,
Vitamin A:
12
IU
,
Calcium:
28
mg
,
Iron:
1
mg
More Almond Flour Recipes
Wondering what else you can make with almond flour? Here are some of my favorites to try!
If you try this Almond Flour Biscotti recipe, please leave a comment below letting me know how they turn out for you! Biscotti can be a bit tricky to get right on your first try, so I hope these step-by-step photos and directions are helpful. If you try anything different, please let me know how that goes, too! We can all learn from your experience.
–
Reader Feedback: Have you ever made biscotti before? Any other flavors I should try?