Meet the best Black Bean Brownies you'll ever try. They are rich and fudgy, and taste like the real thing! (Not some "healthy" alternative.) You can't tell there are black beans in here at all.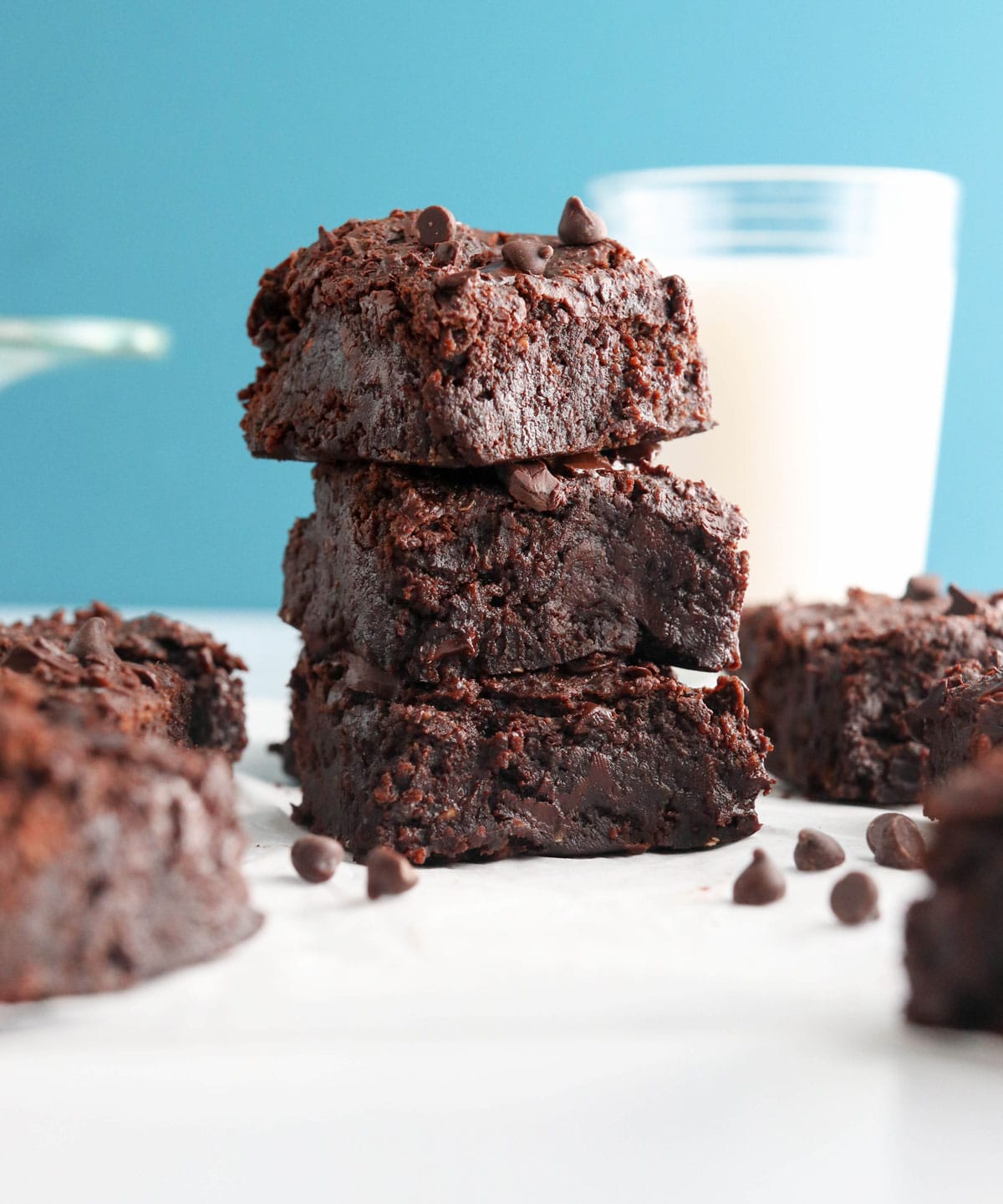 Ingredients You'll Need
What makes these black bean brownies healthier? They're made with easy, real food ingredients. No refined flour or oil necessary!
Here's what's inside:
Black beans (a whole can!)
Rolled oats (use certified gluten-free, if needed)
Almond butter (adds fat & fiber)
Coconut sugar (a lower glycemic sweetener)
Cacao powder
Baking soda + vinegar (which work together to help them rise)
These brownies are naturally gluten-free, oil-free, and egg-free, so they are vegan friendly and perfect for those following a special diet. And they really do taste like the real thing!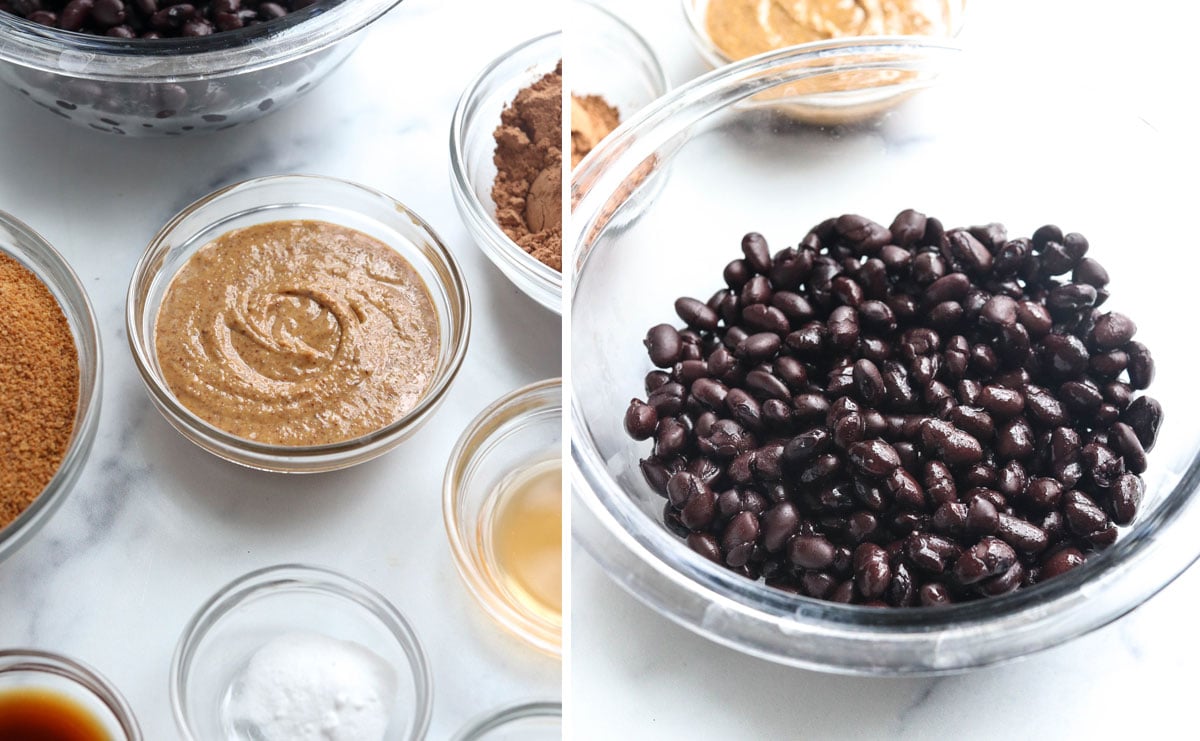 Why You'll Love Them
I'm pretty picky about brownies. To me, a good brownie needs to be rich and moist, with an ultra-fudgy texture. If I wanted a cake-like texture, I'd reach for a piece of cake. Brownies need to feel more moist and decadent.
These Black Bean Brownies are:
Flourless! (which also keeps them gluten-free)
Naturally sweetened with coconut sugar
Oil-Free
Loaded with fiber and protein from black beans
Sneaky– you can't detect the black bean flavor AT ALL.
Rich and fudge-like
Trust me when I say that these brownies taste totally decadent.
How to Make Them
To make black bean brownies, all you'll need is a food processor and about 10 minutes of time before they go in the oven. I like to start by processing the rolled oats into a coarse flour.
Once the oats are pulsed (no need for them to be perfectly ground) you'll add in the rest of the brownie ingredients and process them again.
The resulting brownie batter should be thick, and relatively smooth. It won't be as runny as traditional brownie batter!
Add in 1/2 cup of dark chocolate chips, and pulse the food processor briefly to mix them in.
Transfer the batter to an 8-inch pan that has been greased and lined with parchment paper. (Greasing the pan first helps the parchment paper stay in place.)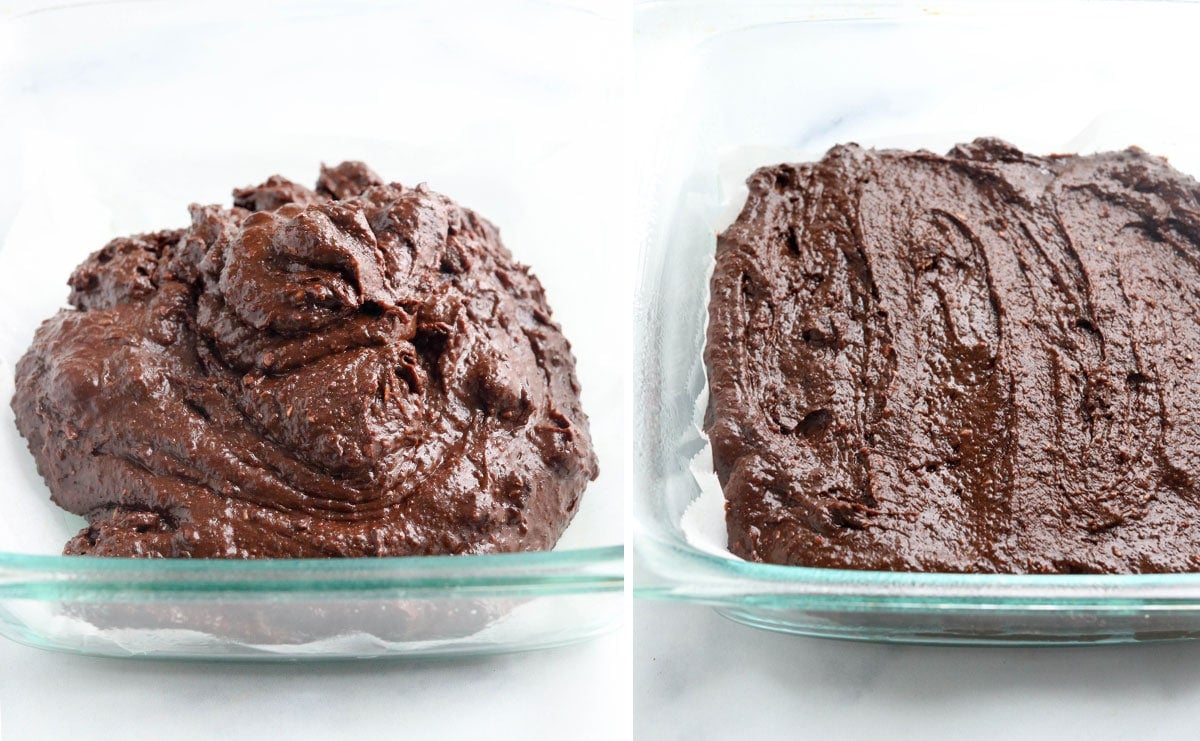 Use a spatula to smooth the top, then sprinkle the top with a few more chocolate chips, if desired.
Bake for 25 to 30 minutes. These brownies will be very fragile when they are hot, so it's important that you let them cool completely before slicing.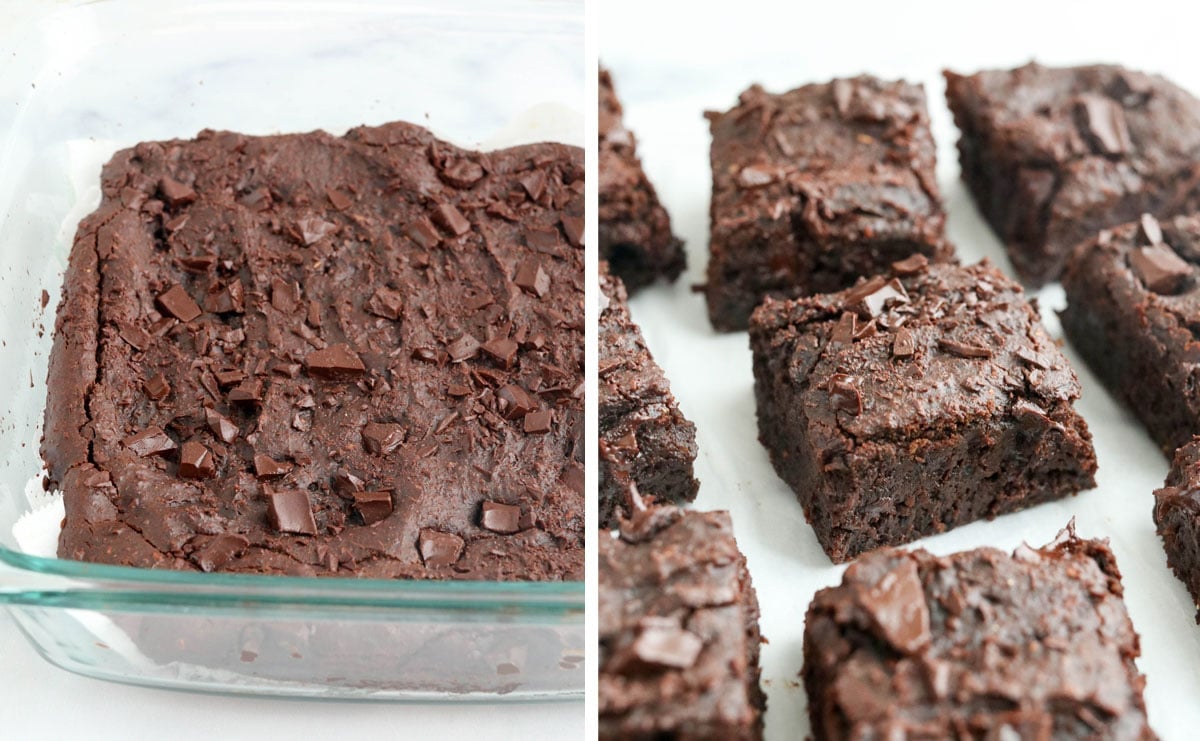 They will smell so good, it's hard to be patient, but the flavor gets better as they cool, too. I think the black bean flavor is slightly noticeable when they are hot from the oven, but when they cool it disappears entirely.
I think they taste even better the next day, too!
Frequently Asked Questions
Will Black Bean Brownies Give You Gas?
Beans contain a complex sugar called raffinose, which the body can have a hard time breaking down. That, paired with the fiber found in beans, can make you gassy, especially if you don't already eat a fiber-rich diet.

Incorporating beans into your diet regularly may help to reduce this effect, and one study suggests that taking Beano can help prevent gas, too.
–
Can I omit the almond butter?
You can replace the almond butter with peanut butter, cashew butter, or a nut-free alternative, like sunflower seed butter or tahini. Keep in mind that the seeds are more bitter in flavor, so you might need to adjust the sweetness to your taste.

Luckily, this batter is egg-free, so you can taste as you go!
–
Can you leave out the oats?
I've made these black bean brownies successfully without the oats. The results are just more fragile, and more gooey in the middle.
–
Can I leave out the coconut sugar?
I don't use any zero calorie sweeteners, so I can't comment on how those might work in this recipe, but keep in mind that the granulated sugar is what gives these brownies their classic "fudgy" texture.

If you want to use maple syrup or honey, these brownies will probably be much more wet and fragile, so they might lose that classic brownies texture, and you won't need nearly as much, since they are sweeter than coconut sugar. (I'd start with 1/2 cup maple or 1/3 cup honey.)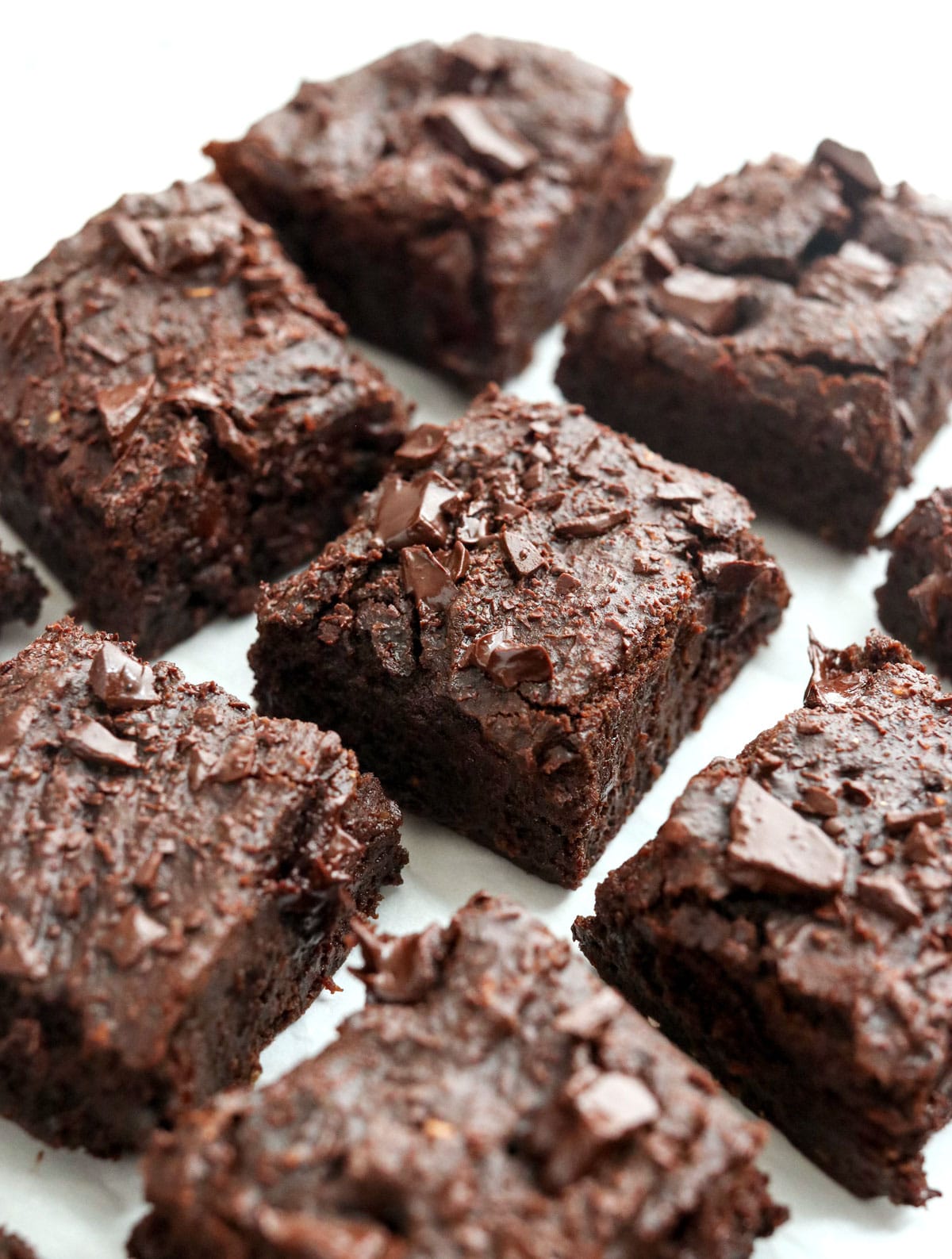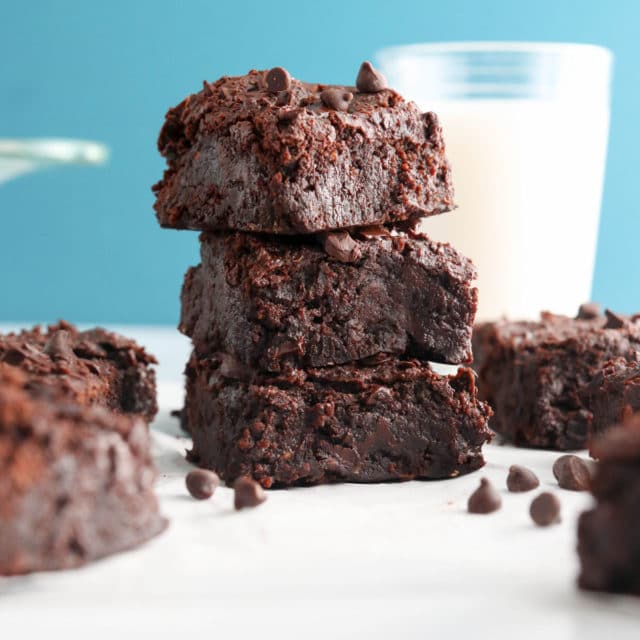 Fudgy Black Bean Brownies
This is the best black bean brownie recipe you'll ever try. No eggs, flour, or dairy, and they don't taste "healthy" at all.
Instructions
Preheat the oven to 350ºF and line a 8-inch square baking dish with parchment paper. In a large food processor fitted with an S-blade, process the rolled oats briefly, until they resemble a coarse flour.

Add in the black beans, almond butter, cacao powder, ground flax, vanilla, sugar, vinegar (which helps the brownies rise), salt, and baking soda. Process until a very smooth and thick batter is formed, stopping to scrape down the sides at least once to make sure everything is mixed evenly. Add 1/2 cup of the chocolate chips to the batter, and pulse briefly to mix them in.

Transfer the batter into the lined 8-inch baking dish. The batter will be rather thick, so you'll need to use the spatula to spread it evenly into the pan. Sprinkle the remaining chocolate chips over the top, and press them lightly into the batter.

Bake until the top begins to crack and the center feels relatively firm to a light touch, about 30 minutes. Allow the brownies to cool completely before attempting to cut them into squares, as they are fragile when warm. I let mine cool for at least 2 hours. Serve at room temperature, and store any leftovers in an airtight container in the fridge for up to a week. (I imagine these would freeze well, too!)
Video
Notes
Nutrition information is for 1 of 16 brownies. This is automatically calculated, and is just an estimate, not a guarantee.
If you prefer a darker chocolate brownie, go ahead and use 1/2 cup of raw cacao powder in this recipe. I've tested it that way, and I thought they were delicious, but they were a little "too dark" for some of my taste testers.
I imagine that any other nut or seed butter, such as peanut butter or sunflower seed butter, would work well in this recipe if you'd prefer to replace the almond butter.
You can use any vinegar that you have on hand. I've tested these with balsamic and apple cider vinegar.
Coconut sugar gives these brownies much of their substance and texture, so don't be tempted to use a liquid sweetener or sugar substitute without expecting significantly different results. Granulated sugar = chewy, fudgy brownies, so keep that in mind.
You can leave out the rolled oats for a grain-free dessert. They are just slightly more gooey and fragile that way.
Nutrition
Serving:
1
g
,
Calories:
133
kcal
,
Carbohydrates:
19
g
,
Protein:
3
g
,
Fat:
6
g
,
Saturated Fat:
3
g
,
Cholesterol:
1
mg
,
Sodium:
162
mg
,
Potassium:
173
mg
,
Fiber:
3
g
,
Sugar:
10
g
,
Vitamin C:
1
mg
,
Calcium:
50
mg
,
Iron:
1
mg
More Healthy Brownie Recipes
Looking for more brownie ideas? Try one of these other crowd-pleasing recipes!
If you try this recipe, please leave a comment below and let me know how you like it! And if you try any modifications, I'd love to hear about those, too. We can all benefit from your experience.
—
Reader Feedback: What's your favorite way to use black beans? Have you tried using them in a desert before?
SaveSave