This Vegan Pie Crust is naturally gluten-free and dairy-free, and made with just 5 ingredients. It's the perfect base for practically any pie!
I don't know about you, but I've always been intimidated by making my own pie crust. I've done graham cracker crusts before, where you crush store-bought crackers together with butter and press the mixture into a pan, but there's something about rolling out a pie crust that has always intimidated me.
If you feel the same way, I hope that this post will encourage you to give this easy pie crust a chance. I've made it over 10 times now, and I have yet to mess it up! Hopefully it will be fool-proof for you, too.
How to Make a Vegan Pie Crust
What I love about this recipe is that a food processor does the majority of the work for you. I don't own a pastry cutter, because I don't make pie crust often enough to justify it, so I relied on the food processor to break up the cold coconut oil and distribute it throughout the flour. It works amazingly well!
Vegan Pie Crust with Coconut Oil
Just like a traditional pie crust, you want to use cold/solid coconut oil so that the crust becomes buttery and easy to cut. Since I bake pies in the colder months, this works out perfectly because my coconut oil is already very solid sitting out at room temperature.
If your kitchen happens to be warm and your coconut oil is liquid, I'd recommend measuring it, then put it in the fridge until solid. (That way it's already measured when you're ready to make your pie crust.)
You use cold water with this recipe so that the coconut oil doesn't melt while you work with the dough. I simply use water from my fridge door, which is chilled, but if you're using water from your faucet you might want to put a couple ice cubes in it before measuring so that your water is really cold.
This vegan pie crust isn't exactly like one made with real butter and white flour, but it's certainly the best gluten-free pie crust I've ever made! I hope you'll enjoy it.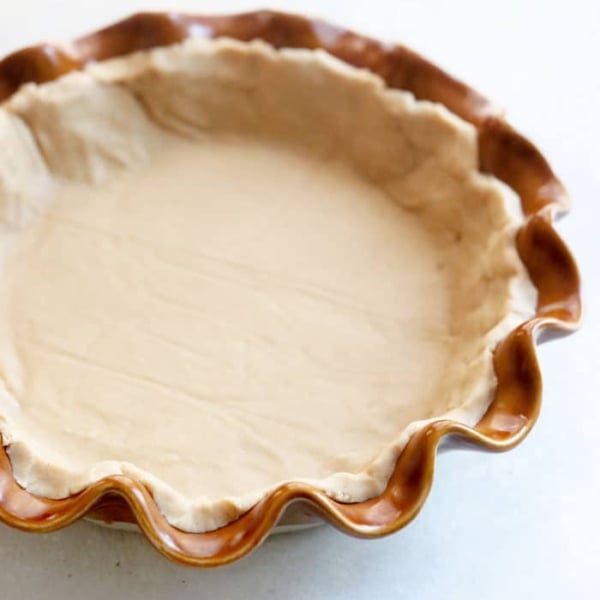 Vegan Pie Crust (Gluten-Free!)
This Vegan Pie Crust is naturally gluten-free and dairy-free, made with coconut oil for a flaky and buttery result. I love how easy it is to make!

Ingredients
1 1/4

cups

oat flour

(certified gluten free)*

3

tablespoons

tapioca starch

(or arrowroot)

1/4

teaspoon

fine sea salt

1/3

cup

coconut oil

(solid)

2

tablespoons

maple syrup

3

tablespoons

ice cold water
Instructions
Preheat your oven to 350ºF and have a 9-inch pie dish ready. (No need to grease it.)


In the bowl of a large food processor fitted with an "S" blade, add in the oat flour, tapioca starch, salt, and coconut oil. Secure the lid and press the "pulse" button several times until the coconut oil has disappeared into the flour. The mixture should look like a crumbly flour. (If you have a pastry cutter, you can use that instead of the food processor.)


Add in the maple syrup and cold water, and pulse the mixture again until the dough comes together. It's normal for it to stick together and start to form a ball. Be careful not to run the food processor for too long, as you don't want to warm up the coconut oil. As soon as it looks like pie dough, you're done with the mixing part!


Lay a large sheet of parchment paper on your counter and place the ball of dough in the middle of it. Lay another large sheet of parchment paper over the dough ball and press is down with your hands to start to flatten out the ball into a crust.


Use a rolling pin over the top layer of parchment paper and roll the pie dough out until it's roughly 11 or 12 inches in diameter, to fill a 9-inch pie plate with room to go up the sides of the pan.


Once the crust is rolled out, remove the top layer of parchment paper. Carefully lift the crust up using the bottom piece of parchment paper and flip it over onto your hand. Use both hands to gently lower the crust into your pie pan and remove the parchment paper (that's now on top of the crust) once it's in place. You'll need to use your fingers to press the pie crust into the corners of the pan, and you might need to break off pieces of the crust that are overflowing from the edges. Feel free to use pieces of the dough to repair any holes-- just press extra dough into any spots that break. Use your fingers to flatten the edges of the crust for a smooth look.


For a pie that will be baked, like my vegan pumpkin or vegan pecan pie, this is the time to add your filling. This crust works very well for pies that need to cook for up to 45 minutes. At 55 minutes, the edges start to get too brown, so you might need to cover them if your recipe calls for a baking time that long.


For a cold pie filling, like my French Silk Pie, you can bake this crust on its own for 15 to 20 minutes, until lightly browned. Let it cool completely, then fill it!

Notes
*If you need this to be gluten-free, make sure you use oats that are labeled as "certified gluten-free" to avoid cross-contamination during the manufacturing process. To make your own oat flour, simply grind gluten-free oats in a blender or coffee grinder.
Nutrition
Calories:
142
kcal
,
Carbohydrates:
14
g
,
Protein:
2
g
,
Fat:
8
g
,
Saturated Fat:
6
g
,
Sodium:
61
mg
,
Potassium:
64
mg
,
Sugar:
2
g
,
Calcium:
13
mg
,
Iron:
0.6
mg
Per slice: Calories: 142, Fat: 8g, Carbohydrates: 14g, Fiber: 0g, Protein: 2g
Recipe Notes:
I haven't tested this crust with other flours yet. It took a long time to get this one right! I imagine that you might be able to use a gluten-free flour blend instead of the oat flour + tapioca starch combination, so please let us know in a comment below if you give that a shot.
I prefer making this pie crust with maple syrup, but if you'd rather use coconut sugar you can replace the maple syrup with 1/4 cup of coconut sugar. In that case, use 5 tablespoons of water to help the crust come together. You could probably use honey instead of the maple syrup, if you don't need a totally vegan crust, too. (Honey isn't vegan.)
If you don't have coconut oil, I image a vegan butter or shortening would work in its place. I haven't figured out a totally oil-free crust yet, but I'm working on that so stay tuned.
If you are making a crust for a savory dish, I would leave out the maple syrup and use more cold water instead.
Reader Feedback: What's your favorite type of pie? Have you made a crust using other flours? I'm working on versions for a gluten-free flour blend and almond flour, too.