This Vegan Sriracha Mayo is one of my favorite condiments, and it takes just minutes to prepare. The slightly tangy and spicy flavor in this creamy spread is addictive!
Is Sriracha Sauce Vegan?
Luckily for us, most brands of sriracha sauces are naturally vegan already. The main ingredients in sriracha are chili peppers, garlic, sugar, vinegar, and salt, but it's always a good idea to check the label before you buy a bottle if ensuring it's vegan is important to you.
Note: Some sugar is processed through bone char, which would make it not vegan. Certified organic sugar can't be processed through bone char, so look for an organic brand of sriracha to be sure that it's vegan.
Whether you follow a vegan diet or not, this sriracha mayo is perfect for those looking to avoid added oil and eggs.
What is Sriracha Mayo Made Of?
This recipe calls for just a handful of ingredients that you probably already have on hand. Instead of using a vegan mayo as the base, it uses cashews for creaminess.
Paired with lemon juice, a touch of maple syrup, and sriracha sauce, this sauce has the perfect flavor for using as a dip or sandwich spread. It is my favorite addition to a veggie sandwich.
How to Make It
This Vegan Sriracha Mayo takes less than 10 minutes to whip up. All you need to do is add the ingredients to a blender, and blend until smooth!
For this recipe, you can use soaked or un-soaked cashews. It turns out well either way, if you have a high-speed blender!
The benefit of soaking the cashews in water first, is that it may help them digest better, and if you don't have a powerful blender, soaking might help them break down in your blender a little faster, too. If you soak the cashews, make sure you drain them well and rinse off any slimy water before getting started.
After blending, you can adjust the flavor of the mayo from there. Add an extra squeeze of sriracha if you want it spicier, or extra lemon juice for a more tart flavor. It's ready to use right away!
How to Adjust The Flavor
If your mayo tastes too sweet, the addition of salt or lemon juice will balance that out. If it's too tart or salty, try adding a little extra maple syrup for balance. You can always tweak the recipe until it's perfect for your taste buds.
Keep in mind that the flavor will mellow slightly when this spread is chilled in the fridge, and it will also thicken up, so you might want to wait to make too many modifications until it's had the chance to chill. If it's too thick after chilling, you can stir in a tablespoon of water to help thin it out again.
How to Serve It
This spicy vegan mayo is inspired by one that I used to get on a breakfast sandwich when I was in college. The restaurant I worked for served a traditional version of this mayo on a fried egg sandwich, and it was heavenly! Even if you don't eat eggs, this sriracha mayo is perfect for any sandwich or wrap you can think of.
Here are a few ideas to help you use it up:
No matter how you serve it, I hope you'll enjoy this easy recipe!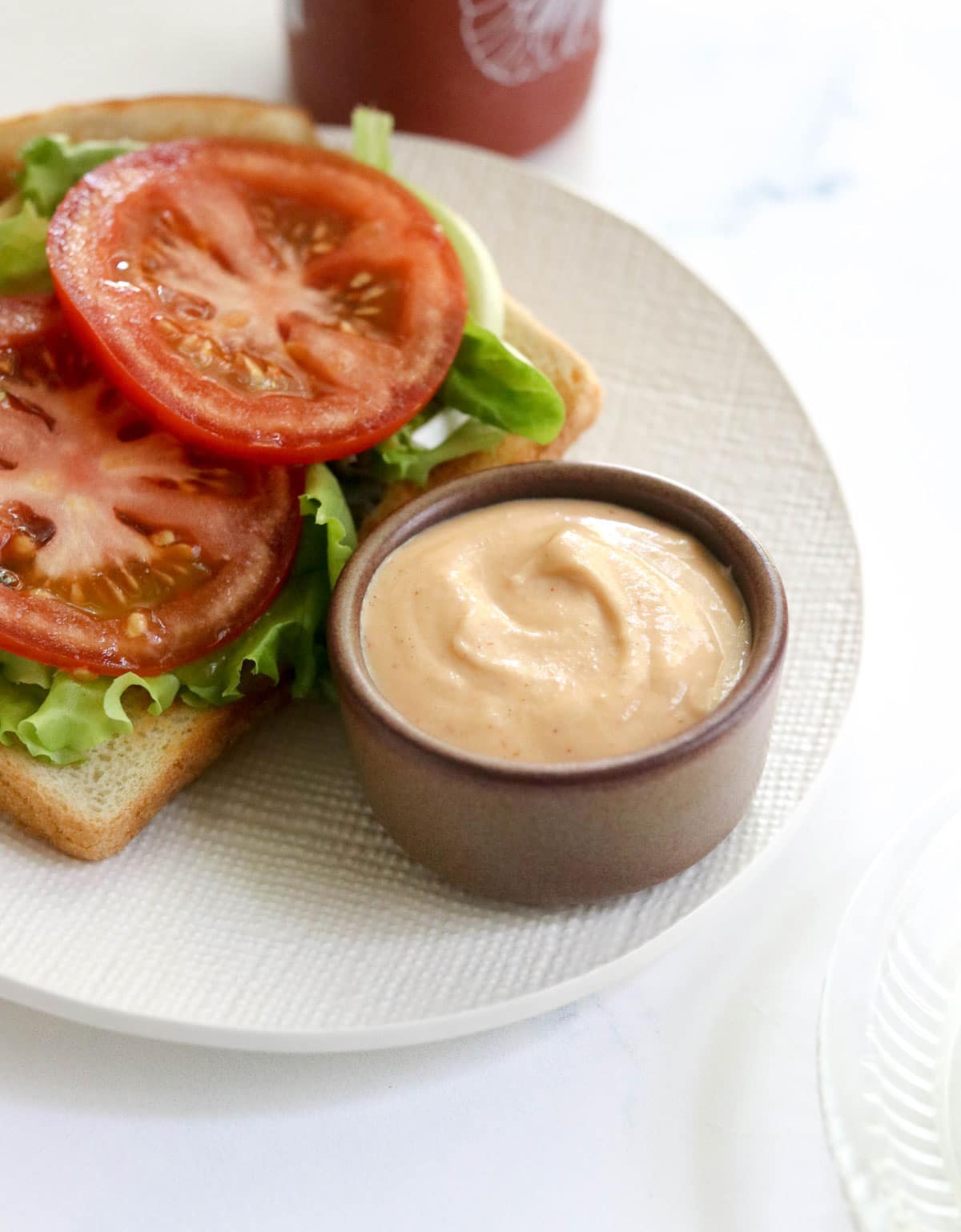 Vegan Sriracha Mayo
This Vegan Sriracha Mayo takes less than 10 minutes to prepare, and is perfect as a dip, sandwich spread, or sushi addition. The slightly tangy and spicy flavor is addictive!
Equipment
Ingredients
1

cup

cashews

(146 grams; soak them in water for up to 2 hours)

6

tablespoons

water

(80 grams), or more as needed

2

tablespoons

lemon juice

(22 grams)

1/2

teaspoon

salt

(2 grams)

2

teaspoons

maple syrup

(13 grams; or 2 pitted Medjool dates)

2

tablespoons

Sriracha Sauce

(30 grams; choose organic, to make sure it's vegan)
Instructions
Drain the cashews and rinse them well if you soaked them ahead of time. If you didn't soak them, this recipe will still work fine with a high-speed blender.

Trasfer the drained cashews to the blender, then add in the water, lemon juice, salt, maple syrup, and sriracha sauce. Blend until very smooth, stopping to scrape down the blender, when needed. Taste, and adjust the seasonings, if needed. If the cashews aren't blending smoothly, add another tablespoon of water and blend until smooth.

Transfer the mayo to an airtight container and store it in the fridge until you're ready to use it. It will thicken as it chills.

This spicy mayo will keep well in the fridge for up to a week, but I recommend freezing anything you won't use up by then. (An ice cube tray works well, if you want to thaw smaller portions later.) This should freeze well for up to 3 months when you store it in an airtight container.
Notes
If you use dates as the sweetener, rather than maple syrup, you may need to add an extra tablespoon or two of water, to help everything blend.
I don't recommend trying to make a half-batch of this recipe, as your blender probably won't be full enough to blend everything smoothly. If you can't use this entire amount in one week, freeze it for future use.
Nutrition
Calories:
49
kcal
,
Carbohydrates:
3
g
,
Protein:
1
g
,
Fat:
4
g
,
Saturated Fat:
1
g
,
Sodium:
117
mg
,
Potassium:
58
mg
,
Fiber:
1
g
,
Sugar:
1
g
,
Vitamin C:
2
mg
,
Calcium:
4
mg
,
Iron:
1
mg
Nutrition information is for roughly 1 tablespoon. This is calculated automatically, and is just an estimate and not a guarantee.
Enjoy!
Substitution Notes:
If you don't care for cashews, I assume another mild-flavored nut, such as Macadmia or Brazil nuts, could work as a replacement. Sunflower seeds may also work, but you'll have to make additional adjustments to compensate for their bitter flavor.
If you don't care for lemon juice, vinegar could also work, but I'd use less of it, since vinegar is more powerful in flavor than lemon juice.
If you don't want a spicy mayo, simply omit the sriracha sauce!
—
Reader Feedback: Are you a fan of mayo, or spicy mayo? What's your favorite type of sandwich spread?