Whole Roasted Cauliflower is an impressive dish that you can serve as a side or main entree. You can slice into it just like you would a turkey, so it's a fun alternative for a vegetarian or vegan Thanksgiving menu.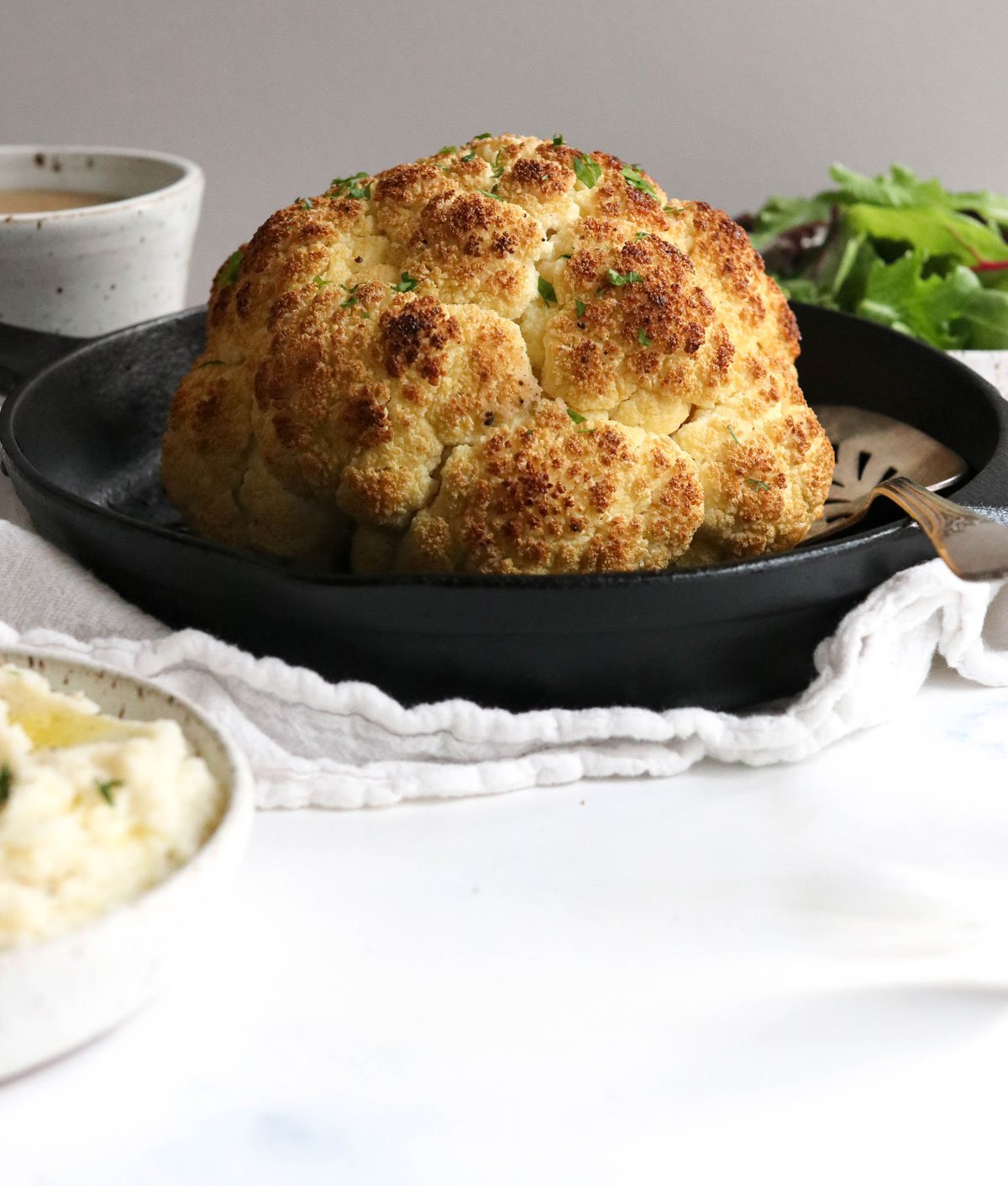 How to Cook a Whole Cauliflower Head
Roasting a whole cauliflower head is easier than you might think. Unlike traditional roasted cauliflower florets, there's less chopping involved so the prep work is even easier.
Just follow these 3 easy steps:
Step #1: Prep the Cauliflower. Instead of chopping the head into cauliflower florets, simply remove the leaves on the bottom and slice the core flat, so that the cauliflower will stand up evenly on a pan.
Rinse the cauliflower well (I like to rinse the bottom after the leaves have been cut off, to make sure there are no tiny bugs inside) and pat well to dry.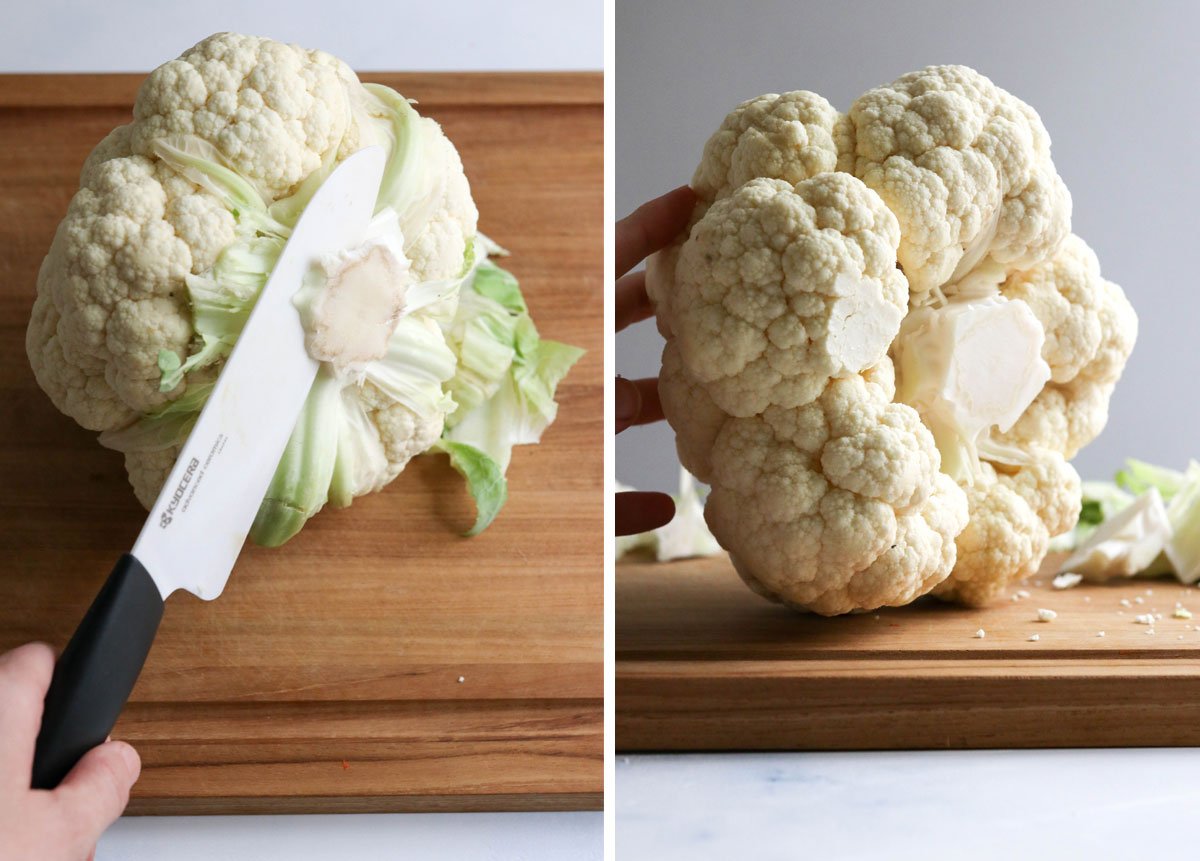 Step #2: Season the Cauliflower. It takes at least a full hour to roast a whole cauliflower, so you'll want to brush the cauliflower with olive oil to help lock-in moisture.
I like to mix together olive oil, lemon juice, garlic powder, and salt, then brush the mixture all over the cauliflower, including the bottom! That way the whole cauliflower will be infused with flavor.
Step #3: Roast the Whole Cauliflower. Once it's seasoned, you'll place the whole head in an oven-safe dish, and let it roast in the oven until it's golden and tender, all the way to the center.
How Long to Roast Cauliflower
The average head of cauliflower is roughly 2- to 3-pounds. Here's a rough estimate on how long to cook cauliflower by weight:
2-pound cauliflower: 1 hour
2.5-pound cauliflower: 1 hour 15 minutes
3-pound cauliflower: 1 hour 30 minutes
These cooking times may vary based on how dense the cauliflower is, so check on it periodically as it roasts in the oven. When it's done, let the whole roasted cauliflower rest for 10 minute before serving, which will help the core to soften even more.
How to Serve It
Slice the roasted cauliflower into wedges, then serve it over mashed potatoes with vegan gravy. It's a great alternative to turkey if you're hosting a vegetarian or vegan Thanksgiving, and it makes an impressive-looking side dish for any meal.
More Vegetarian Recipes
Check out my Vegan Thanksgiving recipes, which includes lots of crowd-pleasing options, or browse my vegetarian recipes, for more veggie-packed ideas.
Whole Roasted Caulilflower
Here's how to roast a whole cauliflower head, for an impressive looking vegetarian entree. Serve it with mashed potatoes and gravy for a filling and flavorful meal!
Ingredients
1

head

cauliflower

(2 to 3 pounds)

3 to 4

tablespoons

olive oil

1

teaspoon

fine sea salt

1

teaspoon

garlic powder

1

teaspoon

lemon juice

freshly ground black pepper
Instructions
Preheat the oven to 400ºF and move your oven rack to a low setting, so the cauliflower will be at least 4 to 6 inches away from the top heating element. Trim the bottom of the cauliflower, slicing the core so it's flush with the bottom of the rest of the cauliflower head and will stand up evenly when placed in a pan. Carefully remove any leaves from the bottom, without cutting off the florets. Rinse the cauliflower well (I like to rinse the bottom after the leaves have been cut off, to make sure there are no tiny bugs inside) and pat well to dry.

In a small bowl, mix together 3 tablespoons of olive oil, the salt, garlic powder, lemon juice and several grinds of black pepper. Use a pastry brush to stir it together. Place the cauliflower in a rimmed baking sheet or cast iron skillet, and flip it upside down so you can brush the bottom of the cauliflower head with roughly half the mixture. Shake the cauliflower to help distribute the seasoning inside.

Flip the cauliflower head back over, and brush the entire outside with the remaining olive oil mixture. Be sure to use any excess that has dripped into the pan, too. Pour 1/4 cup of water into the bottom of the pan, then place the pan in the oven and roast for 60 minutes.

When the timer goes off, remove the pan and use a knife to check the core of the cauliflower. If the cauliflower is 2 pounds or less, it might be tender already. If not, return the cauliflower to the oven to cook for 15 more minutes. If you're worried about the cauliflower getting to dark on top, you can brush those areas with additional olive oil, to help slow the browning process. If your cauliflower head is 3 pounds or more, it will probably take closer to 1 hour and 30 minutes to become tender all the way through.

When the cauliflower is tender, remove it from the oven and let it cool for 10 minutes. Season with additional salt and pepper, if desired, then slice into wedges and serve warm with your favorite side dishes. Leftover cauliflower can be stored in an airtight container in the fridge for up to 5 days.
Notes
Nutrition information is for 1 of 6 slices, and is just an estimate, not a guarantee.
I don't recommend roasting cauliflower ahead of time, as it can be mushy when you reheat it later. I tend to add the leftover roasted cauliflower to other dishes, like pasta and burrito bowls. It blends in seamlessly to almost any dish with this classic seasoning.
Nutrition
Calories:
88
kcal
,
Carbohydrates:
5
g
,
Protein:
2
g
,
Fat:
7
g
,
Saturated Fat:
1
g
,
Sodium:
417
mg
,
Potassium:
293
mg
,
Fiber:
2
g
,
Sugar:
2
g
,
Vitamin C:
47
mg
,
Calcium:
21
mg
,
Iron:
1
mg
If you try this Whole Roasted Cauliflower, please leave a comment below letting me know how you like it! And if you make any modifications, I'd love to hear about those, too. We can all benefit from your experience.
–
Reader Feedback: Would you serve this as a main course or a side dish? We always serve this with lots of side dishes, so it sort of turns into the "main event" because it's so beautiful! But, it's definitely not as filling as my Vegan Meatloaf or vegetarian Nut Roast, if you need something more hearty.