Instant Pot Mashed Potatoes are unbelievably quick and easy. All you have to do is add the potatoes and water to the pot, press a button, and walk away. When the cooking cycle is done, you can mash the potatoes directly in the pot– no need to drain them!
Why You'll Love Them
If you ask me, this is the easiest method around, because you don't have to wait for a pot of water to boil on the stove before you get started. The process is very hands-off!
To make Instant Pot mashed potatoes, I like to peel and cut the potatoes into chunks first, so they will cook faster. Add them to the bottom of your Instant Pot with water and let them cook.
(When I'm lazy and only cooking for my immediate family, I don't even bother to peel them. There's nutrition in potato skins, after all!)
When you cut the potatoes into 1- or 2-inch pieces, they cook in just 8 minutes at high pressure. Keep in mind that it will take about 10 minutes for the pot to come to pressure, so the overall time in the pot will be closer to 20 minutes, not including the prep time.
Be sure to take this into account when planning your meal timing!
What is the Best Potato for Mashed Potatoes?
Yukon gold potatoes are the best for mashed potatoes! They have the most uniform consistency, and are naturally more moist than other varieties of potatoes, so they mash easily. Go light on the liquid when you mash Yukon gold potatoes, because they won't need nearly as much milk as other varieties do.
Fun Fact: Yukon gold potatoes are also a good source of vitamin C! Try topping them with my Vegan Gravy for even more nutrients with each bite.
For more classic-looking white mashed potatoes, use Russet potatoes. These potatoes are much drier in texture, so keep in mind you'll need to add more milk to make them creamy. (I use almond milk for a neutral, dairy-free option, but any type of milk will work for this recipe.)
How to "Quick Release" the Instant Pot
This recipe calls for a quick release, which means as soon as the cooking cycle is over and the screen reads LO:OO you can move the steam release valve to Venting. As you can see in the photo below, steam will immediately start spewing out of the valve, so be sure to keep your hand to the side of the vent, and not directly over it.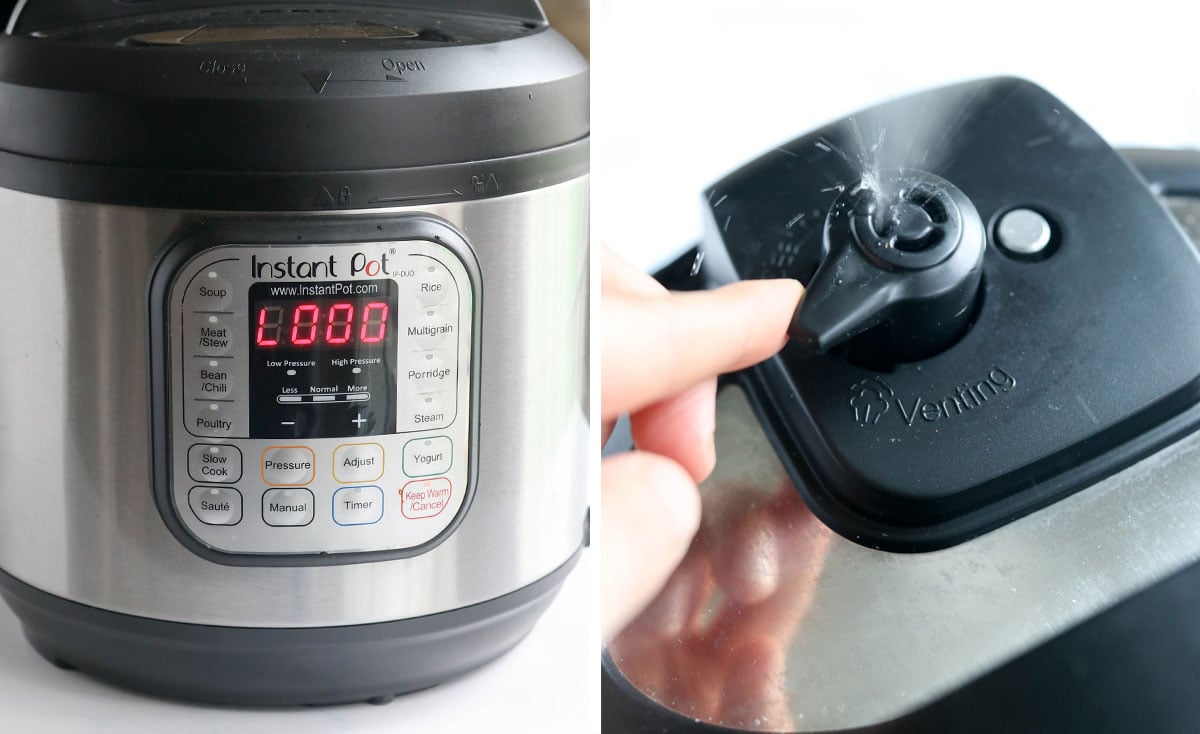 If you want to see this in action, watch my Instant Pot tutorial for additional guidance. From there, you'll mash the potatoes directly in the pot– no need to drain them!
Making Garlic Mashed Potatoes
If you're like me and love garlic, you can use the Instant Pot's sauté function to make these potatoes extra-flavorful. Simply press the Sauté button, and allow the pot to heat up for a few minutes.
Add in a olive oil and garlic, and stir just until the garlic is fragrant. (This should only take 1 minute or so– I go ahead and press the OFF button on the Instant Pot, so the surface won't get too hot and burn the garlic.)
As soon as the garlic is fragrant and turning lightly golden, add in the cup of water for the mashed potatoes. This will stop the cooking process so the garlic doesn't burn. Then you can proceed with the rest of the recipe!
I use 2 cloves of garlic, as a sort of middle-ground for my non-garlic-loving husband, but feel free to add more to your liking.
Tip: You can add extra herbs to the olive oil when you sauté the garlic, too. I've done this with a few sprigs of fresh rosemary. Let it saute in the oil until fragrant, then remove the sprigs before you add in the water and potatoes. It will add a nice fragrance and flavor to the finished potatoes. You can add in any dried herbs you like, too, but be sure to sprinkle them on top of the potatoes, so they won't stick to the bottom of the Instant Pot.
How Many Potatoes can you Cook in the Instant Pot?
I've cooked up to 6 pounds of potatoes in my 6-quart Instant Pot with no problems. I think I could have even squeezed a few more in there, but it's important to be aware of your machine's max fill line, to make sure that you don't over-fill your pressure cooker.
I imagine that you could fit 8 pounds of potatoes into an 8-quart Instant Pot, if you really need to feed a crowd, but I'd love to hear from you in the comments if you give it a try. I've never had to cook that many!
How to Reheat Mashed Potatoes in the Instant Pot
If you want to use your pressure cooker to reheat mashed potatoes, add a 1/2 cup of water into the bottom of the pot and press the Sauté button to heat up the bottom. Break up the cold mashed potatoes into chunks, so that they will reheat faster, then mash them and stir frequently, until they start to warm up. Stir frequently until heated through, adding more liquid as needed.
This is the only way I'm making mashed potatoes from now on.
I love how it doesn't take up any stove top space for a big holiday meal, and how it makes mashed potatoes a more accessible side dish for any time of the year!
Keeping Mashed Potatoes Warm in the Instant Pot
The Instant Pot is always out on my counter during holiday meals, because of the "keep warm" setting. Use the Sauté button to thoroughly reheat the mashed potatoes, then press the keep warm button to keep them on a warm setting for up to 2 or 3 hours.
If the potatoes start to dry out as they stay warm, you can always add an extra splash of water or almond milk to help make them creamy again.
Instant Pot Mashed Potatoes
These Instant Pot Mashed Potatoes are quick and easy to prepare, with an 8-minute pressure cooking cycle. I love that you don't have to drain them after cooking!
Equipment
Ingredients
1

tablespoon

olive oil

(optional; or use butter)

2

cloves garlic

, minced (optional)

1

cup

water

3

pounds

Russet or Yukon Gold potatoes

, peeled and cut into 2-inch chunks (see note)

1

teaspoon

salt

, plus more to taste

1/2

cup

milk of choice

, or more as needed

Extra seasoning, to taste

(butter, chives, black pepper, etc.)
Instructions
For garlic mashed potatoes (highly recommended!), press the Sauté button on your Instant Pot, and add in the olive oil. When the pot has heated up, add in the 2 cloves of minced garlic and briefly stir them. I usually press the Off button right away, so the garlic doesn't burn.

As soon as the garlic smells very fragrant, add in the cup of water to prevent it from burning. Use a wooden spoon or spatula to scrape the bottom of the pot, to make sure no garlic is stuck there. (You could trigger a burn error otherwise-- nothing must stick to the bottom.)

If you want to skip the garlic part, at this point you'll add in the water (if you haven't already), along with the potatoes and salt to the Instant Pot. There's no need to stir. Secure the lid, and move the steam release valve to "Sealing."

Use the Manual or Pressure Cook button on your machine to cook at high pressure for 8 minutes. It will take roughly 10 minutes for the pot to come to pressure, so it will read "On" as it heats up, and then it will start the count-down as soon as the floating valve in the lid pops up.

When the cooking cycle is complete and the screen reads LO:00, immediately move the steam release valve to "Venting" to release the pressure in the pot. Make sure your hand isn't over the vent, to avoid getting burned by the hot steam. When the floating valve in the lid drops, it's safe to open the lid.

Use a fork to test the potatoes, to make sure they are tender, then use a potato masher to start mashing the potatoes. Add in the milk, starting with only 1/4 cup at a time, until the potatoes are as creamy as you like them. I usually end up using roughly 1/2 cup of almond milk, but if you use Russet potatoes you may need up to 3/4 cup (Russets tend to be drier than Yukon Gold potatoes). This is also the time to taste the potatoes and add more seasonings as you like. I typically use 2 teaspoons of sea salt total for 3 pounds of potatoes, and you can add black pepper or fresh chives, to taste, too.

Serve warm. Leftover potatoes can be stored in an airtight container in the fridge for up to 5 days.
Video
Notes
Nutrition information is for roughly 1 of 6 servings. This information is automatically calculated, and is just an estimate, not a guarantee.
I weigh the potatoes before peeling them. After peeling them, they are closer to 2.5 pounds total.
Nutrition
Calories:
133
kcal
,
Carbohydrates:
28
g
,
Protein:
6
g
,
Fat:
1
g
,
Saturated Fat:
1
g
,
Sodium:
426
mg
,
Potassium:
937
mg
,
Fiber:
6
g
,
Sugar:
1
g
,
Vitamin C:
26
mg
,
Calcium:
81
mg
,
Iron:
7
mg
More Instant Pot Recipes
If you want to get the most out of your Instant Pot, be sure to check out The Fresh & Healthy Instant Pot Cookbook, or try one of my recipes below.
If you try this recipe, please leave a comment below letting me know how you like it. And if you make any modifications, I'd love to hear about those, too! We can all benefit from your experience.
–
Reader Feedback: What do you like to add to mashed potatoes?