This Chocolate Almond Flour Cake is my family's new favorite! It's inspired by my popular Almond Flour Cupcakes, and has a rich, moist texture you'll love.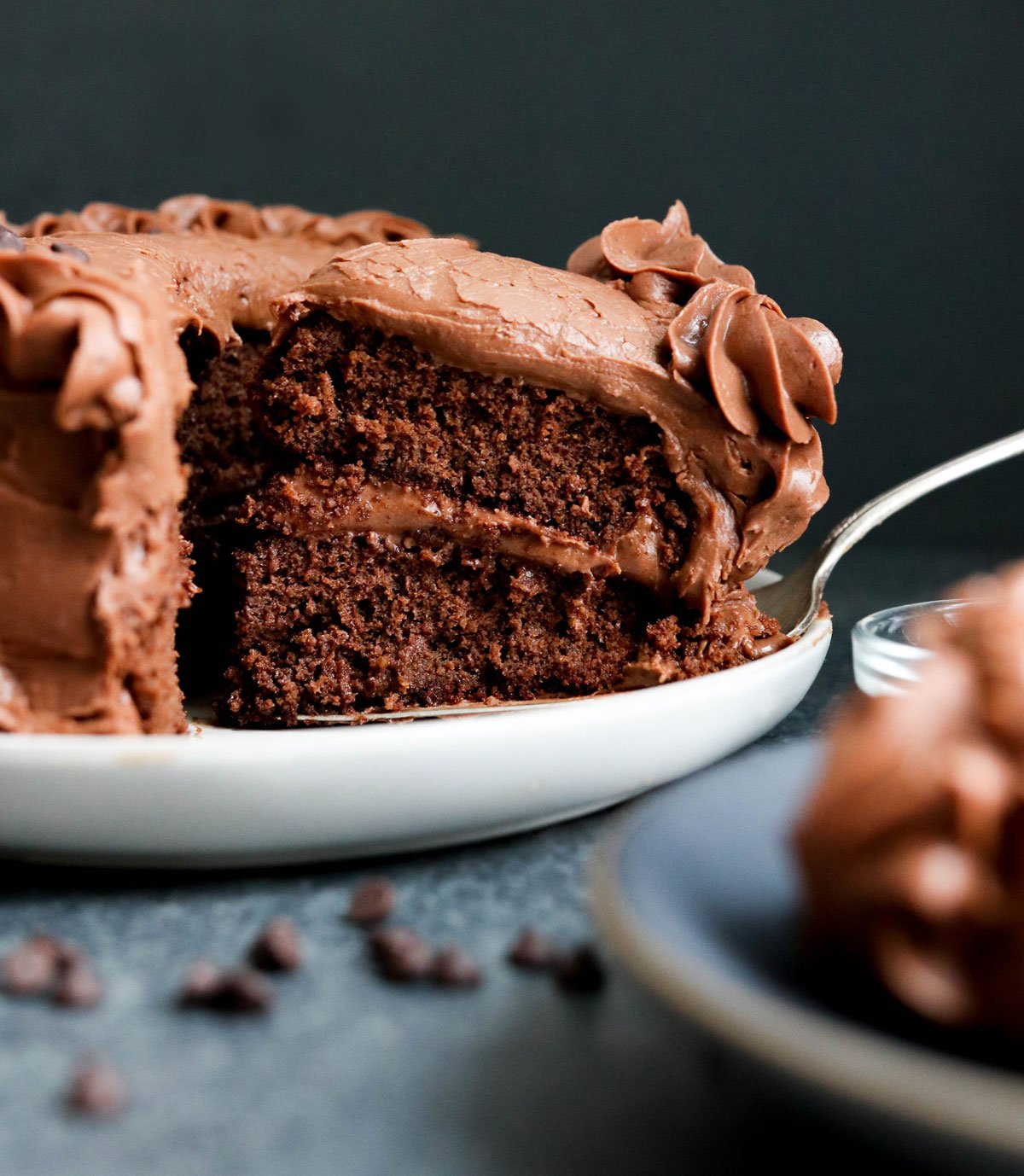 Ingredients You'll Need
I love baking with almond flour, because you only need a handful of real food ingredients to make this cake batter come together.
Here's what you'll need:
Blanched almond flour (preferred over almond meal)
Maple syrup
Eggs
Cacao powder
Olive oil
Vanilla
Baking powder
Almond flour is naturally gluten-free, so you do need eggs or starch as a binder for this recipe. I don't recommend using flax eggs as a swap in recipes that call for more than 2 eggs, but check out my Vegan Gluten-Free Chocolate Cake for a tested egg-free recipe.
Do yourself a favor and only use recipes that have been thoroughly tested with almond flour, as making substitutions can be tricky in grain-free baking. I'd hate for you to waste any expensive ingredients.
Whatever you do, do NOT try to use coconut flour as a swap! Make one of my tested coconut flour recipes instead.
How to Make It
This chocolate almond flour cake comes together quickly, so prepare your cake pans first. This recipe works well with two 6-inch cake pans, or one 8-inch cake pan.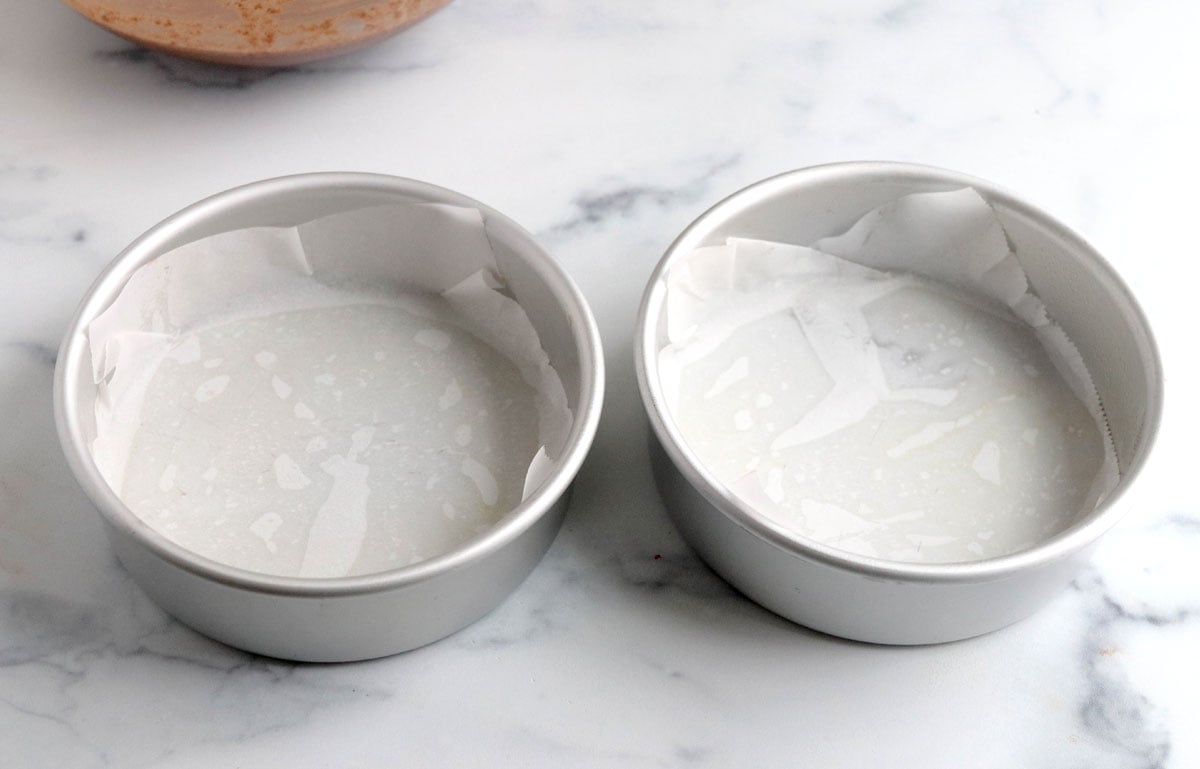 I like to lightly spray the pans with oil, then press a square of parchment paper into the bottom.
The oil keeps the parchment paper from wiggling around as your pour the cake batter in, and the parchment paper guarantees that your cake will release from the pan easily later.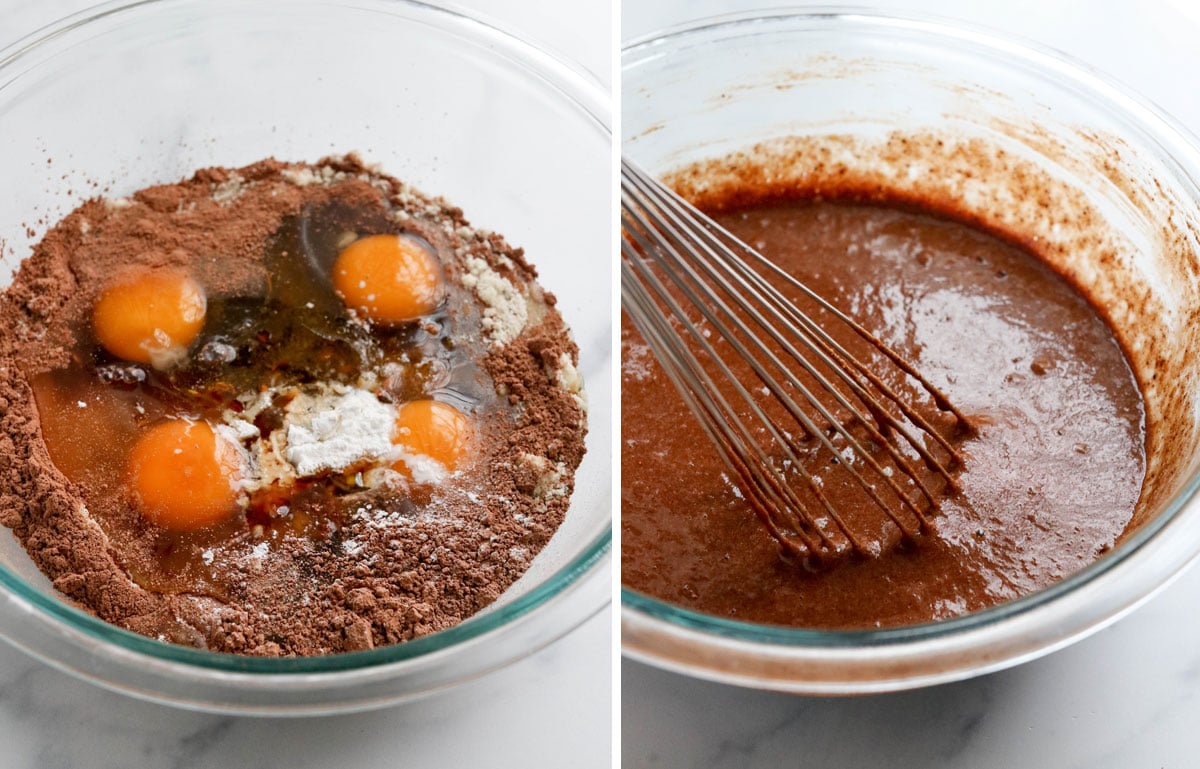 Use a whisk to mix all the ingredients together, to help break up any clumps in the almond flour. As soon as the batter looks smooth, pour it into the prepared pan(s).
Bake at 350ºF until the center of the cake looks puffed-up and feels relatively firm to a light touch.
This takes about 28 to 30 minutes for the two 6-inch pans, or 35 to 38 minutes for the larger 8-inch pan.
When the cake cools, the top will flatten out on its own. If you didn't let the cake bake quite long enough, it might dip in the center, but it will still be delicious!
Once the cake is completely cool, you can frost and decorate it.
Healthy Frostings to Try
If you'd like to use a naturally-sweetened frosting, try one of these options!
Pictured here is my 2-ingredient Vegan Ganache, but I made it with 100% unsweetened chocolate chips (because that's what I had on hand– poor planning on my part!) and then I added in a little organic powdered sugar for sweetness.
So, if you have random things on hand, like I do sometimes, you can still make it work!
Substitutions
I can't guarantee any substitutions I haven't tried myself, but here's my best guess when it comes to making swaps in this recipe.
Almond flour. Almond meal will most likely work, but it will create a slightly more dense cake. Do not substitute other flours and expect similar results. Instead, look for a recipe that already calls for the flour you want to use.
Maple syrup. You can usually swap a little less honey for maple syrup. (Honey is sweeter and has a stronger flavor, so that's why I would use a little less.) I don't know how coconut sugar or another granulated sugar would work, but you'd probably need to use a little more in that case, since 1/2 cup of maple syrup is sweeter than 1/2 cup of coconut sugar.
Olive oil. I call for olive oil in this recipe because it doesn't solidify when it touches cold ingredients, like an egg from the fridge. I can't taste it all, but you can use avocado oil, or melted coconut oil or butter, if you'd prefer.
Need a vanilla cake? Check out my other Almond Flour Cake recipe.
I hope you'll enjoy this grain-free chocolate cake soon!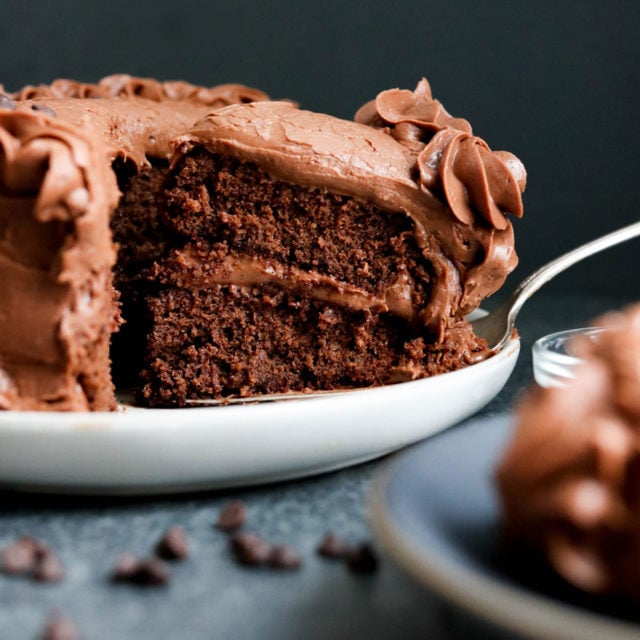 Chocolate Almond Flour Cake
Here's how to make the best Chocolate Almond Flour Cake. It's grain-free and Paleo-friendly, and is the perfect gluten-free desert to make for a birthday!
Equipment
Instructions
Preheat the oven to 350ºF and prepare two 6-inch pans or one 8-inch pan. Lightly grease the pan with oil, then press a square of parchment paper in the bottom to ensure easy removal later. The oil will help hold the parchment paper in place, so it won't wiggle around.

In a large bowl, combine the almond flour, cacao powder, baking powder, salt, maple syrup, eggs, vanilla, and olive oil. Use a whisk to mix until smooth, breaking up any clumps.

Pour the batter into the prepared pan(s) then bake at 350ºF until the center puffs up and feels relatively firm to a light touch. This takes about 28 to 30 minutes for the 6-inch pans, and 35 to 38 minutes for the 8-inch pan, but you can start watching the cake about 5 minutes earlier, in case your oven is different than mine.

Let the cake cool completely before frosting. If you need to frost the two-layer cake, you might want to make a double batch of frosting to have plenty for the sides and middle layer. This cake is very moist, so store it tightly covered in the fridge for up to 5 days. I like to bring it to room temperature for at least 1 hour before serving.
Notes
Nutrition information is for 1 of 8 slices, but you can cut this cake into even thinner slices if you want to! It's very rich. This information is automatically calculated, and is just an estimate, not a guarantee.
See the full post for more substitution suggestions and a vanilla variation. (And a vegan one!)
Nutrition
Calories:
227
kcal
,
Carbohydrates:
27
g
,
Protein:
6
g
,
Fat:
12
g
,
Saturated Fat:
2
g
,
Cholesterol:
93
mg
,
Sodium:
181
mg
,
Potassium:
284
mg
,
Fiber:
3
g
,
Sugar:
19
g
,
Vitamin A:
130
IU
,
Calcium:
118
mg
,
Iron:
2
mg
More Dessert Recipes
Need other cake ideas? Other than the ones I mentioned above, here are more to try:
If you try this Chocolate Almond Flour Cake, please leave a comment below letting me know how you like it. And if you make any modifications, I'd love to hear about those, too!
–
Reader Feedback: What's your favorite type of cake?