Avocado Ice Cream is a delicious, dairy-free dessert that you can make in just minutes. I love how the addition of mint and chocolate totally hides the avocado flavor!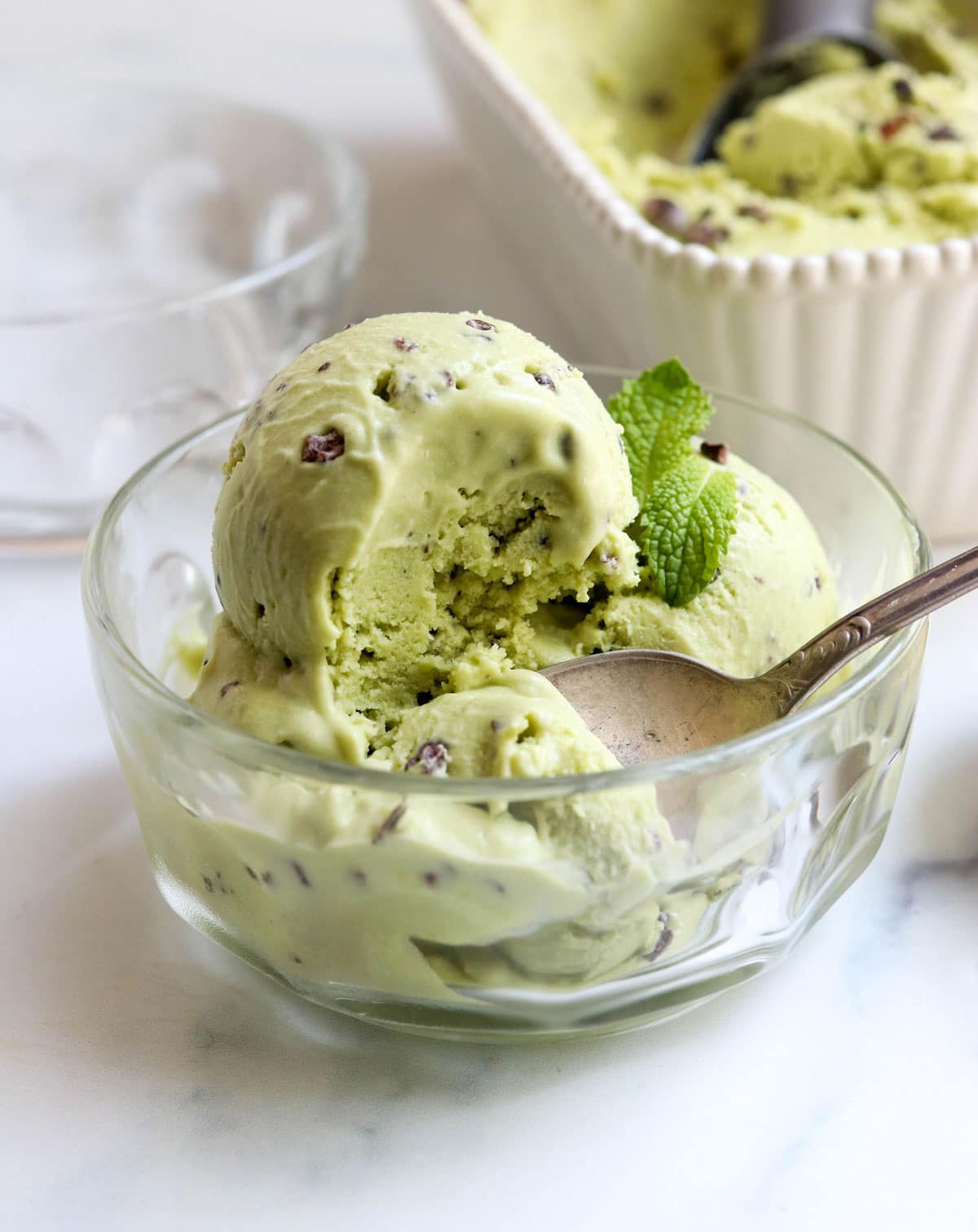 Why You'll Love It
It's healthy ice cream! There's no cholesterol or refined sugar added, with plenty of healthy fats to help keep you feeling satisfied.
No ice cream maker required. I've tested this recipe both ways, and you can definitely make it without the ice cream maker if you don't have one. It's ready to eat in less than 30 minutes if you do have one, though!
It's naturally green. The avocado adds a beautiful green color, with no artificial food dyes.
Simple ingredients. All you need is 5 simple ingredients, which you may already have on hand in your pantry.
It's delicious! Once you taste it, you won't believe that this ice cream is made with avocado.
Pro Tip: Be sure to taste the avocado before you use it in this ice cream recipe. Bruised or over-ripe avocados can sometimes be too strong in flavor, so you want to make sure you pick a more mild one to use in this recipe.
Ingredients You'll Need
What is avocado ice cream made of?
Avocado
Coconut milk
Maple syrup
Peppermint extract
That's it! It's literally one of the easiest ice creams you'll ever make. You could even use frozen avocado, if you want to, to make the freezing process even faster. (You may want to use a food processor in this case, since it tends to break down frozen ingredients a little easier than a narrow blender base.)
Unless, of course, you make banana ice cream, which requires only 2 ingredients.
How to Make Avocado Ice Cream
Blend. Add the avocado, coconut milk, mint extract, and maple syrup to a blender, and blend until smooth and creamy. It will look like avocado pudding.
Freeze. I like to pour this into an ice cream maker, so it will be ready to eat in about 25 minutes. However, you can also skip the machine and pour this directly into a loaf pan to freeze for 4 to 6 hours.
Enjoy! Once it's frozen, it's ready to eat! I like to add in some crunchy cacao nibs for a chocolate flavor, without the added sugar. You can also use mini chocolate chips, if you prefer.
Variations
Want to change up the flavor? Try these ideas.
Coffee Ice Cream. Omit the peppermint, and add 2 to 3 teaspoons of instant coffee. You may need to adjust the sweetness to taste with this variation, too. I added another 2 tablespoons of maple syrup to balance out the bitterness.
Chocolate Mint Ice Cream. Add 1 to 2 tablespoons of cacao powder for an extra chocolate flavor. You might want to add another tablespoon or two of maple syrup in this case, too.
Raspberry Ice Cream. Omit the peppermint and add in 1/2 cup to 3/4 cup of frozen raspberries when blending. Adjust the sweetness to taste, to compensate for the tart fruit. You can add more raspberries, as needed, to help hide any avocado flavor.
More Avocado Recipes
Need more ways to use up a ripe avocado? Try these ideas below.
Avocado Ice Cream
This Avocado Ice Cream is ultra-creamy and delicious, without using dairy or refined sugar. It's so easy to make, with or without an ice cream maker.
Equipment
Ingredients
2

avocados

(12 ounces)

1

(14.5 oz) can

coconut milk

(not light coconut milk)

1/3

cup

maple syrup

(108 grams)

1

teaspoon

peppermint extract

(5 grams)

3

tablespoons

cacao nibs

(optional)
Instructions
Add the avocado, coconut milk, maple syrup, and peppermint extract to a blender and blend until smooth. Taste, and adjust any flavoring as needed. You can add more maple syrup to make it sweeter, or more peppermint if you have a particulary strong-flavored avocado.

Pour the mixture into an ice cream maker and run the machine according to the manufacturer directions. It takes about 20 to 25 minutes to become thick and creamy. Alternatively, you can skip the machine and pour the mixture into a loaf pan to freeze for 4 to 6 hours, until firm.

When the ice cream is thick and frozen, stir in the cacao nibs, if desired. (You can also use mini chocolate chips, if you prefer.) I let the ice cream maker run for 2 more minutes to stir them in, or you can simply stir them into the loaf pan 2 hours after it's been starting to freeze.

Serve frozen right away from the ice cream maker, or store it in an airtight container in the freezer until ready to serve. This ice cream is the most "scoopable" the same day you make it, but it is still relatively easy to scoop the next day compared to other homemade vegan ice creams. Let it sit on the counter for 10 minutes, if you need to help it soften up before serving. Store in the freezer for up to 2 months, in an airtight container so the avocado isn't exposed to oxygen and won't brown.
Notes
Nutrition information is for 1 of 6 servings, roughly 1/2 cup. This is automatically calculated and just an estimate, not a guarantee.
Nutrition
Calories:
308
kcal
,
Carbohydrates:
20
g
,
Protein:
3
g
,
Fat:
26
g
,
Saturated Fat:
15
g
,
Polyunsaturated Fat:
1
g
,
Monounsaturated Fat:
7
g
,
Sodium:
15
mg
,
Potassium:
512
mg
,
Fiber:
5
g
,
Sugar:
11
g
,
Vitamin A:
98
IU
,
Vitamin C:
7
mg
,
Calcium:
40
mg
,
Iron:
3
mg
Update Note: This recipe has been updated in June 2021 to be easier, with a better texture. If you miss the original, the ingredients were 2 ripe avocados, 1/2 cup almond milk, 2 tablespoons coconut oil, 3 tablespoons honey, 1/2 teaspoon peppermint extract, and 2 ounces dark chocolate for stirring in.
If you try this avocado ice cream recipe, please leave a comment below letting me know how you like it. And if you make any modifications, I'd love to hear about those, too!
—
Reader Feedback: What's your favorite ice cream flavor?