Cashew cream is an easy 2-ingredient recipe that you can use as a dairy-free alternative in a variety of ways. I'm going to show you how to quickly make it, and my favorite 5 ways to use it below. It will become a household staple once you try it!
How to Make Cashew Cream
Cashew cream is a simple blend of cashews and water. I like to use raw cashews, because they have a very mild flavor that will be neutral enough to add to almost any recipe.
I typically use a 2:1 ratio of cashews to water when making cashew cream, so that the cream isn't too runny. You can add more water as needed, 1 tablespoon at a time to help thin it out, but this starting point will give you more options later.
For a runnier cashew cream, you can use even more water, but I recommend adding only 1 tablespoon at a time, until you're satisfied with the results. Keep in mind that the cream will thicken slightly in the fridge.
Is Cashew Cream the same as Cashew Milk?
Cashew cream is not the same as cashew milk, since the ratio of cashews to water is much higher. You can use cashew cream to make cashew milk, however, by diluting it in water.
To make cashew milk from cashew cream, combine 2 tablespoons of cashew cream in 3/4 cup water and stir well.
How Long Does It Last?
Cashew cream will last for up to 1 week in your fridge. For a longer shelf life, I like to freeze it in ice cube trays.
I add 2 tablespoons of cashew cream into each ice cube slot, so that it's easy to portion later in recipes. For example, if you need a 1/2 cup of cashew cream for a recipe, you'll use 4 frozen cubes. They will thaw quickly when you add them to a hot skillet.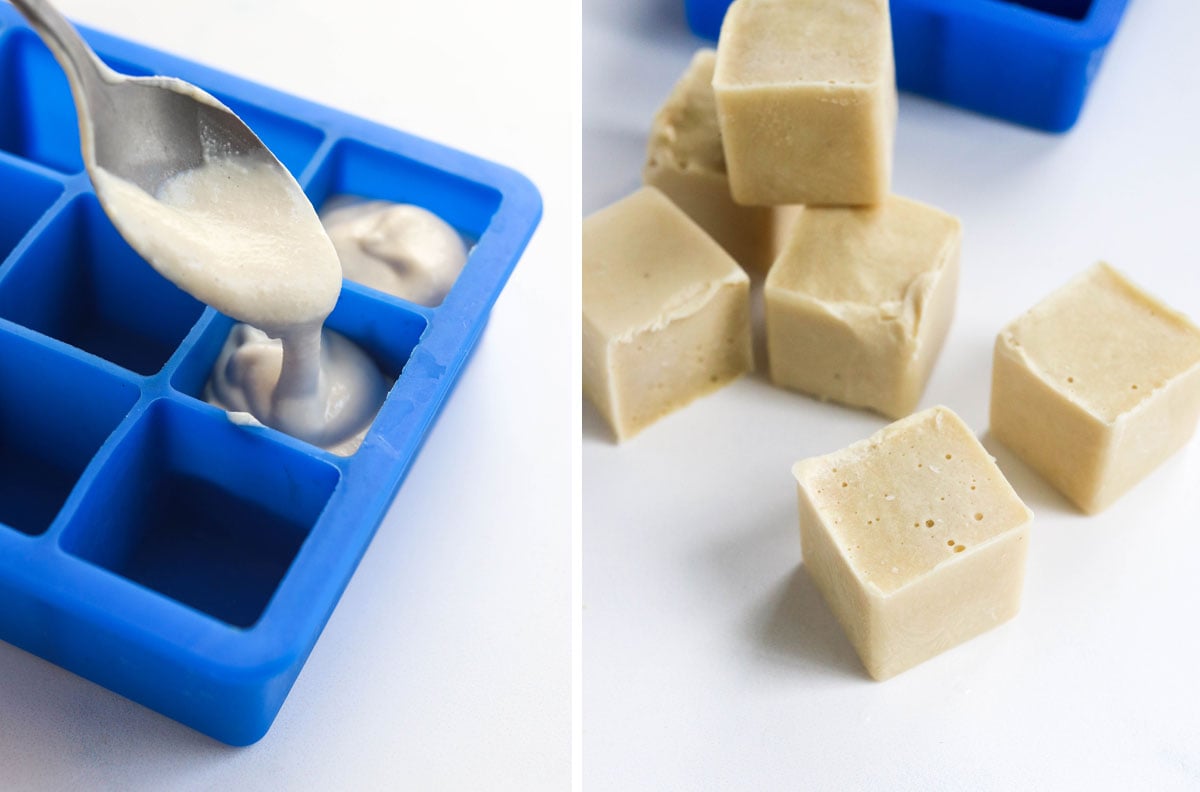 Once the ice cubes are frozen, pop them out of the tray and store them in an airtight container for the best flavor. You can store frozen cashew cream for up to 6 months.
What is Cashew Cream a Substitute For?
I use cashew cream as a substitute for coconut milk or coconut cream most often. When a warm recipe calls for coconut cream, like my Instant Pot Butter Chicken or Coconut Curry, you can simply use cashew cream instead.
To replace a full can of coconut milk in a recipe, use this swap:
1/2 cup cashew cream + 1 cup water = 1 can of coconut milk
Note: This substitution works best for warm recipes that aren't required to thicken up in the fridge.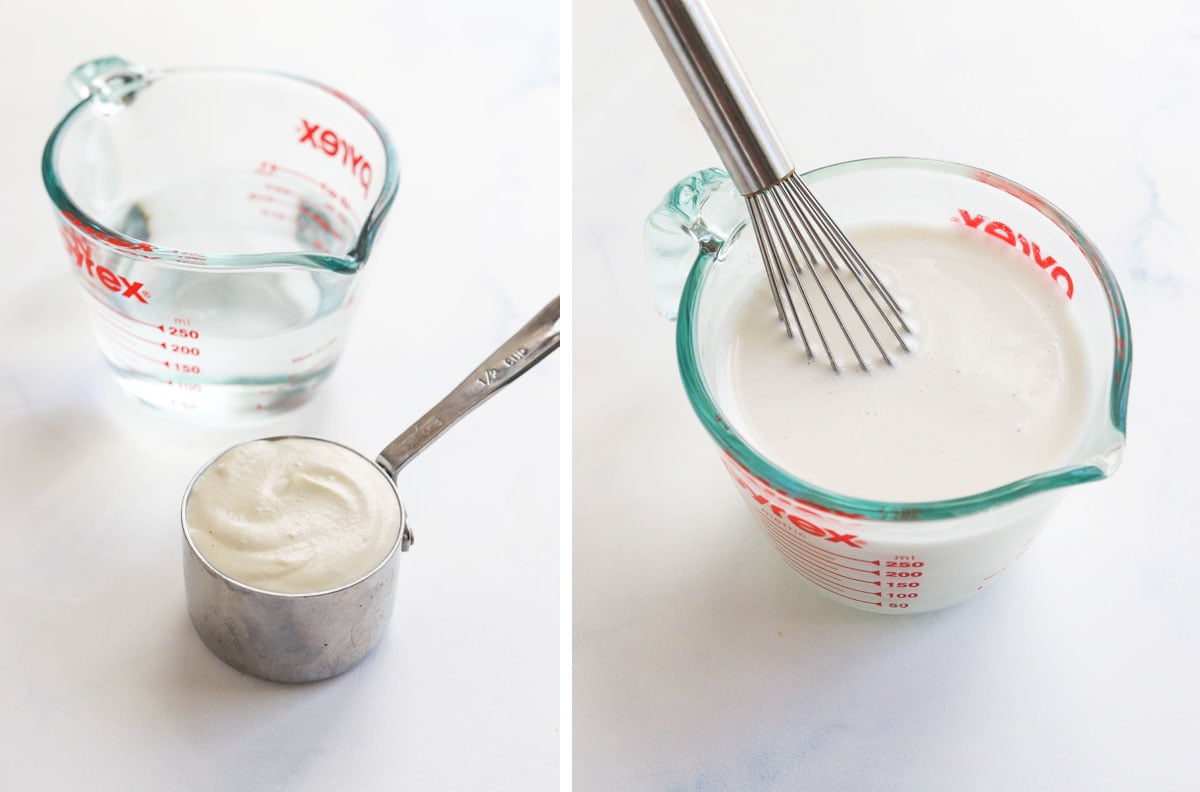 For recipes that call for coconut milk due to its saturated fat content (which means it hardens when chilled) you'll still need to add some coconut oil or another solid fat to the cashew cream to get similar results. This will be necessary for recipes like my Vegan Chocolate Frosting or Coconut Milk Ice Cream.
Do you Need to Soak the Cashews?
I recommend soaking your cashews for two reasons. First, it may help reduce the phytic acid that are naturally found in cashews. Phytic acid is considered an anti-nutrient, because it may impair the absorption of certain minerals, like iron and zinc. (source)
The second reason why I recommend soaking your cashews is that it will help soften them, which will make them easier to blend. If you don't have a powerful blender, like a Vitamix, then soaking is a really good idea.
That being said, you can make cashew cream without soaking the cashews first. I've done it when I forget to soak the cashews ahead of time, and it still turns out just fine. You might need to add 1 to 2 tablespoons more water in this case, but start with the recipe as written and add more as needed.
5 Ways to Use Cashew Cream
These are the most common ways I like to use cashew cream.
Substitute for coconut milk. See the tips I shared above in this post on how to make the perfect substitute for a can of coconut milk in recipes. This should not be used in a recipe like ice cream, where you need the solid coconut cream from the can, but it works perfectly in recipes like my Thai Chickpea Curry.
Coffee Creamer. Cashew cream is thicker than homemade almond milk, so it adds a little more creaminess if you need something in your morning coffee. Try adding a spoonful of cashew cream into black coffee, and then blend it together for extra creaminess. (If you need something that foams for a latte, try my Almond Milk Coffee Creamer instead.)
Sour Cream. Add lemon juice and salt to cashew cream to make a tangy, creamy topping you can use over tacos, enchiladas, or chili.
Whipped Cream Topping. You can add maple syrup or powdered sugar to this dairy-free cream to make a "whipped cream" topping for fruit or desserts. Keep in mind that the cream will thin-out if you add a liquid sweetener, so if you want to make a big batch of whipped cream, replace some of the water with maple syrup when you blend this cashew cream recipe. I'd recommend using 3 to 4 tablespoons of maple syrup for the whole batch, because cashews are already naturally sweet on their own.
Mayo substitute. You can use this cream as the base for a creamy salad dressing. For a fast ranch dressing or dip, add a splash of lemon juice, salt, and your favorite fresh or dried herbs.
Basically, you can stir this cashew cream into anything that might benefit from a little extra creaminess. You could use it in my vegan pasta recipe instead of the hummus!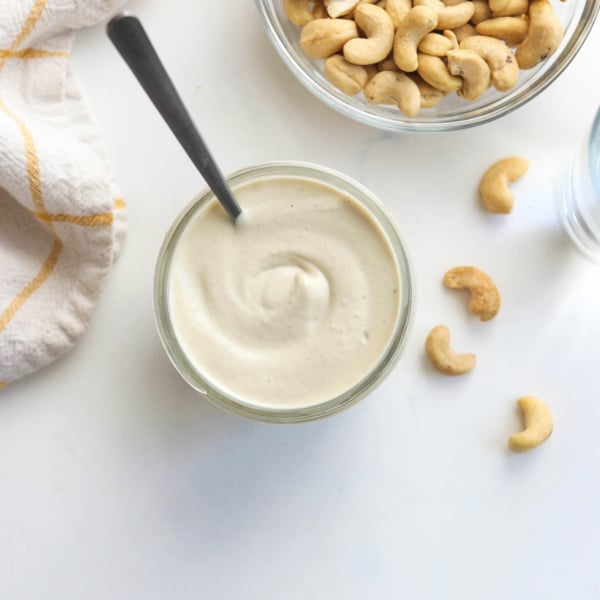 Cashew Cream Recipe
This Cashew Cream recipe calls for just 2 ingredients and is the perfect way to add creaminess to soups, pasta, salads, and more. It's a dairy-free and vegan staple.
Equipment
Ingredients
1

cup (138 grams)

raw cashews

, soaked in water for 2 hours

1/2

cup

water
Instructions
Drain the soaked cashews and rinse them well. If you didn't have time to soak the cashews, this recipe will still work, but it's best if you have a powerful blender. (Soaking helps the cashews soften and break down faster.)

Combine the drained cashews with the 1/2 cup of fresh water, and blend until smooth. Stop and scrape down the blender, if needed, until everything is silky-smooth. You can add water, just 1 tablespoon at a time, if needed for a smoother result. This recipe makes roughly 1 cup of cashew cream.

Transfer the cream to an airtight container and store it in the fridge to thicken up. You can use it right away, or save it in the fridge for up to a week. For a longer shelf life, pour the cream into ice cube trays so you can easily portion what you need. Frozen cubes will keep in an airtight container in the freezer for up to 6 months.
Notes
You can cover the cashews with boiling water and let them soak for 10 minutes to get similar results as soaking them for 2 hours with room temperature water.
Don't over-soak cashews, or they may become slimy. I like to err on the side of under-soaking them, rather than over soaking.
Nutrition
Calories:
48
kcal
,
Carbohydrates:
3
g
,
Protein:
2
g
,
Fat:
4
g
,
Saturated Fat:
1
g
,
Sodium:
1
mg
,
Potassium:
57
mg
,
Fiber:
1
g
,
Sugar:
1
g
,
Calcium:
3
mg
,
Iron:
1
mg
Nutrition information is for roughly 1 tablespoon of cashew cream. Nutrition is automatically calculated, and is just an estimate, not a guarantee.
If you try this recipe, please leave a comment below letting me know how it works for you. I'd love to hear how you use the cashew cream! And if you make any modifications, or have any other brilliant uses for it, I'd love to hear about those, too.
–
Reader Feedback: What's your favorite way to use cashews? My famous Cashew Queso and Cashew Butter Cookies are my go-to recipes!