This Instant Pot Butter Chicken is an easy weeknight meal that is ready to eat in about 30 minutes. I love how it calls for pantry ingredients that you may already have on hand!
Healthy Butter Chicken (Without The Butter)
If you're looking for an authentic butter chicken recipe… this isn't it. When I set out to make any recipe, I want to make it as EASY as possible, while also making it a little healthier. So, there isn't actually any butter added to this particular recipe. Don't hate me.
The reason I don't add any butter to this "butter chicken" recipe, is because adding coconut cream gives this sauce a rich, creamy texture and adds plenty of fat to the dish. You could add a couple pats of butter, if you really want to, but I just don't see how that would make this sauce taste any better. It's really delicious as it is!
Why the Instant Pot Makes it Easy
If your family is like mine, you may want a smooth sauce for this chicken, rather than one with chunks of tomatoes and onions. That's why I blend everything together first, including the onion, garlic, and ginger, to make a pureed sauce that will be flavor-packed.
This not only saves you chopping time (no need to dice the onions or garlic), but it also means you won't have to attempt to blend the sauce together later when everything is piping hot.
If you would prefer to skip the blender, that's no problem, though. Just be sure to dice everything as small as possible, in that case. The juices from the tomatoes and the liquid from the chicken is enough to bring the pot to pressure, so you don't need to add any extra water to this recipe.
Healthy Butter Chicken Ingredients
Like I mentioned above, I like to make my recipes as easy as possible, so this recipe calls for ground spices that are easy to buy at the store. I don't have the time or patience to grind my own spices, so I use a garam masala blend in this recipe to help achieve a rich, Indian-style flavor easily.
To make this recipe, you'll need these basics:
Chicken (or use cooked chickpeas for a vegetarian version)
Diced tomatoes
Canned coconut milk (I just use the thick cream at the top)
Tomato paste (this helps thicken the sauce and gives it a great red color)
Garam Masala (Indian spice blend)
Ground cumin
Cayenne Pepper
Garlic & Ginger (you can use powdered if fresh isn't available)
It takes about 5-10 minutes to get everything into the pot, then it takes 20 to cook. Keep in mind that the Instant Pot takes several minutes to come to pressure, before the cooking cycle will begin, so be sure to start this process about 40 minutes before you want to eat.
For this recipe, I use tomato paste the thicken the sauce and coconut cream for creaminess. (Without using dairy!) I only use the solid, thick cream for this recipe, and I reserve the leftovers for a smoothie or an easy curry recipe later.
Bonus: Cook Rice at the Same Time!
If you haven't tried pot-in-pot cooking in your Instant Pot, this a great recipe for it. You can cook a bowl of white rice at the same time as your Butter Chicken!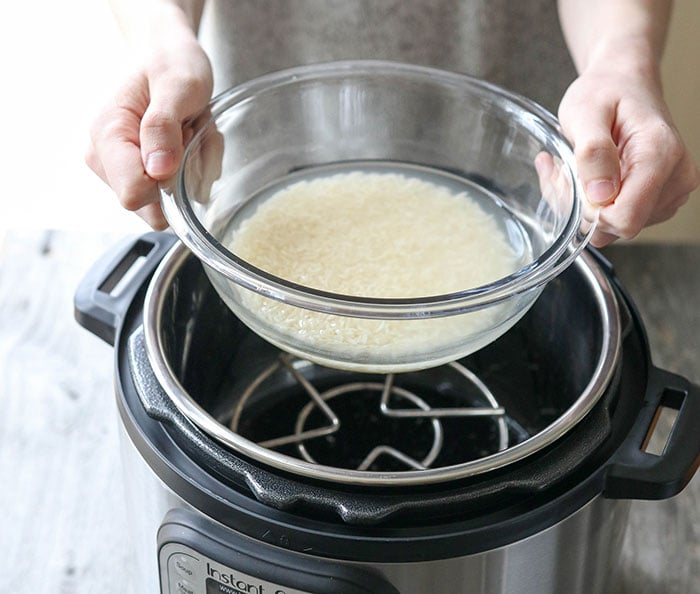 To do this, follow the chicken recipe as directed, then add a 1- to 2-inch trivet over that (make sure it doesn't press into the chicken, or you could trigger a burn error.)
Fill an oven-safe 7-inch bowl with 1 cup of white rice and 1 cup of water, and stir well. Place the bowl on top of the trivet, making sure there is at least 1 inch of space around the bowl when it's seated in the Instant Pot. You want to make sure there's room around the bowl for pressure to build in the pot.
Secure the lid and cook as directed. When the 10-minute natural release is completed, the rice will be cooked, along with the chicken! Be sure to use oven mitts to remove the bowl of rice and the trivet, as they will be very hot.
You won't add the tomato paste or coconut milk to the sauce until after the chicken is cooked (they are too thick and could trigger a burn error), so when the cooking cycle is complete, you'll just remove the chicken to shred it on a cutting board then stir in the remaining ingredients.
Be sure to season to taste, adding extra salt or a squeeze of lemon juice if desired. I like to serve this with fresh cilantro on top, but that's totally optional.
Popular Instant Pot Recipes
If you need more ideas on how to use your Instant Pot, be sure to check out The Fresh & Healthy Instant Pot Cookbook, or try one of the fan-favorites below.
Instant Pot "Butter" Chicken (with Coconut Milk)
Instant Pot Butter Chicken is a quick & easy weeknight meal, using common pantry ingredients. I love how all you have to do is add the ingredients in the pot, press a button, and walk away!
Equipment
Ingredients
1

(14 oz) can

diced tomatoes

(and their juices)

1

yellow onion

, cut into chunks

4

cloves

garlic

1

tablespoon

fresh minced ginger

(about 1-inch peeled)

1

teaspoon

garam masala

1

teaspoon

ground cumin

1/2

teaspoon

cayenne pepper

(use less for a mild dish)

1

pound

boneless skinless chicken breasts

(each breast should be 8-12 oz.)

1

teaspoon

fine sea salt

, plus more to taste

1/2

cup

coconut cream

(the solid part in a can of coconut milk)

1

(6 oz.) can

tomato paste

(no salt added)

fresh cilantro

, for garnish

1

cup

dry white rice

(for optional pot-in-pot cooking)
Instructions
In a blender, combine the diced tomatoes, onion, garlic, ginger, garam masala, cumin, and cayenne pepper. Blend until smooth.

Pour the blended tomato mixture into the bottom of the Instant Pot, then place the chicken breasts on top. Sprinkle 1 teaspoon of salt over the chicken, then secure the lid. Move the steam release valve to "Sealing" then cook at high pressure for 10 minutes.

Tip: You can cook a bowl of white rice at the same time as the chicken. To do this, place a 2-inch trivet over the chicken, then set a bowl on top of that. Rinse 1 cup of white rice in a fine mesh strainer, then add the drained rice to the bowl. Add in 1 cup of water and stir well, then secure the lid and cook as directed.

Let the pressure naturally release for 10 minutes. When the screen reads LO:10, you can move the steam release valve to "Venting" to release any remaining pressure. When the floating valve in the lid drops, it's safe to open the lid.

Use oven mitts to remove the bowl of rice and the trivet, if you did the pot-in-pot cooking. Use tongs to transfer the cooked chicken to a cutting board, and stir the 1/2 cup of coconut milk and the can of tomato paste into the tomato sauce in the pot. (The tomato paste helps to thicken the sauce and makes it a nice red color, but you can leave it out if you don't have any on hand. It still tastes great without it.)

Use 2 forks to shred the chicken, or use a knife to cut it into chunks. then add the shredded chicken back into the pot. Taste and adjust the seasoning as needed. You can add more salt (I usually add another 1/2 teaspoon) or a squeeze of lemon juice if you need to brighten up the flavor.

Serve warm over rice, with fresh cilantro on top. The leftover chicken will keep in an airtight container in the fridge for up to 3 days in the fridge.
Notes
I do not recommend using brown rice instead of white for the pot-in-pot cooking, as brown takes much longer to cook. Be sure to check out my Instant Pot Brown Rice tutorial for details.
Nutrition
Calories:
266
kcal
,
Carbohydrates:
10
g
,
Protein:
27
g
,
Fat:
14
g
,
Saturated Fat:
10
g
,
Cholesterol:
73
mg
,
Sodium:
729
mg
,
Potassium:
771
mg
,
Fiber:
3
g
,
Sugar:
4
g
,
Vitamin A:
258
IU
,
Vitamin C:
15
mg
,
Calcium:
57
mg
,
Iron:
3
mg
Nutrition info is automatically calculated using generic ingredients, so it's an estimate and not a guarantee. Be sure to use the labels on your ingredients at home if you need a more accurate result.
Additional Notes:
If you follow food combining to streamline your digestion, serve this Butter Chicken with cauliflower rice instead of brown rice. Or you can serve it over a pile of steamed veggies if you don't feel like "ricing" anything.
If you try this recipe, please leave a comment below letting me know how you like it! And if you make any modifications, I'd love to hear about those, too. We can all benefit from your experience!
–
Reader Feedback: What's your favorite thing to make in the Instant Pot?