This Chocolate Avocado Smoothie is rich & creamy, and tastes like a chocolate frosty! It's a delicious way to use up any avocado that you have on hand, without any refined sugar.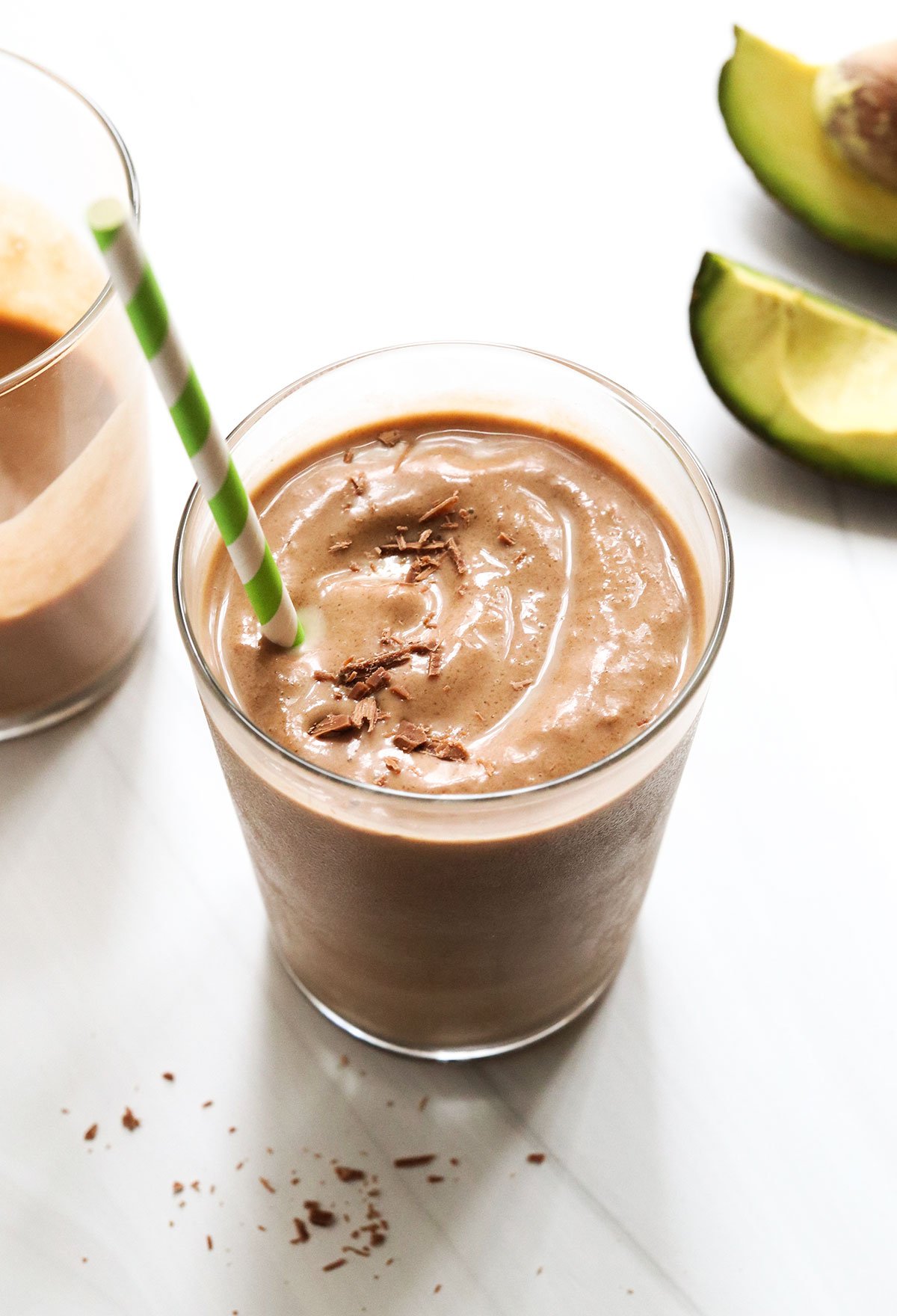 Why You'll Love It
It's delicious. Even if you're not the biggest avocado fan, the chocolate flavor in this smoothie will help hide any noticeable avocado flavor. You can always add more cacao powder or maple syrup, to taste, if you have a particularly strong-flavored avocado.
It's ultra-creamy. Instead of using a frozen banana for creaminess, as many smoothies do, the avocado in this recipe acts as an emulsifier, giving the smoothie a velvety, creamy texture. It also adds healthy fat, to help keep you feeling satisfied.
It's easy. Just toss a few ingredients into a blender, and blend until smooth. You'll add the ice last, to help give it a slushy texture. It tastes like a healthy dessert!
It's great for special diets. This smoothie recipe is naturally gluten-free, dairy-free, and vegan friendly. It's a delicious treat, to help satisfy a chocolate craving.
It's easy to customize. If you want to sneak more nutrients inside, try adding a handful of fresh baby spinach, or add more protein by adding a scoop of protein powder. You can also change the sweetener by using maple syrup or honey, instead of the dates.
Ingredients You'll Need
When you open your avocado, make sure there aren't any noticeable black spots throughout the flesh. This could be a sign of rancidity, and will make the avcoado not taste good. (You can also check by making sure it doesn't smell sour.) Smooth, green flesh will give you the best-tasting results!
This recipe calls for water as the base, because it will get plenty of creaminess from both the avocado and peanut butter. (You can also leave out the peanut butter for a nut-free & lower calorie drink.)
However, you can use almond milk, coconut milk, soy milk, or any other non-dairy milk that you like.
I tend to use raw cacao powder in this recipe, but if you keep cocoa powder on hand, that will work, too!
How to Make a Chocolate Avocado Smoothie
1. Blend.
Add the water, avocado, cacao powder, pitted Medjool dates (or maple syrup), vanilla extract, and peanut butter to a high-speed blender. Blend until the dates are totally broken down, and the mixture looks like a chocolate avocado pudding.
Stop and scrape down the sides of the blender with a spatula, if needed, to help everything blend smoothly.
Note: If you don't have a high-speed blender, skip the dates and sweeten this smoothie with maple syrup, instead. It will be much smoother that way!
2. Add the ice.
Once the smoothie looks smooth, add in a large handful of ice cubes, and blend again. This will give the smoothie a slushy texture.
Keep in mind, the more ice you add, the more diluted the flavor will be, so don't add too much. Taste the smoothie and adjust any flavoring to your liking, then this healthy chocolate smoothie is ready to serve right away.
Storage Tip: It's best to drink smoothies right away for the best texture and flavor. It will not taste as fresh if you store it in the fridge overnight, but you can pour it into a popsicle mold and freeze it for a sweet treat later!
Frequently Asked Questions
Can I use frozen avocado in a smoothie?
Yes, you can use frozen avocado in this smoothie recipe, but in that case you might need to use a little extra water to help facilitate blending. (And you might not need as much ice in that case, either!) 

Here's how to freeze avocado, if you have any leftovers you need to store, too. 
Can I use milk as the base?
Of course! Feel free to use any milk you like, such as oat milk or regular milk, for extra creaminess. 
What if I don't have avocado on hand?
Try my other favorite chocolate smoothie, which calls for ground flax seed or chia seeds as a thickener.
Looking for more healthy smoothie recipes? Try my favorite Spinach Smoothie, Peanut Butter Banana Smoothie, or Apple Smoothie for more ideas.
Chocolate Avocado Smoothie
This Chocolate Avocado Smoothie tastes like a chocolate frosty, but gets its creaminess from avocado! It's a delicious treat you can whip up in minutes.
Ingredients
3/4

cup

water

4

Medjool dates

, pitted (or 2 T maple syrup)

1/4

avocado

1

heaping tablespoon

cacao powder

1/2

teaspoon

vanilla extract

1

tablespoon

peanut butter

(optional)

1

heaping cup

ice cubes
Instructions
In a high-speed blender, combine the water, dates, avocado, cacao powder, vanilla, and peanut butter, if using, and blend until very smooth. Taste the pudding-like mixture to make sure there's enough sweetness and chocolate flavor to your liking, and adjust anything to your taste. (Keep in mind that the flavor will be diluted a bit more once you add the ice.)

Add the ice and blend again, until the smoothie has more of a milkshake-like texture. You can add as much ice as needed to achieve the texture you want, but keep in mind that extra ice will dilute the chocolate flavor. Serve right away.
Notes
Nutrition information is for the whole batch. This information is automatically calculated and is just an estimate, not a guarantee. For a lower-calorie option, split the smoothie in half and share, or omit the peanut butter. (You can also use less avocado or sweetener.)
See the tips in the full post above for substitution ideas!
Update Note: This recipe was updated in March 2023 to add peanut butter, which helps hide the avocado flavor even more. You can omit this and add a big handful of fresh spinach, if you prefer the original recipe.
Nutrition
Calories:
450
kcal
,
Carbohydrates:
81
g
,
Protein:
7
g
,
Fat:
16
g
,
Saturated Fat:
3
g
,
Polyunsaturated Fat:
3
g
,
Monounsaturated Fat:
9
g
,
Sodium:
82
mg
,
Potassium:
1020
mg
,
Fiber:
11
g
,
Sugar:
66
g
,
Vitamin A:
216
IU
,
Vitamin C:
5
mg
,
Calcium:
82
mg
,
Iron:
2
mg
If you try this Chocolate Avocado Smoothie recipe, please leave a comment and star rating below letting me know how you like it.