Avocado Fudgesicles are cold and creamy, without using dairy. They're the perfect summer treat, and you can whip them up in just minutes!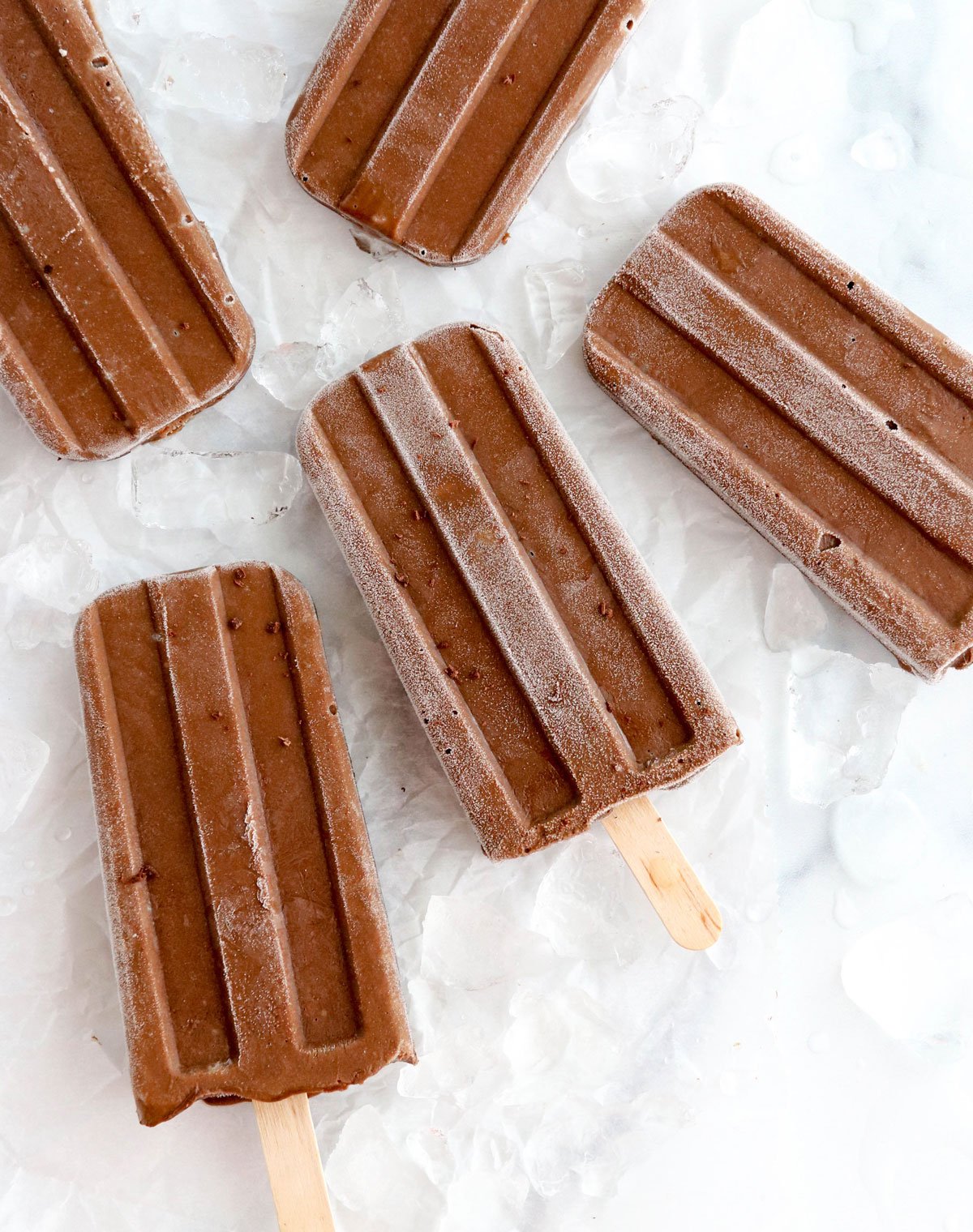 Why You'll Love Them
They're dairy-free. If you need to cut back on dairy, this is a great way to satisfy your sweet tooth, without real ice cream.
Naturally sweet. These healthy fudgesicles are sweetened with maple syrup, so they don't require any refined sugar.
No coconut milk! I know a lot of dairy-free recipes call for coconut milk to achieve a creamy texture, but avocado provides a similar creaminess without the extra coconut flavor.
They're easy to prepare. Just add the ingredients to a blender, blend until smooth, and pour into an ice pop mold to freeze until firm.
Allergy friendly. If you or a family member follows a special diet, these fudgesicles are vegan, paleo, gluten-free, and nut-free.
Plus, they taste amazing! My kids had a lot of patience while I took these photos, because they couldn't wait to eat one.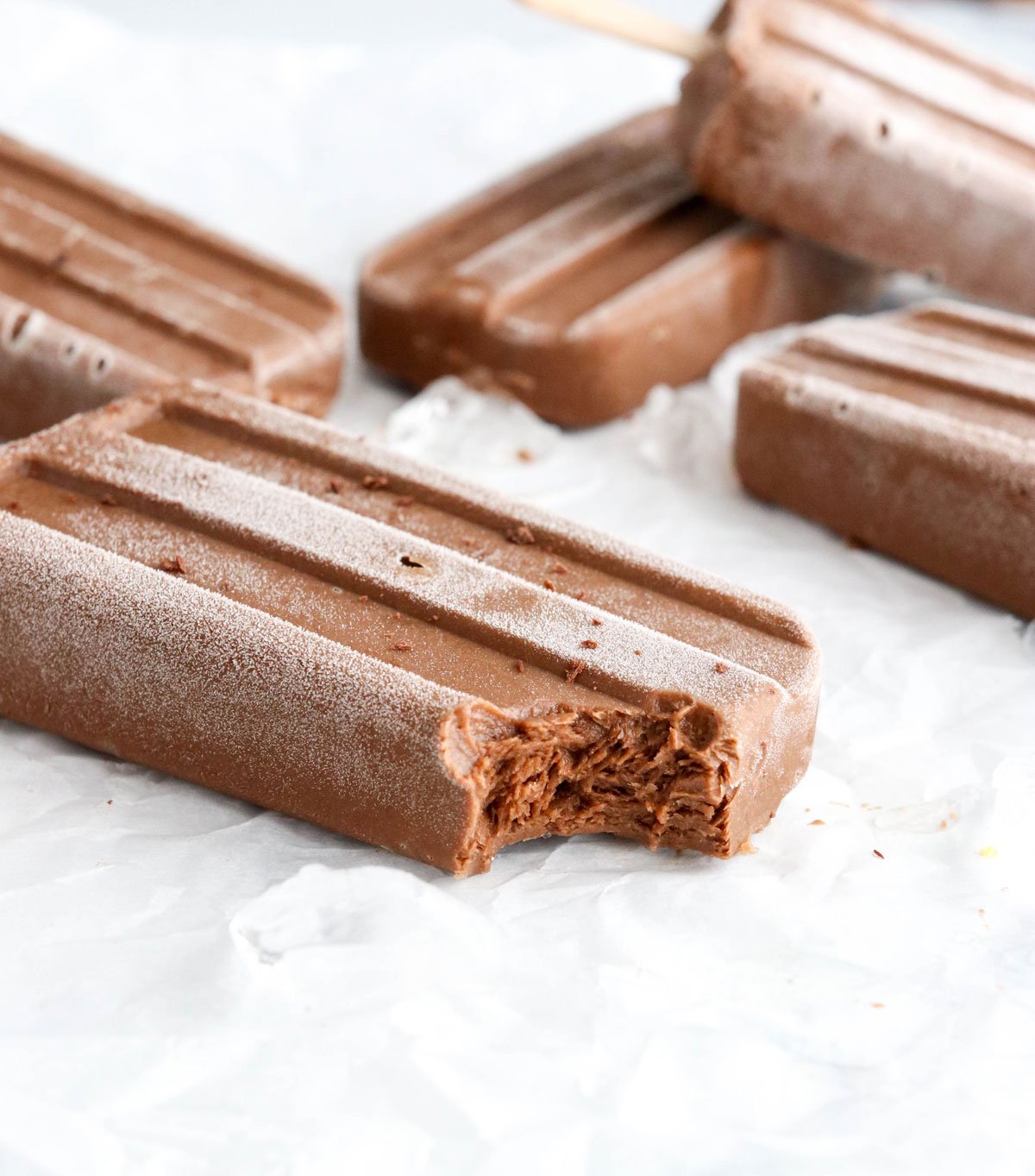 How to Make Them
Blend. Add the 5 ingredients to a blender, and blend until you have a chocolate pudding consistency. Adjust any flavors to taste, adding more cacao powder or maple syrup, as you like. (Avocado flavor will vary each time, so sometimes you need to make tweaks to hide a particularly strong flavored avocado.)
Pour. Add the mixture into popsicle molds.
Freeze. Place the popsicle mold in the freezer to set until firm, about 6 to 8 hours.
Enjoy! Submerge the bottom of the popsicle mold in warm water for 20 to 30 seconds to remove the fudgesicles from the ice pop mold, and enjoy right away!
You're basically making a more watered-down version of chocolate avocado pudding with this recipe, and freezing it. It's a great way to preserve any avocado that you need to use up. You add more water to this recipe, to achieve a similar texture to store-bought Fudgesicles. (If the pudding is too thick, the frozen popsicles get a little messier.)
Speaking of, I bet frozen avocado would work in this recipe, too. It will probably even speed the freezing time, since the avocado will already be cold.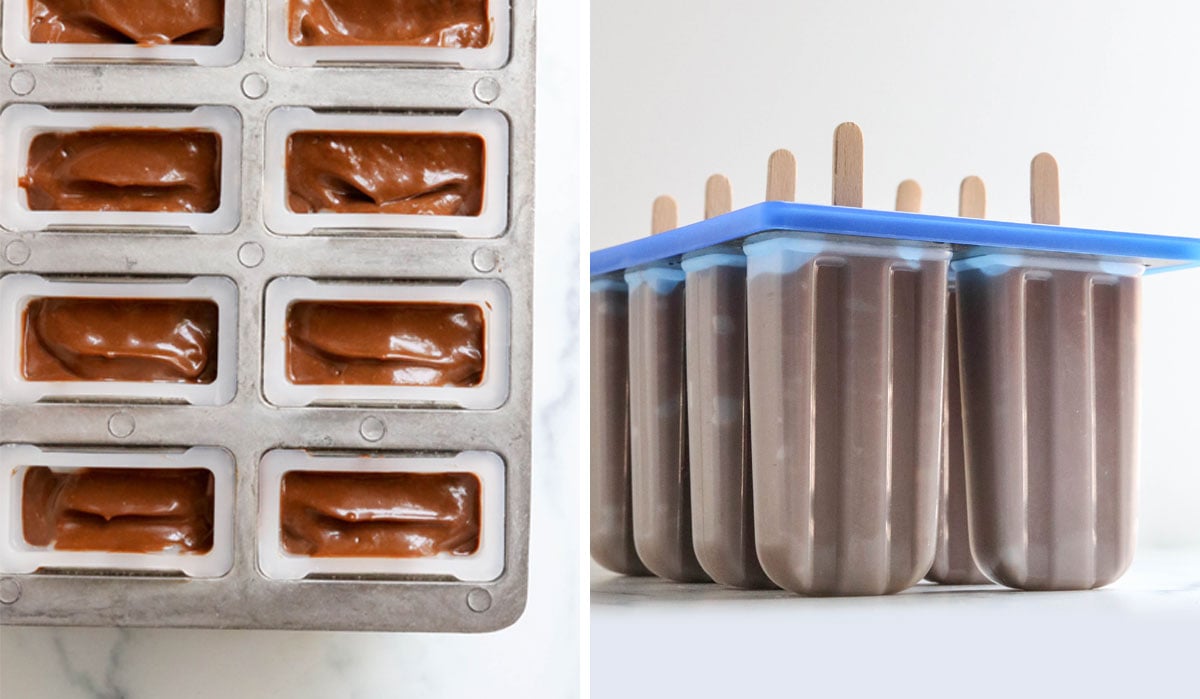 Flavor Variations
Want to change up the flavor? Try these additions.
Peanut butter. Peanut butter + chocolate is the perfect match if you ask me. Try adding 2 to 4 tablespoons, and taste the mixture as you go.
Frozen cherries. If you've tried my Cherry Chocolate Pudding, you know that cherries totally hide the avocado flavor. Add in 1/2 cup + 1/4 teaspoon of almond extract for a delicious alternative.
Coffee. You can use brewed coffee instead of the water in this recipe to make a mocha-flavored fudgesicle. Or try adding a couple of teaspoons of instant coffee, if you prefer. Be sure to adjust the sweetness to taste, to account for the bitterness of the coffee.
The sky is the limit! I'd love to hear about any other flavor combinations that you try with this recipe.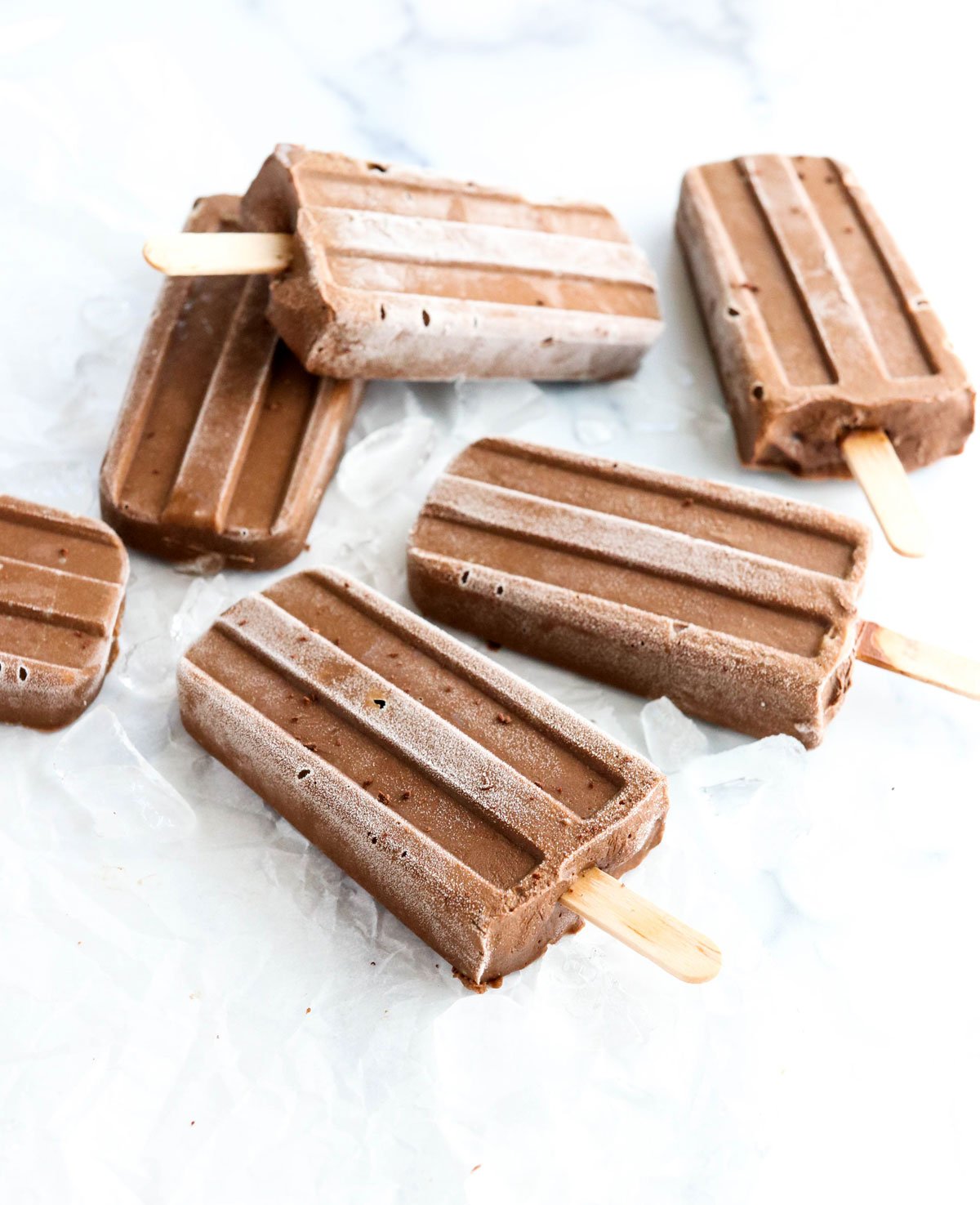 More Avocado Recipes
Have more avocado to use up? Try one of these!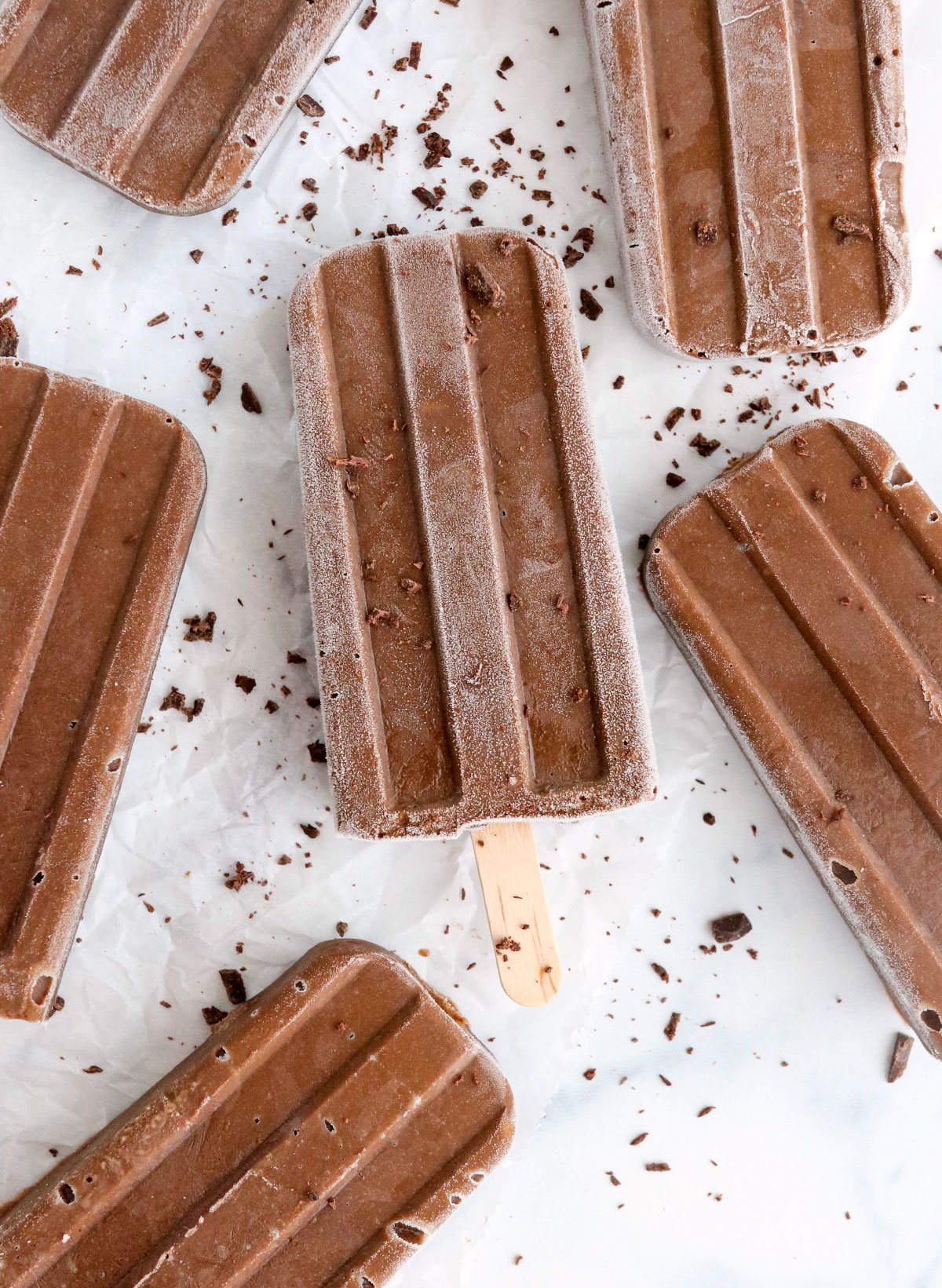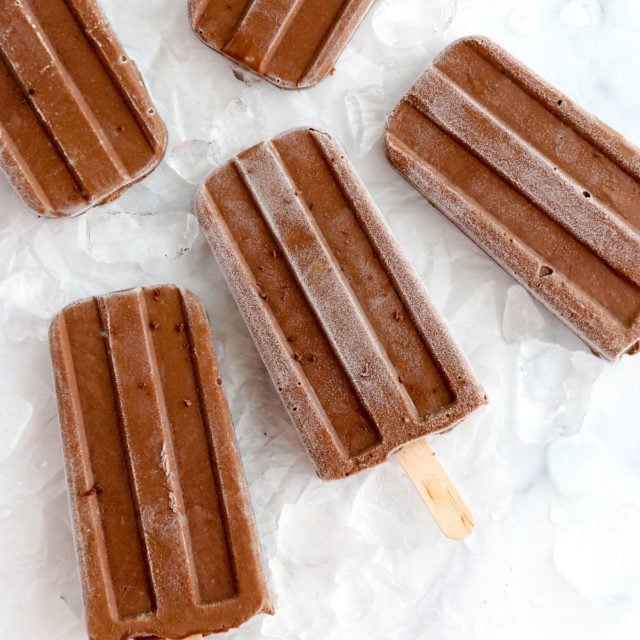 Avocado Fudgesicles
Avocado Fudgesicles are cold and creamy, without using dairy! They are the perfect healthy fudgesicle when you want a naturally-sweetened treat.
Equipment
Instructions
Add the avocado, cacao powder, maple syrup, vanilla, and water to a blender. Blend until smooth and creamy, then adjust any flavoring to taste. You can add more cacao powder for a darker chocolate flavor, or more maple syrup for a sweeter flavor.

Pour the mixture into an ice pop mold. The number of pops will vary based on the size of your mold and the size of your avocado. I usually get 8 to 9 pops from this mixture.

Freeze until the fudgesicles are solid, about 6 to 8 hours. Submerge the popsicle mold in warm water for 20 to 30 seconds to help the pops release from the mold. Serve frozen right away, for the best texture. These ice pops should store well in the mold, or in an airtight container in the freezer, for up to 2 months.
Notes
Nutrition information is for 1 of 9 fudgesicles. This is automatically calculated, and is just an estimate, not a guarantee.
Nutrition
Calories:
96
kcal
,
Carbohydrates:
17
g
,
Protein:
1
g
,
Fat:
4
g
,
Saturated Fat:
1
g
,
Polyunsaturated Fat:
1
g
,
Monounsaturated Fat:
2
g
,
Sodium:
6
mg
,
Potassium:
222
mg
,
Fiber:
3
g
,
Sugar:
11
g
,
Vitamin A:
33
IU
,
Vitamin C:
2
mg
,
Calcium:
30
mg
,
Iron:
1
mg
Reader Feedback: What's your favorite way to use avocado?