After a million attempts to make the best vegan & gluten-free cinnamon rolls last year, I have quite a bit of leftover gluten-free flour stocked in my pantry. What better way to use it than by making some gluten-free brownies?
What I love about these gluten-free brownies is that they are made without nuts, eggs, or dairy, so they are vegan and allergy-friendly. They also have a sneaky serving of pumpkin puree added in, to reduce the need for oil.
I like my brownies to be rich and fudge-like, rather than cake-like, and I like to have bites of dark chocolate chips throughout, for a nice contrast of textures and flavors.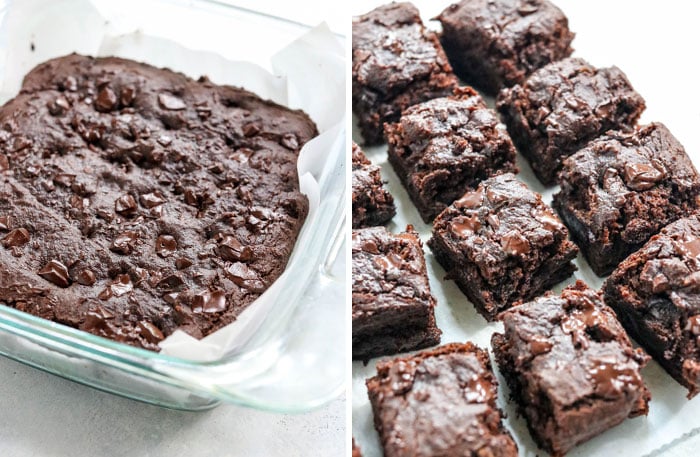 Adding a some dark chocolate does add some refined sugar to this recipe, unless you use a chopped dark chocolate bar that is naturally sweetened, like the kind by Eating Evolved (which are made with coconut sugar). For a sugar-free add-in, try using some crunchy cacao nibs or some chopped walnuts, if you can eat nuts.
Because I used pumpkin to replace some of the oil, these brownies still have a hint of cake-like texture, but I think it's a pretty nice option for those who want a lower-fat brownie that tastes like a "real" one. My husband told me these taste like a brownie mix from a box– and that's his highest compliment when it comes to brownies. Ha! I hope you'll enjoy them, too.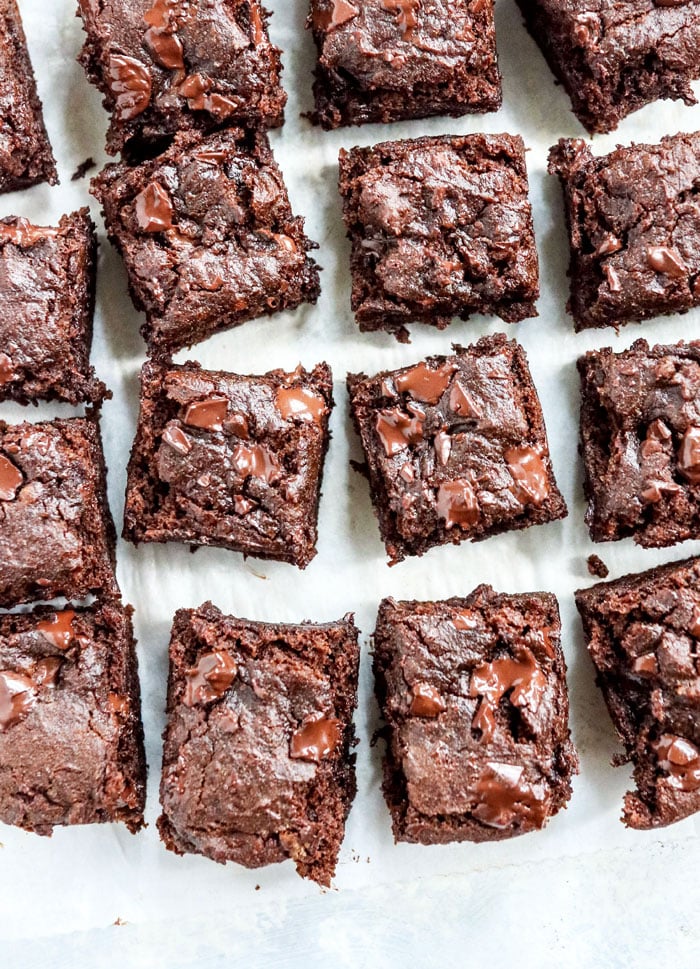 Gluten-Free Vegan Brownies
These gluten-free brownies are nut-free, egg-free, and dairy-free, making them vegan and allergy friendly. I love how fudgy they are!

Instructions
Preheat the oven to 350ºF and line a 9-inch square baking dish with parchment paper. (You can lightly grease the dish to help the parchment paper stay in place first.)


In a large bowl, stir together the ground chia or flax seeds and the water. This is your vegan "egg." Add in the pumpkin puree, coconut sugar, melted coconut oil, flour, cacao powder, salt, baking soda, and vinegar, and stir until a smooth batter has formed. If the dough doesn't stir easily, you can add one more tablespoon of water to help thin it out.


Fold in the dark chocolate, if using, then transfer the batter to the lined baking dish. Use a spatula to spread it evenly into the bottom of the pan-- it will be thicker than traditional brownie batter.


Bake until the center of the brownies don't jiggle, about 30 to 35 minutes. Allow the brownies to cool in the pan for at least 30 minutes before cutting into them, because they are more fragile when hot.


Slice into 16 squares and serve. Leftovers can be loosely wrapped and stored on the counter for up to 3 days, or keep them in an airtight container in the fridge for up to 2 weeks.

Nutrition
Calories:
99
kcal
,
Carbohydrates:
13
g
,
Protein:
1
g
,
Fat:
5
g
,
Saturated Fat:
4
g
,
Sodium:
128
mg
,
Potassium:
71
mg
,
Fiber:
1
g
,
Sugar:
7
g
,
Vitamin A:
595
IU
,
Vitamin C:
0.2
mg
,
Calcium:
24
mg
,
Iron:
0.5
mg
Per brownie: Calories: 99, Fat: 5g, Carbohydrates: 13g, Fiber: 1g, Protein: 1g
Recipe Notes:
I used the 1-to-1 Baking Flour by Bob's Red Mill, because it's easy to find in most stores. It contains binders, like xanthan gum, so I'm not sure how this recipe will turn out if you use a different type of flour, though all purpose or whole wheat flour should bake similarly, in theory. If you were to use something like oat flour or almond flour, the results would be very different.
I'd recommend starting with my Chewy Paleo & Vegan Brownies or Almond Butter Brownies if you need a grain-free recipe.
—
Reader Feedback: Do you have a Fall dessert that needs a healthy makeover?