Almond Butter Brownies are rich and fudgy, and you don't need any flour to make them. I love that they're naturally gluten-free, and they're vegan-friendly when you make them with flax eggs.
Why Use Almond Butter?
Almond butter contains a magical combination of fiber and fat, so you can use it as a replacement for both the oil and flour and this brownie recipe. The key is using a mild-flavored almond butter, though, so you don't taste it too much.
I recommend using a "raw" store-bought almond butter, or try making homemade almond butter. You want the consistency to be runny and drippy, for best results, so be sure to check the label to see that the only ingredient is almonds.
How to Make Them
This recipe is easy to stir together in one bowl! If you're using flax eggs, you'll mix those together first so they have a chance to thicken up, then add in the other ingredients. (If you're using eggs, just mix it all together right away.)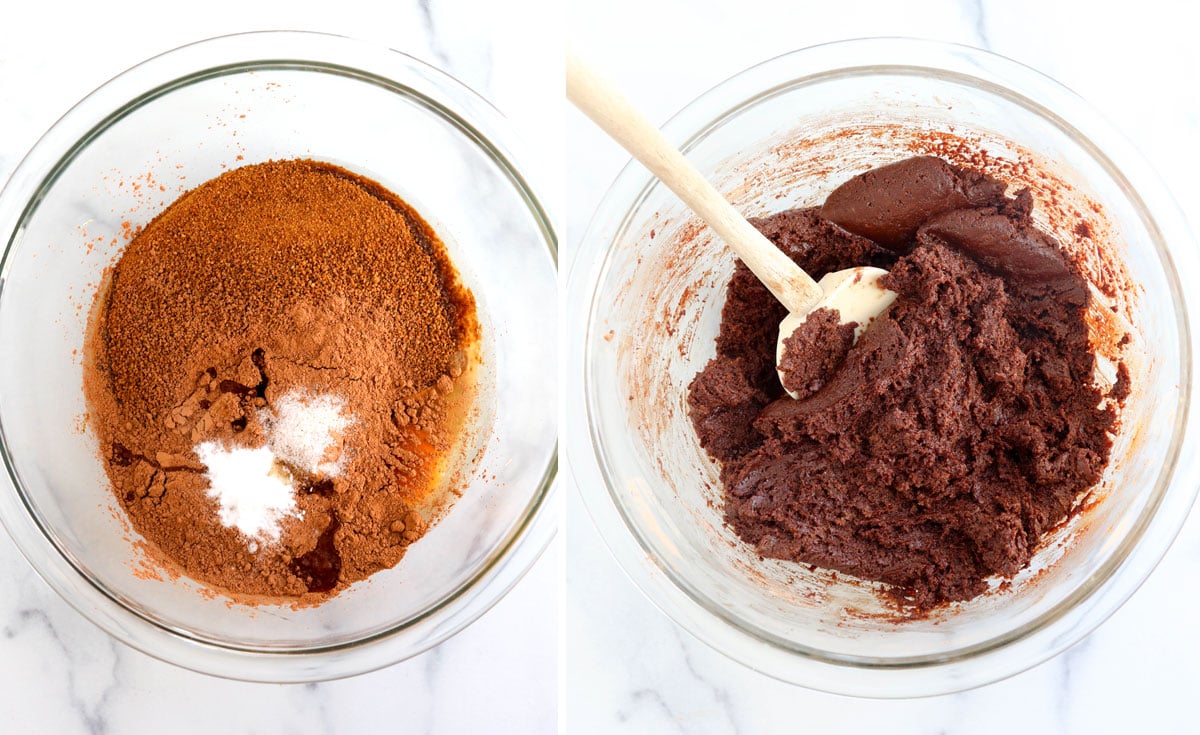 The batter will be MUCH thicker than a traditional brownie recipe, so don't be alarmed. It's almost like a stiff play-doh, and that's what you want.
You won't be able to pour the batter into the pan. It's more like pressing a chocolate clay into the bottom of your pan. Be sure to spray the dish with oil and line it with parchment paper for easy brownie removal later.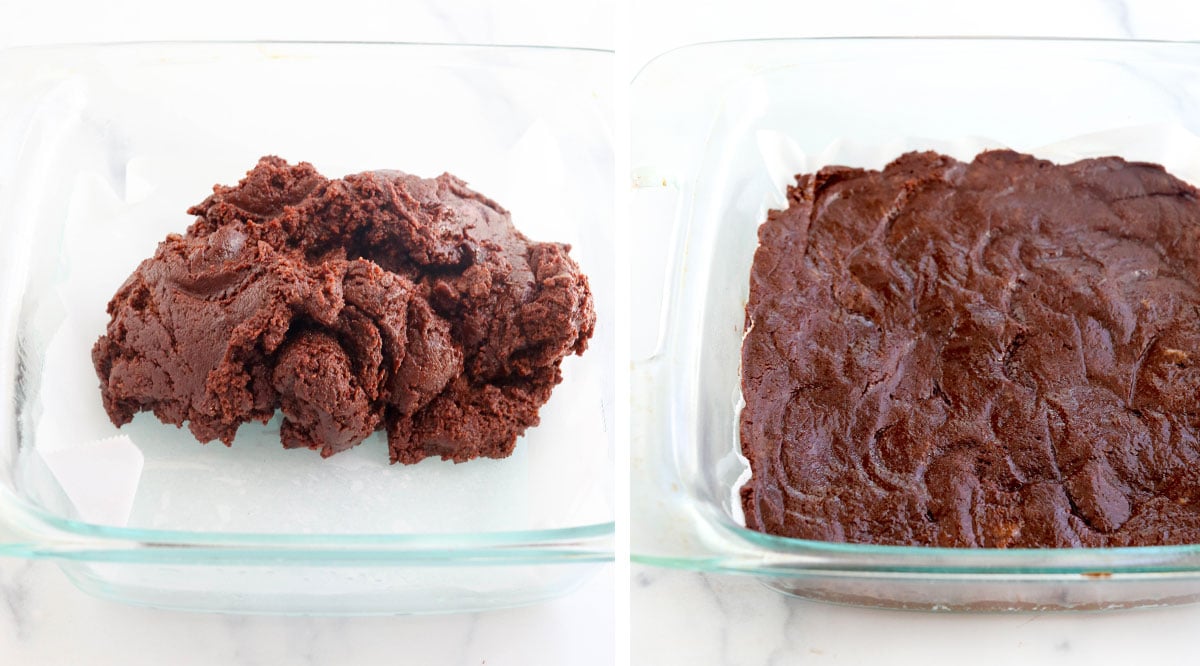 I like to press a few chocolate chips into the tops of these brownies before baking, but that's optional. Bake until the top puffs up, which takes about 20 minutes.
You definitely want to err on the side of under-baking these brownies, rather than over-baking, if you like brownies with a rich, fudgy middle.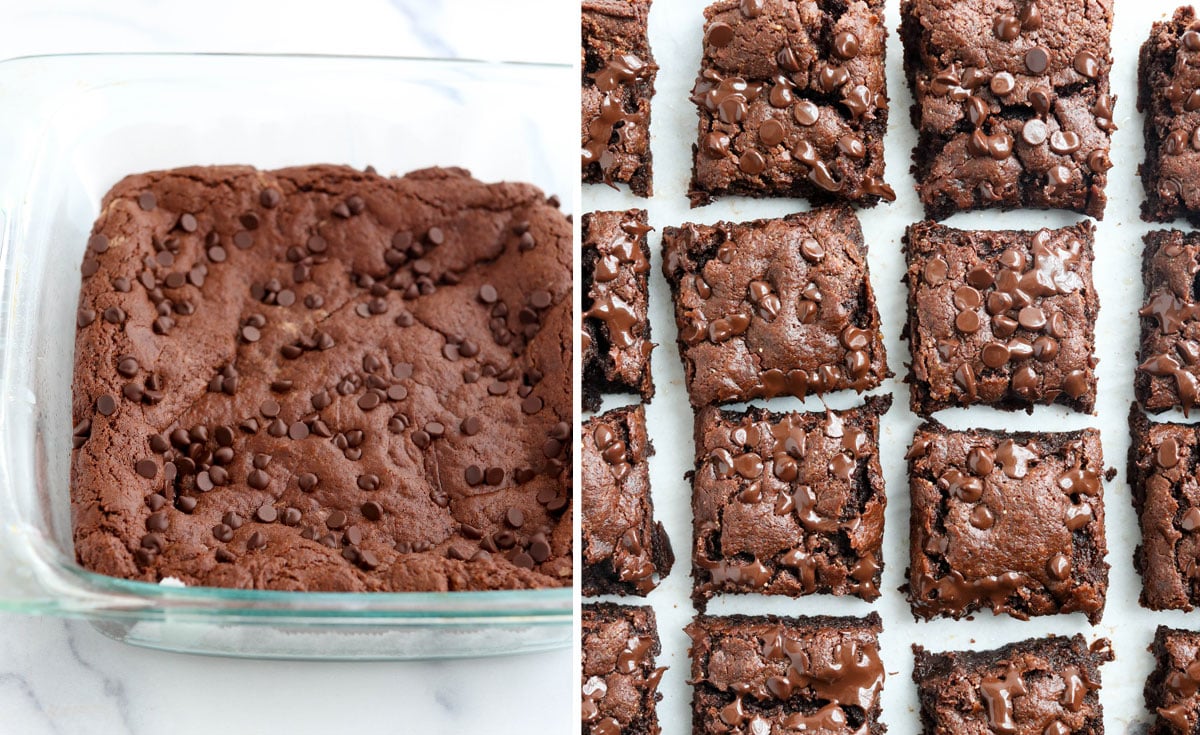 Note: I tested baking these brownies for 30 minutes, too, because I was worried about the middle looking jiggly, and the brownies were too dry in the middle in that case. So, definitely aim for 20 minutes if you like fudgy brownie middles.
Let these brownies cool completely in the pan, as they will be very fragile when warm. I like to serve them at room temperature, or even straight from the fridge for the best taste and texture.
Substitutions
Have different ingredients on hand? These tips may help.
Almond Butter. You can replace the almond butter with cashew butter, or sunflower seed butter for a nut-free version, but you might need to use a little extra sweetener in that case, because some sunflower brands don't include sugar and can be bitter. Peanut butter can also be used, but it results in drier baked goods, so you might want to use only 3/4 cup in that case.
Coconut sugar. This sugar provides a lot of the structure in this recipe, but you can replace it with another granulated sugar if you have something else (like white or brown sugar) on hand. You may be able to replace it with 1/2 cup of honey or maple syrup if you're using real eggs, but the result will be a lot softer and more gooey, rather than chewy like a brownie. I also think honey has a strong flavor, so it might hinder some of the rich chocolate taste. If you're making the vegan version, I imagine this recipe might not set up without a granulated sugar.
Eggs. Use ground flax seeds or ground chia seeds to make a vegan "egg" substitute. The brownies are more gooey this way, but that's not a bad thing, if you ask me.
More Brownie Recipes
If you have another flour you want to use, try one of these other tested & perfected recipes instead!
I can't wait to hear which ones you try!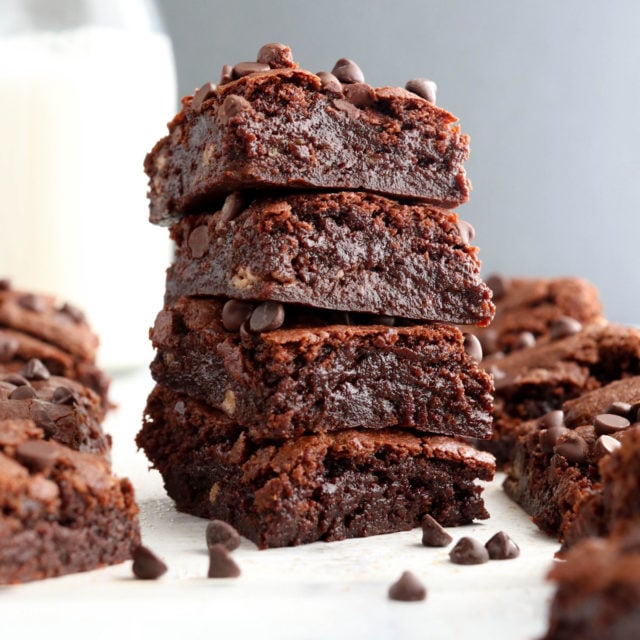 Almond Butter Brownies
Almond butter brownies are made without oil or flour, for a rich gluten-free dessert. You can make them in just about 30 minutes from start to finish!
Instructions
Preheat your oven to 350ºF. In a large bowl, combine the almond butter, cacao powder, coconut sugar, eggs, vanilla, baking soda, and sea salt. Stir until the batter is very thick and uniform looking.

Lightly grease an 8-inch square dish and line it with parchment paper for easy removal later. Spread the thick brownie batter into the bottom of the pan. It will be very thick, so you'll need to press it firmly with the spatula. Sprinkle the top with chocolate chips, and lightly press them into the top of the batter, if desired.

Bake at 350ºF for 20 minutes. It's okay if the brownies don't look totally firm to the touch in the center, because they will firm up as they cool. In my experience, baking for 30 minutes will dry them out too much, so I err on the side of under-baking for a fudgy middle. Let them cool completely before slicing.

These brownies can be served at room temperature or chilled straight from the fridge. Store them in an airtight container in the fridge for up to 5 days, or you can freeze them for up to 3 months.
Notes
Nutrition information is for 1 of 16 squares. This is automatically calculated, and is just an estimate, not a guarantee.
See the full post for substitution suggestions.
Update Note: This recipe was updated in February 2021 for a better texture and flavor. If you'd like the original version, use only 5 tablespoons cacao powder, 6 tablespoons coconut sugar, 2 tablespoons of maple syrup, and only 1 flax egg. This version tastes more like almond butter, and less like a brownie, which is why my family requested that I re-work it again, but those are the changes if you preferred the older version.
Nutrition
Calories:
154
kcal
,
Carbohydrates:
15
g
,
Protein:
5
g
,
Fat:
10
g
,
Saturated Fat:
1
g
,
Trans Fat:
1
g
,
Cholesterol:
24
mg
,
Sodium:
101
mg
,
Potassium:
166
mg
,
Fiber:
3
g
,
Sugar:
9
g
,
Vitamin A:
37
IU
,
Vitamin C:
1
mg
,
Calcium:
63
mg
,
Iron:
1
mg
If you try these Almond Butter Brownies, please leave a comment below letting me know how you like them! And if you make any other modifications, I'd love to hear about those, too.
–
Reader Feedback: What's your favorite dessert?