These Vegan Ginger Cookies are soft, chewy, and highly addictive! Made with almond flour, they are naturally gluten-free and higher in protein, to help leave you feeling satisfied. No eggs required!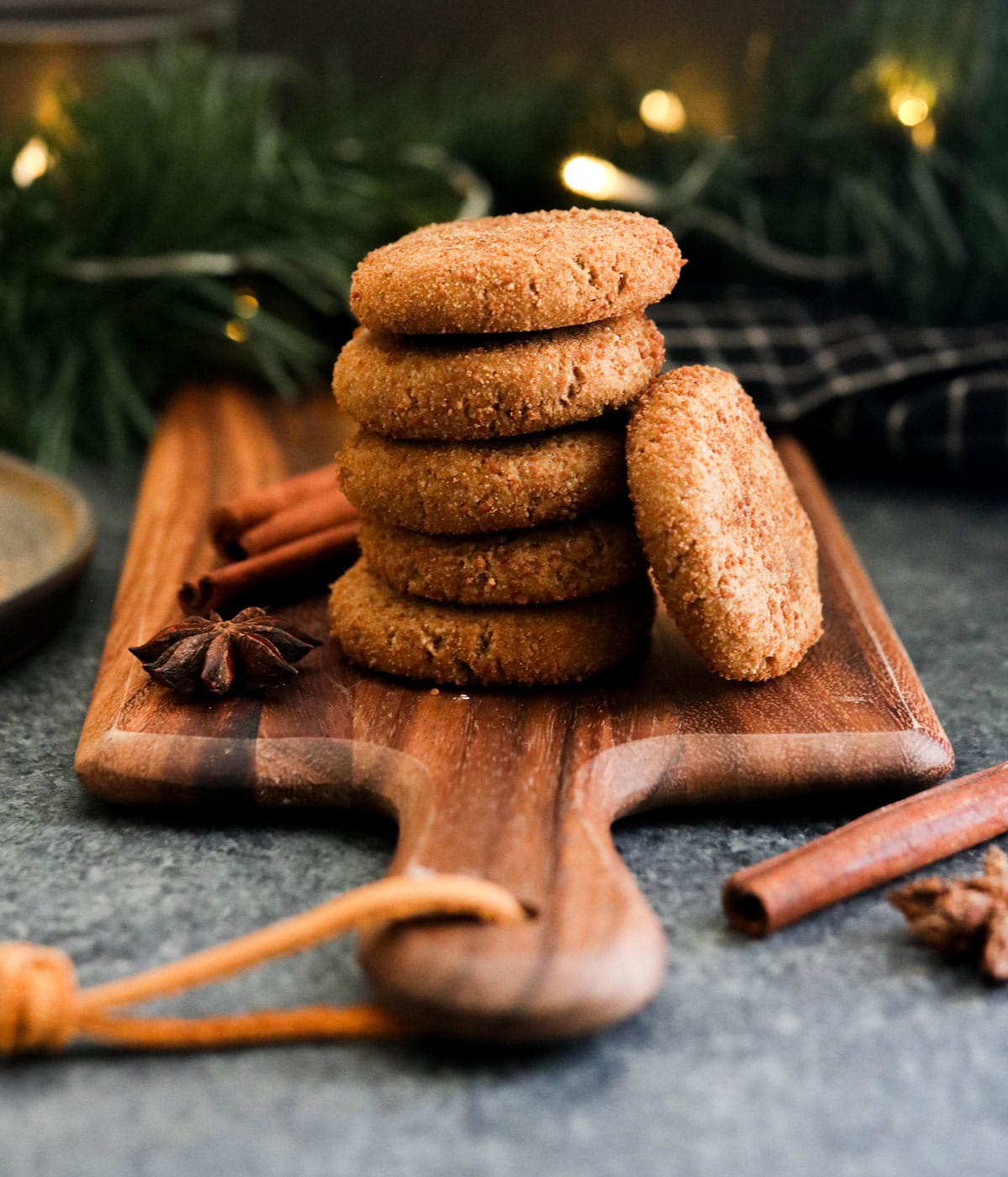 Why You'll Love Them
These Almond Flour Ginger Cookies are:
Prepped in 1 bowl
Naturally sweet
Gluten-free
Dairy-free
Ultra-flavorful
Require only 1 variety of flour
and they're ready to eat in less than 30 minutes!
This recipe is super-simple, calling for only 7 ingredients. If you can't find almond flour at the store, you can make homemade almond flour as an alternative.
Blanched Almond Flour vs. Almond Meal
If you're not familiar with the two varieties of almond flour, blanched almond flour is made from almonds that are blanched first (so their skin is removed) and then they are finely ground. Almond meal is made from whole almonds, with their skins, so you'll see flecks of brown in the flour.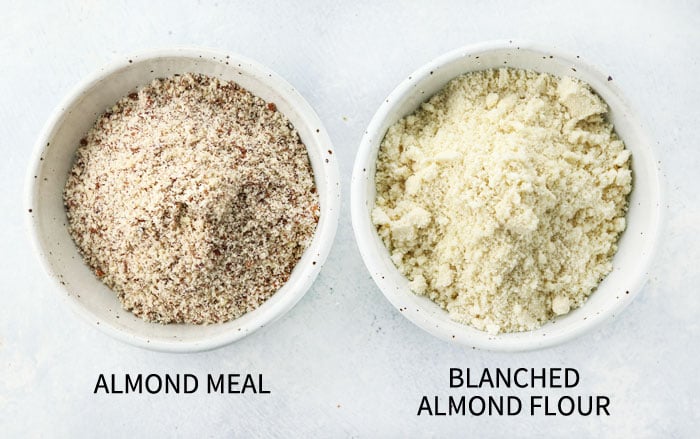 I typically use blanched almond flour when making cookies, as it tends to provide crispier edges and more consistent results, but you can use almond meal if that's all you have on hand. Almond meal usually makes softer, more cake-like cookies, if you're okay with that. (I think it should be fine in this case!)
Are Vegan Cookies Healthier?
Just because a recipe is vegan, doesn't mean it will always be healthier. Many still call for refined flour and sugar. (Not all white sugar is vegan FYI, but organic cane sugar is.)
In this case we're using more wholesome ingredients to help you feel satisfied, without the drastic sugar spikes. Almond flour adds satiating fats and protein, and maple syrup is a natural sweetener that's lower on the glycemic index when compared to white sugar.
Benefits of Molasses
Blackstrap molasses helps to give ginger cookies their signature flavor, along with ginger of course, and this dark syrup has some potential benefits!
Here's why you'll love it:
It contains important vitamins and minerals like iron, calcium, magnesium and vitamin B6.
Just 1 tablespoon of molasses has 8% of the daily value for calcium, and 10% of the daily value for magnesium. Magnesium deficiency may contribute to osteoporosis, so getting sufficient amounts may help to promote bone health.
It's also a good source of potassium, with 1 tablespoon having a similar amount to half of a banana.
If you don't have molasses on hand, these cookies will still have a nice ginger flavor, but the molasses really takes them over the top!
How to Make Them
This recipe is made in 1 bowl, with just about 10 minutes of effort. Mix together the dough until it's sticky, with no visible clumps.
Scoop the dough using a tablespoon, then roll it between your hands to form a ball.
I like to roll the balls in coconut sugar, for an extra-pretty presentation, but you can skip that if you want to.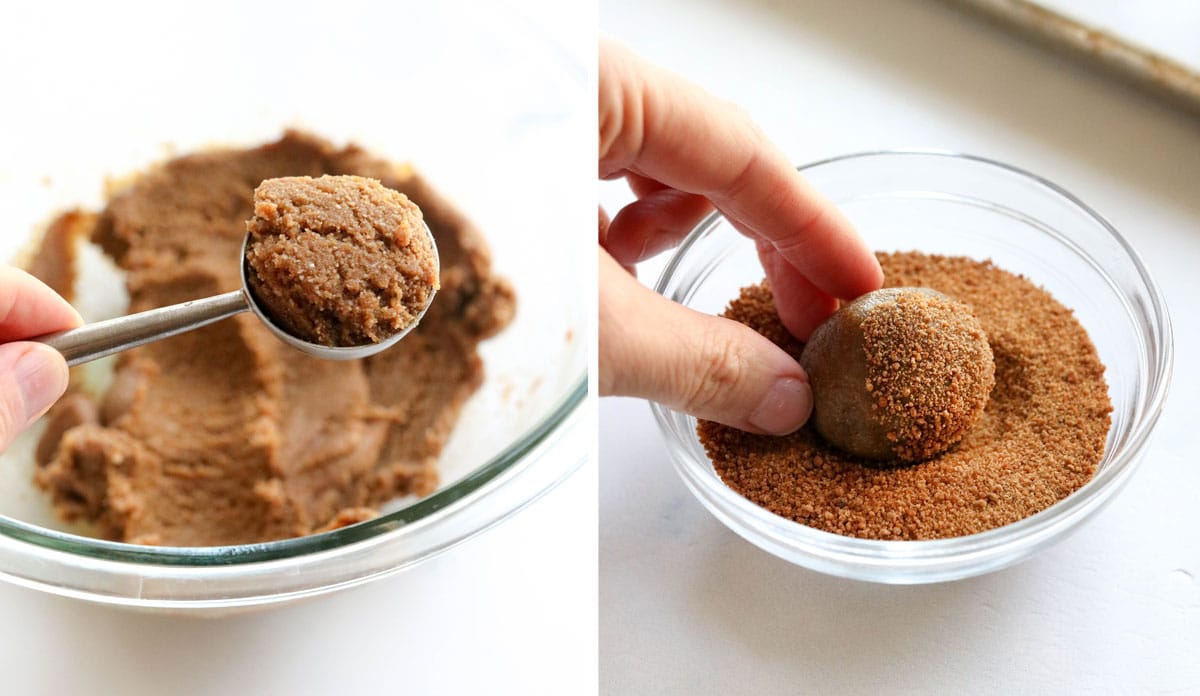 These cookies will not flatten out much on their own, so be sure to use your fingers to flatten them out on the pan.
I like mine to be about 1/2-inch thick, and about 3 inches wide. They aren't huge cookies, but they're packed with flavor.
Bake for 10 to 12 minutes, then let these cookies cool completely on the pan. They will feel very soft and fragile when they are warm, but will firm up as they cool.
This recipe makes roughly 12 cookies, so be sure to double or triple it as needed. They won't last long!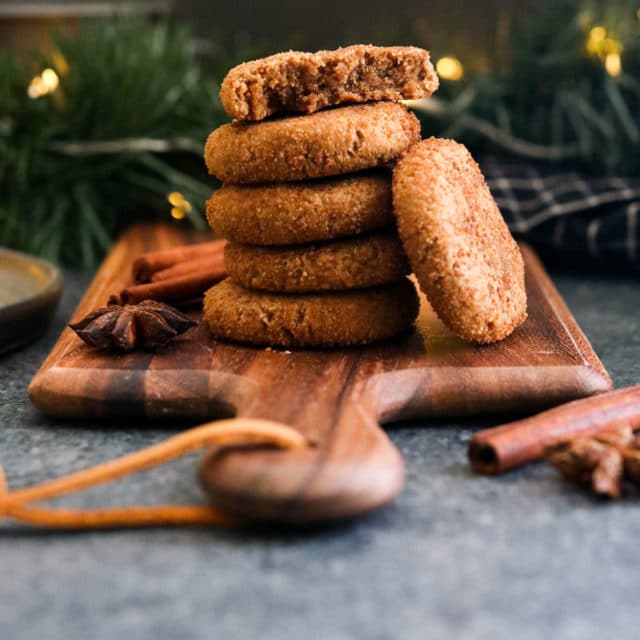 Almond Flour Ginger Cookies (Vegan)
These Vegan Ginger Cookies are made with protein-packed almond flour. They're naturally gluten-free and dairy-free!
Instructions
Preheat the oven to 350ºF and line a baking sheet with parchment paper. Combine the almond flour, ginger, salt and baking soda and mix well. Then add in the coconut oil, maple syrup, and molasses, and mix until a thick batter is formed.

Scoop the batter by rounded tablespoons, then roll it between your hands to form a ball. Roll the balls in coconut sugar, if desired.

Arrange the balls on the prepared baking sheet, and flatten them to be roughly 1/2-inch thick. They will not spread much more once you bake them. Bake until the cookies lightly puff up, about 10 to 12 minutes.

The cookies will be very soft and fragile when you remove them from the oven. Let them cool completely, then serve at room temperature. Leftovers can be stored on the counter for up to 3 days (don't put them in an airtight container or they will get soft), or you can store them in an airtight container in the fridge to keep them for up to 2 weeks. (They can also be frozen for up to 3 months, if you want to make a larger batch.)
Notes
Nutrition information is for 1 of 12 cookies, and is just an estimate, not a guarantee.
Nutrition
Calories:
123
kcal
,
Carbohydrates:
8
g
,
Protein:
2
g
,
Fat:
9
g
,
Saturated Fat:
2
g
,
Sodium:
48
mg
,
Potassium:
43
mg
,
Fiber:
1
g
,
Sugar:
5
g
,
Calcium:
40
mg
,
Iron:
0.7
mg
Calories per cookie: 123, Fat: 9g, Carbohydrates: 8g, Fiber: 1g, Protein: 2g
—
Reader Feedback: What's your favorite type of holiday cookie? Ginger cookies are definitely my #1, but peanut butter balls and frosted sugar cookies are not far behind!