These Avocado Brownies are an easy gluten-free dessert, using avocado instead of oil or butter. As a result, you'll get an extra dose of fiber and nutrients in each bite. My Chocolate Avocado Pudding and Chocolate Avocado Smoothie are such a hit, I just know that you'll love these brownies, too!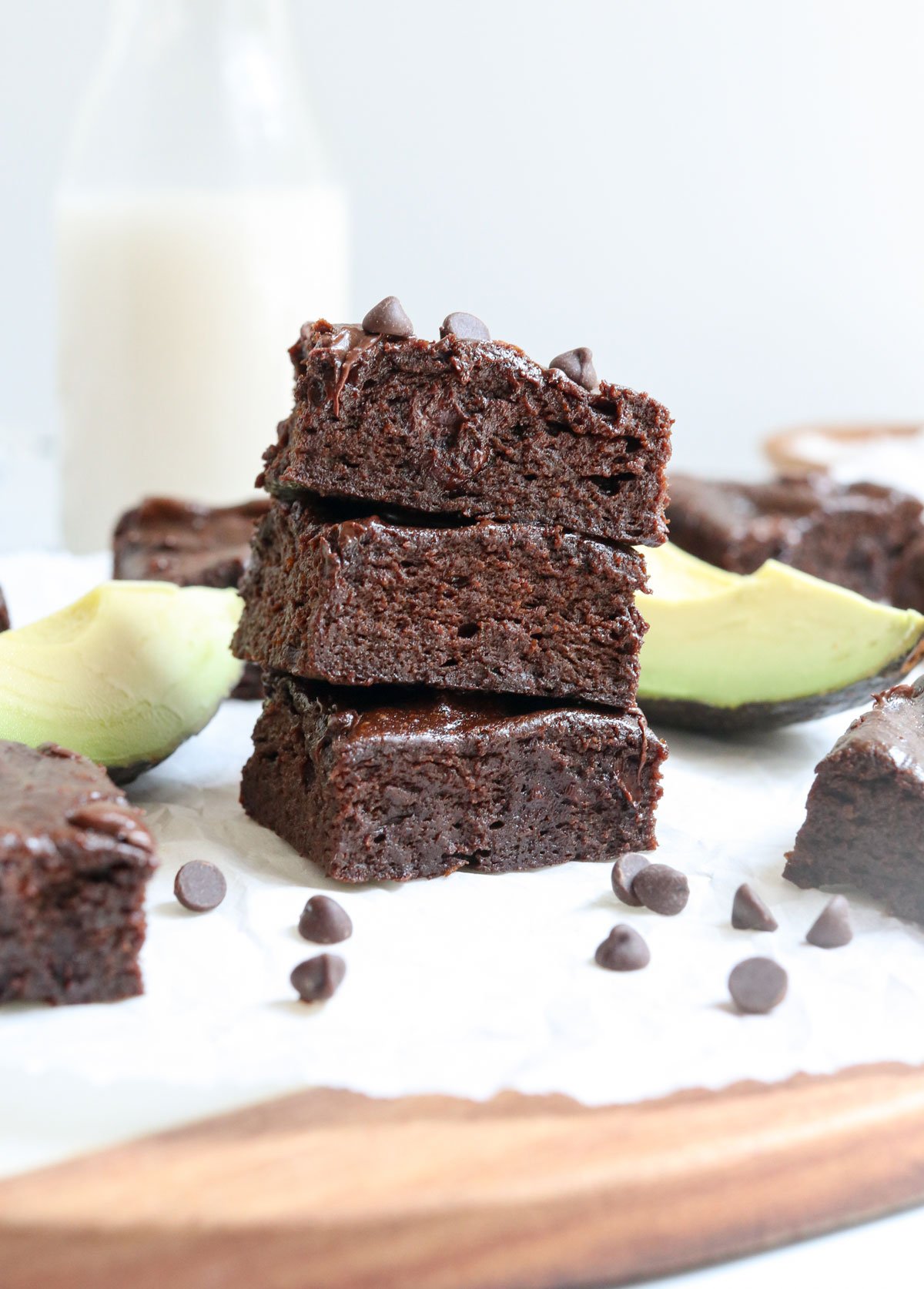 Benefits of Avocados
Why add avocado to a perfectly good dessert? Most recipes use plenty of butter or oil to give brownies a fudgy texture, but avocado can do the same thing while also adding extra fiber to the mix.
Here's more to love about avocados:
They have more potassium than bananas.
They are a good source of monounsaturated fatty acids. (Specifically, they contain oleic acid, which has been linked to reducing inflammation.)
They may help to lower total cholesterol levels. (source)
Adding avocado to your food may help to increase nutrient absorption, specifically with vitamins A, D, E, and K, which are fat soluble. (source)
If you don't want to worry about having a ripe avocado on hand, try freezing it when you have one, so you can use it later. Frozen avocado thaws well for guacamole, is the perfect addition to smoothies (like my Kale Smoothie), and you can also use it thawed to make this brownie recipe.
How to Make Avocado Brownies
I always turn to Alton Brown for a classic take on recipes, so I started with his cocoa brownie recipe when wanting to make this one. His version calls for plenty of butter and sugar, but very little flour, which I think is key to make a rich and fudgy brownie.
In this case, I've swapped the sugar for low-glycemic coconut sugar, replaced the butter with a ripe avocado, and omitted the flour in favor of fiber-rich almond butter. The result is a flourless brownie that is ultra-rich and fudgy! (And naturally gluten-free and dairy-free, to boot.)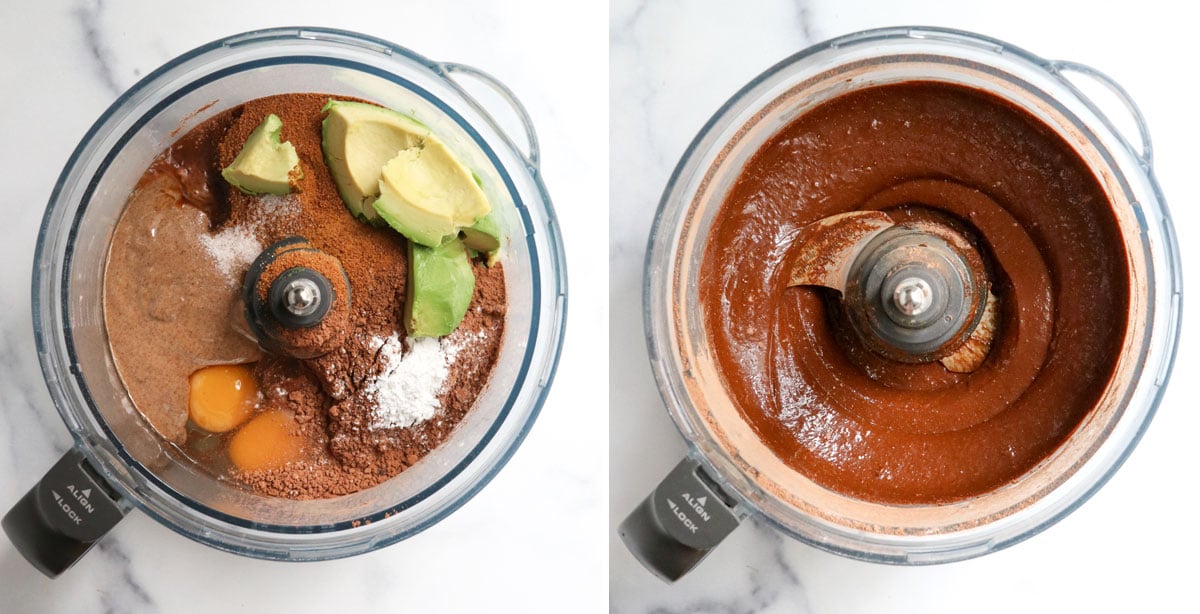 Can You Taste the Avocado?
Avocado has a relatively mild flavor that works well in baking, but if you are super-sensitive to the flavor (like I am) I think it does come through slightly on your first bite.
If you take a second bite, I find that the flavor goes almost unnoticed! (My husband says he can't taste it at all in this recipe.)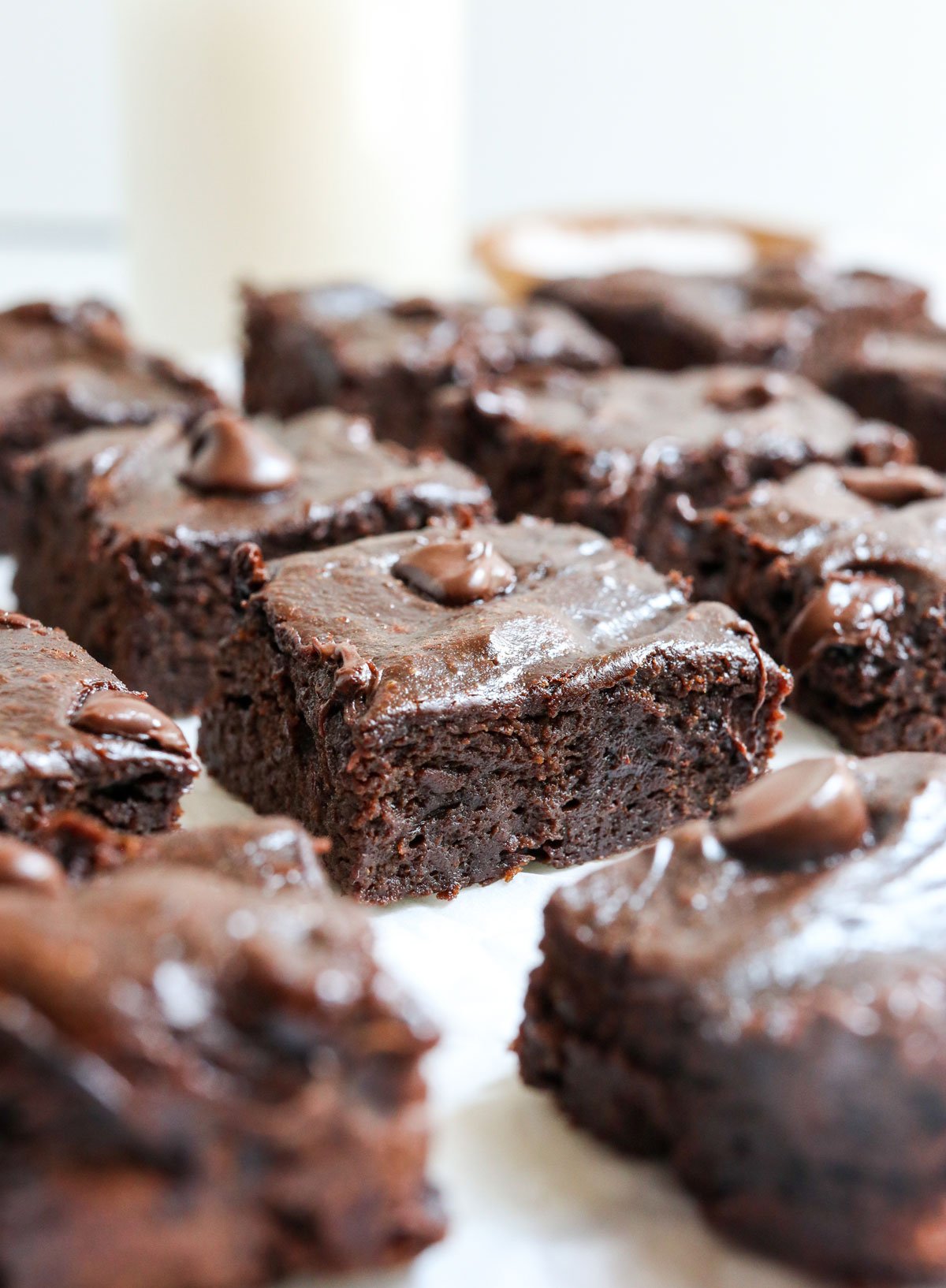 I've tried to keep the sugar as low as possible in this recipe, but if you'd like to hide the avocado flavor even more, you can add 1/4 cup of maple syrup to this recipe for a sweeter-tasting result.
For a keto avocado brownie, I imagine you can use a granulated sugar substitute to replace the coconut sugar. I haven't tested that myself, since my body doesn't seem to agree with zero calorie sweeteners, but please leave a comment below if you give it a try so that other readers can benefit from your experience!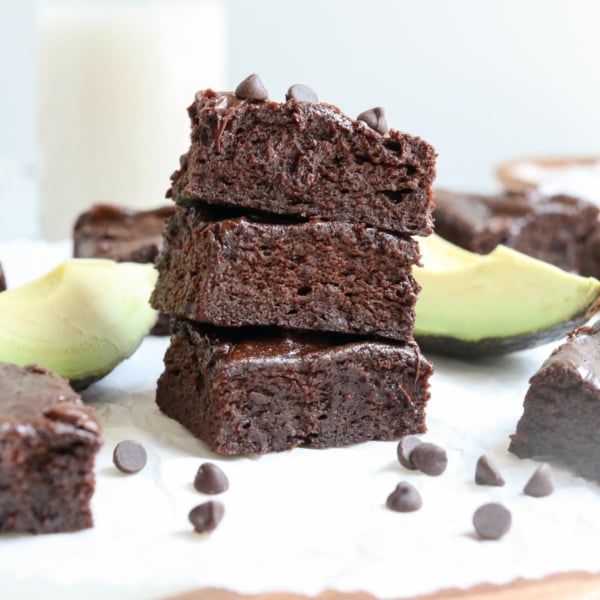 Avocado Brownies (Flourless & Fudgy!)
These Avocado Brownies are rich & fudgy, and made healthier by using avocado instead of butter or oil. They are naturally gluten-free and dairy-free!
Instructions
Preheat the oven to 325ºF and line a 9-inch square baking dish with parchment paper. (Grease the pan first, so the parchment paper will stay in place.) In a food processor, combine the avocado (peel and pit removed), cacao powder, eggs, coconut sugar, almond butter, baking powder, vanilla, and salt. Process until smooth, stopping to scrape down the bowl as needed.

Fold in the chocolate chips, then pour the batter into the prepared pan. (Decorate the top with a few extra chocolate chips, if desired.)

Bake at 325ºF for 40 to 45 minutes, or until the center of the brownies looks cooked-through. (You don't want it to jiggle when you shake the pan.) Allow the brownies to cool completely. The avocado flavor is MUCH more pronounced if you try these warm, so please don't be tempted to taste them until they have come to room temperature. You can place them in the fridge if you want to speed up the cooling process, or you'll have to wait at least 2 hours for them to cool on the counter.

Slice the brownies into small squares and serve. It's normal for this brownie to stick to the knife a bit with you cut them, since they are flourless and very fudgy. Leftovers can be stored on the counter for up to 48 hours, or in the fridge in an airtight container for up to a week.
Notes
Nutrition information is for 1 of 16 brownies.This information is automatically calculated, and is just an estimate, not a guarantee.

Don't have a food processor? You can make these brownies in a single bowl, mashing the avocado with a fork until relatively smooth. I prefer using a food processor, but I've had good results with both methods.
If you need a nut-free recipe, try replacing the almond butter with 1/4 cup of your favorite flour. (I'd try oat flour or a gluten-free mix, or you could use 1/2 cup of almond flour instead.)
If you dislike the flavor of avocado, you can replace half of it with butter or oil instead to ease yourself into the idea. I'd try 3 to 4 tablespoons of coconut oil or butter to replace half of an avocado.
For a keto avocado brownie, try using a granulated sugar-free sweetener to replace the coconut sugar. (And let me know how it goes, please!)
For a vegan avocado brownie, omit the eggs and replace them with 1/4 cup of all-purpose gluten-free flour, and increase the almond butter to a 1/2 cup total.
Nutrition
Calories:
126
kcal
,
Carbohydrates:
16
g
,
Protein:
3
g
,
Fat:
7
g
,
Saturated Fat:
2
g
,
Cholesterol:
23
mg
,
Sodium:
72
mg
,
Potassium:
203
mg
,
Fiber:
2
g
,
Sugar:
9
g
,
Vitamin A:
51
IU
,
Vitamin C:
1
mg
,
Calcium:
51
mg
,
Iron:
1
mg
More Avocado Desserts
If you're feeling inspired, try these popular recipes, too!
If you try these Avocado Brownies, please leave a comment below letting me know how you like them! And if you make a modification or substitution, please let me know how that works out for you, too. We can all benefit from hearing about your experience.
–
Reader Feedback: Have you ever tried adding avocado to a dessert?