This Jackfruit Curry recipe is a quick & easy vegetarian dinner that comes together in less than 30 minutes. I love how flavorful it is, using convenient pantry ingredients.
Jackfruit Benefits
Jackfruit is a convenient vegetarian option that is low in calories, and has 3 grams of protein per cup, which is relatively high compared to other fruits. What really makes jackfruit unique is its texture, which looks remarkably similar to shredded meat.
Like most fruits, jackfruit contains antioxidants, which may help to lower inflammation and promote balanced blood sugar levels. (source)
Canned Jackfruit vs. Fresh Jackfruit
When it comes to fruit, I usually prefer working with fresh or frozen, but I tend to work with canned jackfruit because the fresh version intimidates me. If you've seen one, you know they are usually pretty large (Jackfruit is the largest variety of fruit tree in the world!) and they are covered in a green prickly skin.
Jackfruit has a sticky sap that can leave a residue on your skin after you work with it. You'll notice this slightly when working with canned jackfruit, but I've heard it's much more noticeable with the fresh version. (If you do get the residue on your skin, try rubbing a little olive oil on your hands. It can be more effective than soap at removing the sticky feeling.)
Canned jackfruit is by far the easier option to work with. All you have to do is open a can, drain it, and shred it with your fingers before you add it to this curry recipe.
Do be sure to rinse the jackfruit really well, to help remove any brine that it may have been packed in. I like to rinse it before and after "shredding" it, to make sure any extra acid or salty flavor is removed.
What Does Jackfruit Curry Taste Like?
We're using green jackfruit (which is unripe) in this recipe, which has a relatively mild, neutral flavor on its own.
Ripe jackfruit is much sweeter, but it's also less commonly sold in cans. (It is sold in the freezer aisle, so be sure to look for green jackfruit, if you would prefer to buy frozen bags for this recipe.)
All of the flavor is packed in this curry sauce, and it has my go-to combination of ginger, garlic, and creamy coconut milk.
Tip: You can use cashew cream mixed with water to replace coconut milk, if you don't have any on hand, or would prefer a non-coconut flavor. See my Cashew Cream recipe post for details.
I also like to add a can of fire-roasted tomatoes, which adds a nice, rich flavor. If you don't have tomatoes on hand, check out my Thai Chickpea Curry for guidance on a tomato-free sauce instead.
What Else Can You Do With Canned Jackfruit?
If you have more than one can of jackfruit to use up, be sure to try my Jackfruit Pulled Pork or Jackfruit Tacos recipes.
You can use jackfruit to replace a shredded chicken texture in almost any recipe you can think of. I might try using it as an enchilada filling next, and I bet it would be delicious in my popular Curry Chicken Soup.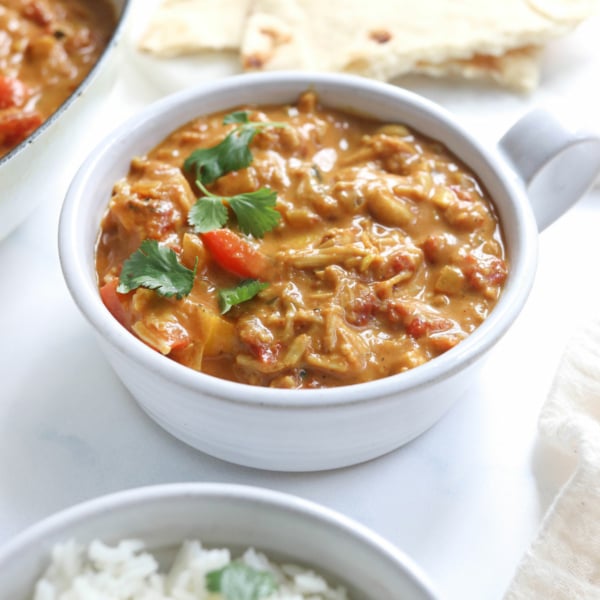 Jackfruit Curry
This Jackfruit Curry is made with easy pantry ingredients, for a fast weeknight meal. You can add in any extra veggies you happen to have on hand!
Ingredients
1

tablespoon

olive oil

1

yellow onion

, chopped

1

bell pepper

, chopped

3

garlic cloves

, minced (about 1 tablespoon)

1

inch

fresh ginger

, minced (about 1 tablespoon)

4

teaspoons

curry powder

1

teaspoon

ground cumin

1/2

teaspoon

ground turmeric

1

(14.5 oz) can

crushed fire-roasted tomatoes

1

(14.5 oz) can

full-fat coconut milk

1

teaspoon

fine sea salt

1

(20 oz.) can

green jackfruit

, drained and rinsed

fresh cilantro

, for garnish
Instructions
In a large deep skillet (use a 3.5-quart or larger pot), heat the olive oil over medium heat. Saute the onion and bell pepper until they soften, about 5 minutes.

Add in the garlic and ginger and saute for 1 minute more, just until they are fragrant. Add in the curry powder, cumin, and turmeric and stir until the vegetables are coated with the spices.

Pour in the crushed tomatoes and coconut milk, and season with 1 teaspoon of salt. Bring the liquid to a boil.

While the curry sauce is heating up, break up the rinsed jackfruit with your fingers, creating a texture similar to shredded chicken. Rinse the jackfruit again, after it has been shredded, to remove any extra brine, then drain well. Add the drained jackfruit to the sauce.

Once the sauce is boiling, lower the heat to a simmer to let the flavors meld, at least 10 minutes, but you can let it simmer longer if you like.

When everything is heated through, taste the sauce and adjust any seasoning to your taste. You can add a splash of maple syrup if you prefer a sweeter curry sauce, or add extra curry powder or a pinch of cayenne if you like it spicier. Serve warm over cooked rice, and garnish with fresh cilantro.
Notes
If you can't find fire-roasted tomatoes, you can use regular crushed tomatoes instead. The fire-roasted variety are naturally more sweet and flavorful, so you may want to adjust the final seasoning to your taste when making substitutions.
If you don't have coconut milk on hand, cashew cream can be used as a substitute. I use 1/2 cup of cashew cream + 1 cup of water to replace 1 can of full-fat coconut milk.
Nutrition
Calories:
343
kcal
,
Carbohydrates:
37
g
,
Protein:
5
g
,
Fat:
23
g
,
Saturated Fat:
17
g
,
Sodium:
727
mg
,
Potassium:
690
mg
,
Fiber:
4
g
,
Sugar:
7
g
,
Vitamin A:
1146
IU
,
Vitamin C:
51
mg
,
Calcium:
110
mg
,
Iron:
5
mg
Nutrition information is for 1/4 of this recipe, and does not include rice. This information is automatically generated using generic ingredients, so it is just an estimate, not a guarantee. Use the labels on your ingredients at home for more accurate results.
If you try this recipe, please leave a comment below letting me know what you think. And if you make any modifications, I'd love to hear about those, too. We can all benefit from your experience!
–
Reader Feedback: Have you tried jackfruit yet? What would you like to see me do with it next?