If you think Miso Soup is intimidating or difficult to prepare, I've got good news for you. This is the easiest recipe for it! There are no complicated ingredients required, other than miso, which is easy to find at your local grocery store. In less than 30 minutes, you'll have a delicious and flavorful soup that is ultra-comforting!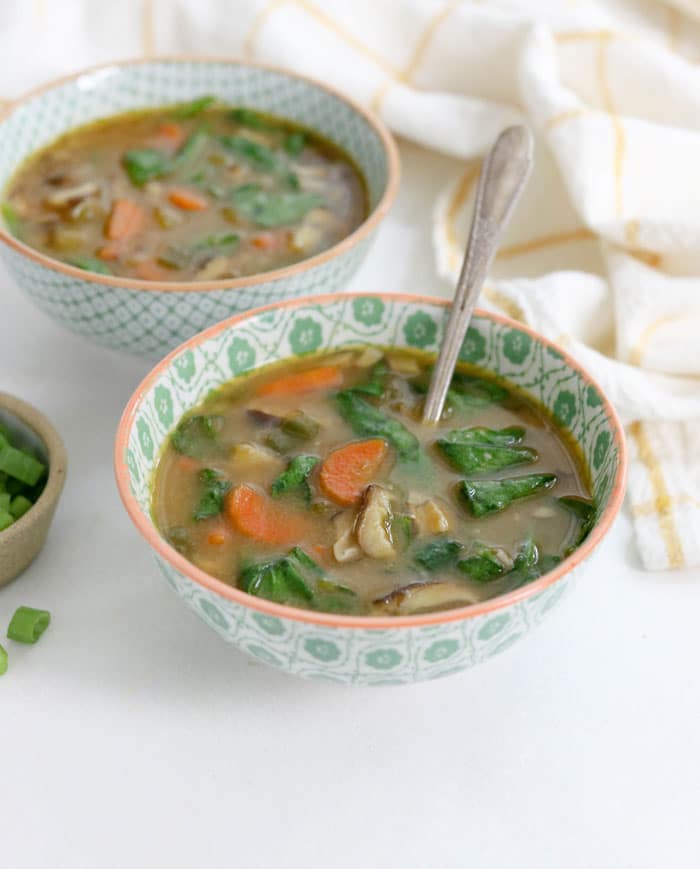 What is Miso Soup made of?
The essential ingredient in miso soup is, not surprisingly, miso. Miso is a fermented soybean paste that has a savory and salty flavor. Miso is already considered to be incredibly healthy, but I think this particular soup is even better, thanks to the extra vegetables added in.
Traditional miso soup is made with tofu and green onions, and sometimes a sheet of seaweed, but I don't keep tofu on hand so I've replaced it here with shiitake mushrooms, which have a very meat-like texture and flavor. (If you don't believe me, try my Mushroom Bacon. It will change your life.)
Other than that, you'll need toasted sesame oil, tamari (or soy sauce if you're not gluten-free), and ginger for flavor, along with vegetable broth, or water, as the base. And then you can add any veggies you like!
What kind of Miso is used in Miso Soup?
You can use yellow, white, or red miso in miso soup. The variety you use will help to determine the flavor, and I typically use white miso when making this recipe. I like the mellow flavor, but here's a quick overview so you can compare.
Red Miso is the type of miso that is fermented the longest, and as a result, it has the the richest and most pungent flavor. It also tends to use the highest percentage of soybeans and has the saltiest flavor when compared to other varieties.
Yellow Miso is fermented for about a year, and is a little sweeter than red miso, while also being less salty.
White Miso has the lightest and most mellow flavor compared to other varieties of miso. It is fermented for a shorter period of time and uses the lowest percentage of soybeans.
If you follow a gluten-free diet, it's important that the miso you buy is certified gluten-free. Miso is made from a combination of beans and grains, so you need to make sure that a gluten-free grain is used, such as millet, rice, amaranth or quinoa.
You can typically find containers of miso in the refrigerated produce section at your local grocery store, usually near tofu and tempeh products.
Benefits of Miso
Why eat miso? In the Western world, miso is most commonly consumed in a Japanese Miso Soup, but there are several reasons why you might want to eat it more often.
Miso is also rich in antioxidants (source), which may help to protect the body from free radical damage, and it contains a variety of vitamins and minerals. Seems like a good reason to make soup, right?
How to Make Miso Soup
Miso soup is relatively quick and easy to prepare. To get started, you'll mix the miso together with toasted sesame seed oil and ginger, and then set it aside. You don't want to harm the probiotics found in miso by boiling it, so simmer the other soup ingredients separately until the vegetables are tender.
Remove the soup from the heat, then ladle a bit of the broth over the miso mixture, and stir until the miso is dissolved. This helps prevent clumps, and also allows the soup to cool slightly before you stir the miso into the final dish. Once you've mixed it all together, you can taste and adjust as needed, then serve warm.
Miso Soup Tutorial (1-minute video)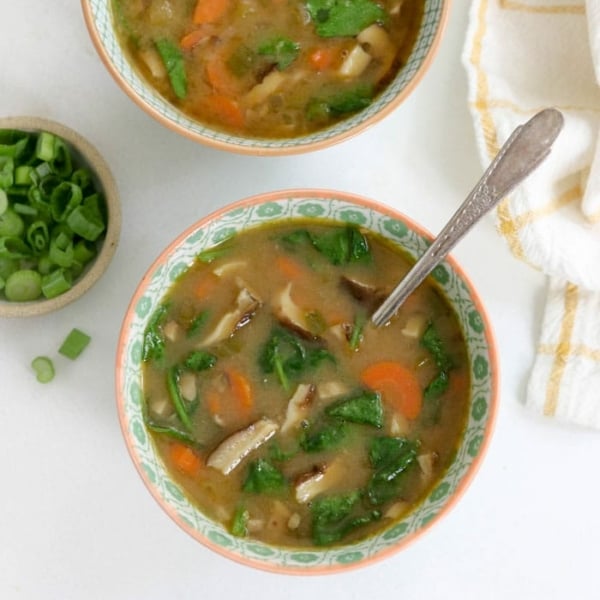 Easy Miso Soup
This miso soup recipe is quick and easy to prepare, using a handful of ingredients. No tofu required!
Ingredients
1/4

cup

red or white miso paste

1

tablespoon

toasted sesame oil

2

teaspoons

freshly grated ginger

1

tablespoon

coconut oil

(or olive oil)

4

green onions

, chopped (about 1/2 cup)

2

large

carrots

, sliced into half-moons (about 1 cup)

4 to 6

ounces

shiitake mushroom caps

, sliced

4

cups

low-sodium vegetable broth

(or water)

2

tablespoons

tamari

(gluten-free soy sauce)

1 1/2

cups

fresh baby spinach leaves
Instructions
In a small bowl, stir together the miso, sesame oil, and ginger. Set it aside.

Melt the coconut oil or olive oil in a large saucepan over medium-high heat. Stir in the green onions, mushrooms, and carrots, and cook until softened, about 5 minutes.

Add the broth and bring it to a simmer. Partially cover the pan and cook for 10 minutes, then turn off the heat. Add in the spinach right away so it can begin to wilt, then scoop out 1/2 cup of broth to add to the miso mixture.

Whisk the miso until smooth, then add it into the pot of soup, along with the tamari. Taste and adjust any seasoning to your liking, then serve warm. This soup is best served the day it's made, but you can store it for up to 4 days in the fridge. (Reheating may destroy some of the probiotics in miso, but it still tastes good!)
Nutrition
Calories:
132
kcal
,
Carbohydrates:
12
g
,
Protein:
4
g
,
Fat:
8
g
,
Saturated Fat:
4
g
,
Sodium:
1182
mg
,
Potassium:
352
mg
,
Fiber:
3
g
,
Sugar:
4
g
,
Vitamin A:
7204
IU
,
Vitamin C:
8
mg
,
Calcium:
41
mg
,
Iron:
1
mg
Miso Soup Nutrition (per serving): Calories: 132, Fat: 8g, Carbohydrates: 12g, Fiber: 3g, Protein: 4g
Recipe Notes:
I used white miso when making this soup, but you can use any type that you have on hand. Red miso will give this soup a saltier and richer flavor.
Since miso is already salty, I recommend using low-sodium vegetable broth, or simply water as the base of this soup. When using water, you may want to add some salt as the vegetables cook to create a similar flavor. (I do this in my Chicken Vegetable Soup all the time!)
If you prefer a traditional miso soup using tofu, you can add cubed tofu to the soup when it is boiling, instead of the mushrooms and carrots, or in addition to them. You're in control here!
If you try this recipe, please leave a comment below letting me know what you think. And if you make any modifications, I'd love to hear how it worked out for you! We can all benefit from hearing about your experience.
–
Reader Feedback: What's your favorite type of soup when the weather cools down? This Creamy Arugula Soup and