This Peanut Butter Banana Smoothie is a healthy recipe that's perfect for breakfast, or an easy snack on-the-go. The texture reminds me of a milkshake!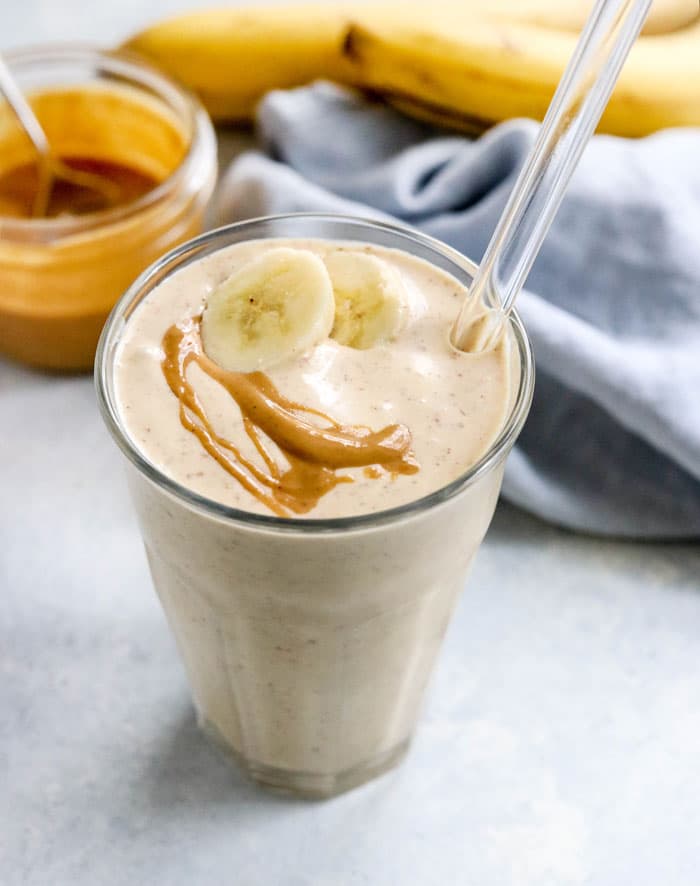 Ingredients You'll Need
To make the best Peanut Butter Banana Smoothie, you'll need to start with frozen bananas. I recommend having a stash of ripe bananas that are ready-to-go in your freezer.
When your bananas have lots of brown spots on them, make sure to peel them first, then place them in an airtight container with a lid and store them in your freezer to freeze overnight.
If you don't have a high-speed blender, slice your bananas into smaller pieces (before or after freezing them) so they will break down faster.
Once you have frozen bananas on hand, all you need to do is blend them with peanut butter (you can use homemade peanut butter if you like), flax seed, and a little liquid. I like to start with as little liquid as necessary needed for blending, so this smoothie will have a thick texture. You can always add more as needed!
Can You Use Overripe Bananas?
I don't know about you, but when I have overripe bananas on my counter, my first thought is that it's time to make Coconut Flour Banana Bread. (Or Banana Oatmeal Muffins!)
If your bananas aren't totally black and mushy, it's fine to use them in smoothies.
Remember, the flavor of the banana will transfer to your smoothie, so you want to make sure the flavor of the bananas are still appealing to you. Bananas with lots of brown spots are perfect for smoothies, but if the skin is getting borderline-black in color, I'd use them for baking instead.
How to Thicken a Smoothie
I love a good smoothie that has a milkshake-like texture. Here are 3 tricks to make sure your smoothie turns out nice & thick:
Don't add too much liquid! If you start with too much liquid (even 1 cup is too much to start with), you may end up having to add ice, or more frozen fruit to thicken it up again. Adding ice will dilute the flavor, and adding more fruit might make more servings than you were hoping for, so start with only 1/2 cup of liquid for a single serving.
Use frozen fruit. This recipe calls for frozen banana to make a thick smoothie, with an ice cream like texture. If you use a fresh banana, the smoothie will be much runnier in consistency, and you'll need to use even less liquid in that case.
Add flax seeds. Flax seeds "gel" when you add them to water, so they help thicken this smoothie even more. They also add omega-3 fatty acids and extra fiber, to help keep you feeling full.
You can also add ice to help thicken a smoothie, but keep in mind that the ice will dilute the flavor. This peanut butter banana smoothie is so delicious as written, you won't want to change the taste!
Are Peanut Butter & Banana Good For You?
Peanut Butter and banana are a classic combination, and with good reason. Not only do their flavors compliment each other well, they also have some potential health benefits!
Bananas are a good source of fiber, so they are filling while being relatively low in calories. Bananas are also a good source of potassium, which is essential for kidney function, and may help to lower blood pressure and the risk of heart disease.
Peanut Butter is about 25% protein, so it contributes 8 grams of protein to this dairy-free smoothie. Peanut butter is a good source of monounsaturated fats, antioxidants, as well as nutrients like magnesium, folate, and vitamin E.
If you don't mind your drink turning green in color, try adding a handful of fresh spinach to this peanut butter banana smoothie. It won't change the flavor at all, but you'll get even more nutrients into your day!
What Other Fruit Can You Use?
If bananas aren't your favorite smoothie ingredient, you could make this smoothie with frozen strawberries or blueberries instead. It won't be quite as sweet with only berries, so you might want to add a pitted Medool date or a tablespoon of honey for sweetness.
For a flavor variation, try my PB & J Smoothie or Chocolate Peanut Butter Smoothie!
Peanut Butter Banana Smoothie
This Peanut Butter Banana Smoothie tastes like a milkshake, but with no added sugar! It's a healthy breakfast or snack on-the-go.
Equipment
Instructions
In a blender, combine the water, banana, peanut butter, flax seeds, and vanilla. Blend until very smooth, stopping to scrape down the blender as needed. If you need a little more liquid, add it just 1 tablespoon at a time so the smoothie with have a thick, milkshake-like texture. (If you end up adding too much liquid, you can always add a handful of ice cubes to thicken it up again-- it will just dilute the flavor slightly.)

Taste the smoothie and adjust any flavoring to taste. If you need a sweeter flavor, you can add one pitted Medjool date or a tablespoon of honey. Serve right away!
Video
Notes
Nutrition information is for the whole batch. This is automatically calculated, and is just an estimate, not a guarantee.
Nutrition
Calories:
336
kcal
,
Carbohydrates:
35
g
,
Protein:
11
g
,
Fat:
19
g
,
Saturated Fat:
4
g
,
Sodium:
157
mg
,
Potassium:
687
mg
,
Fiber:
7
g
,
Sugar:
18
g
,
Vitamin A:
75
IU
,
Vitamin C:
10.2
mg
,
Calcium:
32
mg
,
Iron:
1.3
mg
Additional Notes:

This smoothie can be used as a meal replacement (especially if you add spinach to make it more of a liquid salad) or you can split the batch and serve it as a snack.
If you don't like peanut butter, try using almond butter or sunflower seed butter instead.
If you try this recipe, please leave a comment below letting me know what you think! If you make a substitution, please share that, too. We can all benefit from your experience!
–
Reader Feedback: What's your favorite smoothie combination?