Coming up with school lunch ideas can be overwhelming when back-to-school season rolls around. So, let me take the guess-work out of it for you! Below you'll find a "cheat sheet" and kid-friendly recipes to help you pack healthy school lunches that your kids will actually want to eat.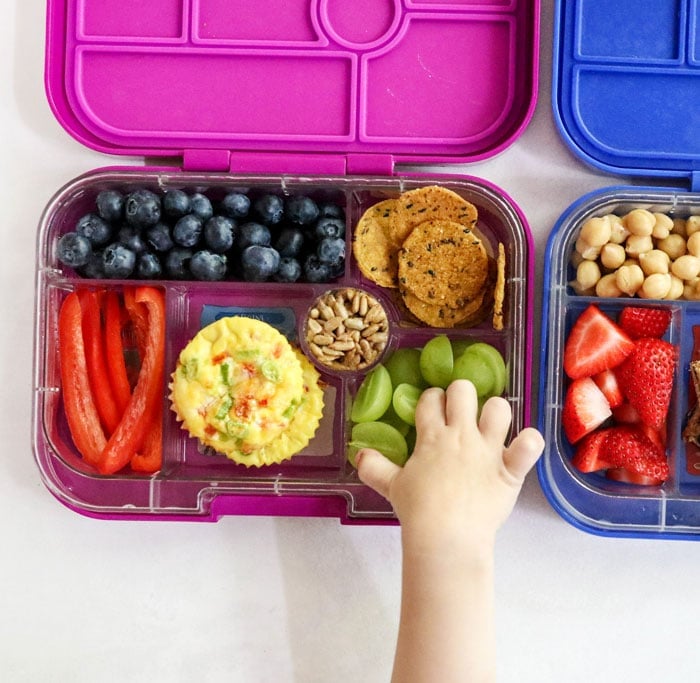 You can mix & match from this list to come up with hundreds of combinations to keep your child's packed lunches interesting all year long. (Feel free to use these ideas for yourself, too!)
How Do You Pack a Healthy School Lunch?
I think the hardest thing about packing a school lunch is figuring out which foods will still be appealing after sitting in a lunch box for 4+ hours.
I love using bento-style lunchboxes for my kids, because it keeps each item separate, allows for more variety, and keeps them from feeling overwhelmed by large portions. (Just make sure you include an ice pack in your zippered lunch box to keep fresh food lasting well until lunch.)
I don't know about you, but I don't want to spend too much time packing lunches everyday. Instead, I keep the list below handy so I can pick one thing from each category to easily fill the compartments in my kids' lunchboxes. This method takes some pressure off you, while giving your kids plenty of variety!
In each lunch they'll get:
a serving of fruit
a serving of veggies
protein & healthy fats
something you know they will eat and love
I've divided my school lunch ideas into 5 categories because that's how my brain compartmentalizes them, but you don't have to include all 5 options into each lunch if it doesn't make sense for your kids.
For example, I don't always include a main course or a crunchy item in every lunch. If I fill up the compartments with 1-2 servings of fruits, vegetables, and a few options with protein and healthy fats, I know they will feel full, even if they didn't necessarily get a sandwich, a slice of pizza, or something else that we would usually consider to be a main entree.
A homemade larabar can be just as satisfying as a peanut butter sandwich, but the bar is more fun for kids to eat, so sometimes I'll give them that option, instead. Bite-sized finger foods tend to be more kid-friendly, so I've tried to include plenty of those ideas in my list!
Here's Your Printable Cheat Sheet:
Click on the image below to get the full-size PDF, which you can download or print!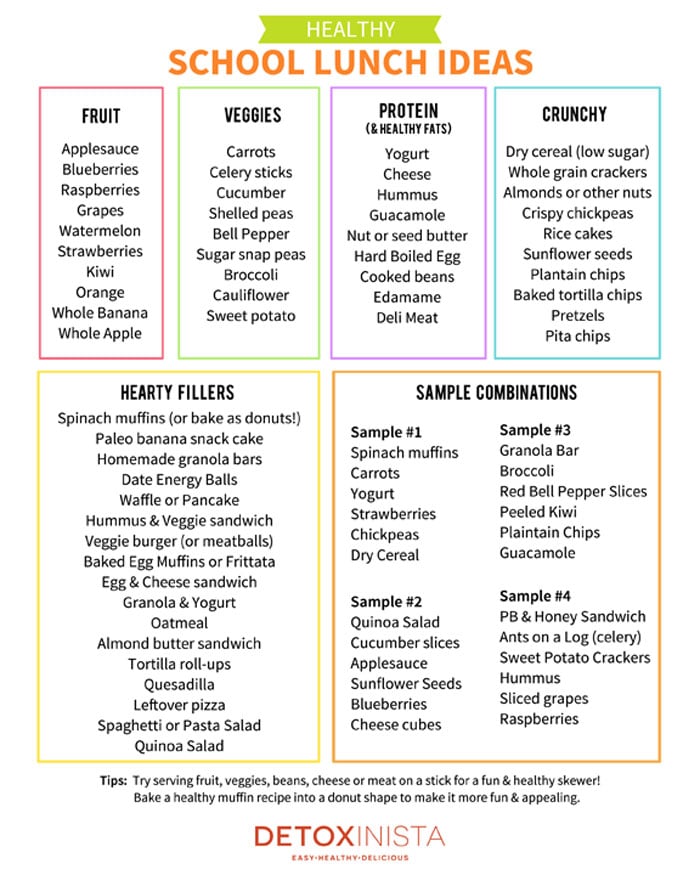 Nut-Free Lunch Alternatives
Many schools are moving to a nut-free or nut "safer" lunch room. In our case, we are in a nut-safer school, so the classrooms are 100% nut-free for snacks, but it's okay to have peanut and tree nut products in the lunch room.
I'm excited to have the option of almond butter sandwiches this year, because last year our preschool was totally nut-free. (And my daughter will still be in that situation for a few more years!) If your kids are attending a nut-free school, keep in mind that you can almost always swap sunflower seed butter or tahini (a butter made of ground sesame seeds) for almost any recipe that calls for peanut butter, or any other nut butter.
What are Some Good Cold Lunch Ideas?
When it comes to packing a healthy lunch, it's important to include variety and to choose foods that will still look appealing after they've been sitting in a lunch box for hours. I don't ever include sliced apples or bananas for this reason, because my kids won't eat them if they look brown. (Lemon juice can prevent this, but it also affects the flavor.) You can pack a whole apple or banana, in its peel, if your child really wants one, but we usually save those two options for before or after school instead.
Choose fresh produce options are sturdy enough to be packed in a lunch box, like baby carrots, blueberries or grapes, along with something heartier that you know your kids will eat, like their favorite muffins, a granola bar, or a couple of date balls. I also like to try something new every now and then, just to see if they'll eat it when they are around their peers! (You never know unless you try, right?)
Kid-Friendly Recipes
These are the recipes I find myself using most often for my kids. You can click on the links below to be taken directly to the recipes.
If your child is more adventurous, feel free to check out my entire recipe index for more healthy ideas!
School Lunch Ideas (Printable Cheat Sheet!)
Here are my favorite school lunch ideas, broken down into categories to help make packed lunches easier. Choose 1 option, or more, from each category to create a healthy lunch!
Ingredients
Fruit:
Applesauce

Blueberries

Grapes

(slice in half if you're concerned about choking)

Watermelon

Strawberries

(I slice these in half)

Kiwi

(peeled and sliced)

Whole apple

Whole banana (with peel)

Peeled oranges

(seedless)
Vegetables:
Cucumber

(sliced in coins or spears)

Broccoli florets

(raw or steamed)

Cauliflower florets

(raw or steamed)

Celery sticks

(fill with nut butter & raisins for "ants on a log")

Carrots

(baby or sliced)

Sweet potato

cooked in cubes or slices

Guacamole

(technically a fruit, but my kids see it as a veggie)
Protein & Healthy Fats:
Yogurt

(coconut milk, goat, or cow)

Cheese

(shredded, string, or cubes)

Nut or seed butter

Edamame

Cooked beans

(Chickpeas, black beans, pinto)

Deli Meat

(try it rolled up; look for no additives)

Hard boiled egg
Crunchy:
Low-sugar dry cereal

(my kids like the Cherrios from Whole Foods brand)

Whole grain crackers

(I like Mary's Gone Crackers)

Crispy chickpeas

Pretzel sticks

Sunflower seeds

Rice cakes

(we like Lundaburg brand brown rice cakes)

Plantain chips

(usually serve these with hummus or guacamole)

Baked tortilla chips

(usually serve these with guacamole)

Pita chips

(good with hummus)
Hearty Fillers (Mains):
Spinach Muffins

Leftover Pizza

(Cauliflower pizza, english muffin pizza, vegan pizza, etc.)

Steel Cut Oatmeal

(if your kid doesn't mind eating it cold)

Tortilla roll-up

(fill with hummus, avocado, nut butter & jelly, or turkey)

Paleo Banana Snack Cake

Homemade Granola Bars

(or store-bought)

Date Energy Balls

Homemade Larabars

(or store-bought)

Hummus & Veggie Sandwich

(or wrap)

Oatmeal Pancakes

Waffles

(add peanut butter for a sandwich or dip)

Black Bean Burger

Egg & Cheese Sandwich

Healthy Granola and Yogurt

Almond Butter & Honey Sandwich

Egg Muffins or Frittata Slice

Quesadilla

(for dairy-free, fill with hummus or bean spread)

Pasta Salad

Any dinner leftovers (like spaghetti or plain noodles)
Instructions
Choose one or more options from each category to fill your lunch box. Feel free to mix and match each day to keep school lunches interesting!
Nutrition
Serving:
1
serving
,
Calories:
500
kcal
Nutrition Note: The average school lunch offers 550-650 calories, which is about a third of what the average child needs in a day. Each lunch will vary depending on which options you choose, so if you feel your child needs more calories to meet their needs, choose more nutrient-dense options to help keep them full.
Which Lunchbox is Best for School?
I currently use Yumbox bento boxes for my kids (we have this purple/pink one and blue one for my kids). I had tried a stainless steel lunch box in the past, but I prefer this one because it's easier to clean. The clear sectioned insert pops out, so you can place it on the top shelf of your dishwasher without taking up as much space as the whole opened box would.
This box is little more compact than some stainless steel boxes I've tried in the past, so it easily fits into most zippered lunch boxes, and it doesn't take up a ton of room on the lunch table, either.
–
I hope these school lunch ideas & printable cheat sheet will help make your school year a little easier! If you try one of these ideas, or have some more that you would like to share, please leave a comment below. We can all benefit from each other's experiences!