These Sweet Potato Muffins are a new favorite in my house. Adding sweet potato to a muffin recipe not only adds nutrients, like vitamins A and C, but it also acts as a binder, so these muffins are naturally egg-free, gluten-free, and allergy-friendly. My kids can't tell that they're eating sweet potato at all, because these bite-sized muffins taste so good!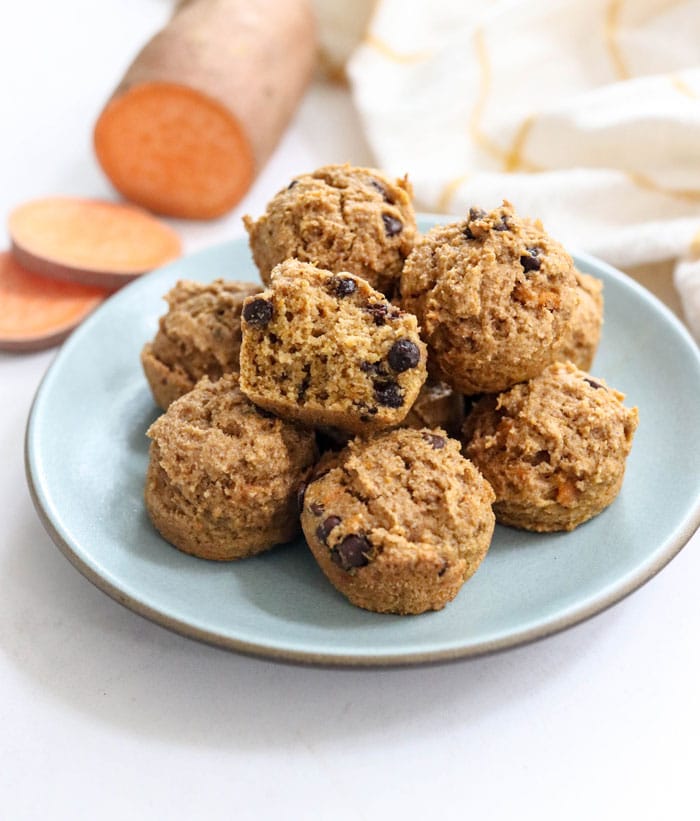 How to Make Sweet Potato Muffins
To make these muffins, you'll need cooked sweet potato on hand. You can peel and steam a sweet potato just for this purpose, or use leftover cooked sweet potato if you have it on hand. (I usually have steamed sweet potato cubes in our fridge to use on vegan lunch bowls or as a salad topping, like in these mason jar salads.)
If you don't want to cook a sweet potato, you can also use canned pumpkin puree in a pinch! I've done that several times with this recipe and the results are great. I imagine you could even use applesauce or mashed banana, for a vegan version of my Banana Oatmeal Muffins.
Benefits of Sweet Potatoes
Why would you want to add sweet potato to a muffin? Not only can this vegetable puree act as an egg substitute in vegan baking, it also packs quite a bit of nutrition!
Here are a few benefits of sweet potatoes:
They are rich in beta-carotene which may support healthy vision.
The beta carotene in sweet potatoes is converted to vitamin A in the body, which is critical for a healthy immune system. Vitamin A is believed to help lower inflammation in the body, which can in turn, enhance immunity. (source)
Sweet potatoes are an excellent source of fiber, and fiber-rich diets have been linked to a lower risk of colon cancer. (source)
Eating more fruits and vegetables, in general, is linked to a lower risk of dementia and mental impairment, so adding sweet potatoes to this healthy muffin recipe seems like a good idea to me!
What's In Healthy Sweet Potato Muffins?
These muffins are quick and easy to make once you have the sweet potato on hand. You'll also need:
Oat flour. Oats are an affordable and easily accessible gluten-free ingredient, and if you can't find oat flour at your local grocery store, you can just grind rolled oats in a blender or food processor until it becomes a flour. Be sure to look for certified gluten-free oats to avoid the cross-contamination that can happen during processing.
Almond Butter. I love using nut butter instead of oil, because it adds extra fiber and nutrients to this recipe, to help keep you satisfied longer.
Maple Syrup. This natural sweetener and unlike refined sugar, it retains some of its minerals and antioxidants. One study actually found 24 antioxidants in maple syrup! Because it's lower-glycemic, maple syrup shouldn't spike your blood sugar as much as white table sugar, either.
Baking Powder. I use baking powder (instead of baking soda) in this recipe because it's egg-free, and the powder will help these muffins rise without the need for an added acid, like lemon juice or vinegar. If you need to avoid corn products, be sure to look for a baking powder that
I always make these muffins in a mini muffin pan because my kids will eat them this way. (They are intimidated by large muffins for some reason.) I've included tips for making these in a regular, larger muffin tin if you prefer to make them that way, too.
More Healthy Muffin Recipes
If you love these Sweet Potato Muffins, you may also enjoy:
If you make this recipe and want to share a photo, be sure to tag #detoxinista on Facebook or Instagram so I can find you and see how it turns out!
How to make Sweet Potato Muffins ( 1-Minute Video):
Sweet Potato Muffins (That Everyone Loves!)
These Sweet Potato Muffins are a healthy breakfast or snack on the go, and they are gluten-free and vegan. My kids adore them!
Ingredients
1

cup

mashed sweet potato

(steamed or baked)

1 1/2

cups

oat flour

(certified gluten-free, if needed)

1/4

cup

almond butter

1/2

cup

maple syrup

2

teaspoons

baking powder

1

teaspoon

ground cinnamon

1/4

teaspoon

salt
Instructions
If you haven't cooked the sweet potato yet, peel and slice it into 1-inch chunks. Arrange a steamer basket into a small sauce pan and fill it with roughly an inch of water. Pour the sweet potato chunks into the steamer basket, keeping them out of the water, and bring the water to a boil. Cover the pot and lower the heat so that the water is still simmering, and cook until the sweet potatoes are fork-tender, about 10 to 15 minutes. (The smaller you cut the sweet potato, the faster it will cook.)

Once you have cooked sweet potato, mash it with a fork and measure out 1 cup of mashed potato to use in this recipe. (Save any extra cooked potato to add into a sweet potato smoothie!)

Preheat the oven to 350ºF and grease a mini muffin tin. Or, you can line a standard muffin with muffin cups, if you prefer to make larger muffins.

In a large bowl, combine the sweet potato, oat flour, almond butter, maple syrup, baking powder, cinnamon, and salt and stir until smooth. Fold in chocolate chips, raisins, or chopped walnuts, if desired.

Use a cookie scoop or heaping tablespoon to drop the dough into the mini muffin tin. I typically get about 22 mini muffins with this recipe. For larger muffins, use 1/4 cup measure to scoop the dough into the muffin cups. You should get 10 to 11 larger muffins.

For mini muffins, bake at 350ºF for 18 minutes. For full-sized muffins, bake for 25 minutes instead.

Allow the muffins to cool completely before serving. They should last on the counter for up to 2 days, but for a longer shelf life I recommend storing them in the fridge in an airtight container for up to a week. You can also freeze them for up to 3 months!
Nutrition
Calories:
86
kcal
,
Carbohydrates:
14
g
,
Protein:
2
g
,
Fat:
3
g
,
Saturated Fat:
1
g
,
Cholesterol:
1
mg
,
Sodium:
34
mg
,
Potassium:
125
mg
,
Fiber:
1
g
,
Sugar:
6
g
,
Vitamin A:
860
IU
,
Vitamin C:
0.2
mg
,
Calcium:
43
mg
,
Iron:
0.5
mg
Sweet Potato Muffin Nutrition (per mini muffin): Calories: 86, Fat: 3g, Carbohydrates: 14g, Fiber: 1g, Protein: 2g
Recipe Notes:
You can use canned pumpkin puree or sweet potato puree in this recipe to save time. Both work well!
I imagine you can use slightly less maple syrup in this recipe if you don't mind a less-sweet muffin, and you can probably use honey if you don't need this recipe to be vegan.
I have not tested this recipe with other flours, so I can't predict how a substitution might turn out, but let me know if you do!
If you try this recipe, please leave a comment below letting me know how it works for you! And if you try a substitution, let me know how that turns out, too. We can all benefit from your experience!
–
Reader Feedback: What's your favorite muffin flavor?