This Vegan Sweet Potato Pie is a delicious alternative to Pumpkin Pie, made with baked sweet potatoes. It's ultra-flavorful, and everyone will ask you for the recipe once they try it!
What Does Sweet Potato Pie Taste Like?
Sweet Potato Pie tends to be sweeter and less spicy than pumpkin pie. It doesn't call for cloves or ginger, and most recipes are more heavy-handed with the nutmeg.
These are the main seasonings you'll find in sweet potato pie:
If you love nutmeg, you can increase the amount called for in this recipe to 1/2 teaspoon total. I find the flavor overwhelming, so I use only 1/4 teaspoon and my family loves it this way.
I like to use a blend of coconut sugar and maple syrup to sweeten this pie, because they add an extra depth of flavor, too. I've tested this recipe using only coconut sugar, and only maple syrup, too. Be sure to check the recipe notes below, if you'd like to use only 1 sweetener.
Tip: If you would prefer a date-sweetened pie, try my Vegan Pumpkin Pie recipe. It's mostly sweetened with dates, and you can swap out the pumpkin for sweet potato!
Which is Healthier: Sweet Potato or Pumpkin?
If you're wondering how sweet potatoes compare to pumpkin, sweet potatoes have a slight edge on the nutrition front.
Here's why you'll love sweet potatoes:
Either way, I don't think you can go wrong. Pumpkin and sweet potatoes both have their place, and both make for an excellent holiday pie.
How to Bake Sweet Potatoes
Pierce 2 to 3 large sweet potatoes (or 4 to 5 smaller sweet potatoes) several times with a fork. Rub the outside of the potatoes with oil, then place them on a pan and bake in a 400ºF oven until they are easily squeezed with an oven mitt and feel tender.
Liquid should be starting to ooze out of them when they are done. (Don't worry– when you soak the pan, it will come right off!)
Let the sweet potatoes cool until you can handle them, then cut them in half and scoop out the flesh from the middle. Mash the potato into a measuring cup.
You'll need 1 1/2 cups of mashed sweet potato for this recipe. I don't recommend using canned sweet potato in this recipe; the flavor isn't nearly as good as using real baked sweet potatoes.
Did you know you can cook sweet potatoes in your Instant Pot, too? Check out my Instant Pot Sweet Potatoes post for a tutorial!
Tip: If you have leftover cooked sweet potato, try making my Sweet Potato Smoothie or Sweet Potato Brownies later. If you bought too many potatoes, you should also make Baked Sweet Potato Chips for a savory snack, too.
How to Make Sweet Potato Pie from Scratch
Once you have the baked sweet potato on hand, all you have to do is add it to a food processor, along with the rest of the filling ingredients. Puree until smooth!
Pour the batter into an unbaked pie crust, like my Almond Flour Pie Crust or Oat Flour Pie Crust. (Both recipes are gluten-free and vegan!)
Bake until the crust is golden and the pie filling looks significantly darker, about 55 to 60 minutes. I like to use a crust cover to prevent my crust from burning, and I leave it on the whole time for this recipe. The crust will still be golden with the crust cover on.
The pie filling will not feel firm to the touch when you remove this pie from the oven. It needs to cool at room temperature for about 1 hour, then you'll need to let it chill in the fridge for at least 6 hours to firm up.
If you need to speed the cooling process, you can place the pie in the freezer for 1 hour, then transfer it to the fridge to cool for 3 more hours. It should be slice-able by then!
Serve this Vegan Sweet Potato Pie chilled, with a dollop of coconut whipped cream on top, if you like.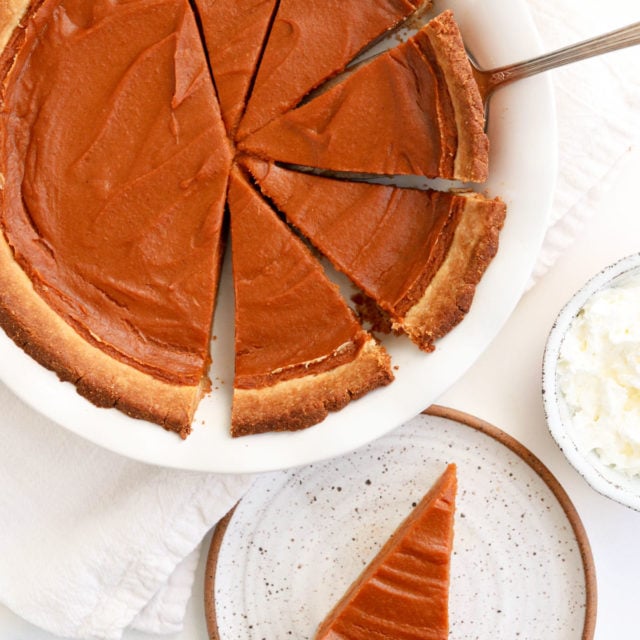 Vegan Sweet Potato Pie
This Vegan Sweet Potato Pie is a delicious alternative to pumpkin pie! This easy holiday dessert is naturally sweetened, while being dairy-free, gluten-free, and egg-free.
Equipment
Ingredients
1.5

cups

baked sweet potato

(tightly mashed; 411 grams)

1/2

cup

coconut sugar

(67 grams)

1/2

cup

maple syrup

(156 grams)

1/2

cup

coconut cream

(see notes; 112 grams)

3

tablespoons

tapioca starch

(22 grams)

1

teaspoon

ground cinnamon

(3 grams)

1

teaspoon

vanilla extract

(5 grams)

1/4

teaspoon

ground nutmeg

(1 gram)

1/4

teaspoon

fine sea salt

(2 grams)
Instructions
Preheat the oven to 350ºF and press the unbaked pie crust in a 9-inch pie plate. Poke the bottom of the crust with a fork several times to allow venting. (See post for crust recipes.)

In a large food processor fitted with an "S" blade, combine the mashed sweet potato, coconut sugar, maple syrup, coconut cream, tapioca starch, cinnamon, vanilla, nutmeg, and salt. Process until very smooth, stopping to scrape down the sides as needed.

Pour the filling into the unbaked pie crust, and smooth the top. Cover the edges of the crust with foil, or a reusable crust cover, so the edges won't burn. Bake at 350ºF for 55 to 60 minutes, until the filling is darker and the crust is golden.

Remove the pie from the oven and let it cool for 1 hour. The filling will not be firm to the touch when you take it out of the oven; it needs to cool completely. Transfer the pie to the fridge to chill until firm, about 4 to 6 more hours, or overnight.

Serve chilled, with coconut whipped cream on top, if desired. The leftover pie can be stored tightly covered in the fridge for up to 5 days.
Notes
Nutrition information is for 1 of 8 slices, with a store-bought crust. This information is just an estimate, and not a guarantee, since the crust you use will change these numbers.
Coconut cream is the solid fat found at the top of a chilled can of coconut milk. Place a can of coconut milk in the fridge the night before you want to make this pie, then open the can and scoop only the solid part out for this recipe. You can save the rest of the liquid in the bottom of the can to make a smoothie later!
Don't have both maple syrup and coconut sugar? You can use 1 full cup of coconut sugar in this recipe, instead of using the mix of coconut sugar and maple syrup. Alternatively, you can use 3/4 cup maple syrup in this recipe, and skip the coconut sugar all together. In that case, I recommend adding 1 more tablespoon of tapioca starch to this recipe, to help the pie set.
Nutrition
Calories:
285
kcal
,
Carbohydrates:
43
g
,
Protein:
2
g
,
Fat:
12
g
,
Saturated Fat:
7
g
,
Sodium:
211
mg
,
Potassium:
202
mg
,
Fiber:
2
g
,
Sugar:
20
g
,
Vitamin A:
3538
IU
,
Vitamin C:
1
mg
,
Calcium:
38
mg
,
Iron:
1
mg
More Vegan Dessert Recipes
Looking for more variety at your dessert table? Try one of these popular recipes!
If you try this Vegan Sweet Potato Pie, please leave a comment below letting me know how you like it! And if you make any modifications, I'd love to hear about those, too. We can all benefit from your experience!
–
Reader Feedback: What's your favorite holiday pie?