To celebrate the upcoming holiday weekend, we'll be spending lots of time outdoors with our son and want to have a fun picnic for the Fourth of July. (We have to celebrate early in the day, since he won't be up for the fireworks that night!)
The following dairy-free recipes would make an excellent option to bring to a picnic or potluck, and they are all vegan or can easily be made vegan by swapping honey for another sweetener.
I hope you'll enjoy them all summer long!
—
This "pasta" salad is my go-to recipe for entertaining a crowd. It can be made ahead of time and actually tastes better the next day!
This recipe features low-sugar berries with just a touch of maple syrup added for a naturally-sweetened treat. I love it topped with scoop of dairy-free ice cream, but it's also delicious on its own when served warm or cold.
This recipe features a peachy vinaigrette that will have everyone eating their greens!
This potato salad gets its creamy texture from heart-healthy avocado!
These dairy-free popsicles require just 4 ingredients and are a refreshing way to enjoy a hot summer day.
This dairy-free dish is always a good idea. Everyone loves it!
7. Creamy Coleslaw (Dairy-free)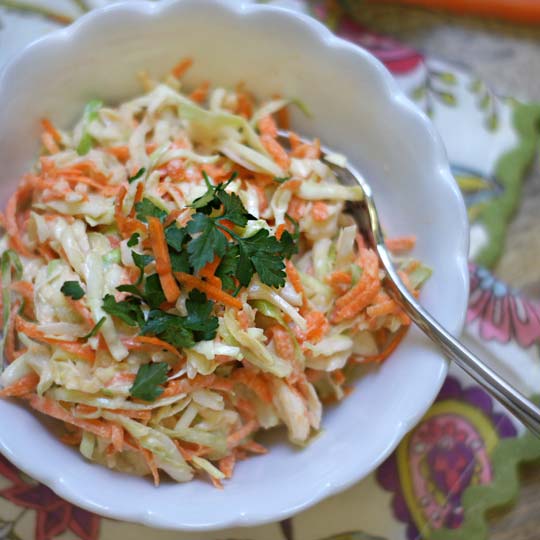 This classic picnic dish tastes similar to my family's favorite Southern-style coleslaw, without any mayonnaise or refined sugar.
Calling for just 3 ingredients, this dairy-free pineapple sorbet is a healthy and refreshing alternative to the popular Dole Whip!
9. Chickpea & Avocado "Egg" Salad
This salad surprisingly tastes SO much like traditional egg salad, but it's loaded with more fiber to leave you feeling satisfied the rest of the afternoon. Serve it on a sandwich, over a leafy green salad, or in lettuce cups!
In lieu of dairy, these pudding pops get their creamy texture from heart-healthy avocados, but they still feature a rich chocolate flavor similar to that of a traditional Fudgsicle!
—
Wishing you all a very happy Fourth of July and summer ahead!