Labor Day weekend has a special significance for us this year, as we'll be celebrating our son's first birthday. I can't believe we've already spent a whole year with him! I feel extra fortunate that he arrived three weeks before his due date– not only is that three more weeks of my life that I get to share with him, but it's also perfect timing for celebrating his birthday over a long weekend each year. Lucky us!
However you may be spending your long weekend, I hope you'll enjoy one of the following recipes. They're perfect for celebrating the last few days of summer!
—
1. Healthy Klondike Bars (Dairy-free)
These cold and creamy bars make for a special treat on a warm summer day. In lieu of dairy, this naturally sweetened ice cream gets its creamy texture from cashews, and is then covered in a homemade chocolate shell.
—
2. Creamy Thai "Peanut" Salad (Dairy-free)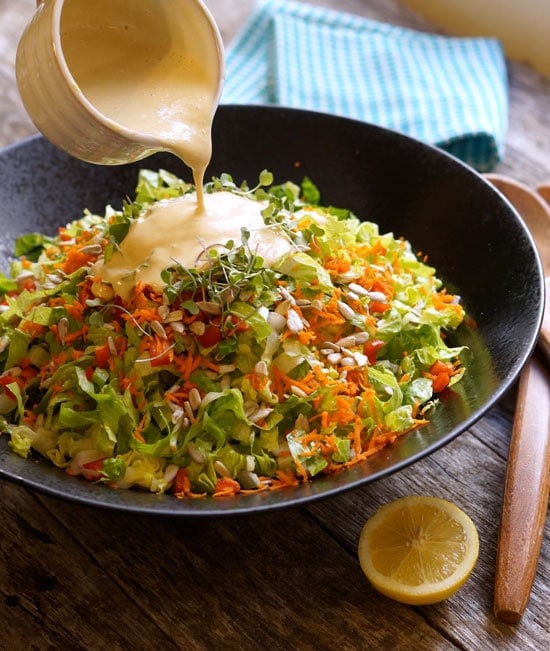 Whichever veggies you choose to serve it over, this salad dressing will make you want to lick the bowl clean. As an added bonus, it's completely nut-free to accommodate those with allergies.
—
3. Easy Peach Crisp (Vegan)
This is one of my personal favorites. Warm peach filling topped with a crisp and buttery topping is hard to resist, and it's a delicious way to use up any bruised peaches sitting on your counter.
—
4. Chickpea & Avocado "Egg" Salad (Vegan)
This quick and easy dish has all the flavors of egg salad that I love, without actually using eggs! It makes the perfect sandwich filling or salad topper for a packed picnic lunch.
—
5. Vanilla Chia Pudding (Vegan)
This pudding makes for a satisfying breakfast when you don't want to turn on the oven or stove. You can even make it the night before for a convenient grab-and-go meal the next morning.
—
6. Raspberry Chocolate Chip Muffins (Grain-free)
If you want to make something extra-special for breakfast, these grain-free muffins are sure to impress! I haven't met a single person who doesn't fall in love at first bite.
—
7. Quinoa "Pasta" Salad (Vegan)
This is a meal I could eat all summer long! Packed with protein-rich quinoa, this cold pasta-like salad is light, yet filling. It just gets better as it marinates in the fridge, so feel free to make a big batch ahead of time and enjoy it all weekend long.
—
8. Chocolate Peanut Butter Milkshake (Vegan)
We enjoy this dairy-free milkshake year-round, but it seems extra appropriate to enjoy it while the weather is still warm. I can't believe how decadent this shake tastes!
—
Wishing you all a tasty weekend!
Reader Feedback: What are you looking forward to this weekend? Making any delicious recipes?