Have more fresh green beans than you can use? Here's how to freeze green beans quickly, so they'll continue to stay fresh for months!
How Long Do Fresh Green Beans Last?
Unwashed, fresh green beans should keep well in the fridge for up to 7 days, but that will vary depending on how long they were sitting on the shelf at the grocery store before you bought them.
I've had green beans look pretty slimy after sitting in my fridge after only 3 days, so I've gotten in the habit of either cooking them right away, or freezing them, so I know they'll stay good.
How Do You Prepare Them for Freezing?
Before you freeze green beans, rinse and dry them well. Then, be sure to trim off the ends and cut them into the size you'd like them to be for cooking later.
I cut them into 1- to 2-inch pieces, so they'll cook quickly and will be easy to eat later.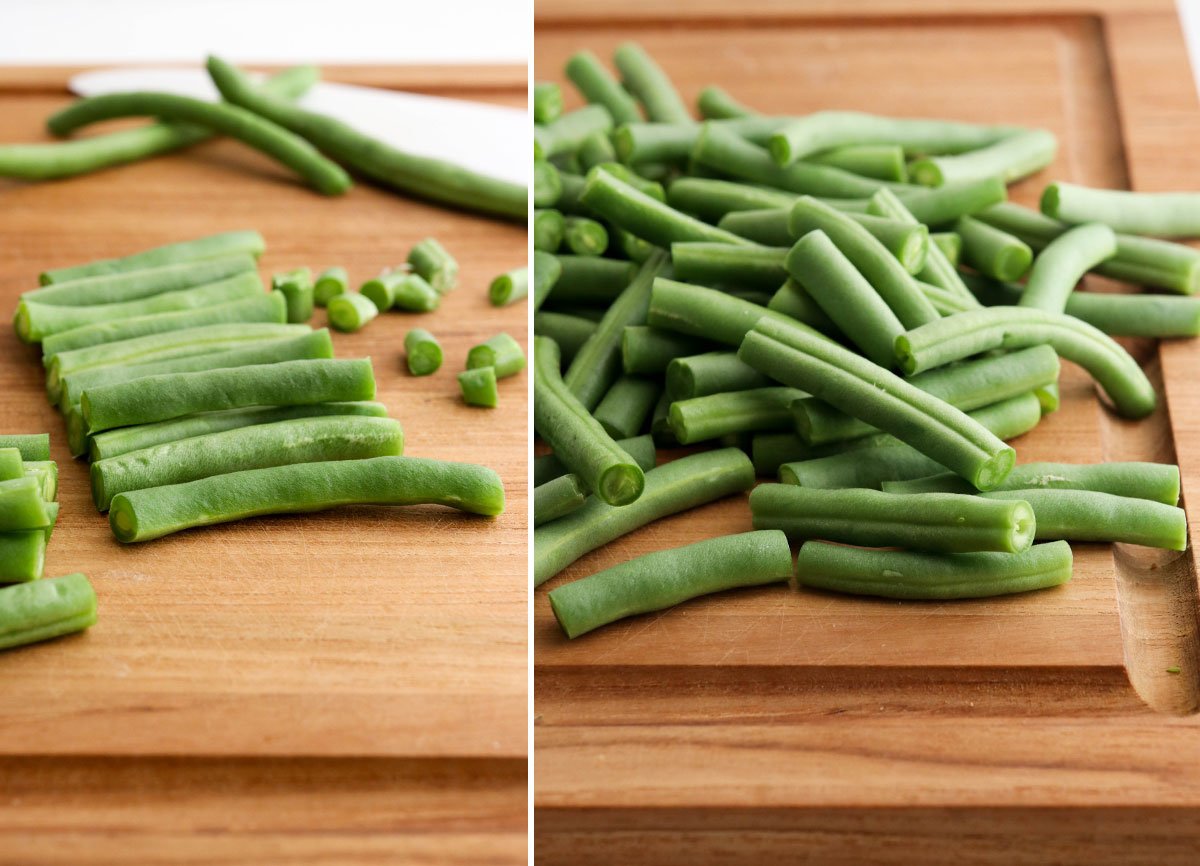 Can You Freeze Green Beans Without Blanching Them First?
Good news! There's no need to blanch green beans before freezing them. I tested it both ways, out of curiosity, and I actually prefer the beans that were frozen without any sort of cooking first.
To freeze green beans, all you have to do is cut them, then arrange them in a single layer on a pan lined with parchment paper. This will prevent them from clumping together as they freeze.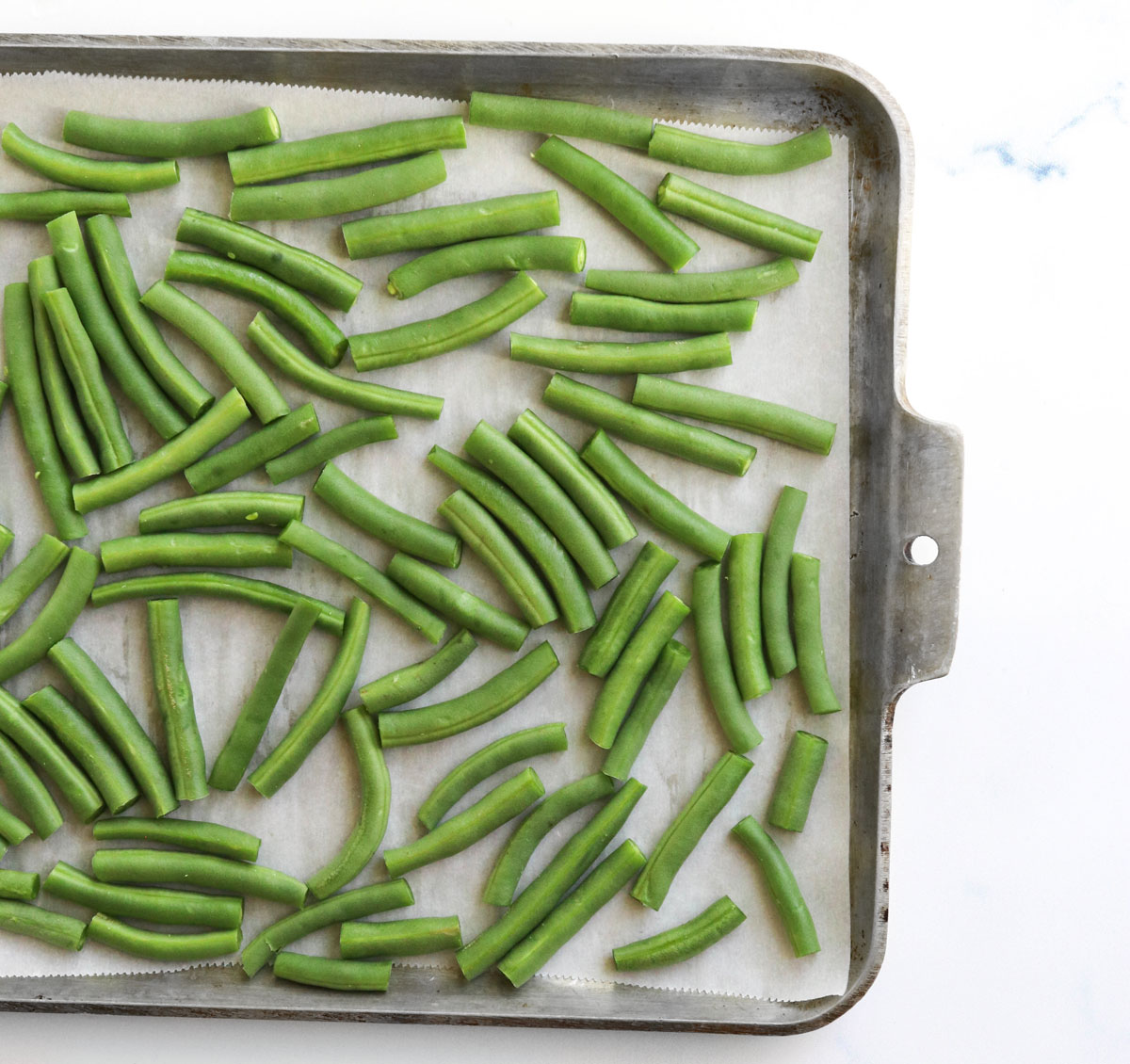 Place the pan on a flat surface in your freezer for 1-2 hours, until they feel frozen to the touch.
Then, transfer the beans to an airtight container, to help maintain their flavor.
I store my frozen fruits and vegetables in reusable silicone bags (like Stasher bags) so they don't take up too much space the in freezer.
How to Cook Frozen Green Beans
To make perfectly sauteed green beans, you'll cook frozen green beans similar to fresh ones, only you'll need to use less water during the "steaming process." Just like the fresh version, I recommend starting by sauteeing a bit of garlic in olive oil, just until it's fragrant.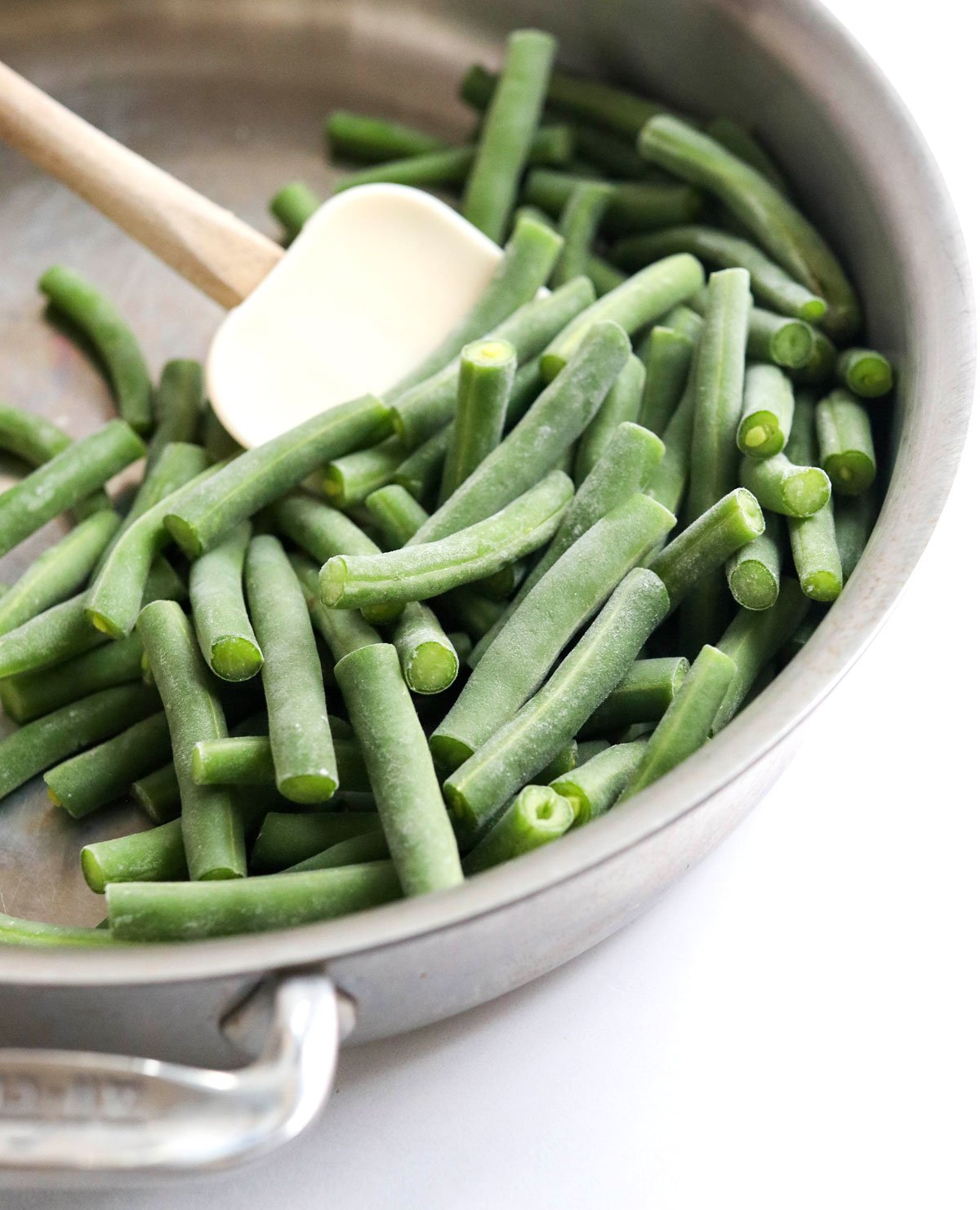 Add in 1 tablespoon of water and the frozen green beans– no need to thaw them first! Toss with salt, then cover the pan and cook until the beans are tender, about 5 minutes.
Remove the lid, and test the beans for tenderness. Frozen beans might need slightly more cooking time compared to fresh beans, so continue to cook them until the water has evaporated from the pan, and they are as tender as you'd like them to be.
You can also use frozen green beans in your favorite recipes, like my Vegan Green Bean Casserole or Green Bean Salad.
More Freezing Tutorials
Curious about freezing other fruits & veggies? I've got you covered!
I hope this quick tutorial is helpful, so you can enjoy delicious green beans all year long.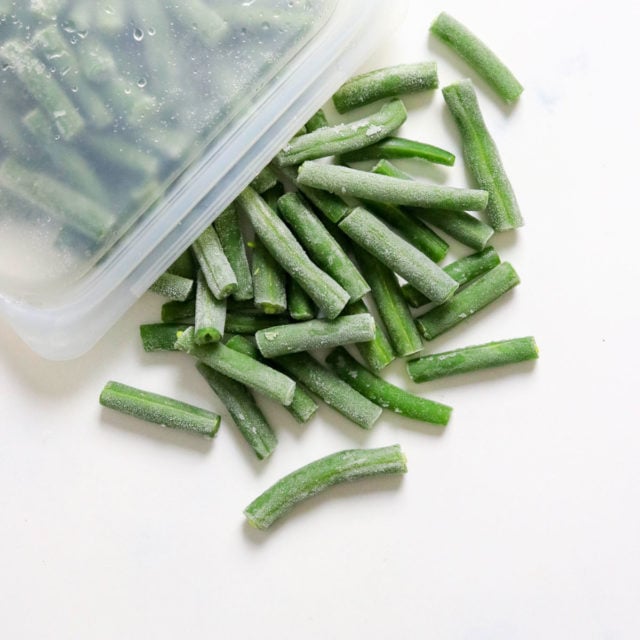 How to Freeze Green Beans (Fast!)
Here's how to freeze green beans, without blanching them first! This quick tutorial will help you to preserve fresh green beans for months.
Equipment
Ingredients
1

pound

fresh green beans

(or as much as you need)
Instructions
Wash and dry the green beans, then trim the ends. Cut the beans into bite-sized pieces, about 1- to 2-inches in length.

Line a large baking sheet with parchment paper. (Make sure this pan will fit on a flat surface in your freezer; use a smaller plate, if necessary.) Arrange the beans in a single layer on the baking sheet.

Place the pan in the freezer for 1 to 2 hours, then transfer them to an airtight container that you can store in the freezer. This will help preserve their flavor. Store the beans in the freezer for up to 3 months. (Or possibly even longer!)
Notes
Nutrition information is for roughly 4 ounces of green beans. This information is automatically calculated, and is just an estimate, not a guarantee.
Nutrition
Calories:
35
kcal
,
Carbohydrates:
8
g
,
Protein:
2
g
,
Fat:
1
g
,
Saturated Fat:
1
g
,
Sodium:
7
mg
,
Potassium:
239
mg
,
Fiber:
3
g
,
Sugar:
4
g
,
Vitamin A:
782
IU
,
Vitamin C:
14
mg
,
Calcium:
42
mg
,
Iron:
1
mg
If you try freezing green beans, please leave a comment below and let me know how it turns out for you! And if you have any other tips to share, I'd love to hear them.
–
Reader Feedback: What's your favorite way to use green beans?