Homemade oat milk is an easy & delicious alternative to cow's milk. Learn how to make oat milk at home with this easy tutorial, and check out all of the tested methods below to see if taking any extra steps is worth it.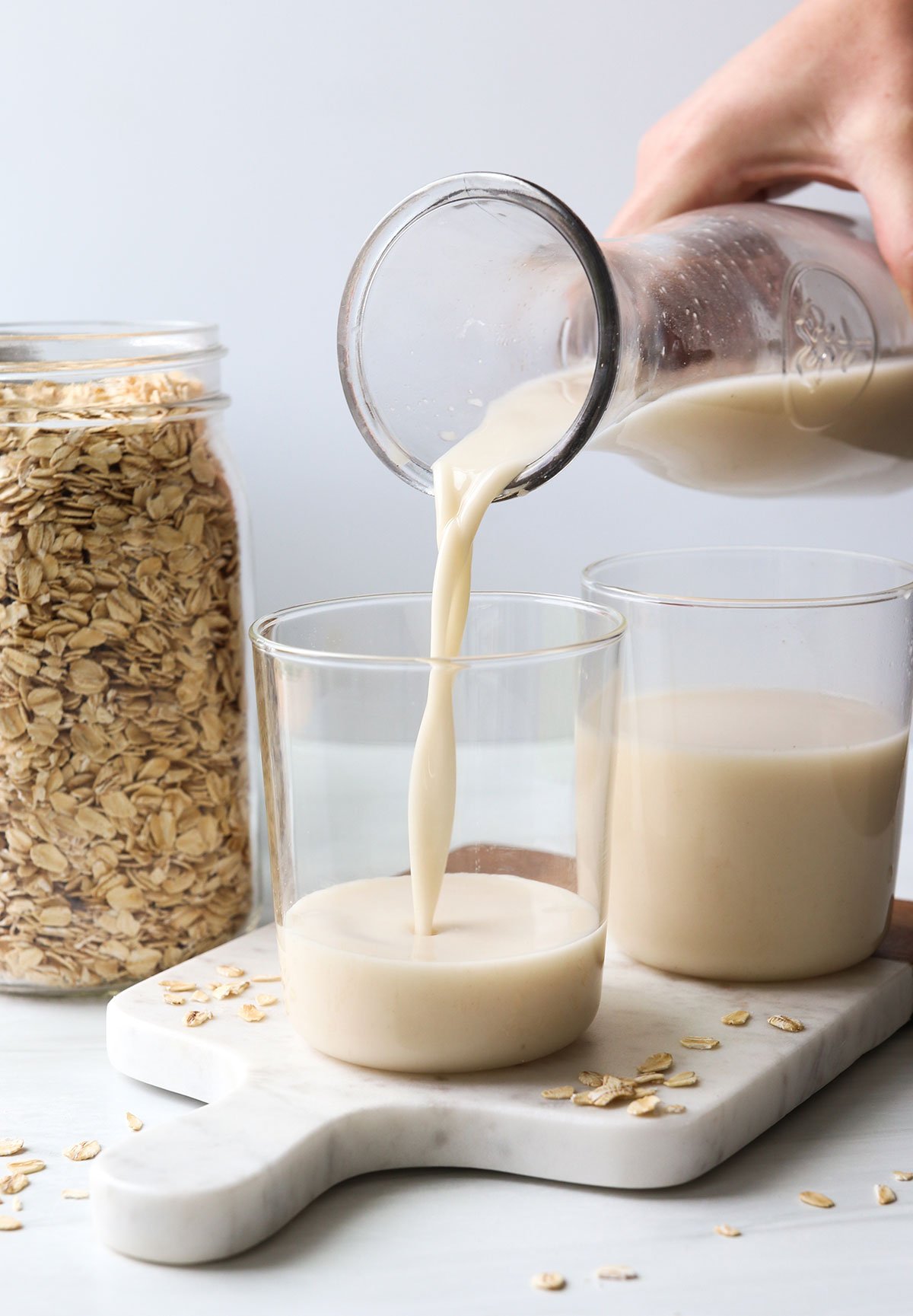 Whether you need lactose-free milk or are looking for a vegan alternative to popular options like soy milk and almond milk, this oat milk recipe is a delicious option. It takes just minutes to prepare and can be used immediately in coffee, smoothies, over cereal, or for baking.
Unlike homemade almond milk, which makes AMAZING foam for lattes, oat milk will not foam when heated. In fact, it can become rather slimy if you bring it to a boil. (Think of how cooking oatmeal on the stovetop makes it congeal.)
I spent my week testing several popular methods for making non-slimy oat milk below, so be sure to check those out if you are curious, too.
Ingredients You'll Need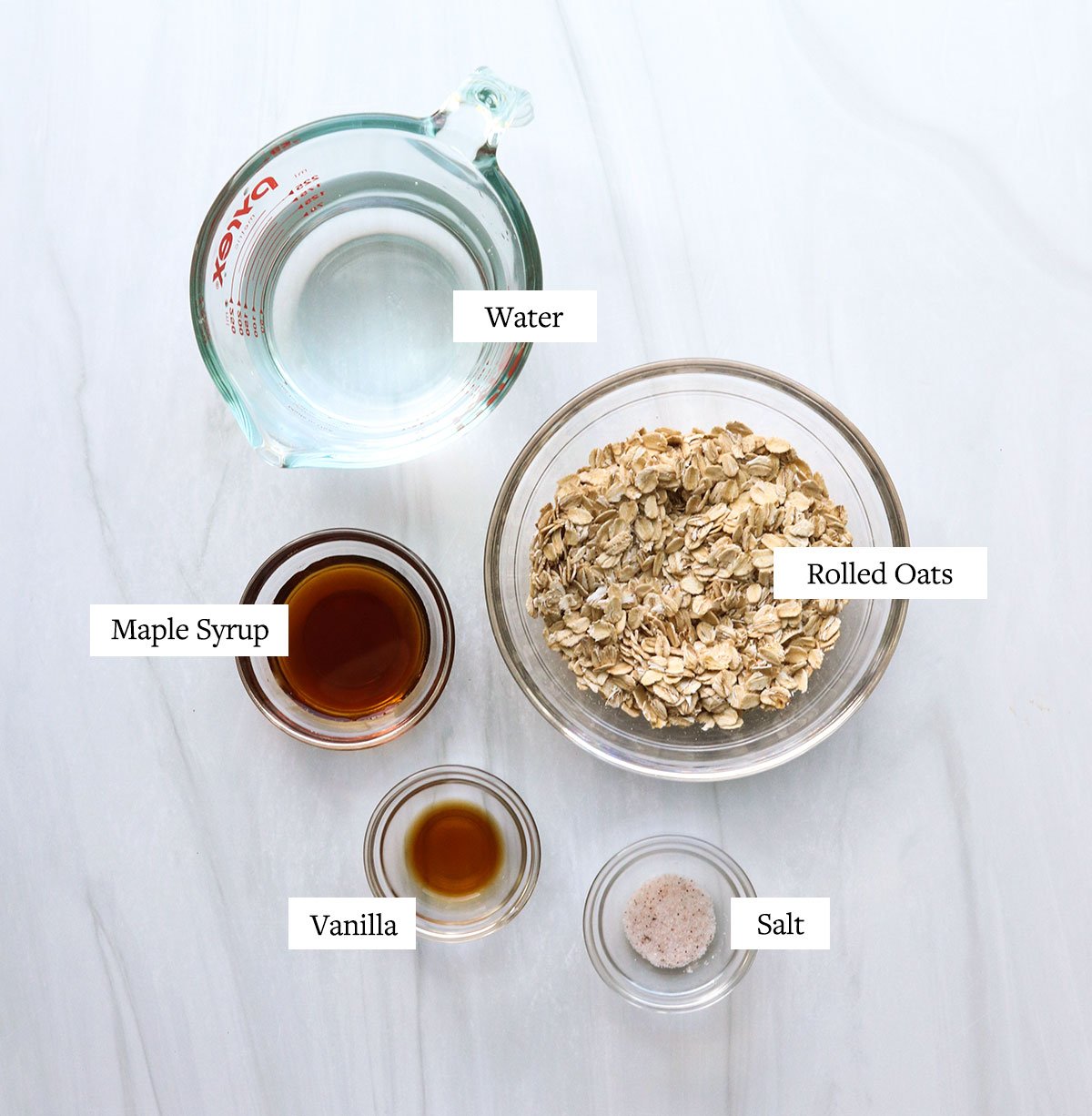 Oat milk can be made with only rolled oats and water, but I like to add a touch of maple syrup, vanilla extract, and a pinch of salt for extra flavor. It reminds me of Elmhurst brand oat milk, which is made with similar ingredients.
If you are looking to make a barista-style milk, similar to Oatly brand, be sure to check out the extra steps I tested below.
Is oatmeal gluten-free? These grains are naturally gluten-free, but they don't always work well for those with gluten sensitivity or celiac disease. Oats can be contaminated during processing, so be sure to look for "certified gluten-free" on the package label if you need to use gluten-free oats in this non-dairy milk.
How to Make Oat Milk
1. Blend.
Combine the oats, maple syrup, vanilla, salt, and water and blend briefly in a high-speed blender until the mixture looks creamy.
Important Note: Don't blend for more than 30 seconds, or the mixture could heat up and become slimy in texture.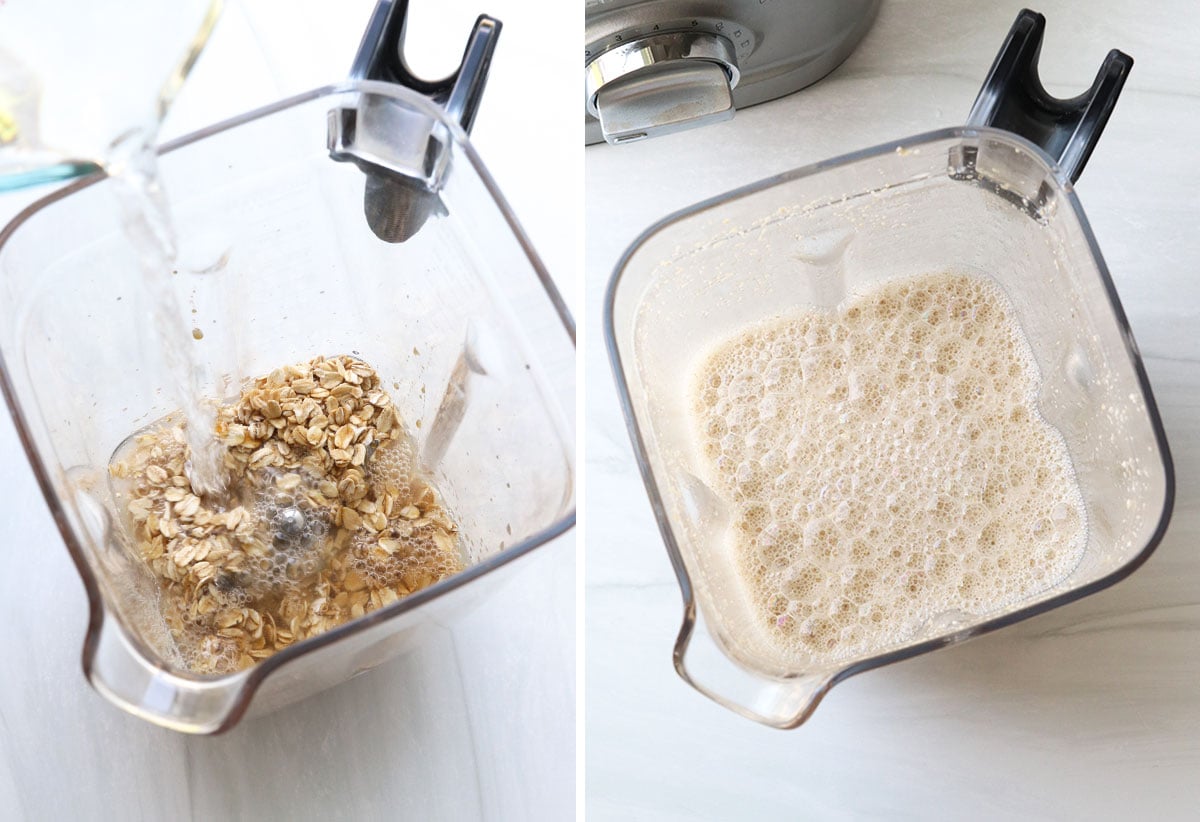 2. Double strain.
Arrange a fine mesh sieve over a large bowl and pour the blended oat mixture through it. This will separate the oat pulp from the liquid.
Do not squeeze or press the oat pulp to remove excess liquid, as this will make the oat milk slimy. (This is why I don't recommend using a cheesecloth or nut milk bag, as you might be tempted to wring out the excess liquid.)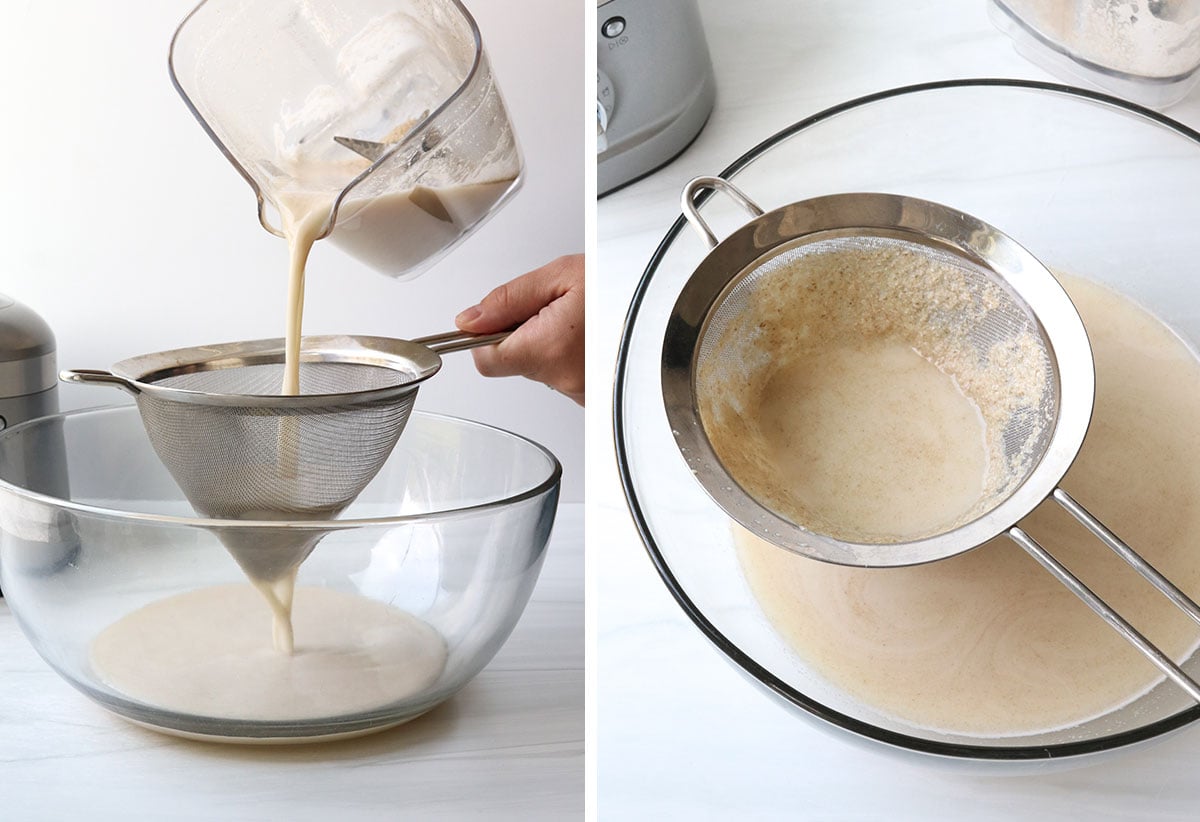 Save the oat pulp, if you like, or add it to your compost. It doesn't have a particularly appealing texture, but you can add it to your morning oatmeal to reduce waste.
Pour the strained oat milk through the cleaned fine mesh strainer one more time, to make sure you've removed as much sediment as possible. (The more pulp left in your oat milk, the more slimy it will be later.)
3. Enjoy!
The strained oat milk can be used right away over cereal, in smoothies, or as a creamer in your morning coffee. It works especially well in iced coffee since homemade oat milk doesn't like to be heated.
Store leftover oat milk in the fridge for up to 4 days. Separation is normal when you store any homemade dairy-free milks so be sure to shake well before using it again.
Tips for Making Non-Slimy Oat Milk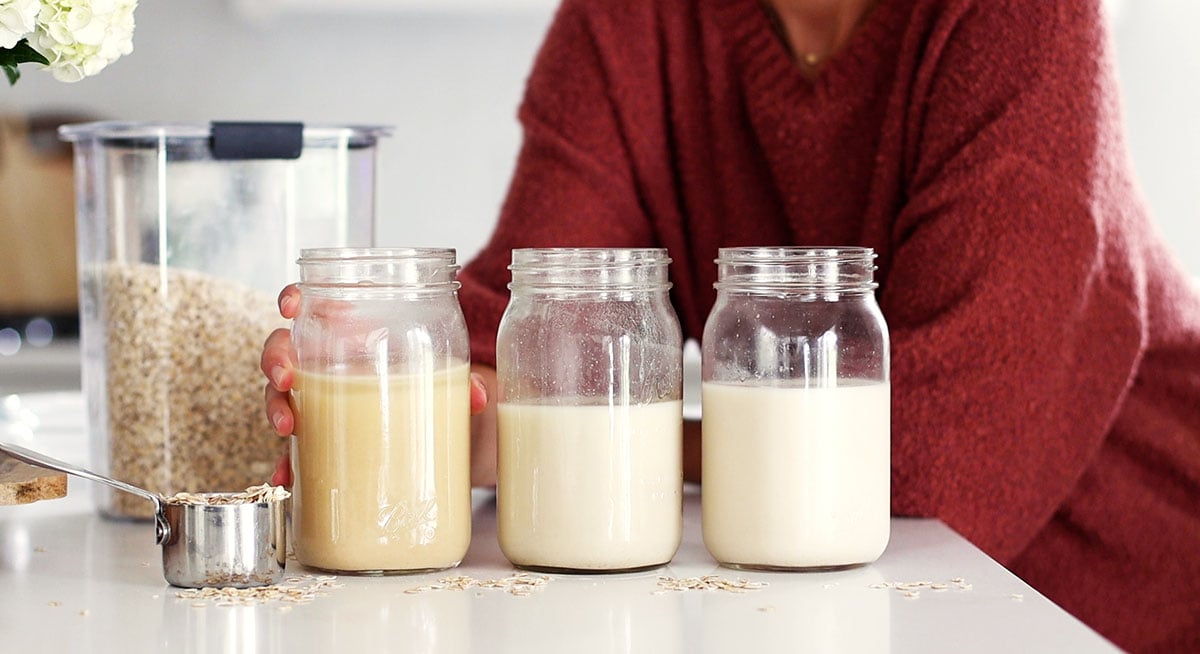 If you've ever tried making oat milk at home, you may have noticed that it can have a slimy texture when compared to other non-dairy milks. This is because oats contain a type of soluble fiber called beta-glucan, which can create a slimy texture when combined with water.
(Similar to how psyllium husk creates a magical gel when you let it soak in water.)
Knowing this, research suggests that cooking oats or adding a digestive enzyme with amylase might help to reduce some of the starch that creates the slimy texture when making oat milk.
I tried both of these methods, along with adding oil to the mix, to try to create an oat milk more similar to the Oatly brand you'd buy at the store. Below are the results!
Test #1: Soaking oats with digestive enzymes.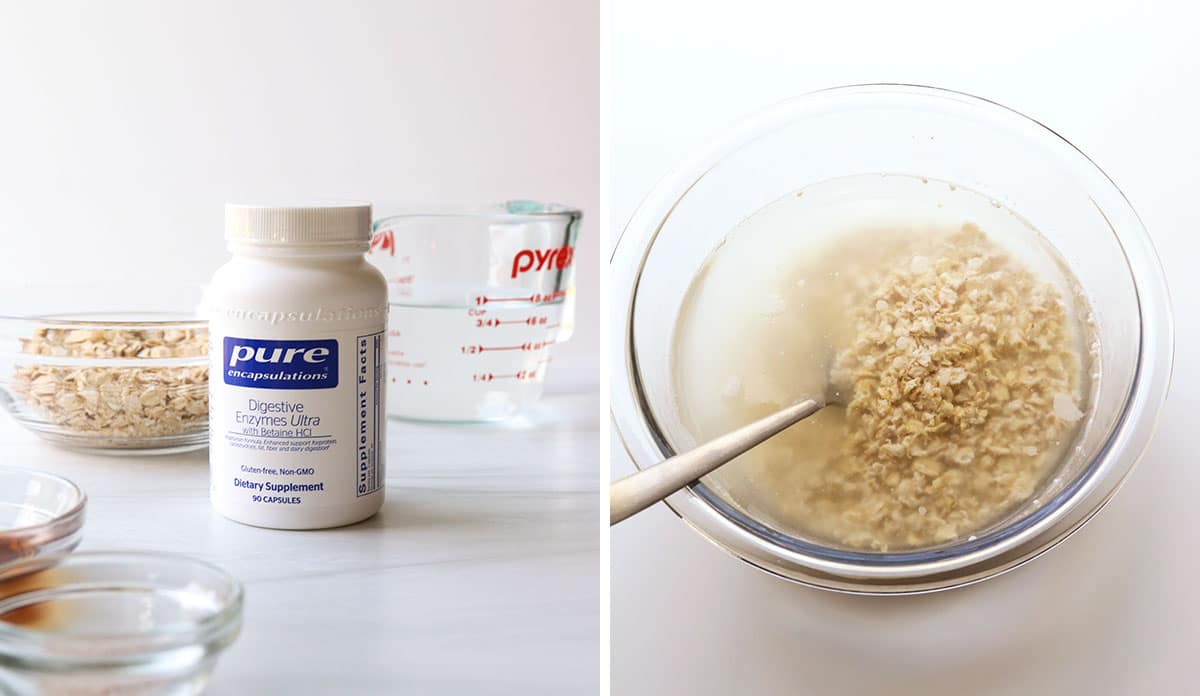 The logic behind this method is that the enzyme amylase will digest some of the starch naturally found in oats. In theory, this should help reduce the slime-factor when blended later.
I tested this method two times. First, I used a super enzyme tablet dissolved in water that reached 150ºF. (The warm water, in theory, should speed up the enzyme activity, without killing it. Don't use boiling hot water!) Then I added the oats to the warm water with the enzymes and let them soak for 40 minutes.
After soaking, the water did not taste lovely. It was bitter, and that flavor transferred to the oats, too. I thought adding maple syrup to the mixture might help balance out the bitterness, but it didn't.
Despite the unpleasant flavor, I went ahead and tested this oat milk by heating it up on the stove top. It thickened up as if I hadn't added the enzymes at all, so that was super-disappointing and a waste of my time and ingredients. 
To make sure it wasn't user-error, I tested this method again with a different digestive enzyme that contains both amylase and glucoamylase. I emptied a capsule into warm water (150ºF) and added the oats to soak for 40 minutes. This time, the results were MUCH better!
The soaked oat water didn't taste bitter, and when I blended the oats with their soaking water, the results were creamy and tasted great. It can also be heated without thickening, if this is your goal. Ultimately, almond milk still creates a much better option for lattes (oat milk doesn't create a thick foam), but this oat milk variation can be warmed up successfully.
Conclusion: This method added another 45 minutes to the overall prep time, as well as the extra expense of buying digestive enzymes. However, it does work, with one caveat. The correct enzymes reduced the slime factor significantly and prevented the oat milk from thickening up when heated. However, the added enzymes will continue to work as the oat milk is stored in the fridge, so the next day the flavor isn't quite as delicious. Bringing the oat milk to a boil before you store it in the fridge should help to stop the enzyme activity, but that is another added step that makes this method less appealing overall (to me, at least).
Test #2: Toasting the oats.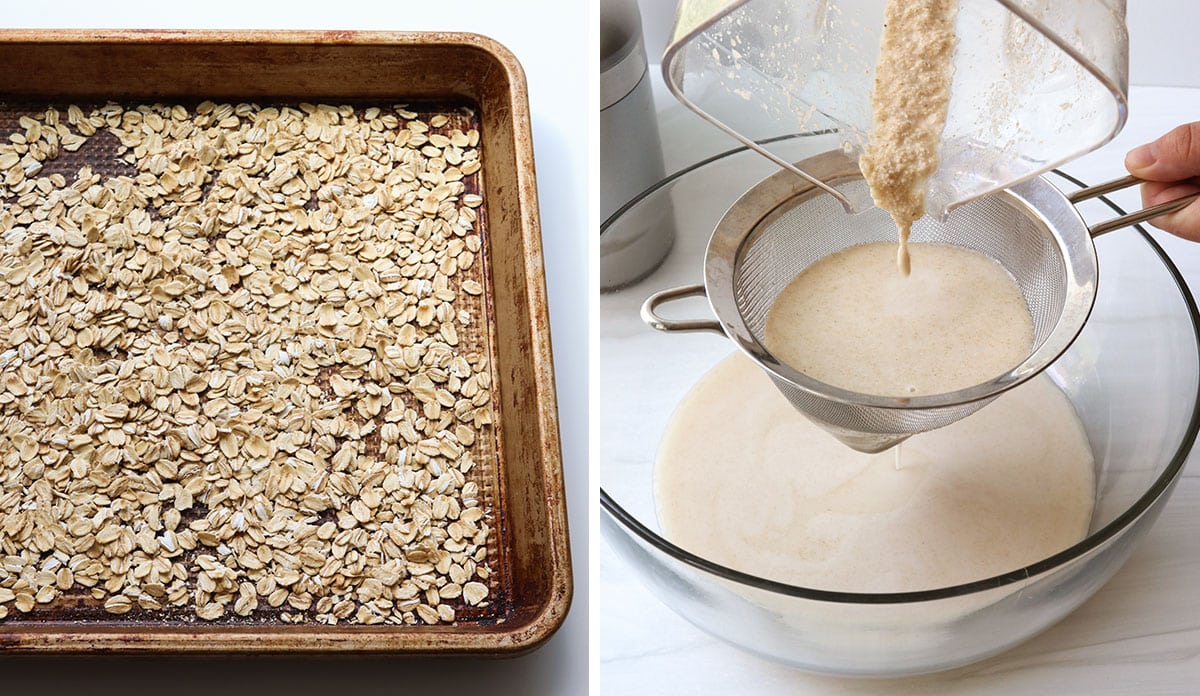 Research suggests that toasting oats can break down the starches they contain.So, the logic behind this method is that toasting the oats before blending them might reduce some of the slime created by the starches naturally found in oats.
To test this, I spread dry rolled oats on a baking sheet and toasted them at 250ºF until they were lightly golden, about 1 hour. Next, I prepared the oat milk recipe as directed above.
Conclusion: Toasted oats create a slightly more tan-colored oat milk that is more grainy in texture, even with a high-speed blender. There is definitely no slimy texture in this case, and it did not thicken when heated. However, it's also lacking in creaminess and doesn't have a satisfying mouthfeel, so I don't recommend this method for making a creamy non-dairy milk.
Test #3: Adding oil. 
Popular store-bought brands add oil to non-dairy milk to help with texture. In this case, I wanted to see if adding expeller-pressed coconut oil would help improve the texture of the oat milk. (Refined coconut oil adds zero flavor, but another mild flavored oil could be used. Just make sure you enjoy the taste, since it might be noticed in your milk.)
I tested this method two ways. First, I added a tablespoon of coconut oil to the liquid ingredients of this recipe and blended until the coconut oil dissolved in the water. It became chunky at first, but eventually dissolved as the water warmed up from blending. Then, I added in the oats last so they wouldn't be over-blended.
In this case, the oat milk didn't act any differently than the oat milk made without oil. It still thickened, and did not create any foam when heated for a latte.  (It also thickened when heated.)
The second way I tested this method was adding a 1/2 teaspoon of coconut oil to an already prepared oat milk, as directed above. I wanted to see if the oil would give the oat milk a better texture for coffee, so I heated it in my electric milk frother. The coconut oil did not add any flavor to the oat milk, but it also did not help with creating foam. It didn't appear to be any different in texture when compared to the oil-free version.
Conclusion: Adding oil to the oat milk doesn't seem to improve the texture of oat milk when heated.
Ultimately, none of the options above felt "worth it" when compared to the simple 5-minute method of blending oats and gently straining them. I hope reading about these experiments will save you some time & effort! (Not to mention, help to trim down your grocery bill.)
Frequently Asked Questions
What can I do with leftover oat pulp? 
Unlike almond pulp, which has several uses, leftover oat pulp from this recipe will be quite wet and slimy. There's also not a lot of it, so it's difficult to save. With that being said, you can immediately add it to oatmeal, batter for pancakes, or into a smoothie for extra fiber.
Can I make chocolate oat milk?
Yes, but it's best to start with the strained oat milk after you make the recipe above. To make one serving, add 1 tablespoon of cocoa powder and 1 tablespoon of maple syrup to 1 cup of prepared oat milk. Mix well and taste the milk and make any adjustments to your liking, such as adding extra cocoa powder for more chocolate flavor.
Is there a downside to oat milk?
Oat milk is more affordable than nut-based milks, like cashew milk, but it's not particularly high in protein or calcium, and is not always appropriate for those who suffer from gluten intolerance. Despite the fact that oats are gluten-free, those with celiac disease can't always tolerate them. 
Can I use steel cut oats to make oat milk?
Steel cut oats will not break down as quickly as rolled oats or quick oats. To make a creamier milk with them, soak the steel cut oats for at least 1 hour before blending and straining. 
Do I need to soak rolled oats before using them?
No! To make a non-slimy oat milk, you need to have the oats in contact with water for as little time as possible. This is why you should only blend them for 20 to 30 seconds before straining. 
Looking for more oat-based beverages? Be sure to try this easy Iced Oat Milk Latte, which is made with home brewed coffee, or my favorite Oatmeal Smoothie.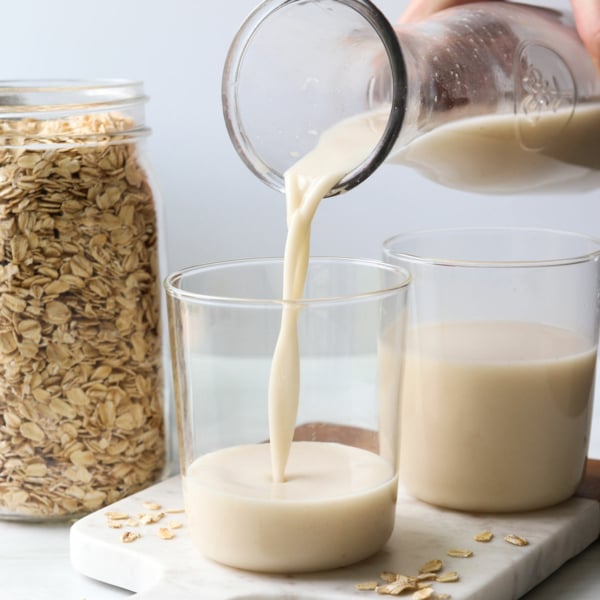 How to Make Oat Milk (Not Slimy!)
Here's how to make oat milk at home in just minutes! This simple method creates creamy results and tastes just as delicious as the store-bought version.
Equipment
Instructions
Add the water, oats, maple syrup, vanilla, and salt to a high-speed blender and blend briefly, about 20 to 30 seconds, until the mixture looks creamy. Do NOT over-blend, as this will make the consistency more slimy.

Pour the blended mixture through a fine-mesh strainer, and tap the sides of the strainer to make sure the liquid strains through. (Don't use a spoon to press the pulp into the sides of the strainer, or the resulting milk will be slimy. This is also why you also don't want to squeeze through a nut milk bag for straining.)

For an extra-smooth milk, rinse off the strainer and then pour the milk through it a second time. This will strain out any extra sediment for an super-smooth oat milk.

Use the milk right away, or store it in an airtight container in the fridge for up to 4 days. This homemade milk will separate when stored, so shake it again before using.
Video
Notes
Nutrition information is for roughly a scant 1 cup serving. This information is just an estimate and not a guarantee. (Especially since some of the oats are removed with straining.)
Oat milk is best served cold, as it will thicken up when heated. Separation is normal when you store oat milk. You can shake it to reincorporate the settled sediment, or just pour from the top for a super-smooth milk.
Nutrition
Calories:
71
kcal
,
Carbohydrates:
14
g
,
Protein:
2
g
,
Fat:
1
g
,
Saturated Fat:
0.1
g
,
Polyunsaturated Fat:
0.3
g
,
Monounsaturated Fat:
0.3
g
,
Sodium:
13
mg
,
Potassium:
65
mg
,
Fiber:
1
g
,
Sugar:
4
g
,
Calcium:
21
mg
,
Iron:
1
mg
If you try this oat milk recipe, I'd love to hear what you think! Please leave a comment and star rating below to let me know how it worked for you.