If you like to keep a convenient spice blend on hand, this poultry seasoning takes just 5 minutes to stir together. You can make as much or as little as you need!
What is Poultry Seasoning made of?
Poultry seasoning is a blend of spices that remind me of the flavors used in Thanksgiving stuffing. It makes recipes, like my Air Fryer Chicken Breasts or Instant Pot Chicken Breasts, taste unbelievably good!
The most common spices include:
Sage
Thyme
Marjoram
Rosemary
Black Pepper
Cayenne Pepper
Nutmeg
I don't always have ALL of these dried spices on hand, but I would say the most important spices to use are the sage and thyme. They are the most prominent flavors in poultry seasoning, so you won't want to skip them.
In the recipe below, you'll notice that I typically don't use rosemary in my homemade spice blend, because it requires a little extra effort. You'll need to grind it in a spice or coffee grinder, to make the texture powdered like you'd expect from a store-bought blend.
I rarely take the time to grind my spice mix (it's easier to simply shake it all together in a jar), so I leave out the rosemary, but you can grind it all together if you prefer a super-smooth, powdery seasoning.
What Can Be Used in Place of Poultry Seasoning?
If you are working with a recipe that calls for poultry seasoning, but don't have any on hand, you can use the following combination as a substitution.
Here's a quick swap for 1 tablespoon of poultry seasoning:
2 teaspoon dried sage
1 teaspoon dried thyme (or marjoram)
These are the two main flavors you will taste in any poultry seasoning blend, and you can add a pinch of cayenne pepper, black pepper, or both for a little extra spice.
I tend to keep this seasoning blend unsalted, since that is how many seasoning blends are sold at the store. But don't forget to season whatever you're cooking generously with salt (on both sides) for the best flavor.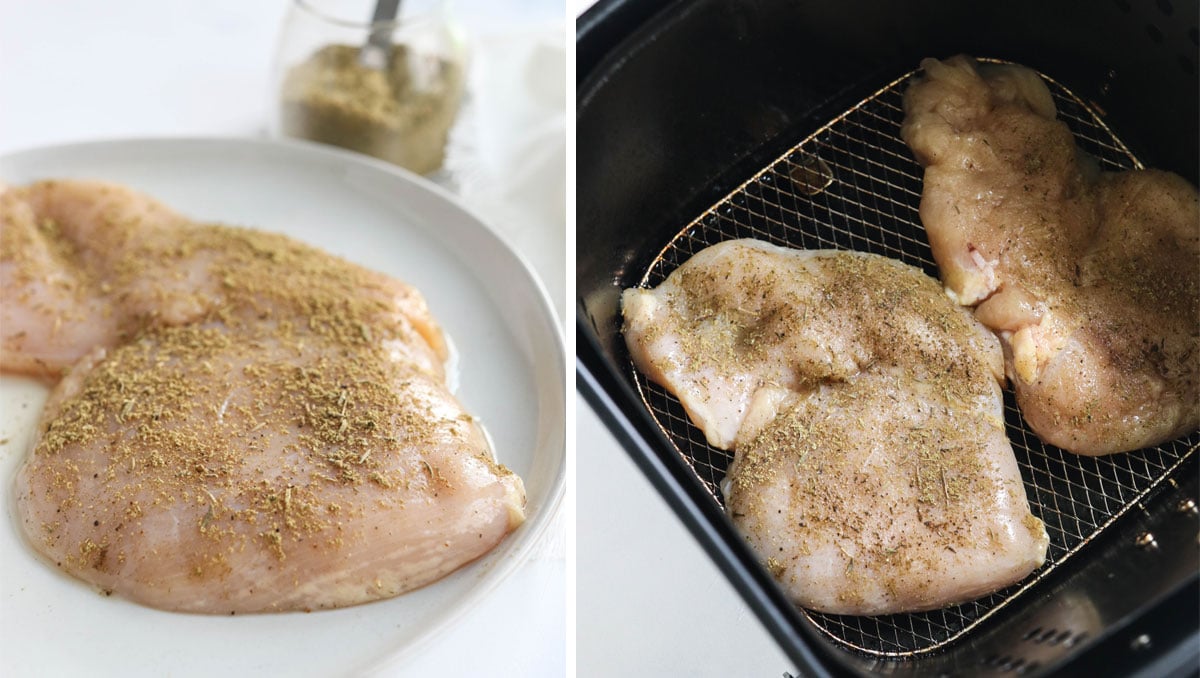 How to Grind Poultry Seasoning
If you would prefer a super-smooth, powdery poultry seasoning, simply place all of the dried spices in a coffee grinder. (Or a spice grinder, if you have one.)
Blend briefly, until the spices are powdered, then store it in a dry, cool place along with the rest of your spices. You can easily scale this recipe up or down, depending on how much you need!
Poultry Seasoning Recipe
Here's how to make your own poultry seasoning at home! This recipe is quick & easy, and can be stirred together in less than 5 minutes.
Ingredients
2

teaspoon

ground sage

1

teaspoon

dried thyme

1

teaspoon

marjoram

(See

1/2

teaspoon

black pepper

1/8

teaspoon

cayenne pepper

(optional; for extra spice)
Instructions
Add the dried spices to a glass jar with a lid, and shake them well to combine. Use this poultry seasoning in any recipe that calls for it, or as a general rub for your favorite meat or veggies. Be sure to season generously with salt, too!

For shelf life, be sure to note the expiration date on the labels of your spice jars. This mix should last as long as the dried spices you used in it, as long as you keep it free of moisture. Store in a dry, cool place for longest shelf life. You can double, triple, or quadruple this recipe as needed.
Notes
If you prefer a super-smooth powder, place all of the spices in a spice or coffee grinder, and grind them together until smooth. In this case, you can add 1/2 teaspoon of dried rosemary to the blend above, if you'd like to.
Nutrition
Calories:
6
kcal
,
Carbohydrates:
1
g
,
Fiber:
0.5
g
Nutrition information is automatically calculated for 1 teaspoon of this spice blend. If you don't see a value listed, it's because it was less than 1. Nutrition info is just an estimate, and not a guarantee.
If you try this recipe, please leave a comment below letting me know how you like it! And if you make any modifications, I'd love to hear about those, too. We can all benefit from your experience!
–
Reader Feedback: Do you make any of your own spice blends? I don't make them often, but my Cajun seasoning is another popular option if you need something with a little kick!