If you have extra pumpkin to use up, this Pumpkin Smoothie is my favorite way to enjoy it. It tastes like you're drinking pumpkin pie, but it's made with healthy ingredients, and takes just a few minutes to make.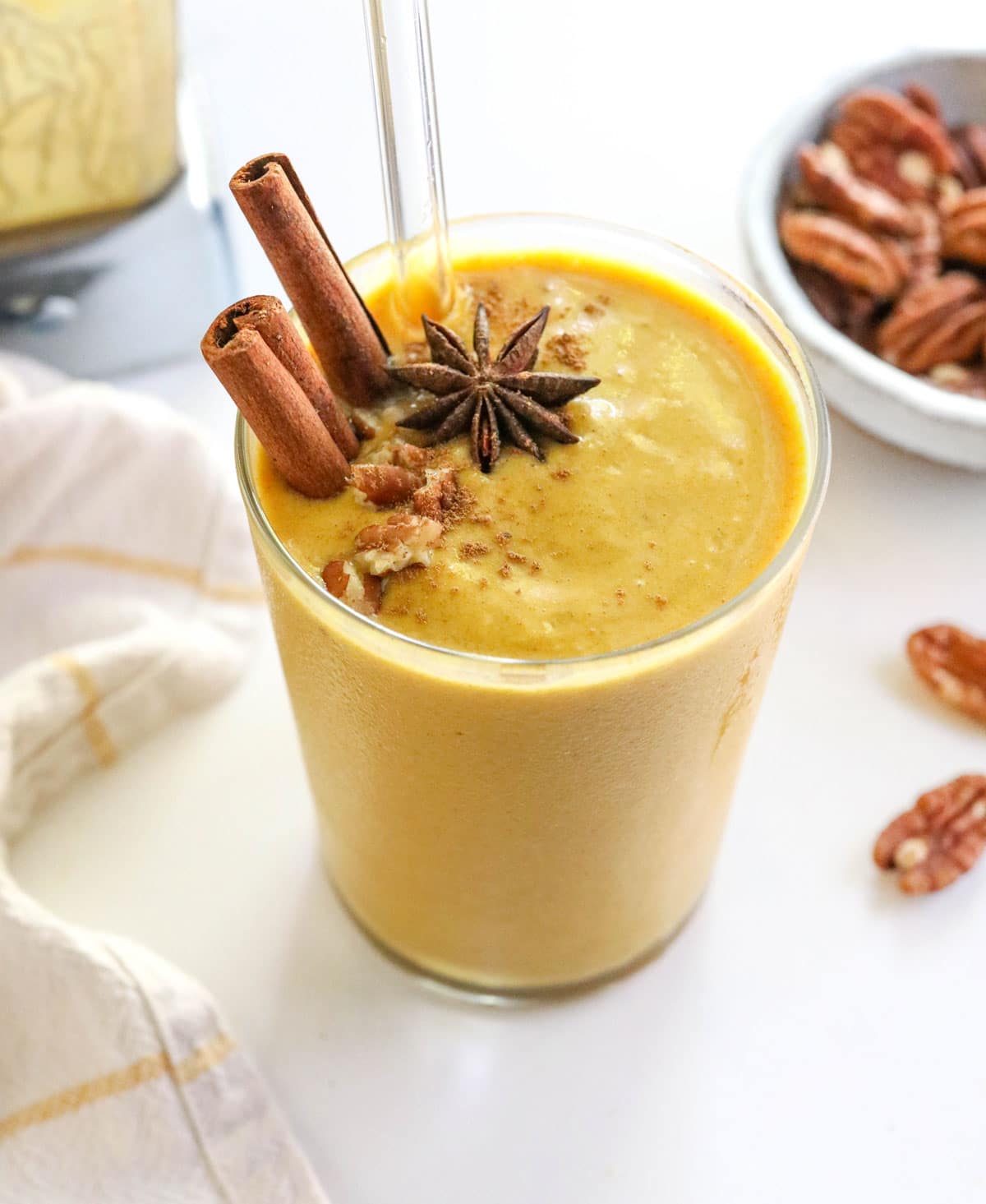 Why Make a Smoothie?
This recipe came to me after making a recipe that didn't call for the whole can of pumpkin. When you don't want to store the leftover pumpkin puree for long, this smoothie recipe is an easy way to use it up!
Here are other ways to use leftover pumpkin puree:
Check out all of my pumpkin recipes for more ideas!
Benefits of Pumpkin
Need more reason to eat pumpkin? This winter squash is packed with vitamins and minerals!
Here's what I love about pumpkin:
What I also love about pumpkin, is that it tastes great in both sweet and savory recipes. If you haven't tried my Vegan Pumpkin Pie yet, it's a must this year!
How to Make It
To make this smoothie, you'll just add everything, except for the ice, in a blender and blend until totally pureed.
You can taste the mixture to make sure it's as sweet as you want it to be, then add the ice and blend again, to give it more of a slushy texture. This also dilutes the strong pumpkin pie flavor, so if you don't plan on adding ice, you'll probably need to add a little more liquid until the taste is perfect for you.
Prefer a green smoothie? You can definitely add a big handful of fresh baby spinach to this smoothie without affecting the flavor. It will just look green, rather than orange, in color.
Pumpkin Spice Latte Smoothie: Just Add Coffee!
Craving a Pumpkin Spice Latte, instead? You can turn this smoothie recipe into a frozen version!
Swap 1/2 cup of the almond milk in this recipe for a 1/2 cup of strongly brewed coffee. (Ideally, the coffee will be slightly cool when you add it.)
Make the rest of the recipe as directed, and you'll have a slushy drink that tastes like it came from a fancy coffee house.
Sweetener Options
If you have a high-speed blender that can handle breaking down dates, that's my favorite choice for this smoothie. They add a caramel-like sweetness that pairs perfectly with pumpkin and pumpkin pie spice.
If you don't have a powerful blender, you can try using frozen banana as the sweetener, along with a spoonful of maple syrup to help boost the sweet factor.
This will change the flavor of the smoothie slightly, so if you don't care for the taste of banana, you can also use only maple syrup as the sweetener. (Or try honey, if you're not vegan.) In this case, you might need a couple extra ice cubes to thicken it up.
How to Make it More Filling
When you include the hemp hearts, this Pumpkin Smoothie may be filling enough to be used as a meal replacement, depending on your activity level and appetite.
Hemp hearts contain all the essential amino acids your body needs to build protein, so it's one of my favorite plant-based sources. You can also add a spoonful almond butter, or a handful of pecans, to this recipe without changing the flavor too much.
If you want to add protein powder to this smoothie, just be sure to check the ingredients on the label– if there's an added sweetener (even if it's stevia or monk fruit), you will need to adjust the ingredients so your smoothie doesn't taste too sweet.
Pumpkin Smoothie (tastes like Pumpkin Pie!)
This healthy Pumpkin Smoothie recipe takes just minutes to prepare, and tastes like you're drinking pumpkin pie with a straw!
Equipment
Instructions
Combine the pumpkin, spice, dates, hemp hearts (if using), and almond milk in the blender. Blend until completely smooth.

Add in the ice, and blend again until the smoothie has a slushy texture. Serve right away for the best taste and texture.

Leftover smoothie can be stored in an airtight container in the fridge for up to 24 hours, but the texture will be very runny.
Notes
If you would rather sweeten this smoothie with a banana instead of dates, I recommend using a frozen one. (Here's how to freeze bananas.) You'll also need to add maple syrup to taste, in that case, to boost the pie flavor.
Alternatively, you can use only maple syrup to sweeten this smoothie. My guess is that you'll need 1 to 2 tablespoons total. You can add extra ice to thicken the smoothie, as needed, in this case.
Nutrition
Calories:
471
kcal
,
Carbohydrates:
81
g
,
Protein:
14
g
,
Fat:
14
g
,
Saturated Fat:
1
g
,
Sodium:
14
mg
,
Potassium:
836
mg
,
Fiber:
10
g
,
Sugar:
67
g
,
Vitamin A:
13008
IU
,
Vitamin C:
3
mg
,
Calcium:
124
mg
,
Iron:
6
mg
Nutrition information is for the whole batch, including hemp hearts. This information is automatically calculated, and is just an estimate, not a guarantee.
If you try this Pumpkin Smoothie, please leave a comment below letting me know how you like it. And if you make any modifications, I'd love to hear about those, too!
–
Reader Feedback: What's your favorite way to use pumpkin?