This Tomatillo Salsa (also known as Salsa Verde) is quick and easy to prepare at home, but it looks so impressive! All you need is 6 ingredients and less than 20 minutes to make it.
How to Make Tomatillo Salsa Verde
The only effort involved in making their tomatillo salsa is roasting some tomatillos, and a jalapeno for spice, and then blending them together with some fresh cilantro, onion, and seasoning with salt and pepper. It's that easy!
Keep in mind that you'll want to chill this salsa in the fridge after you make it to help it thicken up, so be sure to prepare this in advance. I like to make it the night before I plan on serving it, but it will keep well in the fridge for up to a week when you store it in an airtight container, if you want to prepare it a few days ahead of time.
Are Green Tomatoes and Tomatillos the Same Thing?
Green tomatoes and tomatillos look similar, but they are actually from a different plant. Green tomatoes are under-ripe red tomatoes, so they are hard in texture and relatively mild in flavor. (They are not as sweet and juicy as red tomatoes.)
As an Amazon Affiliate, I earn on qualifying purchases.
Tomatillos, on the other hand, have a papery husk on the outside and have a notably tart flavor. Just like tomato plants, the stems and leaves of a tomatillo plant are poisonous, so it's best to wash your hands well after handling the plant and be sure to wash the tomatillos after removing their husks.
How To Roast Tomatillos for Salsa Verde
This recipe is inspired by a recent cookbook I received called Mostly Plants, by the Pollan Family. In it, they recommend roasting the tomatillos whole for about 8 minutes on each side for a total of 16 minutes under your oven's broiler. However, you can cut the time in HALF using the method below!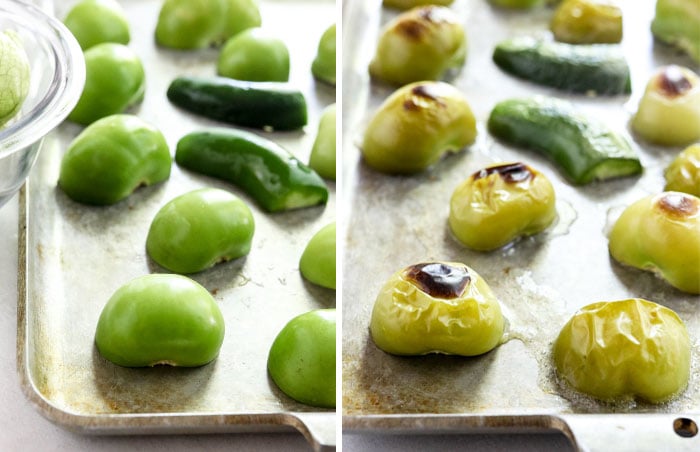 To make things as fast and easy as possible, cut the tomatillos in half. When you arrange the tomatillos on a baking sheet with the cut-side-down, both sides of the tomatillo will start to brown at the same time, so you don't need to flip them over and they cook in half the time.
Can you Eat Raw Tomatillos?
Tomatillos are safe to eat raw, as long as you wash them well after removing their papery husks. Raw tomatillos have an acidic taste that mellows when they are roasted, so that's what I prefer for this recipe, but you can use raw ones if you prefer that flavor.
What Else are Tomatillos Used In?
If you have more tomatillos on hand that you don't use up for this salsa recipe, you can also use tomatillos in:
I hope you'll enjoy this tomatillo salsa soon. I love serving it over Sweet Potato Nachos, Chipotle Burrito Bowls, and even Black Bean Burgers!
How to make Tomatillo Salsa Verde (1-Minute Video):
Tomatillo Salsa Verde
This roasted Tomatillo Salsa Verde is the best! All you need is 6 ingredients and 20 minutes of time to make it from scratch. And it tastes better than store-bought!
Ingredients
1

pound

tomatillos

, husks removed

1

jalapeno

(for medium spicy salsa; remove the seeds for mild)

1/4

cup

fresh cilantro

1/4

cup

chopped white onion

Sea salt & Black Pepper

1

tablespoon

fresh lime juice

(optional)
Instructions
Set your oven rack to its highest level, about 4 inches under the broiler, and preheat the oven to broil. Slice the tomatillos in half, then arrange them on a large baking sheet cut-side down. Slice the top of the jalapeno off, then slice it in half lengthwise, and place it cut-side down on the pan as well.

Broil until the tops of the vegetables are charred, about 8 minutes.

Transfer the cooked vegetables and any juices from the pan to the bowl of a large food processor fitted with an "S" blade. Add in the fresh cilantro and a 1/4 cup of water, then process until smooth.

Add in the onion, 1/2 teaspoon of salt, and several grinds of black pepper, then process again. Taste the salsa and add a tablespoon of lime juice if you'd like a brighter, more tart flavor. Transfer the salsa to a large 16 oz. mason jar and seal it with a lid. Allow it to chill in the fridge for at least 2 hours before serving, where it will thicken up further.

This salsa will keep well in the fridge for up to one week, and you can freeze anything you don't use for up to 3 months.
Nutrition
Calories:
10
kcal
,
Carbohydrates:
2
g
,
Protein:
1
g
,
Fat:
1
g
,
Saturated Fat:
1
g
,
Sodium:
1
mg
,
Potassium:
80
mg
,
Fiber:
1
g
,
Sugar:
1
g
,
Vitamin A:
60
IU
,
Vitamin C:
4.6
mg
,
Calcium:
2
mg
,
Iron:
0.2
mg
Tomatillo Salsa Verde Nutrition: (per 2 tablespoons) Calories: 10, Fat: 0g, Carbohydrates: 2g, Fiber: 1g, Protein: 1g
Recipe Notes:
This recipe is adapted from Mostly Plants: 101 Flexitarian Recipes from the Pollan Family. (I received a complimentary copy from the publisher.) I love the mix of plant-based and ominvore recipes included in the book, since that's how my family eats, too.
If you can't find tomatillos at the store, I've heard that you can use green tomatoes with extra lime juice added for a similar tart flavor. Or you can use red tomatoes for a more classic salsa!
For a mild salsa, omit the jalapeno or remove its seeds. This recipe makes a medium-spicy salsa as written, so you can double the jalapeño for a hot salsa.
If you try this recipe, please leave a comment below letting me know what you think! And if you try any substitutions, I'd love to hear about that, too. We can all benefit from your experience!
–
Reader Feedback: Have you worked with tomatillos before? If so, let me know your favorite way to use them!