If you're wondering what to do with all of your summer zucchini, this recipe makes an easy and delicious vegan dinner. You can whip it up in just about 30 minutes for a quick weeknight meal!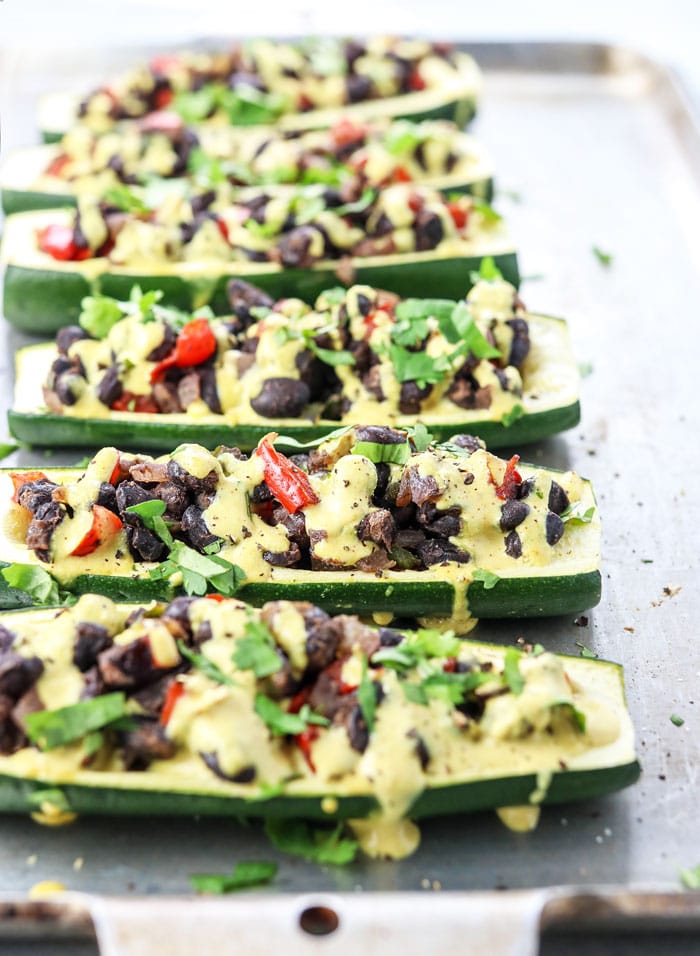 I love using zucchini as a healthy alternative to taco shells and tortillas, as they are mild in both taste and texture, and take very little effort to prepare. In this recipe, zucchini squash are sliced lengthwise with their seeds scooped out, baked until fork tender, and then stuffed with a Mexican-style black bean mixture. Topped with a drizzle of vegan cheese sauce, they become total vegan comfort food and make a perfectly light summer meal.
Here are some health benefits of stuffed zucchini:
Zucchini squash are low in carbohydrates and calories, and are brimming with fiber and vitamin C, which helps promote a healthy immune system. They also contain potassium and magnesium, which may help to keep your heart rate and blood pressure at healthy levels.
Black beans are thought to help build healthy bones, as they contain essential minerals like calcium, magnesium, phosphorus, and zinc. Here's how to cook black beans from scratch.
The fiber in black beans may help to lower total cholesterol and decrease the risk of heart disease.
Cumin is thought to boost digestion and relieve gas issues, which makes it perfect for pairing with beans! This spice is also rich in iron and vitamin C, to help boost immunity and promote healthy circulation.
Onions are loaded with antioxidants, which may help protect the body from free radical damage, and amino acids, which are the building blocks of protein. When you eat a variety of plant foods, the body combines these amino acids to get the "complete protein" it needs.
Tahini is high in vitamin E and also contains calcium, making it a great alternative to dairy in this vegan "cheese" topping. I love that it keeps this recipe nut-free, too.
Since this is a quick skillet meal, you can use any other veggies you might have on hand and simply adjust the seasoning to your taste. Keep in mind that you'll be stuffing this filling into unseasoned zucchini shells, so I tend to go a little heavier with the salt and seasonings to compensate for that, but it's always a safe bet to start with less and add more as you go. Feel free to customize as you see fit!
Vegan Stuffed Zucchini Recipe
STARCH | Gluten-free, Dairy-free, Soy-free, Egg-free, Nut-free
Stuffed with a Mexican-style black bean filling and topped with a vegan cheese sauce, these fork-tender stuffed zucchini make a filling vegan dinner. Perfect for summer!

Ingredients
Stuffed Zucchini
4

medium

zucchini

1

tablespoon

extra virgin olive oil

1

red onion

, diced

1

red bell pepper

, diced

1

clove

garlic

, minced

1/2

teaspoon

ground cumin

1/2

teaspoon

fine sea salt

1/4

teaspoon

chili powder

1.5

cups

black beans

, cooked (or a 15 oz. can, drained)

fresh cilantro

(for garnish)
Tahini "Cheese" Sauce
1/4

cup

raw tahini

1/4

cup

water

4

teaspoons

lemon juice

1/2

teaspoon

apple cider vinegar

1

tablespoon

nutritional yeast

1/4

teaspoon

fine sea salt

1/4

teaspoon

turmeric

(mostly for color)

1/4

teaspoon

chili powder
Instructions
Preheat the oven to 350ºF. Slice the top and bottom knobs off of each zucchini squash, then slice them in half lengthwise. Use a spoon to scoop out the center seeds of each squash, creating a crevice that will hold the black bean filling. Arrange the squash halves, cut-side-up, on a large baking sheet and bake them at 350ºF until very tender, about 20 minutes.


While the squash is baking, heat the olive oil in a large skillet over medium-high heat and saute the onion and pepper until they start to soften, about 5 minutes. Add in the garlic and saute another minute.


Add in the black beans, cumin, salt, and chili powder, and stir until everything is heated through. Turn off the heat and let the vegetables sit in the warm pan until the zucchini is done cooking.


To prepare the "cheese" sauce, stir together all of the ingredients in a bowl until smooth and creamy. Adjust any seasoning to taste. (Keep in mind that it will be slightly salty and tangy, but will be diluted in flavor when drizzled over all those vegetables.)


To assemble, remove the zucchini from the oven and fill each half with plenty of the hot black bean mixture. Top with a generous drizzle of tahini sauce and garnish with fresh cilantro. Serve warm.


Note: If you'd prefer to top with real cheese, I'd return the stuffed zucchini to the oven and broil them until the cheese is bubbly, about 1-2 more minutes, before serving.

Nutrition
Calories:
269
kcal
,
Carbohydrates:
30
g
,
Protein:
12
g
,
Fat:
12
g
,
Saturated Fat:
1
g
,
Sodium:
465
mg
,
Potassium:
949
mg
,
Fiber:
9
g
,
Sugar:
7
g
,
Vitamin A:
1400
IU
,
Vitamin C:
77.9
mg
,
Calcium:
76
mg
,
Iron:
3.3
mg
Frequently Asked Questions:
What should you do with your scooped-out zucchini seeds?
You can toss the scooped-out zucchini seeds into the skillet with the beans and veggies for an extra nutritional boost, if you like, but I actually prefer to save them in an airtight container in the fridge and add them to my smoothie the next morning. They add an extra nutritional boost to any sauce or smoothie, without adding any extra flavor.
Can I use another cheese topping?
If you're not dairy-free, feel free to use real cheese as a topping if you prefer. Just sprinkle cheese over the stuffed zucchini and place it under your oven's broiler for 1-2 minutes, until bubbly. You could also use my cashew queso recipe or sweet potato queso recipe if you prefer.
Can I make another substitution?
Because this is a skillet-meal, it's pretty easy to make any substitution you like and just taste the filling as you go. Just trust your taste buds and experiment however you like! I think you could probably use another type of bean, add meat if you're not vegetarian, or even use a pseudo-grain like quinoa for another plant-based protein in the filling. If it's not zucchini season for you, you might try stuffing this mixture into eggplant, spaghetti squash, or bell peppers as an alternative.
As always, if you make a modification to this recipe, please leave a comment below letting us know how it worked for you, so we can all benefit from your experience.
—
Reader Feedback: What's your favorite way to use up summer zucchini? My Coconut Flour Zucchini Bread is next on my list!
SaveSave