Vegetarian Zucchini Boats are a delicious way to enjoy zucchini season. Tender zucchini is stuffed with flavorful onions, peppers, and black beans for a filling & satisfying meal!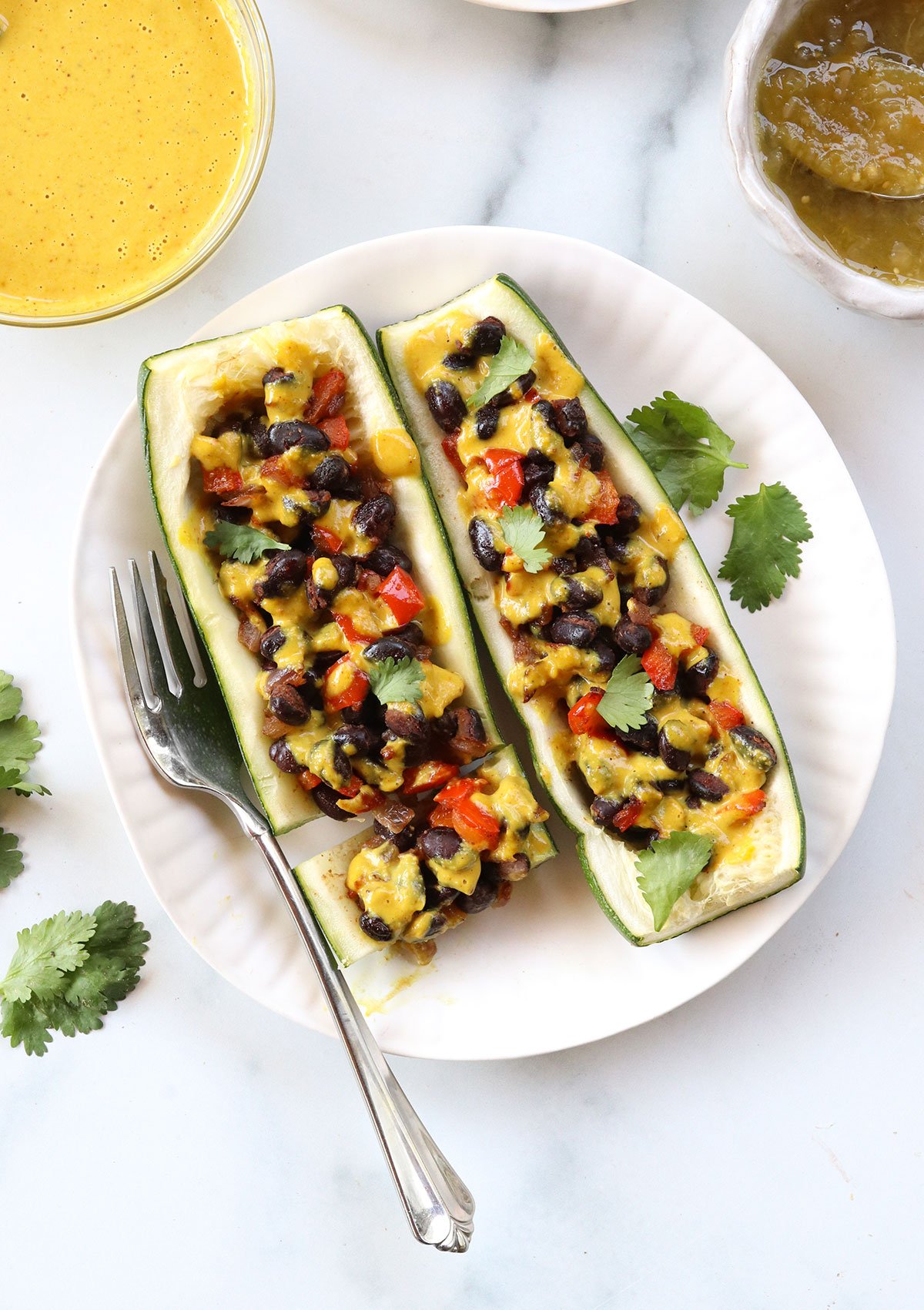 Why You'll Love Them
They taste amazing. If you love Mexican-inspired flavor, you'll love this easy dish. The filling in the center tastes like tacos! It's a fun alternative to traditional stuffed zucchini made with ground beef, marinara sauce, and mozzarella cheese.
They're nutrient-dense. Zucchini is an alternative to taco shells or tortillas in this recipe, with extra vitamins and antioxidants in each bite. It's a light summer meal that will leave you feeling satisfied.
They're quick to prepare. Instead of baking the filling and zucchini together in the oven all at once, this method cuts the cooking time in half by letting the zucchini bake while you saute the filling in a separate pan on the stove. The result is a meal ready to eat in about 30 minutes.
Ingredients You'll Need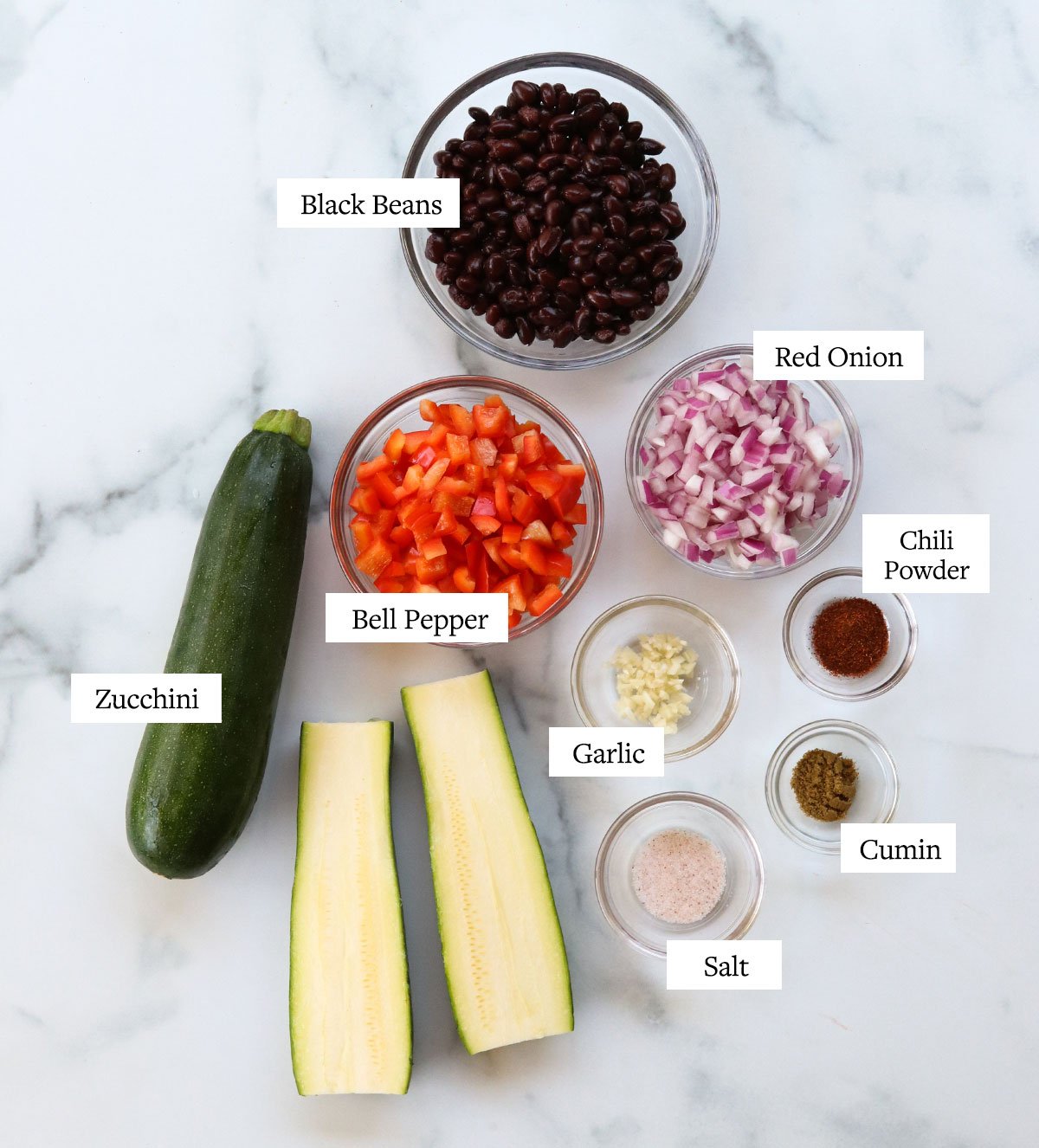 To make the stuffing, you'll need red onion, bell pepper, garlic, black beans, and spices, but feel free to use any other vegetables you have on hand. You can swap the bell pepper for tomato, or if you don't have extra veggies around, you can use the scooped-out zucchini flesh as the filling instead.
Top these with shredded cheese for a quick vegetarian meal, or keep this dairy-free by using vegan cheese or my favorite Vegan Nacho Cheese sauce. Either way, it's delicious!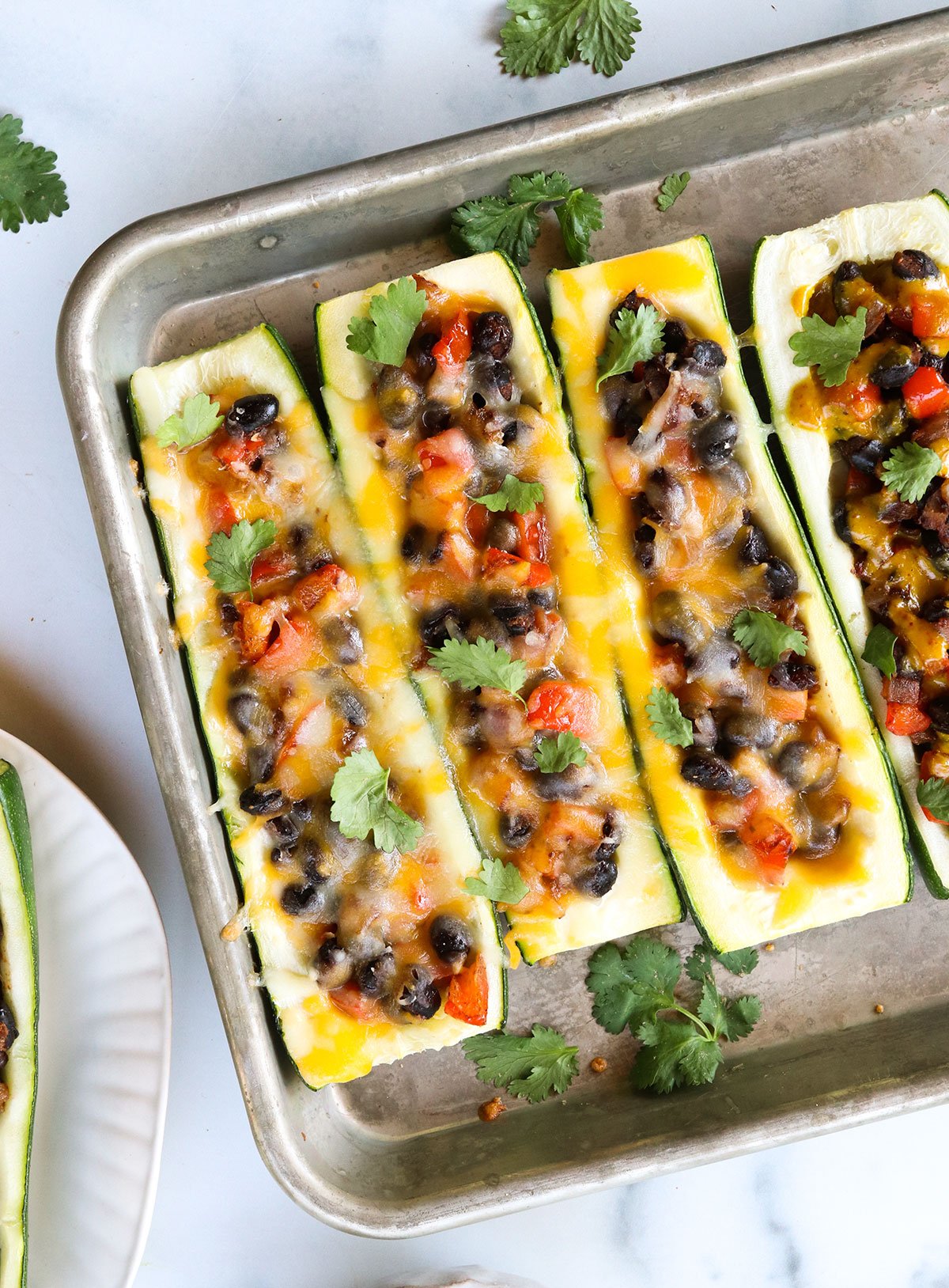 How to Make Stuffed Zucchini Boats
1. Prepare the zucchini.
Preheat your oven to 350ºF. Use a sharp knife to cut off the ends of the zucchini squash, then slice them in half lengthwise. (No need to peel!)
Next, use a spoon to scoop out the center of the zucchini, including the small seeds. Leave roughly a 1/2-inch of zucchini flesh inside the boat so they will be sturdy enough to cook in the oven. Reserve the zucchini pulp for another use, like adding it to a zucchini smoothie or oatmeal.
Arrange the zucchini squash halves on a rimmed baking sheet, and bake at 350ºF for 20 minutes or until they are easily pierced with a fork.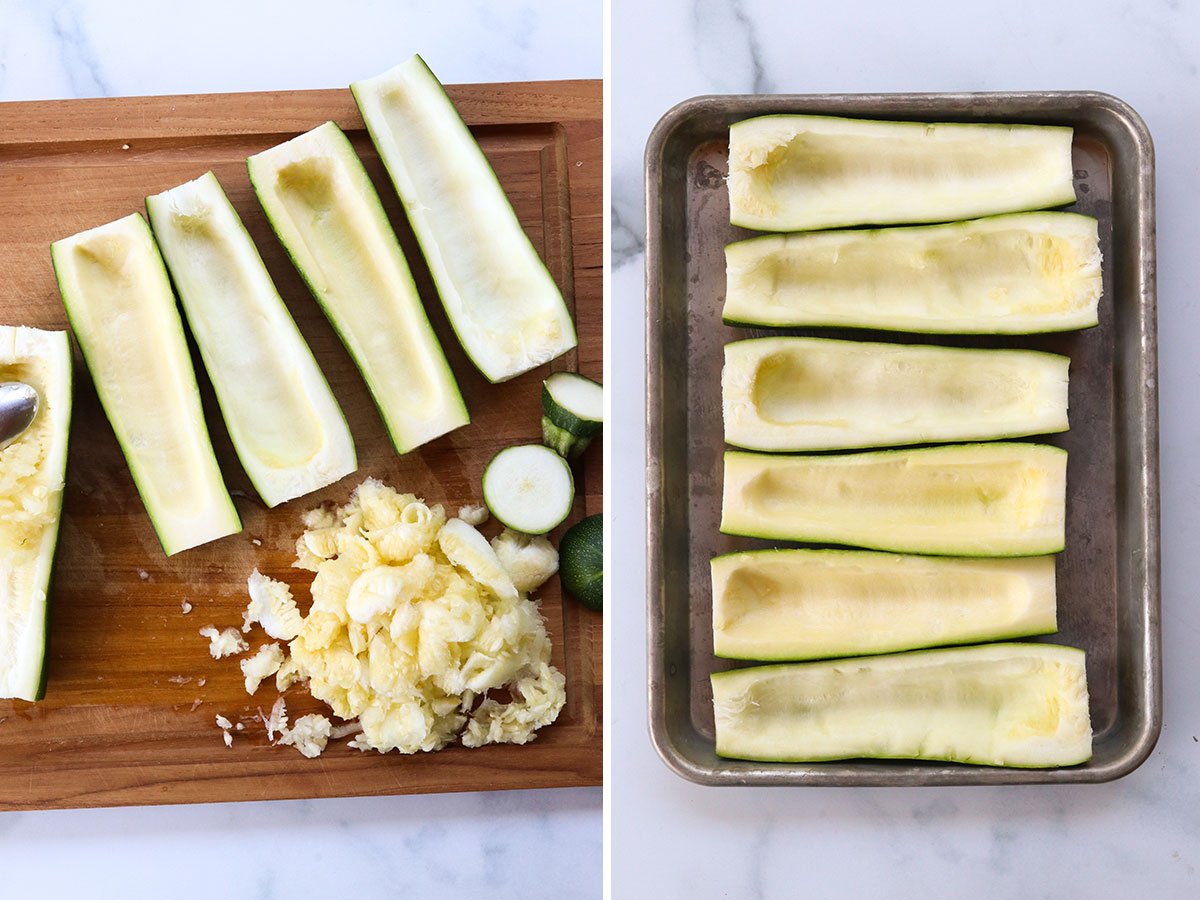 2. Prepare the filling.
Once the zucchini is in the oven, add the olive oil to a large skillet over medium heat. Saute the onion and pepper until they soften, about 5 to 8 minutes. Then add the garlic, cumin, and chili powder and cook for 1 more minute.
Add in the drained black beans and salt, and stir briefly until everything is piping hot and the vegetables are as tender as you'd like.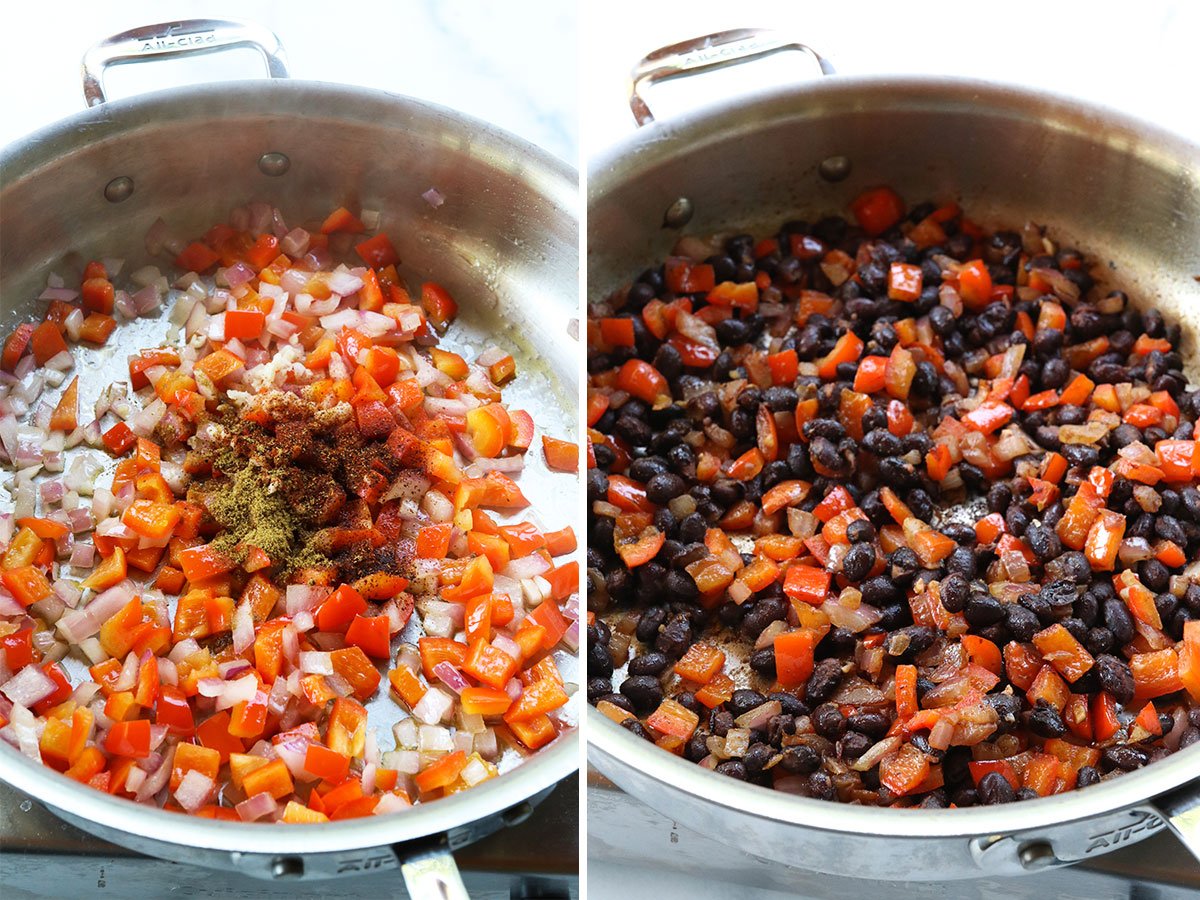 3. Assemble the zucchini boats.
Remove the tender zucchini from the oven, and spoon the black bean mixture into each zucchini half. Depending on how many zucchini boats you choose to make, you might not use all the stuffing, and that's ok! Save the leftovers for an egg scramble or stir fry later.
Sprinkle shredded cheese on top for a cheesy topping and return the zucchini boats to the oven until the cheese has melted, about 5 to 8 more minutes. (Or you can turn on the broiler and watch closely until it is bubbly.)
Looking to make vegan zucchini boats? Use dairy-free shredded cheese or drizzle on some vegan nacho cheese sauce. (There's a tahini sauce option in the recipe notes, too.)
Frequently Asked Questions
How to store zucchini boats?
Leftovers can be stored in an airtight container in the fridge for up to 5 days. Reheat them in the oven at 350ºF for 15 minutes or until the center is hot again. (Alternatively, you can use the microwave in 30-second intervals.)
Can I replace the beans?
Experiment with crumbled tofu for plant-based protein or cooked quinoa for a bean-free alternative. Both might require more salt or seasoning, but you can taste them while cooking the stuffing mixture.
Looking for more zucchini recipes? Try Chocolate Zucchini Muffins, Air Fryer Zucchini, and Zucchini Lasagna for more ideas.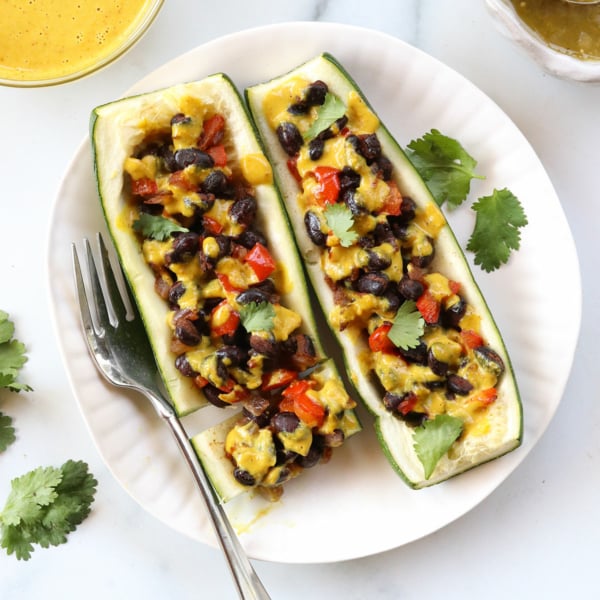 Vegetarian Stuffed Zucchini
This Stuffed Zucchini recipe is loaded with seasoned onions, peppers, and black beans for a filling vegetarian meal.
Ingredients
Stuffed Zucchini
4

medium

zucchini

1

tablespoon

extra virgin olive oil

½

red onion

, diced

1

red bell pepper

, diced

1

clove

garlic

, minced

½

teaspoon

ground cumin

½

teaspoon

fine sea salt

½

teaspoon

chili powder

1

15 oz. can

black beans

, drained & rinsed

¾

cup

shredded cheddar

or Vegan Nacho Cheese Sauce
Instructions
Preheat the oven to 350ºF. Slice the top and bottom ends off of each zucchini squash, then slice them in half lengthwise. Use a spoon to scoop out the center seeds of each squash, creating a crevice that will hold the black bean filling. Arrange the squash halves, cut-side-up, on a large baking sheet and bake them at 350ºF until very tender, about 20 minutes.

While the squash is baking, heat the olive oil in a large skillet over medium heat and saute the onion and pepper until they soften, about 5 to minutes. Add the garlic, cumin, and chili powder and stir for 1 more minute.

Add the black beans and salt, and continue cooking until everything is heated. Turn off the heat and let the vegetables sit in the warm pan until the zucchini has finished cooking.

Fill each cooked zucchini half with a generous amount of the black bean mixture to assemble the zucchini boats. Sprinkle some shredded cheese on top, or drizzle the nacho cheese sauce over them for a vegan option. Return the zucchini to the oven until the cheese is warm, about 5 more minutes.

Serve the zucchini boats warm, with freshly chopped cilantro on top. Leftovers can be stored in an airtight container in the fridge for up to 5 days.
Notes
Nutrition information is for 2 filled zucchini halves topped with shredded cheese. This information is automatically calculated and is just an estimate, not a guarantee.
Tahini Cheese Sauce: This recipe was updated in July 2023 to use shredded cheese or my new favorite vegan cheese sauce. The original version called for a tahini cheese sauce, which has been hit or miss with some readers, but it's here if you prefer!
1/4 cup tahini
1/4 cup water
4 teaspoons lemon juice
1/2 teaspoon apple cider vinegar
1 tablespoon nutritional yeast
1/4 teaspoon each: salt, turmeric, chili powder
Whisk the ingredients together until it reaches a smooth, drippy consistency. Raw tahini, such as Artisana brand, works best for this recipe since it has a mild, neutral flavor.
Nutrition
Calories:
225
kcal
,
Carbohydrates:
21
g
,
Protein:
12
g
,
Fat:
12
g
,
Saturated Fat:
5
g
,
Polyunsaturated Fat:
1
g
,
Monounsaturated Fat:
4
g
,
Cholesterol:
21
mg
,
Sodium:
699
mg
,
Potassium:
822
mg
,
Fiber:
7
g
,
Sugar:
7
g
,
Vitamin A:
1616
IU
,
Vitamin C:
76
mg
,
Calcium:
214
mg
,
Iron:
2
mg
If you try these Vegetarian Zucchini Boats, please leave a comment and star rating below, letting me know how you like them!
SaveSave