These are the best Almond Flour Brownies you will ever make. They are so rich and decadent, that it's hard to believe they are naturally gluten-free and made without white flour! My family agrees that they are better than a box mix.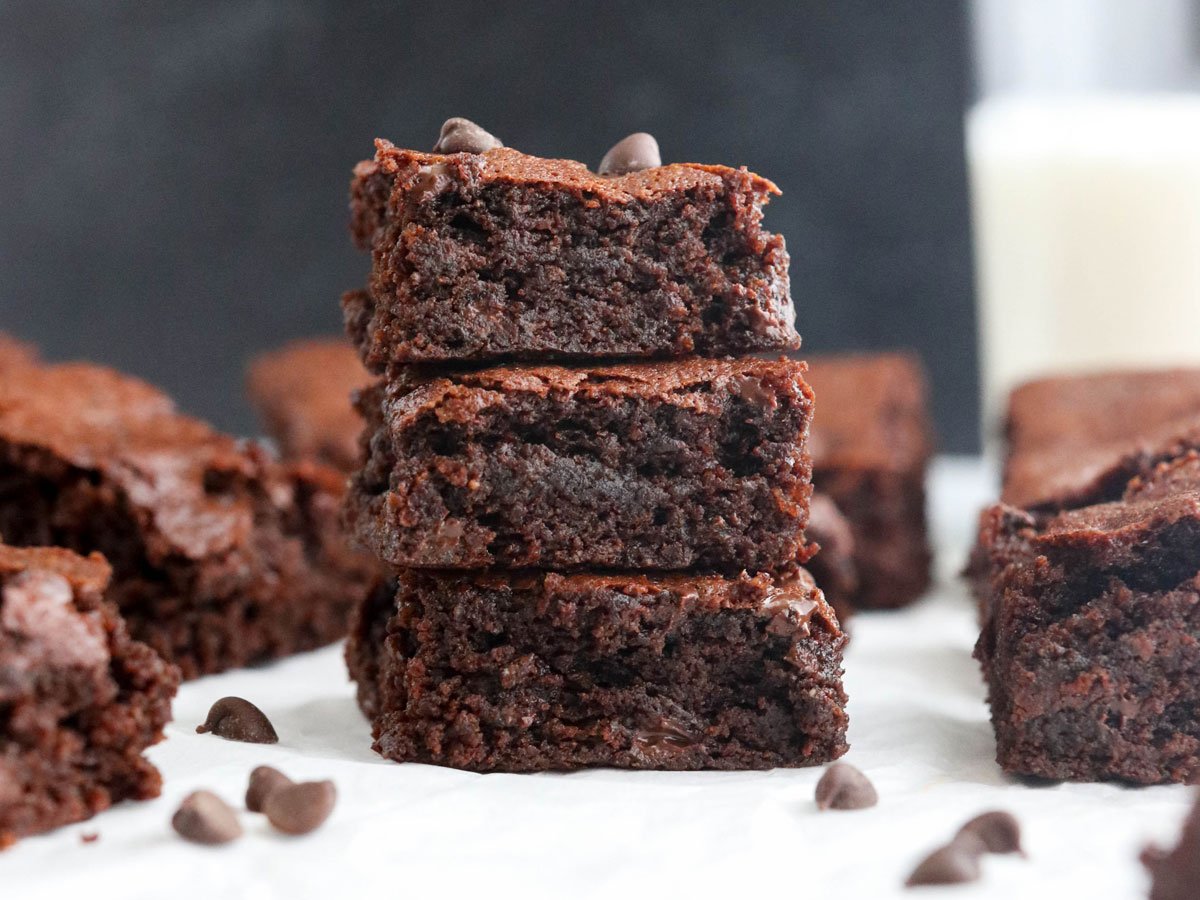 How to Make Gluten-Free Brownies from Scratch
All you need is 8 ingredients to make these almond flour brownies, and you probably already have on hand. Since we're working with almond flour, there's no need to separate "dry" and "wet" ingredients– just stir them all together in one bowl, and make sure you press out any lumps!
I do recommend using room temperature eggs, when possible, so that the melted coconut oil won't harden when it touches cold eggs from the fridge. I never remember to leave eggs out on my counter ahead of time, so I'll usually let them sit in a bowl of hot tap water for 10 minutes while I measure out everything else, to help remove the chill.
If you use cold eggs from the fridge in this recipe, the brownies will still turn just fine, the batter just might be a little thicker from the coconut oil hardening up. Either way, this batter will be thicker and stickier than traditional brownie batter, so don't expect to be able to pour it into the pan. (It's not a runny batter.)
You can use wet hands or a spatula to spread the sticky batter into the bottom of the pan, and don't worry– the batter will spread and expand as it cooks, so you don't have to make it look perfect. Lining the pan with parchment paper will make it easy to pull the brownies out of the pan later, too!
How Do You Make Almond Flour?
Almond flour is a fancy name for finely ground almonds. In this case, we're using blanched almond flour, which is made from blanched almonds (so their brown skins have been removed) that have been very finely ground into a powdery consistency. I have a tutorial on how to make almond flour, if you want to try making it at home!
I haven't tested this recipe with almond meal yet, which is ground almonds that include the skin. In my experience, almond meal tends to produce more cake-like results, while blanched almond flour produces more crisp & buttery results with baking. So, I recommend trying these brownies as written using the blanched version, but I'm sure that almond meal will still produce a delicious result, with a slightly different texture.
Almond flour vs. Regular Flour
If you're wondering about how to substitute regular flour for almond flour, I would recommend first looking up a recipe for the exact flour that you want to use. Almond flour has a lot more fat and protein compared to white flour, so I typically use a little more almond flour and less oil when trying to alter a traditional recipe.
Try one of the other brownie recipes listed below if you need to use a different type of flour!
More Healthy Brownie Recipes
I have lots of gluten-free brownie recipes on my website already, so you might want to check them out if you have other ingredients that you'd like to use up.
Perfect Almond Flour Brownies
These are the best almond flour brownies you'll ever make, and they are naturally gluten-free. I love how you only need a few minutes to stir the batter together!
Instructions
Preheat the oven to 350ºF and line an 8-inch square pan with parchment paper. (I like to spray the pan lightly with oil first, so that the parchment paper will stick in place.)

In a large bowl, combine the almond flour, coconut sugar, cacao, eggs, oil, baking soda, vanilla, and salt, and stir well to form a thick batter. It will be much thicker and stickier than a traditional brownie batter, so be sure to mix well and break up any lumps.

If adding the mini chocolate chips, reserve 2 tablespoons to sprinkle over the top, then fold the rest of them into the batter. Transfer the batter to the prepared 8-inch pan, then use a spatula (or use wet hands) to press the batter evenly into the bottom of the pan. It's okay if it's not perfectly smooth, because the batter will spread and expand as it cooks. Sprinkle the reserved chocolate chips over the top.

Bake at 350ºF until the center of the pan doesn't jiggle, about 25 to 30 minutes. If using a larger 9-inch pan, the brownies might cook a little faster, so be sure to keep an eye on them around the 20 to 25 minute mark. It's normal for the brownies to puff up in the oven, and then deflate slightly as they cool.

Let the brownies cool for at least an hour before slicing them into 16 squares. They probably won't last long before they are all eaten, but I recommend storing these in an airtight container in the fridge for the best shelf life. They should last in the fridge for up to 5 days, if you don't eat them all by then.
Nutrition
Calories:
123
kcal
|
Carbohydrates:
14
g
|
Protein:
3
g
|
Fat:
7
g
|
Saturated Fat:
3
g
|
Cholesterol:
24
mg
|
Sodium:
101
mg
|
Potassium:
49
mg
|
Fiber:
2
g
|
Sugar:
9
g
|
Vitamin A:
41
IU
|
Calcium:
26
mg
|
Iron:
1
mg
Nutrition info is per brownie, and is automatically calculated using generic ingredients, so it's just an estimate, not a guarantee. For more accurate results, I recommend using the labels on the back of your ingredients at home.
If you try these brownies, please leave a comment below letting me know how you like them! And if you make any modifications, I'd love to hear about those, too. We can all benefit from your experience.
Almond Flour Recipes
Need more ways to use up your almond flour? Here are some of my favorite recipes!
–
Reader Feedback: What's your favorite dessert recipe? Feel free to share links in the comments below!