These Almond Flour Waffles are quick and easy to prepare, calling for only a handful of ingredients. I love how each waffle has 6 grams of protein to help you feel full!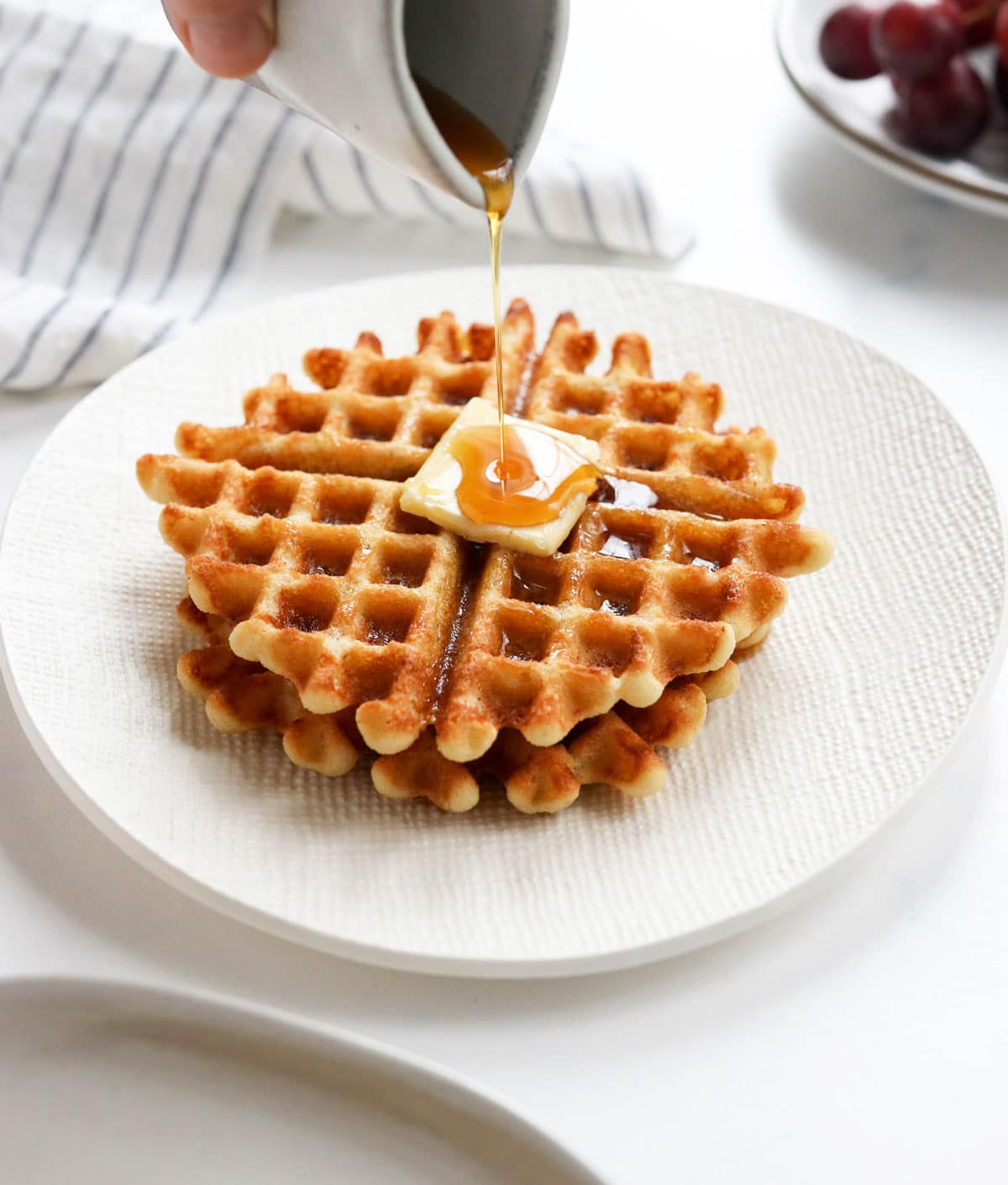 Why Make Almond Flour Waffles?
These protein-packed waffles are a great alternative to store-bought freezer waffles. I created them as a way to get more protein into my kids' mornings before school.
When you have picky eaters, it can be very hard to get them to eat a filling breakfast, so these nutrient-dense waffles are my solution for that. They do have more calories than a traditional freezer waffle, but because of that, they will leave you feeling far more satisfied, too.
Does Almond Flour Get Crispy?
Almond flour does get crispy, the but the texture isn't "perfect" on its own. When you add a touch arrowroot starch to this recipe, the resulting almond flour waffles have a great crispy texture, without being too dry.
I recommend using a classic waffle iron for this recipe (not a thick Belgian one) to achieve maximum crispiness, while also keeping the portion sizes manageable.
Belgian waffles require twice the batter, and therefore will take longer to cook. You don't want the outside of the waffles to burn before the inside is cooked. I tested this recipe in a thicker waffle maker, and it was okay, but not as wonderfully crispy as using a classic waffle maker.
Benefits of Almond Flour
Almond flour is simply ground almonds, so it has the same nutrition profile as the nuts. Check out my Almond Flour tutorial to make your own almond flour at home, too!
Almond flour is also naturally gluten-free and grain-free, making it suitable for a number of special diets.
How to Make Vegan Almond Flour Waffles
If you don't eat eggs, there is a vegan alternative for you! Swap the egg for 2 more tablespoons of arrowroot starch.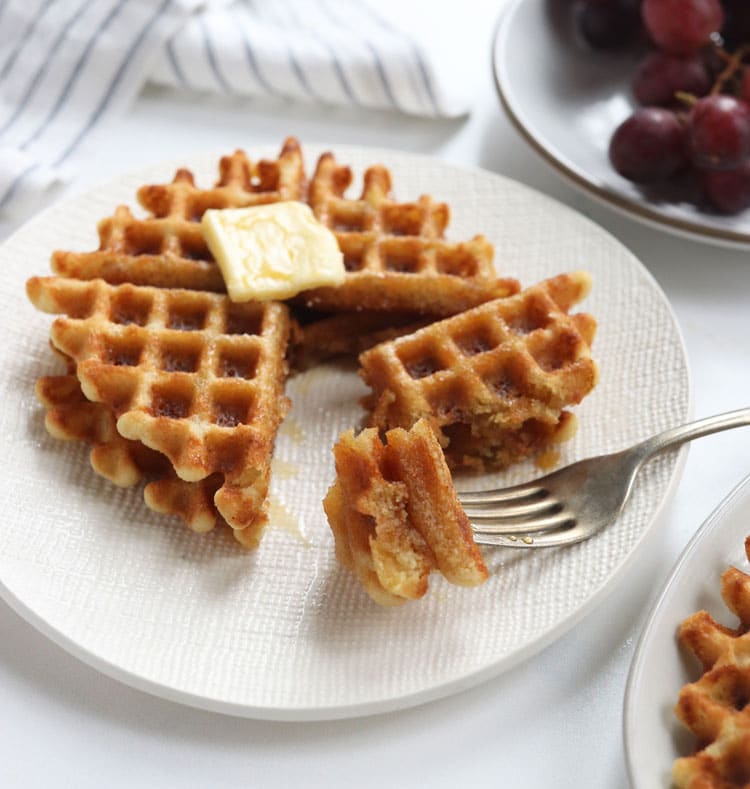 The resulting waffles will be nice and crispy, and totally vegan!
More Almond Flour Recipes
If you have more almond flour to use up, try one of these other popular options!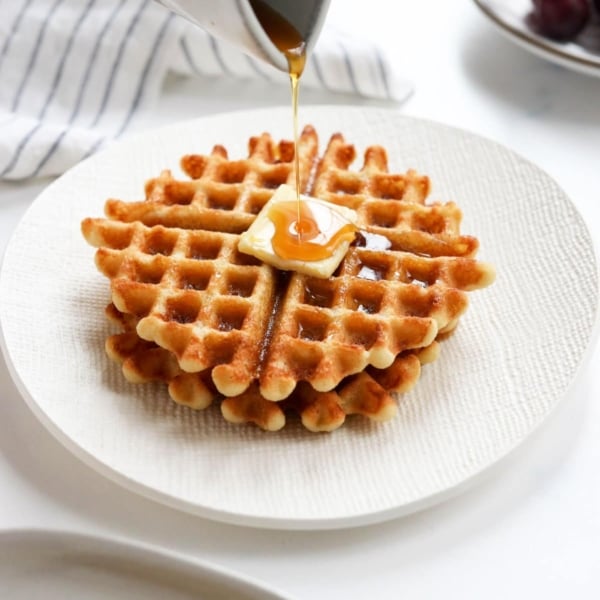 Crispy Almond Flour Waffles
These Almond Flour Waffles are naturally gluten-free and grain-free, made with protein-packed almond flour. They are super-filling!
Equipment
Ingredients
1

cup

blanched almond flour

1

large

egg

(see notes for egg-free version)

1

tablespoon

arrowroot starch

(see notes)

1

tablespoon

extra-virgin olive oil

(see notes)

2

tablespoons

maple syrup

1/3

cup

water

1

teaspoon

baking powder

1/2

teaspoon

vanilla extract

1/4

teaspoon

salt
Instructions
Preheat your waffle iron, as this batter will come together quickly.

In a large mixing bowl, combine the almond flour, egg, arrowroot, olive oil, maple syrup, water, baking powder, vanilla, and salt. Use a whisk to stir well, making sure to break up any clumps.

When the waffle iron is hot, grease it with spray oil, then pour 1/4 cup of the batter into the center of the waffle iron. (It's okay if it doesn't spread all the way to the edge of your waffle iron-- this amount makes waffles that will fit in your toaster.)

Cook until your waffle iron lets you know that the waffles are done, roughly 4 to 5 minutes. (This will vary based on your waffle iron-- I used a classic one; not a Belgium one for testing. If you use a thicker waffle iron, your waffles may need 6 minutes to cook.)

Use a fork to carefully remove the cooked waffle, then repeat with the remaining batter, making 5 waffles in total. Be sure to spray the griddle with oil between each waffle, to prevent sticking. Keep in mind that the waffles may look flimsy right when you remove them from the waffle iron, but they will crisp up quickly-- within 60 seconds-- when you transfer them to a plate.

Serve warm with your favorite toppings. (My family likes topping them with peanut butter most mornings, instead of syrup.)

Leftover waffles can be stored in an airtight container in the fridge for up to 4 days, or in the freezer for up to 3 months. Pop them in the toaster to reheat!
Notes
I've made these waffles without arrowroot starch, and the result is fine, but dry. My kids didn't like them as much as the version made with arrowroot starch, so keep that in mind for texture.
I use olive oil in this recipe because it doesn't turn solid the way that coconut oil does when it touches cold ingredients. I keep my eggs and maple syrup in the fridge, so I didn't want the coconut oil to clump in the batter. But, I assume any mild-flavored oil will work fine in this recipe.
For a Vegan Waffle: Omit the egg and add 2 more tablespoons of arrowroot starch. (So, use 3 tablespoons total.)
Nutrition
Calories:
197
kcal
,
Carbohydrates:
12
g
,
Protein:
6
g
,
Fat:
15
g
,
Saturated Fat:
2
g
,
Cholesterol:
42
mg
,
Sodium:
135
mg
,
Potassium:
114
mg
,
Fiber:
2
g
,
Sugar:
6
g
,
Vitamin A:
61
IU
,
Calcium:
97
mg
,
Iron:
1
mg
Nutrition info above is for 1 waffle, when you make 5 of them total.
Additional Recipe Notes:
For a low-sugar recipe, you can replace the maple syrup with any other sugar-free syrup of your choice. I didn't test leaving it out, because I wanted this recipe to taste like the popular freezer waffles that kids like. We don't serve our waffles with syrup at home (my kids prefer peanut butter on top), so I don't mind the added sugar, but feel free to experiment with that! I imagine you'd want to leave the salt out if you leave out the sweetener, since those two flavors tend to balance each other.
If you try this recipe, please leave a comment below letting me know how you like it. And if you try something different, I'd love to hear about that, too! We can all benefit from your experience.
–
Reader Feedback: What's your favorite way to use almond flour?