This is a sponsored post written by me on behalf of Whole Foods. All opinions are 100% mine.
One of my favorite things about Easter is getting my whole family together for a big Easter brunch. Everyone is kind enough to come over to my house, so that we don't have to haul our young kids in the car, and I am happy to do most of the cooking!
Of course, I can only manage all of that cooking with plenty of make-ahead recipes, so that I'm not rushed the same morning that we are entertaining guests.
This year I'm also taking advantage of Prime Now delivery service. You can get your favorite groceries from Whole Foods Market delivered straight to your door with FREE 2-hour delivery (valid for Prime Members in select zip codes). Not having to shop with children is a huge time saver for me. Check out their website for some more Easter Brunch inspiration and to shop.
Make-Ahead Easter Brunch Recipes
My family members have a variety of special dietary needs and preferences, so I try to make a little bit of something for everyone. My brother follows a keto-friendly diet, so I always try to have a couple of options for him, the women in my family love sweets, and my kids are rather picky these days. So, here are some of the make-ahead Easter brunch recipes I plan to prepare.
1. Asparagus, Leek & Goat Cheese Frittata
Asparagus Frittata with Goat Cheese
This ASPARAGUS FRITTATA is the perfect recipe for a Spring brunch, featuring leeks and creamy goat cheese. I love how you can make it the night before for an easy morning!

Ingredients
1

tablespoon

extra-virgin olive oil

1/2

bunch asparagus

, cut into 1-inch pieces (about 1 cup)

1

cup

thinly sliced leeks

, both white and green parts

8

whole eggs

, beaten

2

oz

chèvre

, crumbled

Sea salt and pepper
Instructions
Preheat the oven to 400ºF. Add the olive oil to oven-safe skillet over medium-high heat, then sauté the asparagus for 5 minutes. Add in the leeks and continue to sauté until both vegetables are tender, about 5 more minutes.


Meanwhile, in a large bowl beat together the eggs with 1/2 teaspoon of fine sea salt and several grinds of black pepper. Pour the egg mixture into the skillet once the veggies are tender, then sprinkle the goat cheese over the top.


Transfer the skillet to the preheated oven to bake until the top is lightly golden, about 10 minutes. It's okay if the middle still has a little jiggle to it, as the eggs will continue to cook for several more minutes once you remove the pan. Slice and serve warm.


You can keep a frittata out on the table for up to an hour for serving once it's reached room temperature, but after that you need to store it covered in the fridge. Leftovers can last up to 5 days, and you can serve them cold or reheated in the stove.

This frittata is an easy recipe for Easter brunch. I use 365 Everyday Value organic eggs (delivered to my door), to make this recipe as easy as possible.
Make it Ahead:I saute the asparagus and leeks the night before. Allow the veggies to cool slightly while you whisk together the eggs in a large bowl, then stir them in along with the salt and goat cheese. Cover the bowl tightly and store it in the fridge overnight.
Morning Prep: Preheat the oven to 350ºF and pour the egg mixture into a greased pie plate. Bake until the eggs are cooked, about 25 to 30 minutes, then slice and serve warm.
2. Smoked Salmon Salad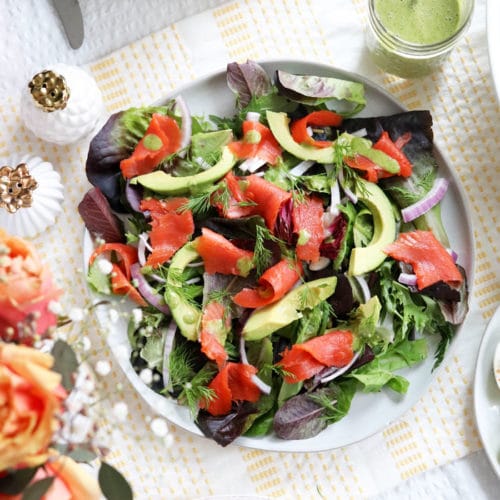 Smoked Salmon Salad with Easy Dill Dressing
This SMOKED SALMON SALAD is an easy and beautiful dish to bring to a party! It's tossed with a fresh dill dressing, with avocado and red onion.

Ingredients
Dill Dressing
3

tablespoons

lemon juice

1/4

cup

extra virgin olive oil

2

tablespoons

water

1

teaspoon

spicy brown mustard

1

tablepoon

maple syrup

1

clove

garlic

1/2

cup

fresh dill
Smoked Salmon Salad
8

ounces

mixed greens

4

ounces

smoked salmon

1

ripe avocado

, sliced

1/2

red onion

, thinly sliced
Instructions
To prepare the dressing, combine the lemon juice, olive oil, water, mustard, maple syrup, garlic, and fresh dill in a blender and blend until smooth. Taste and adjust the seasoning, if needed.


To assemble the salad, fill a large bowl or plate with the mixed greens. Top them with small pieces of smoked salmon, slices of avocado, and the red onion. Drizzle the dill dressing over the top just before serving.


Leftover salad can be stored in the fridge for up to 4 days, but it keeps best if the leaves haven't touched the dressing, so store the dressing separately for best shelf life.

This salad is another easy option, topped with smoked salmon and a refreshing Dill Vinaigrette. I use Whole Food's Market Cold Smoked Sockeye Salmon (which is sustainable wild caught) so I know that the fish is high-quality.
How to Make it Ahead: Blend together the dressing ingredients then store the prepared dressing in an airtight container overnight in the fridge.
Morning Prep: Assemble this salad right before serving, using freshly sliced avocado, red onion, and smoked salmon pieces over your favorite salad greens. I like to serve the dill dressing on the side, so that guests can use as much or little as they like.
3. Avocado Deviled Eggs
Avocado Deviled Eggs (no mayo!)
These Avocado Deviled Eggs are a quick & easy recipe without using mayo. I love that you can't taste the avocado at all!

Course:
Breakfast, Side Dish
Ingredients
8

large eggs

1/2

ripe avocado

(about 3.5 ounces)

1

teaspoon

spicy brown mustard

2

teaspoons

lemon juice

1 to 2

teaspoons

pickle juice

(I use bread & butter pickles)

1/4

heaping teaspoon

fine sea salt

2 to 3

tablespoons

water

, as needed to blend
Instructions
Hard Boil the Eggs: Place the eggs in a saucepan and cover them with an inch of water. Bring the water to a boil, then cover the pot with a lid and remove the pot from the heat. Let the eggs stand for 13 minutes, then immediately place them in an ice bath. Peel right away once they are cool, to make the shells come off easier.


Prepare the Filling: Cut the hard boiled eggs in half, and place the yolks in a small food processor or blender. Add in the avocado, mustard, lemon juice, 1 teaspoon of pickle juice, salt, and 2 tablespoons of water. Process until smooth, stopping to scrape down the sides if needed.


Taste the mixture and add one more teaspoon of pickle juice or water, if needed. If you want more of a tangy flavor, you can also add more lemon juice to taste. I like the subtle sweetness that using bread & butter pickle juice adds, but feel free to use any other type of pickle that you like. For texture, you can even add finely diced pickles instead of just the juice.


Once the filling flavor is to your liking, transfer it to a plastic bag. You can use a pastry tip if you have one, but cutting the corner of the bag will create a nice piping effect, too. Arrange the egg white halves on a large plate and pipe the filling into each half.


Garnish the avocado deviled eggs with paprika and chopped chives, if desired, then serve right away or keep them chilled in the fridge until ready to serve. The prepared deviled eggs should keep well for up to 3 days, but the filling may start to brown if you don't keep them tightly covered after the first 24 hours. See my notes in the post for make-ahead tips.

I like to replace the mayo in my mom's deviled egg recipe with something just as creamy– avocado! Paired with lemon juice, mustard, salt, and a touch of pickle juice, you can't even tell that there's avocado in these protein-packed bites.
How to Make it Ahead: Cook the 365 Everyday Value organic eggs a day ahead of time. Make sure you chill the cooked eggs immediately in an ice bath, then remove the shell and cut the eggs in half. Puree the egg yolks with the other filling ingredients, adjust any seasoning to taste, then store it in an airtight container in the fridge overnight. Cover the egg whites tightly and store them separately in the fridge, too.
Morning Prep: Pipe the filling into the egg halves and garnish with paprika and chopped chives. Serve chilled.
4. Vegan Bread Pudding
Vegan Bread Pudding
This VEGAN BREAD PUDDING is coated in a caramel-like sauce, made without eggs or dairy. It's perfect for a holiday brunch, sweetened with maple syrup!

Keyword:
bread, brunch, vegan
Ingredients
1

(15 ounce) can

coconut milk

3/4

cup

maple syrup

1

teaspoon

ground cinnamon

2

teaspoons

vanilla extract

3/4

teaspoon

fine sea salt

2

tablespoons

arrowroot starch

8 to 12

ounces

bread

, cut into cubes (about 6 large slices)
Instructions
To prepare the vegan bread pudding sauce, combine the coconut milk, maple syrup, cinnamon, vanilla, and salt in a saucepan and bring it to a boil over medium-high heat on the stove. Whisk often until the mixture is boiling.


While the sauce is warming up, add the arrowroot starch to a small bowl and stir it together with 2 tablespoons of cool water. Stir until the starch is dissolved and the mixture looks milky.


Once the sauce on the stove is boiling, add in the arrowroot starch mixture and whisk constantly as the sauce boils. It should thicken up quickly once it's boiling, like a pourable caramel sauce. Remove the sauce from the heat.


Place the bread cubes in a large bowl and pour the sauce over the top. Use a spatula to stir well, coating the bread completely in the sauce. The amount of bread you use in this recipe is up to you-- I've made it with as little as 8 ounces of bread, and with as many as 16 ounces of bread, and both worked! The squishier the bread, the more you can get away with using. (I used a whole 14 ounce loaf of Brioche bread when testing that version.)


For a make ahead casserole, cover the bowl and let the bread soak in the sauce overnight. In the morning, you can pour it into a greased 9" x 13" casserole dish and bake. Or, you can bake it right away without the overnight soak.


To Bake: Place the casserole dish in an oven that has been preheated to 350ºF. Bake until the bread pudding is bubbly and golden on top, about 45 to 60 minutes. (I usually do 60 minutes if the bread is from a cold fridge for the make-ahead version.)


Allow the bread pudding to cool for at least 15 minutes before serving, then serve warm with fresh fruit on top. Leftovers can keep in an airtight container in the fridge for up to 5 days.

This low-maintenance treat is actually best when you make it ahead of time. It comes together with just a handful of ingredients, including pure maple syrup and your favorite bread. (If don't need a vegan bread, try using Whole Foods Market Brioche bread to impress your guests!)
How to Make it Ahead: Prepare the sauce as directed by bringing the ingredients to a boil on the stove top, and while you wait cut the bread into 1-inch cubes. Pour the sauce over the bread cubes in a large bowl, and stir to combine. Cover the bowl tightly and store it in the fridge overnight.
Morning Prep: Preheat the oven to 350ºF and pour the soaked bread cubes into a greased casserole dish. Bake uncovered for 60 to 70 minutes, until the top is golden and bubbly.
5. Carrot Cake Balls
Carrot Cake Energy Balls
These CARROT CAKE ENERGY BALLS are an easy snack that tastes like cake! They are sweetened with dates and take just minutes to prepare in a food processor.

Ingredients
1

cup

raw walnuts

(or pecans)

1

cup

shredded unsweetened dried coconut

(plus extra for rolling, if desired)

1

teaspoon

ground cinnamon

1/8

teaspoon

ground ginger

1/4

heaping teaspoon

fine sea salt

1/2

teaspoon

vanilla extract

1

carrot

, shredded (about 1/2 cup)

12

Medjool dates

, pitted (if not soft, soak in hot water for 10 minutes)
Instructions
In a large food processor fitted with an "S" blade, combine the walnuts and coconut. Process briefly until crumbly.


Add in the cinnamon, ginger, salt, vanilla, carrot and dates and process again until the mixture begins to stick together. Stop and scrape the sides as needed.


Once the mixture sticks together when pressed between your fingers, it's ready to roll into balls. Be careful not to over-process the mixture, as that can make the dough oily.


Scoop the batter using a tablespoon and roll it between your hands to make a ball. Repeat with the remaining mixture and arrange the balls on a pan lined with parchment paper. Roll the balls in extra coconut, if desired.


Place the pan in the fridge or freezer to let the carrot cake balls firm up. Once chilled, you can transfer the balls to an airtight container to store in the fridge for up to a week. I recommend eating these straight from the fridge, but they'll also hold up well in a packed lunch. (Just be careful not t squish them-- they will get softer the longer they sit out.)
My picky kids love these bite-sized treats! They are sweetened with dates, and taste like carrot cake, for a filling and hearty option.
How to Make it Ahead: Process the ingredients together in a food processor and roll into balls. You can store these in an airtight container in the fridge for up to a week, so you can make them further ahead than some of these other Easter Brunch recipes to make your life easier.
Morning Prep: You can serve these chilled straight from the fridge, or let them sit out for about an hour before your brunch for a room temperature treat.
–
I hope these make-ahead Easter Brunch recipes will make your holiday, or any brunch plans you have coming up, a little easier!
Reader Feedback: What's YOUR favorite recipe to bring to a potluck? Tell me in the comments below!