Quinoa Bowls are an easy, make-ahead meal that will have you ready to tackle the week ahead. All you have to do is prep a few components, then you'll have a fast meal that you can assemble in just 5 minutes or less, straight from the fridge!
Why You'll Love Them
They are easy to customize. You can make quinoa bowls using practically any ingredients you have on hand. Whether you top them with roasted sweet potatoes, avocado, black beans, or chicken, they always come together nicely with a good sauce on top. It's a great way to clean out your fridge!
They are a complete source of protein. Quinoa contains all the essential amino acids that your body can't make on its own, so it's considered a complete source of plant-based protein. This is extra-helpful if you are looking to make a filling vegan or vegetarian meal, since they are also full of fiber.
They are delicious! Using a homemade sauce on top, like the recipe below, will take the flavor to the next level. I highly recommend making your own dressing, for the best results, rather than using a store-bought option.
They are relatively easy to prep. All you have to do is cook some quinoa and make a sauce. If you would like to top the bowls with roasted vegetables, rather than raw ones, you can let the veggies cook in the oven while the quinoa cooks on the stove. When you work efficiently, the whole process should take just about 30 minutes of effort.
They are allergy friendly. Quinoa is naturally gluten-free, and when you don't add dairy or meat to these bowls, they are also vegan.
Ingredients You'll Need
What's in a quinoa bowl?
Cooked quinoa
Salad greens & chopped veggies
Roasted vegetables
Chickpeas (or other protein)
A delicious dressing
Quinoa bowls are a choose-your-own-adventure type of meal. Whatever you have on hand in the fridge can become a topping, so it's a great way to use up any extra produce. The dressing on top will bring it all together.
(Recipe below!)
How to Make Quinoa Bowls
1. Roast the veggies.
If you are going to top the quinoa bowls with roasted veggies, be sure to preheat your oven to 400ºF first. Cut the vegetables into bite-sized pieces, and drizzle them with olive oil.
Arrange them in a single layer on a large baking sheet, and sprinkle with salt and pepper.
Roast for 20 to 30 minutes, until tender. The time will vary based on the vegetables you are cooking. Sweet potatoes take closer to 30 minutes to become tender, while less-starchy veggies, like broccoli, brussels sprouts, and cauliflower, will take only 20 minutes.
2. Cook the quinoa.
While the vegetables are roasting, cook the quinoa. I have tips for how to cook quinoa on the stove, or how to make Instant Pot quinoa, depending on your preference.
The quinoa will take roughly 15 minutes to cook, but it usually takes an additional 5 minutes or so for the water to come to a boil. When the quinoa is done cooking, fluff it with a fork, and set it aside to cool.
Pro Tip: Rinse the quinoa in a fine mesh sieve to help remove some of the bitter flavor from the outer coating. This will make the quinoa cook up fluffier, too!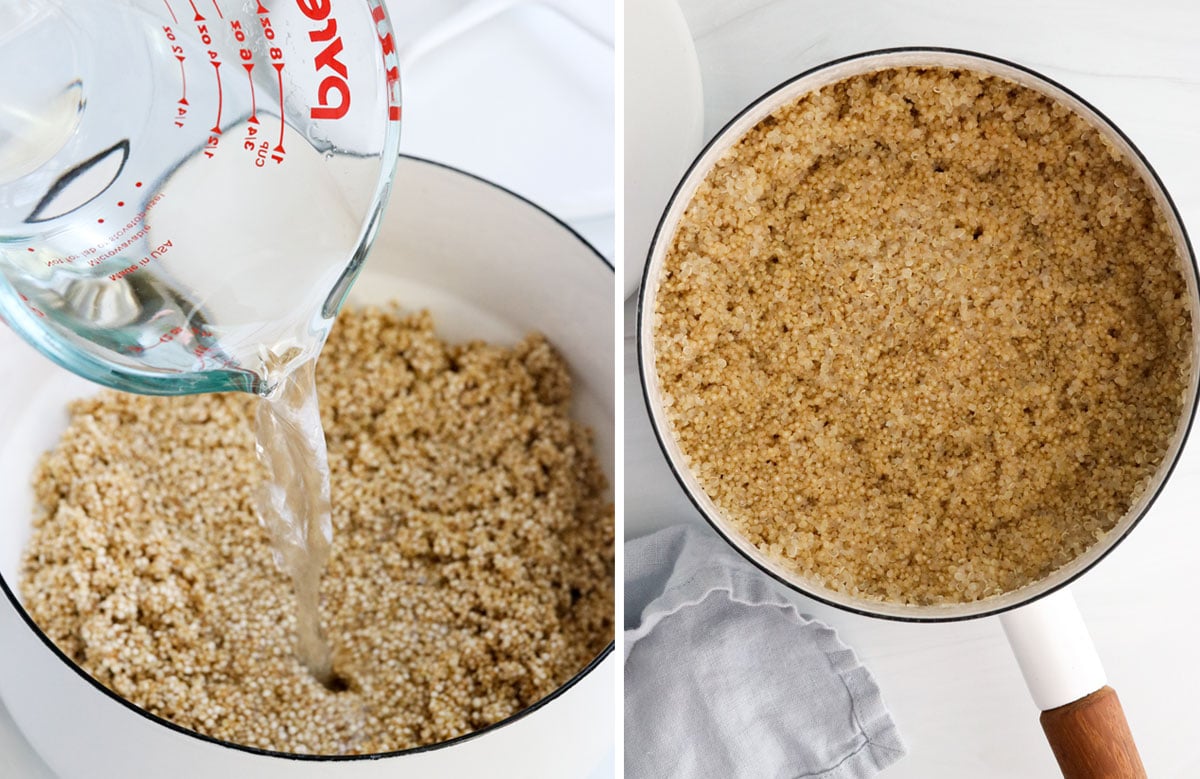 3. Make the dressing.
While the veggies and quinoa are still cooking, you can whip up the creamy pesto dressing in a blender. Add in the fresh basil & parsley, vinegar, tahini, garlic, shallot, red pepper flakes, water, olive oil, and salt. Then blend until it's smooth.
The flavor of this dressing will become even better as it rests, so pour it into a storage jar, then set it aside until you're ready to use it.
4. Assemble.
Once the veggies are done roasting, and the quinoa is done cooking, the quinoa bowls are ready to assemble.
Start with a base of salad greens, and add a big scoop of quinoa on top. Then you can add a generous portion of roasted veggies, chickpeas, chopped cucumbers or cherry tomatoes, and a generous drizzle of dressing.
Looking for more topping ideas? Try adding a dollop of any dip you keep in the fridge, like homemade hummus or vegan pesto.
You can store the quinoa bowl components separately in the fridge for up to 5 days.
If you want to mix them together in meal prep containers, I'd recommend keeping the leafy greens and sauces separate, so they won't become soggy overnight. Add the dressing right before serving, instead!
More Quinoa Bowl Recipes
The recipe below is just one variation, but you can mix and match your favorite toppings and dressings each week to keep things interesting. Below are a few more suggestions.
Thai-Style Quinoa Bowls. Top your quinoa bowl with baked tofu, sliced mango, red bell peppers, fresh basil, and peanut dressing. This is one of my favorite combinations!
Mexican-Style Quinoa Bowls. Top the quinoa with black beans, red onion, sliced avocado, chopped romaine, corn, salsa, and cilantro dressing.
Mediterranean Quinoa Bowls. Top the quinoa with roasted red peppers, red onion, feta cheese, kalamata olives, and Italian dressing.
Want to change up the dressing? Be sure to also try Tahini Dill Dressing, Honey Balsamic Dressing, or Champagne Vinaigrette.
Quinoa Bowls with Creamy Pesto Dressing
Quinoa bowls are an easy make-ahead meal that you can assemble straight from the fridge! The creamy pesto dressing takes the flavor over the top.
Ingredients
Roasted Vegetables
1

pound

brussels sprouts

, trimmed and sliced in half

1

pound

cauliflower florets

1

tablespoon

extra virgin olive oil

fine sea salt
Cooked Quinoa
1 ½

cups

dry quinoa

2 ¼

cups

water
Bowl Assembly
12

ounces

mixed greens

1

pound

assorted chopped veggies

(i.e. cucumbers, cherry tomatoes, etc.)

1

(15 oz.) can

chickpeas

(or other cooked beans/protein)
Creamy Pesto Dressing
1/4

cup

fresh basil

1/4

cup

fresh parsley

2

tablespoons

red wine vinegar

2

tablespoons

tahini

2

tablespoons

extra virgin olive oil

1

garlic clove

1

small

shallot

(about 2 tablespoons minced)

1/2

teaspoon

fine sea salt

1/4

teaspoon

red pepper flakes
Instructions
Preheat the oven to 400ºF. Add the brussels sprouts and cauliflower to a large rimmed baking sheet, and drizzle them with the olive oil. Toss well, and make sure the brussels sprouts are arranged cut-side-down, to brown nicely. Season generously with salt, then place the pan in the oven to cook until they are tender, about 20 minutes.

While the veggies are cooking, rinse the quinoa in a fine mesh sieve under running water. This will help remove any bitter flavor. Add the drained quinoa and water to a small saucepan and bring it to a boil. Once it's boiling, cover and cook on low heat for 10 minutes. Then remove from the heat completely but keep the lid on for an additional 5 minutes. Fluff with a fork and set aside until ready to serve.

While the quinoa and veggies are still cooking, add the dressing ingredients to a blender, along with ¼ cup of water, to help with blending. Blend until very smooth, and adjust any flavoring as needed. (This dressing will thicken when chilled, FYI, so you can thin it out with a splash of water later, if needed.)

To assemble the quinoa bowls, add a scoop of cooked quinoa (I use ¾ cup per bowl) to a serving bowl, along with a big handful of leafy greens, a scoop of warm roasted veggies, a scoop of cooked chickpeas, and any chopped raw vegetables you have. Drizzle generously with the dressing, and serve right away. Leftover components can be stored separately in the fridge for up to 5 days, and served cold again for any easy packed lunch.
Notes
Nutrition information is for 1 of 6 bowls, assuming you evenly divide all of these components among 6 servings. (Including all of the dressing.) This information is automatically calculated, and is just an estimate, not a guarantee.
*The cooking time above assumes you are multi-tasking! The quinoa cooks while the roasted vegetables are in the oven, and the dressing can be blended while you wait on the two cooked components to finish.
Nutrition
Calories:
386
kcal
,
Carbohydrates:
53
g
,
Protein:
16
g
,
Fat:
14
g
,
Saturated Fat:
2
g
,
Polyunsaturated Fat:
4
g
,
Monounsaturated Fat:
7
g
,
Sodium:
461
mg
,
Potassium:
1121
mg
,
Fiber:
12
g
,
Sugar:
5
g
,
Vitamin A:
1577
IU
,
Vitamin C:
121
mg
,
Calcium:
129
mg
,
Iron:
5
mg
Update Note: This recipe was updated in July 2022 with a better dressing recipe! If you preferred the older version, I served it with Cucumber Tahini Dressing and Arugula Pesto on top. The new dressing is a hybrid of the two, so you only have to prepare one sauce to achieve a delicious flavor.
If you try this quinoa bowl recipe, please leave a comment and star rating below letting me know how you like it!