When I was growing up, half the fun of making cookies from scratch was being able to sneak a taste of the raw cookie dough. I don't know about you, but in my house you really had to sneak it, because my mom was crazy-paranoid about the risk of salmonella from eating raw eggs. She hated it when my brother and I would eat the raw dough!
That's why I thought it might be fun to make an edible cookie dough recipe that's designed to be eaten raw. This cookie dough is just about as healthy as it gets, made without butter, refined flour, or raw eggs. In fact, the base of this batter is sweetened with my favorite sweetener, fiber-rich dates!
As you may know, dates are loaded with important minerals like iron, magnesium, potassium, and calcium, and it is thought that they may help to prevent abdominal cancer. Paired with ground almonds and a touch of sea salt and vanilla extract, this cookie dough comes together in minutes and is packed with natural, whole food ingredients.
To me, it's not real cookie dough without a few chocolate chips, so I used some mini chocolate chips in this recipe so they would be easily distributed throughout the batter. (Enjoy Life brand and several others make vegan chocolate chips.) If you want to avoid refined sugar entirely, you could chop up a bar of dark chocolate that is sweetened with coconut sugar (like Eating Evolved brand), or you can skip the chocolate and stir in some naturally sweet raisins, instead.
As written, this recipe is vegan and paleo friendly, but my husband requested that I stir-in some rolled oats at the end so that they'd be like the cookies his mom used to make– and the batter was equally delicious that way, too! Whatever you decide to stir in, I hope you'll enjoy this healthier edible cookie dough.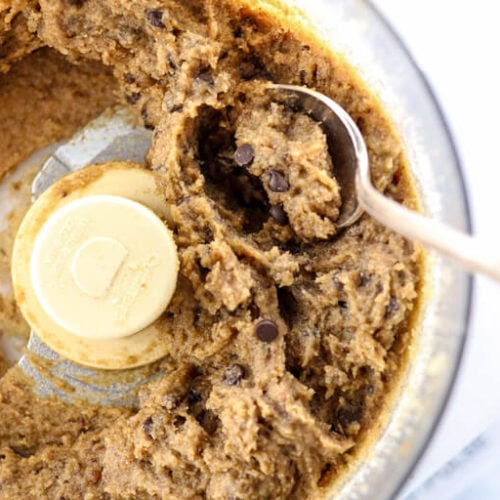 Edible Cookie Dough (Vegan!)
This edible cookie dough recipe is egg-free and dairy-free, and can be eaten straight from your fridge. Made without butter, this batter is naturally sweetened with dates.
Instructions
In a large food processor fitted with an S blade, process the dates and water until they are broken down. (You might want to wrap your food processor with a towel, as the water can splash out a bit at the beginning.)

Add in the almond flour, flax, vanilla, and sea salt, and process again until a smooth cookie dough is formed. Taste, and add more salt, if desired. (I add another 1/4 teaspoon, because I like my cookies a little sweet and salty.)

Pour in the chocolate chips (or other add-ins) and pulse the food processor 2-3 times, just so that they are incorporated, but not blended. Transfer the dough to an airtight container and store it in the fridge for up to 2 weeks. Enjoy by the spoonful!
Nutrition
Calories:
56
kcal
,
Carbohydrates:
6
g
,
Protein:
1
g
,
Fat:
3
g
,
Sodium:
38
mg
,
Potassium:
31
mg
,
Sugar:
5
g
,
Vitamin A:
15
IU
,
Calcium:
17
mg
,
Iron:
0.3
mg
Recipe Notes:
I attempted to bake this cookie dough at 350ºF for 10-12 minutes, and the resulting cookies were just okay (they taste fine, but are very soft). If you really want a baked cookie, I'd recommend using one of the following recipes instead:
If you'd like to add it rolled oats for texture, or any other add-in, such as shredded coconut or pecans, I'd use 1/2 cup measurement.
As always, if you make a modification to this recipe, please leave a comment below letting us know what worked for you!
—
Reader Feedback: Did you have to sneak bites of raw cookie dough, too? (I snuck brownie batter, too… thank goodness for vegan brownies, huh?)
SaveSave