This elderberry smoothie is a delicious way to serve elderberry syrup, with extra vitamins and nutrients in each sip. All you need is a few simple ingredients to make it, and it's a huge hit with grown-ups and children alike!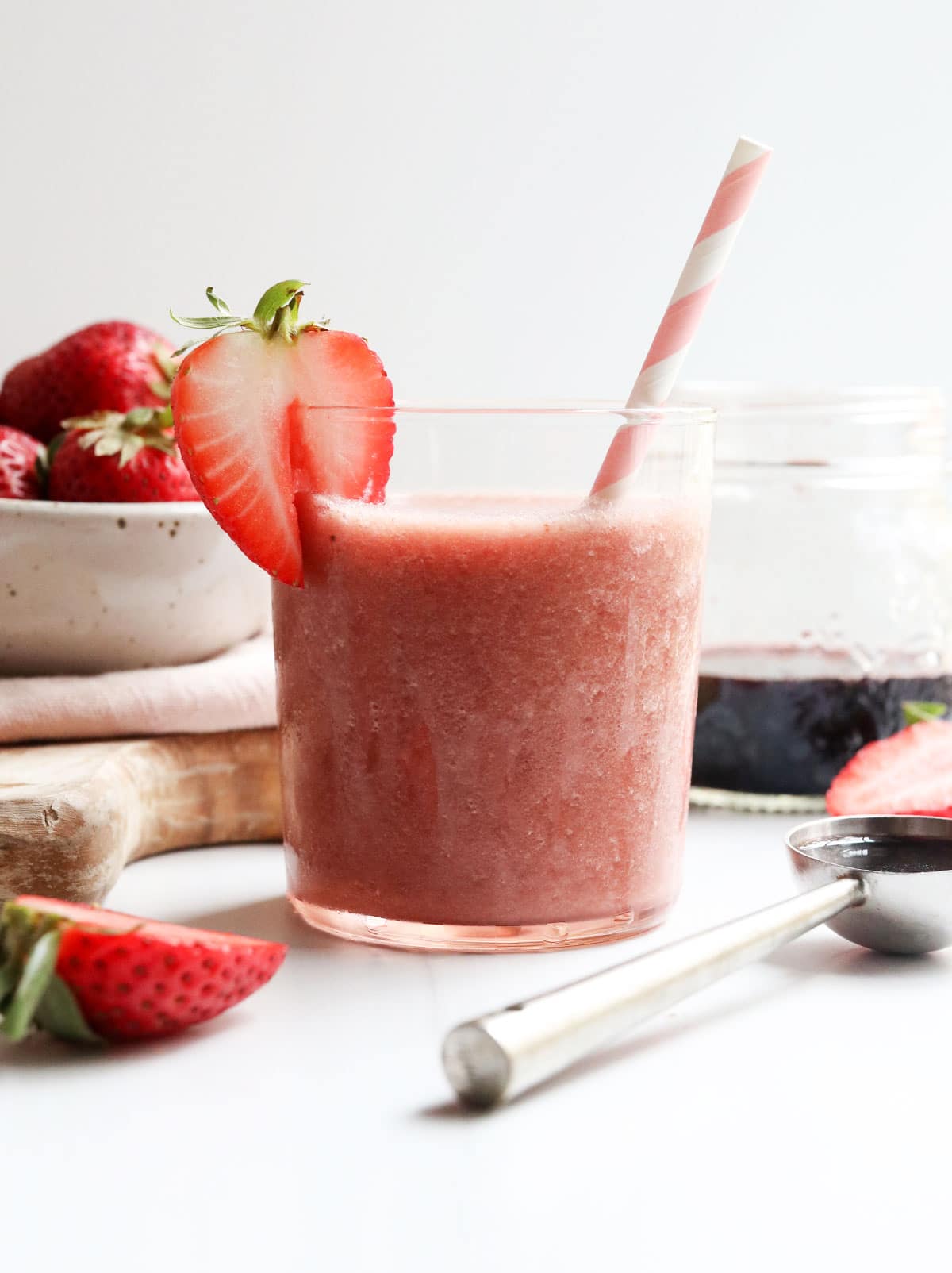 Why make a smoothie? Homemade elderberry syrup is delicious on its own, but it's not always easy to get my kids to take it by the spoonful. Adding it to a smoothie makes it easier!
If you're not familiar with elderberries, research suggests that elderberry extract may help to reduce the duration of flu symptoms by up to 4 days, and it may also help to reduce the severity of the illness.
Ingredients You'll Need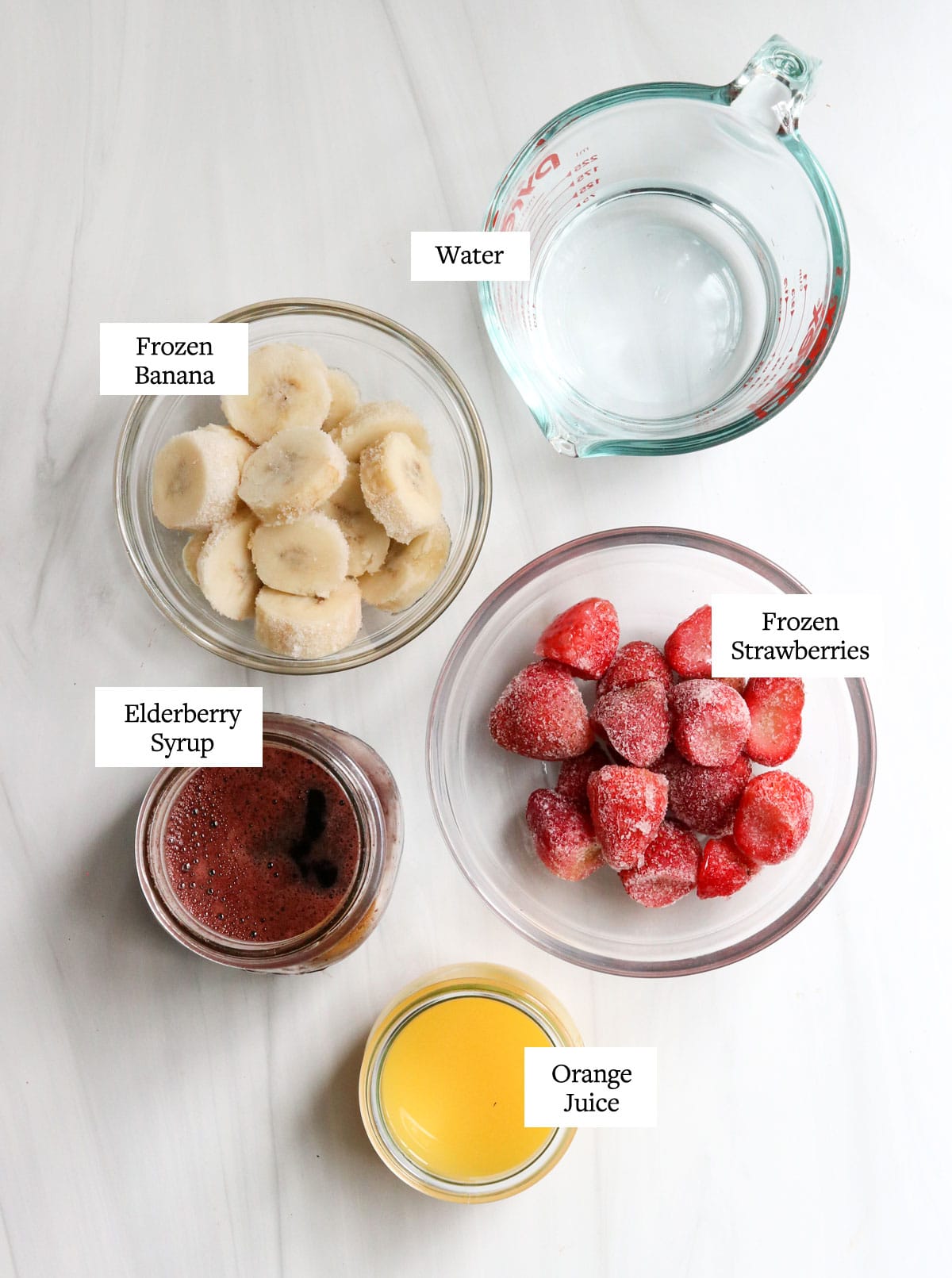 What's in an elderberry smoothie?
Frozen banana
Frozen strawberries (or other berries)
Elderberry syrup
Orange juice
Water
This simple combination turns out totally delicious, but you can also add in some healthy fat, like almond butter or avocado, or some protein, like hemp hearts, to make it more filling. This recipe is totally flexible!
In fact, you can add elderberry syrup to any smoothie recipe you already love, too. I think it would be delicious in my PB&J smoothie, Spirulina smoothie, or Kale Smoothie.
How to Make an Elderberry Smoothie
This recipe is quite easy once you have everything prepped. If you need help getting started, I have you covered with these topics:
Once you've gathered the ingredients, just add them to a blender and blend until very smooth.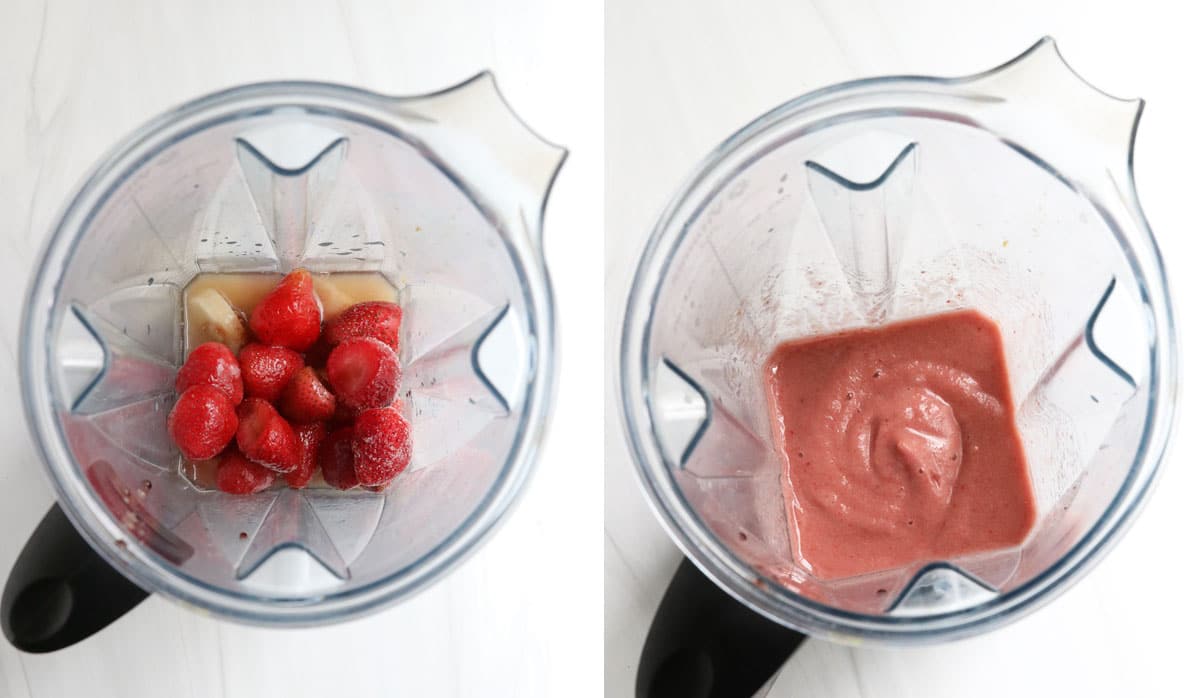 You can taste and adjust from there, adding a 1/4 cup more liquid, if needed, to help everything blend smoothly.
The elderberry syrup adds the perfect amount of sweetness, helping the flavors pop!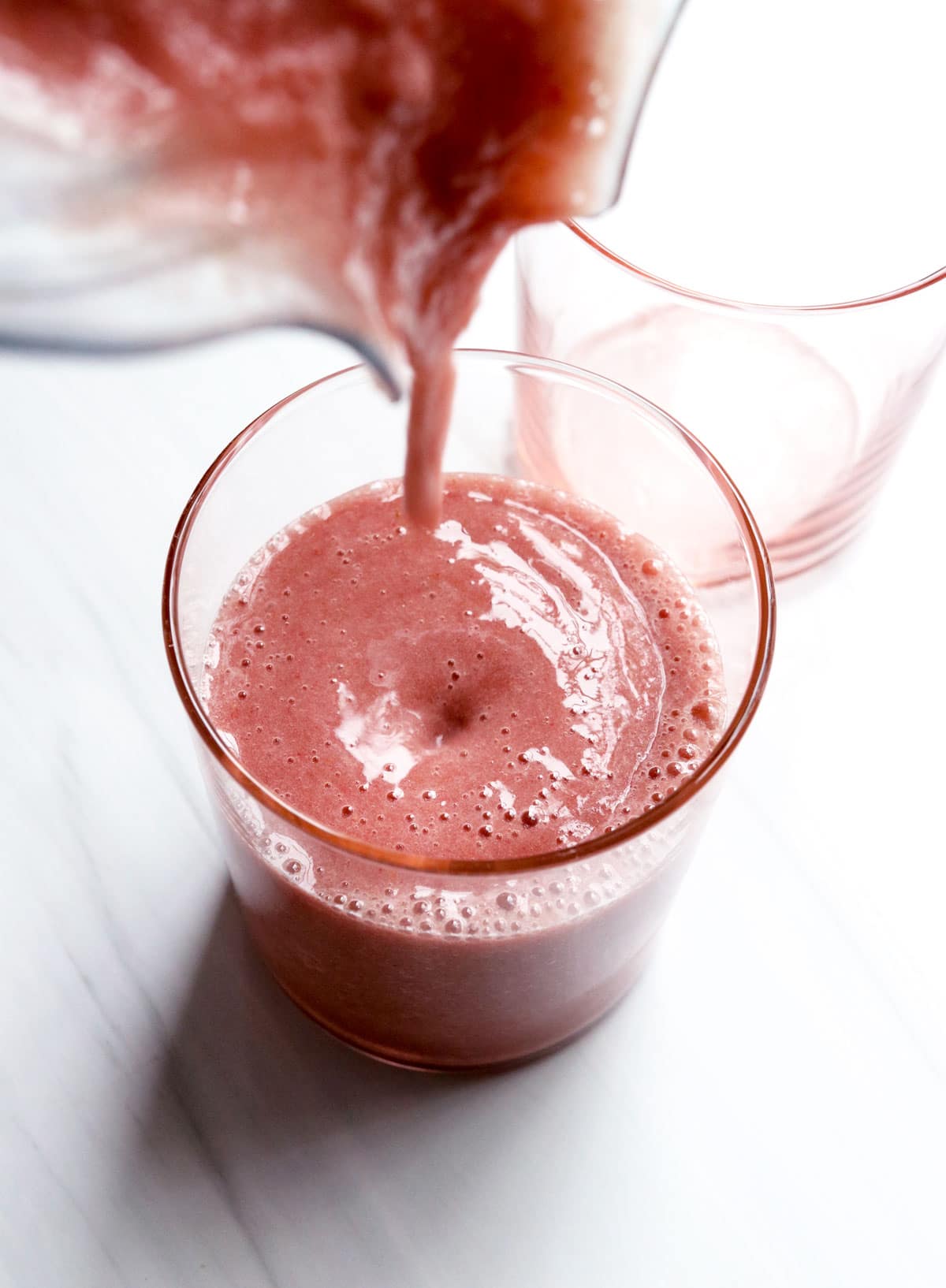 Expert Tips & Frequently Asked Questions
Is it OK to eat raw elderberries? According to the CDC, eating raw elderberries may cause nausea. This is possibly due to the fact that elderberries contain cyanogenic glycosides, which can sometimes release cyanide. (By the way, almonds and cassava contain these substances, too.)
Cooking the elderberries should help to avoid any negative side effects, and you should also avoid consuming the stems, bark, or leaves from the elderberry plant. This is why I prefer to use elderberry syrup in this recipe, rather than fresh elderberries.
Can you use dried elderberries? Because of the same considerations as above, I recommend at least boiling the elderberries first, and then straining out the pulp so you don't have to worry about the potential side effects.
As an alternative, you can also try making elderberry tea from the dried elderberries.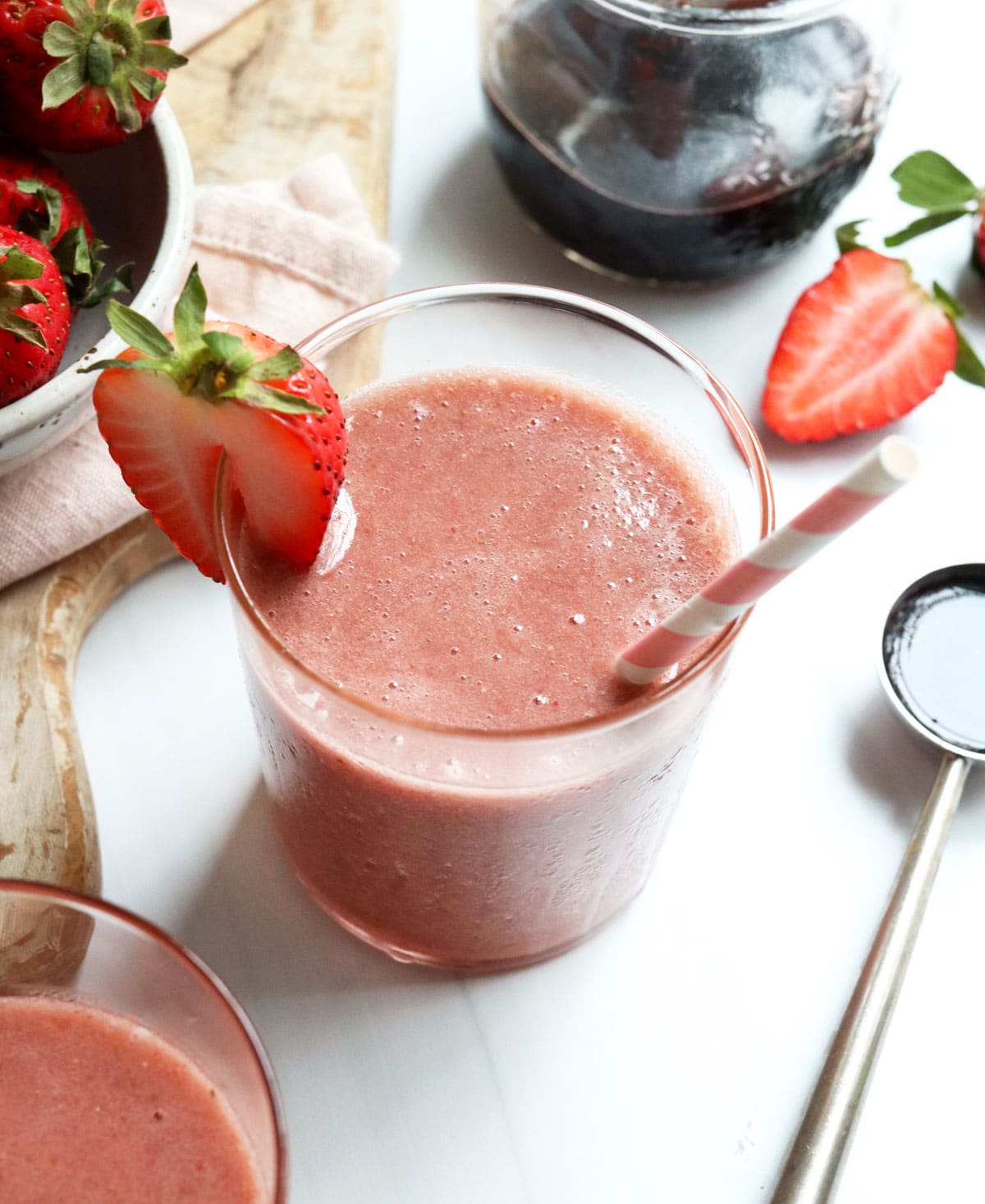 Can I swap the fruit? Yes, of course! If you don't like banana, frozen avocado would provide a similar creaminess with less sugar.
Can I omit the orange juice? Yes. The orange juice is added for extra vitamin C and flavor, but you can use a small peeled orange in its place, or just swap it for extra water.
Is this recipe vegan? The components of this smoothie recipe are dairy-free and vegan, but it will depend on the type of elderberry syrup you use. Look for an elderberry syrup that is NOT sweetened with honey, and ideally find one that is labeled as vegan, if you want a vegan-friendly recipe.
Can any age group enjoy this smoothie? If you're using a homemade elderberry syrup that is made with honey, do NOT feed this to a child under 12 months old. (Raw honey has been linked to infant botulism, so it's not appropriate for those under 1 year of age.) Some store-bought elderberry syrups do not use honey and may say that they are safe– be sure to read the label in that case!
How to Make Elderberry Popsicles
If you or your kids aren't huge fans of smoothies, try making an elderberry popsicle instead. Simply prepare this smoothie as directed, then pour it into a mini ice pop mold (affiliate link) for convenient servings.
It should freeze solid in just a few hours!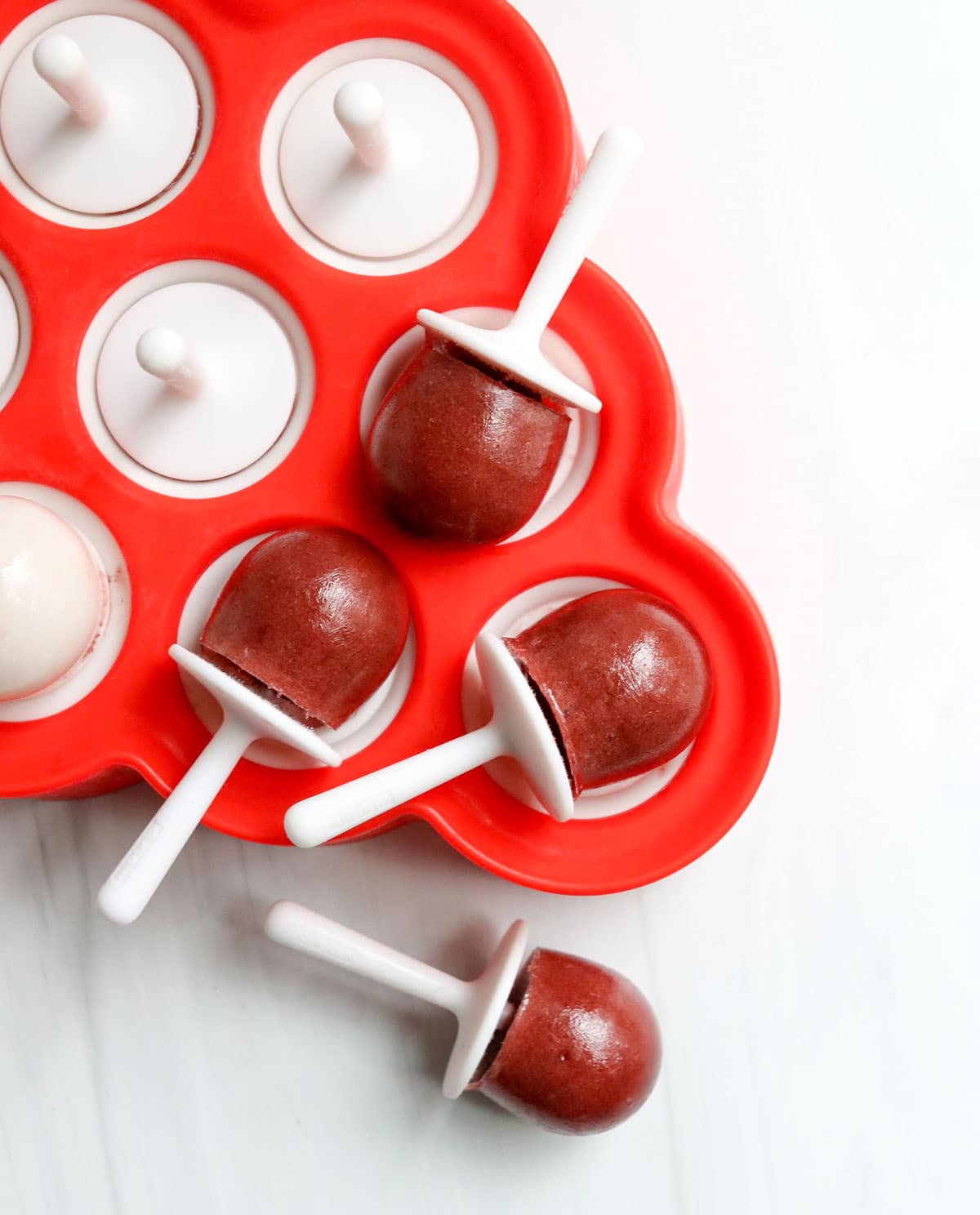 Tip: When I know I'm going to turn this smoothie into a frozen popsicle, I will sometimes double the amount of elderberry syrup I use, just so that there is a serving-size in each popsicle. I usually try to sneak a teaspoon of elderberry syrup to my kids during cold & flu season, so I'll use 2 tablespoons of elderberry syrup to make 9 small popsicles.
(Each popsicle will have less than a teaspoon of elderberry syrup in that case, but if they want 2 popsicles in a single day, I won't feel like they are over-doing it!)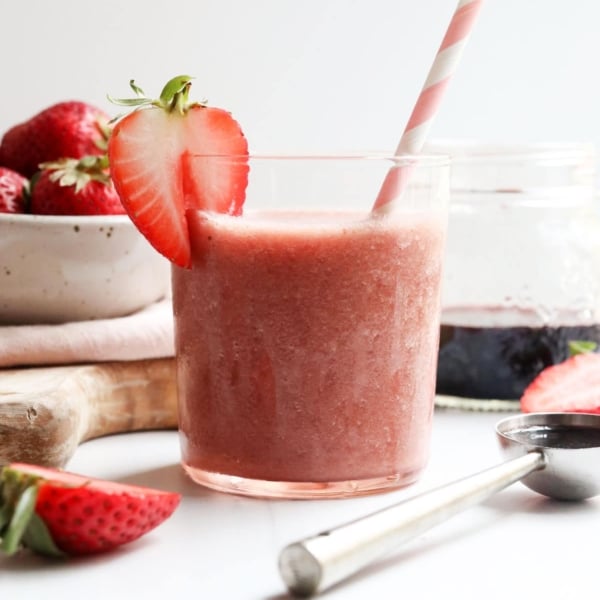 Elderberry Smoothie
This elderberry smoothie is made with elderberry syrup, and makes it even easier to take. (Especially for kids!) Paired with strawberries and bananas, this is the perfect smoothie to enjoy during cold & flu season.
Equipment
Ingredients
1

frozen banana

, sliced

1

cup

frozen strawberries

2

tablespoons

elderberry syrup

(see notes)

1/2

cup

water

1/4

cup

orange juice
Instructions
In a blender, combine the banana, strawberries, elderberry syrup, water, and orange juice. Blend until very smooth. If you need extra liquid to faciliate blending, you can add up to a 1/4 cup more of orange juice or water, and blend again.

Serve right away for the best taste and texture. If you have leftovers, you can freeze them into popsicle molds for an easy treat later.
Notes
This recipe makes roughly 2 cups, so the nutrition information is for 1 serving, or 1 cup. This information is automatically calculated, and is just an estimate, not a guarantee.
Note: I used homemade elderberry syrup when testing this recipe, and the serving size for my homemade syrup is 1 tablespoon. If you're using a store-bought elderberry syrup, I would go with the serving size on the package, which may be only 1 teaspoon. So, to make two servings, you'd use 2 teaspoons of elderberry syrup in that case.
Nutrition
Calories:
121
kcal
,
Carbohydrates:
31
g
,
Protein:
1
g
,
Fat:
1
g
,
Saturated Fat:
1
g
,
Polyunsaturated Fat:
1
g
,
Monounsaturated Fat:
1
g
,
Sodium:
5
mg
,
Potassium:
389
mg
,
Fiber:
3
g
,
Sugar:
22
g
,
Vitamin A:
108
IU
,
Vitamin C:
63
mg
,
Calcium:
20
mg
,
Iron:
1
mg
If you try this Elderberry smoothie recipe, please leave a comment and star rating below letting me know how you like it!
–
Reader Feedback: What kind of recipes would you like to see next? I'm planning my content calendar, so I'd love to hear from you!