If you're like me, and wind up with more fresh watermelon than you can eat in a single week, try freezing it! Frozen watermelon is perfect for making smoothies and sorbet, and today I'm going to show you how to freeze watermelon in just minutes.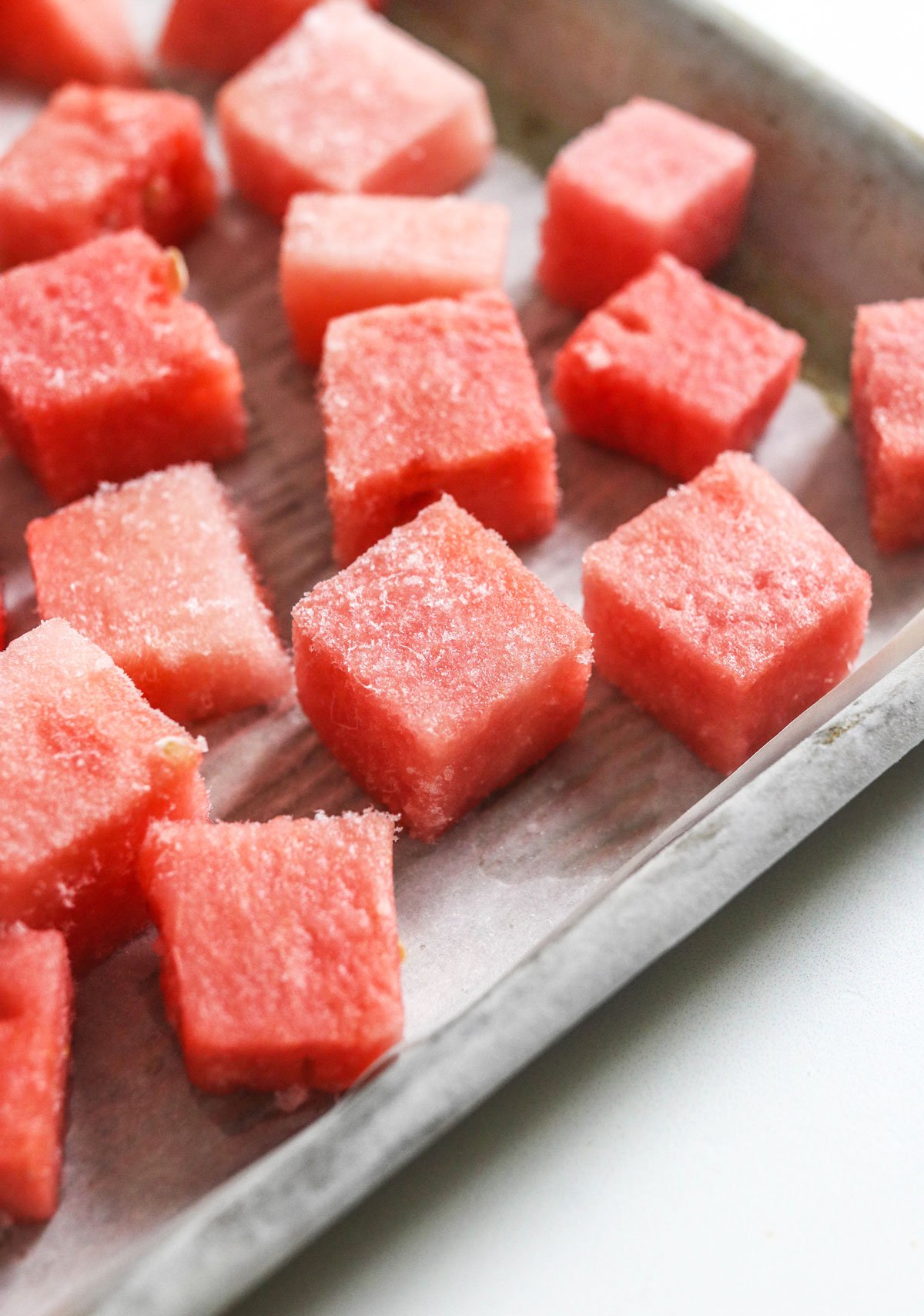 How to Freeze It
To freeze watermelon, you can use the same method I use for freezing strawberries and frozen bananas.
All you need to do is arrange the cut fruit on a sheet pan lined with parchment paper, and try to keep the pieces from touching so they won't freeze together. (It's also a good idea to remove any black seeds you see as you go.)
Tip: Don't skip lining the pan with parchment paper. The fruit will stick to the pan otherwise!
It will take a few hours for the watermelon to freeze until firm, then you can transfer the frozen watermelon to an airtight container for longer storage. (That way the watermelon won't pick up any other smells or flavors from the freezer.)
Can you Thaw Frozen Watermelon?
No, I don't recommend thawing frozen watermelon, because the texture will change significantly. Fruits and vegetables that are high in water content (like watermelon, which is about 92% water) will tend to be mushy after you freeze them.
You won't want to serve thawed watermelon in a salad or fruit bowl, but I've included several other ideas for using it below!
How Long Does Watermelon Last?
A whole watermelon can usually last on the counter for 7 to 10 days, or in the fridge for up to 2 weeks. Once you cut it, it's best to eat the watermelon within 3 days, but you can freeze it to make it last longer!
In my experience, frozen fruit will keep well for at least 3 months, and possibly up to 6 months, as long as you keep it frozen in an airtight container.
What to Do with Frozen Watermelon
Frozen watermelon doesn't thaw well, but you can use it frozen in several different ways!
Here are a few of my favorite ideas:
Make a watermelon smoothie
Serve frozen watermelon cubes on a stick for a mini "ice pop"
Make an easy watermelon sorbet
Blend it with other fruit and make watermelon popsicles
Use the frozen watermelon as summery "ice cubes" in a glass of water
If you choose not to freeze your extra watermelon, you can also use it to make Watermelon Juice. It's such a refreshing summer drink!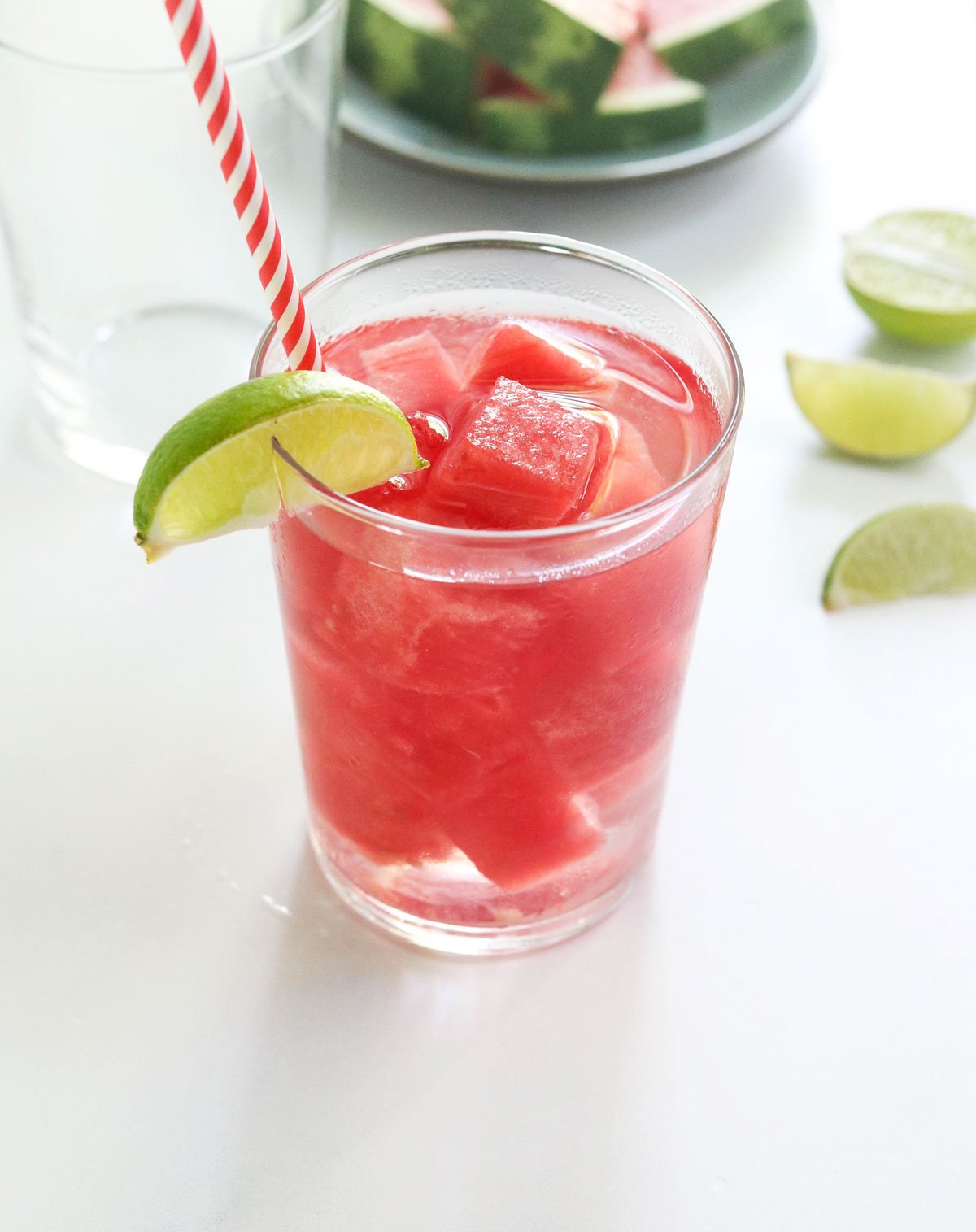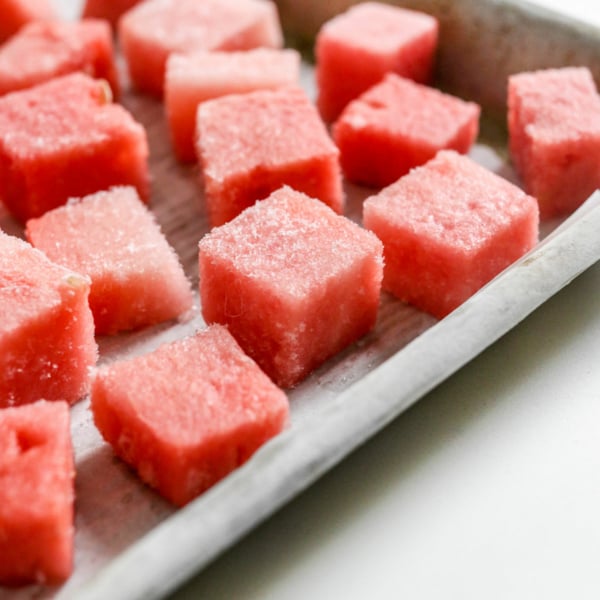 Frozen Watermelon
Here's how to freeze watermelon, so you can use it for smoothies, sorbet, and more! Frozen watermelon can be used for smoothies, sorbet, and even as pretty ice cubes!
Ingredients
4

cups

watermelon

, cut into chunks
Instructions
Select a baking sheet that will fit on one of your freezer shelves, then line it with parchment paper.

Arrange the watermelon chunks into a single layer on the lined baking sheet, making sure that the pieces aren't touching, so they won't stick together later. Place the pan in the freezer, and allow them to freeze for 2-4 hours.

Once the watermelon is frozen, transfer the pieces to an airtight container, so they won't pick up any other flavors from your freezer. Frozen watermelon can be stored in the freezer for 3 to 6 months when it's tightly sealed.
Notes
You can freeze as much or as little watermelon as you'd like to, so the amount listed here is only a suggestion. For a watermelon "ice pop" try sticking a popsicle stick into one of the fresh watermelon cubes. When you freeze it, it will turn into a cute, mini-size frozen treat.
Nutrition
Calories:
46
kcal
,
Carbohydrates:
11
g
,
Protein:
1
g
,
Fat:
1
g
,
Saturated Fat:
1
g
,
Sodium:
2
mg
,
Potassium:
170
mg
,
Fiber:
1
g
,
Sugar:
9
g
,
Vitamin A:
865
IU
,
Vitamin C:
12
mg
,
Calcium:
11
mg
,
Iron:
1
mg
Nutrition information is for 1 cup of watermelon. This information is automatically calculated, and is just an estimate, not a guarantee.
If you try frozen watermelon, please leave a comment below and let me know what you think! I'd love to hear how you use it, and if you have any other ideas. We can all benefit from each other's experience!
–
Reader Feedback: What's your favorite way to use watermelon?