It's holiday baking season, and if your family is anything like mine, you may already have some big baking plans for the weekend before Christmas. I like to bake several types of cookies at once, so I only have to clean my kitchen once, too!
Below you'll find my favorite cookie recipes. They're all grain-free and naturally sweetened, but they taste just as decadent as the traditional versions!
—
1. The Healthiest Cookies EVER (Paleo, Vegan)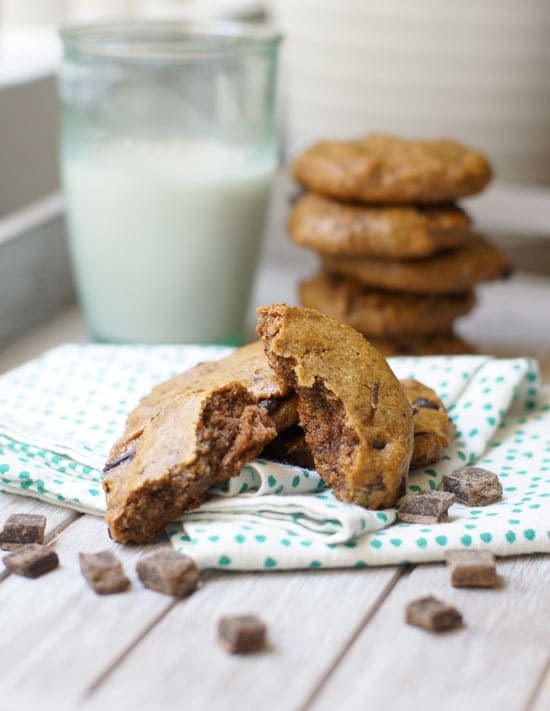 Made with only whole food ingredients (no added oil, flour or sugar!), these cookies are as healthy as it gets! They remind me of my favorite "Soft Batch" cookies from childhood.
—
2. Gluten-free Cookies in a Jar (Vegan, Paleo)
Whether you want to give a jar as a gift or not, this easy cookie recipe is one of my very favorites! It's my new go-to chocolate chip cookie recipe for any time of the year.
—
3. No-Bake Peanut Butter Bars (Paleo, Vegan)
There's a reason these bars have become one of the most popular recipes on my site this year– they are so easy to make, and have an irresistible peanut butter and chocolate flavor! They do need to remain chilled for best texture, so they are best served directly from the fridge or freezer.
—
4. Pumpkin Chocolate Chip Cookies (AIP-friendly)
This recipe is perfect for those suffering from multiple food allergies. They are egg-free, nut-free, and grain-free, but are loaded with pumpkin spice flavor!
—
5. No-Bake Pecan Snowballs (Paleo, Vegan)
These easy cookies remind me of my favorite "Wedding Cookies" with a sweet, buttery, and crumbly texture. Exclusively fruit-sweetened, they are loaded with fiber but have quite an addictive flavor.
—
6. Double Chocolate Cookies (Paleo)
These grain-free cookies are rich in chocolate flavor, and have a brownie-like texture that everyone is sure to love!
—
7. Grain-free Ginger Cookies (Paleo, Vegan)
Ginger cookies are my favorite holiday cookie of all time, and this grain-free version does not disappoint! They are sweet, spicy and chewy, just the way I like them.
—
8. Frosted Sugar Cookies (Paleo)
Sugar cookies are a classic holiday staple, and these are just as fun to cut out and decorate, without any refined flour or sugar.
—
9. Cinnamon Raisin Cookies (Paleo)
Oatmeal Raisin cookies are a family favorite in my home, so this grain-free version is a hit every year!

—
10. Peanut Butter Chocolate Chip Cookies  (Dairy-free)
These are my husband's very favorite cookies. If you have a peanut butter lover in your home, these rich peanut butter cookies cannot be missed– especially since they're so easy to make!
—
11. Blonde Macaroons (Paleo, Vegan, Nut-free)
It took me quite a few attempts to get this recipe "just right," but all of that work certainly paid off. These macaroons have a sweet and buttery flavor, and will melt in your mouth!
—
12. Coconut Flour Chocolate Chip Cookies (Paleo, Nut-free)
In case you prefer coconut flour over almond flour, I've got you covered– these coconut flour cookies are light and fluffy, with the perfect amount of sweetness.
—
13. Grain-Free Pumpkin Bars (Paleo)
Okay, so they aren't technically cookies… but these pumpkin bars would make a delicious addition to any holiday cookie platter!
—
However you spend it, I hope you and your family enjoy this holiday season together!
Reader Feedback: Do you bake cookies to share for the holidays? Feel free to share your favorite recipes below!