This Almond Milk recipe is an easy dairy-free alternative that tastes even better than the store-bought variety. All you need is 2 ingredients to get started!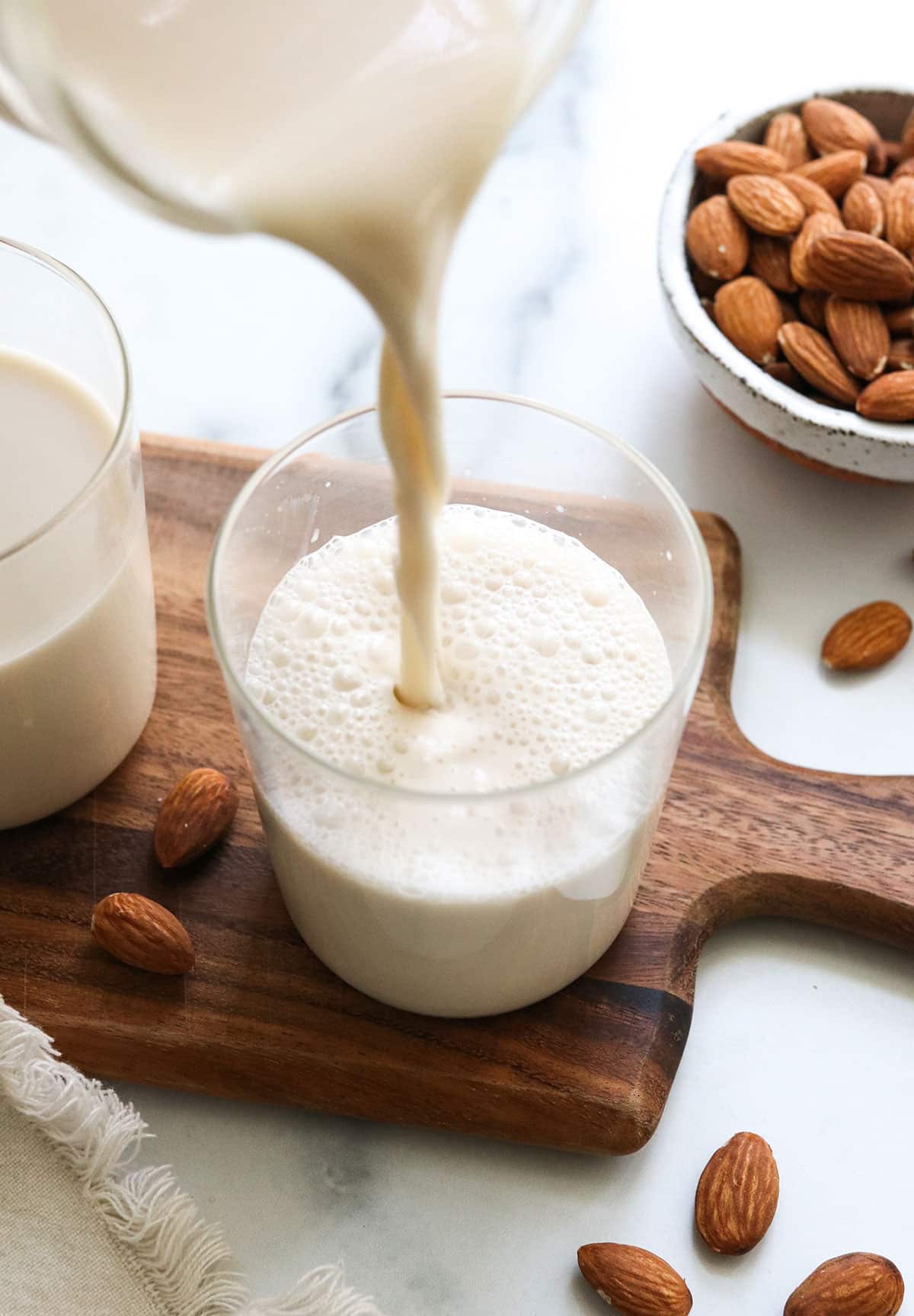 Why You'll Love It
It tastes amazing. Homemade almond milk tastes far superior when compared to store-bought almond milk, so be warned– you may never want to buy the prepared version again.
It's easy to make. Just blend almonds and water together in a blender, then strain out the pulp. The entire process can be done in just 5 minutes, minus the time it takes to soak the almonds. (Soaking is optional, though!)
It's made without preservatives or thickeners. Store-bought milks need to rely on preservatives for a long shelf life, and often add gums and thickeners to make the milk have a uniform consistency. When you make almond milk at home, you can skip those added ingredients.
It's easy to customize. You can easily add extra flavor to this almond milk recipe, like vanilla or chocolate, depending on your preference. Check out my Vanilla Almond Milk and Chocolate Almond Milk variations, if you want extra guidance.
It's gluten-free & dairy-free. For those who can't tolerate cow's milk, almond milk is an easy lactose-free option. You can use it in smoothies, soups, sauces, cereal, and more!
You can use the pulp, too. Not only will you have delicious almond milk to drink, but you can also use the leftover pulp to make Almond Pulp Hummus or Almond Pulp Brownies.
Ingredients You'll Need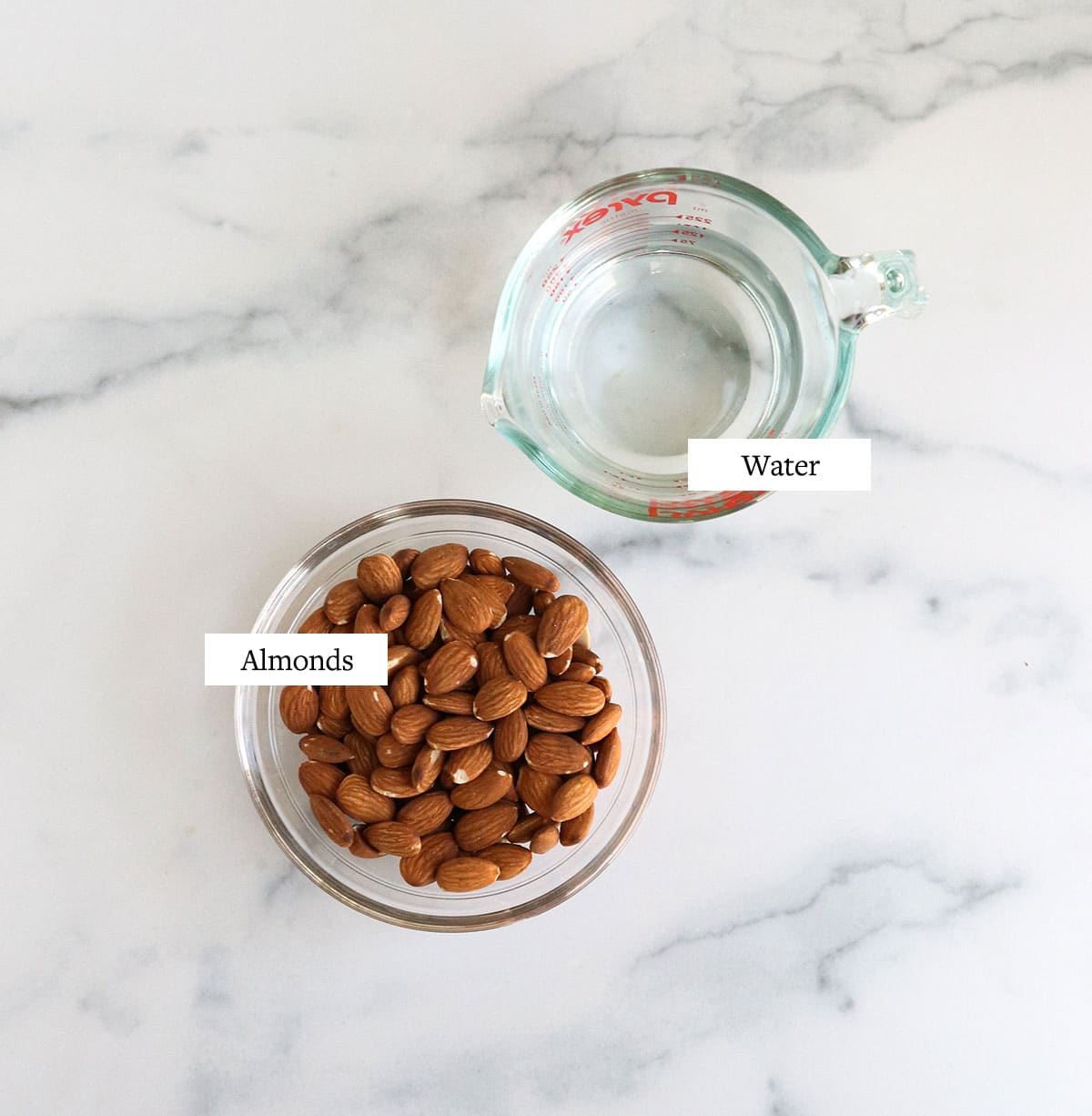 The only two ingredients you need to make almond milk are almonds and water. I tend to use almonds that are not roasted or salted, so the almond milk will have a neutral, mild flavor. However, roasted nuts will work, too!
If you want to make a flavored almond milk, you can also add in vanilla extract and a splash of maple syrup, for sweetness.
How to Make Almond Milk
1. Soak the almonds.
Research doesn't necessarily support the idea that soaking nuts improves digestion or reduces anti-nutrients, but soaking almonds ahead of time can make them softer and help them break down in your blender easier.
If you want to take the time to do this step, cover the almonds with at least 2 inches of water, so they have room to expand as they soak. (I usually use 2 cups of water to cover 1 cup of almonds.) Let them soak for up to 8 hours, then drain away the soaking water by pouring the almonds into a fine mesh strainer.
You can skip this step if you already have a high-speed blender that can break down almonds effortlessly, or if you're simply short on time!
2. Blend.
Add the almonds into a high-speed blender, along with 4 cups of fresh water. Secure the blender's lid and blend until the almonds are totally broken down and the mixture looks creamy, about 60 to 90 seconds.
There should be almost no visible almond pieces when it's done blending.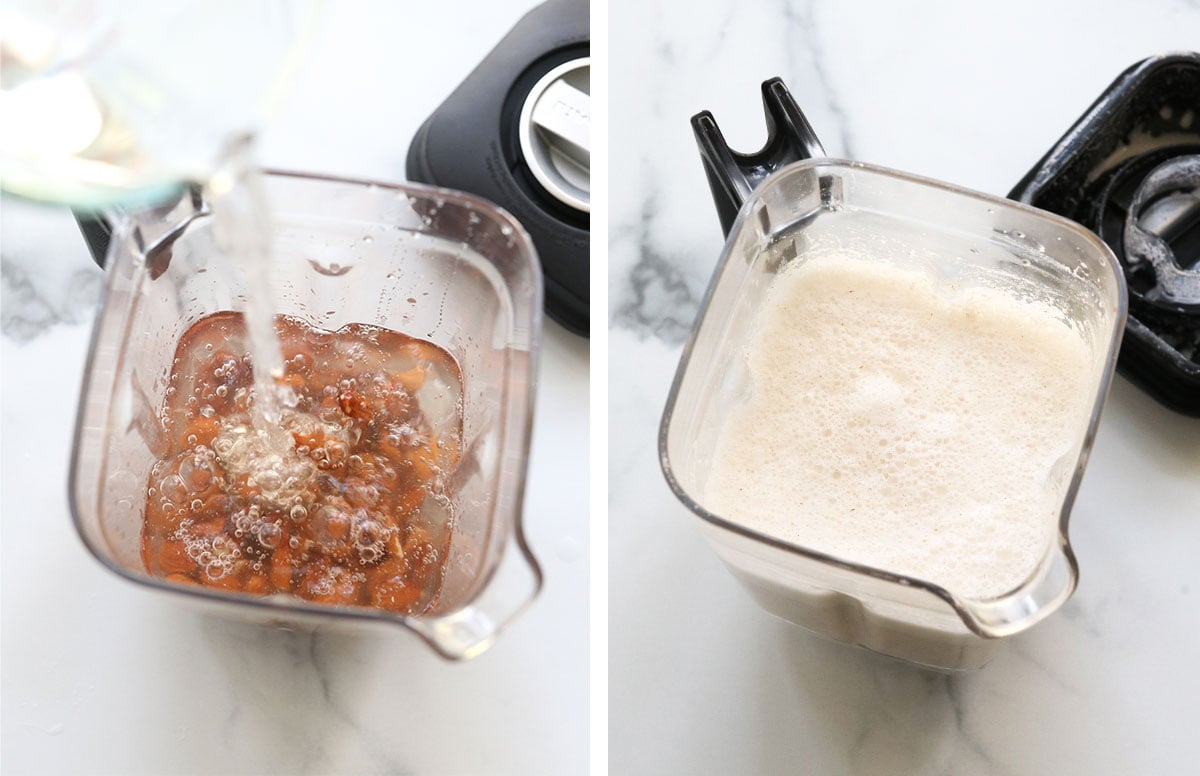 3. Strain.
Arrange a nut milk bag or cheesecloth over a large bowl, then pour the blended almond mixture into the bag. Carefully squeeze the bag, removing as much liquid from the almond pulp as possible.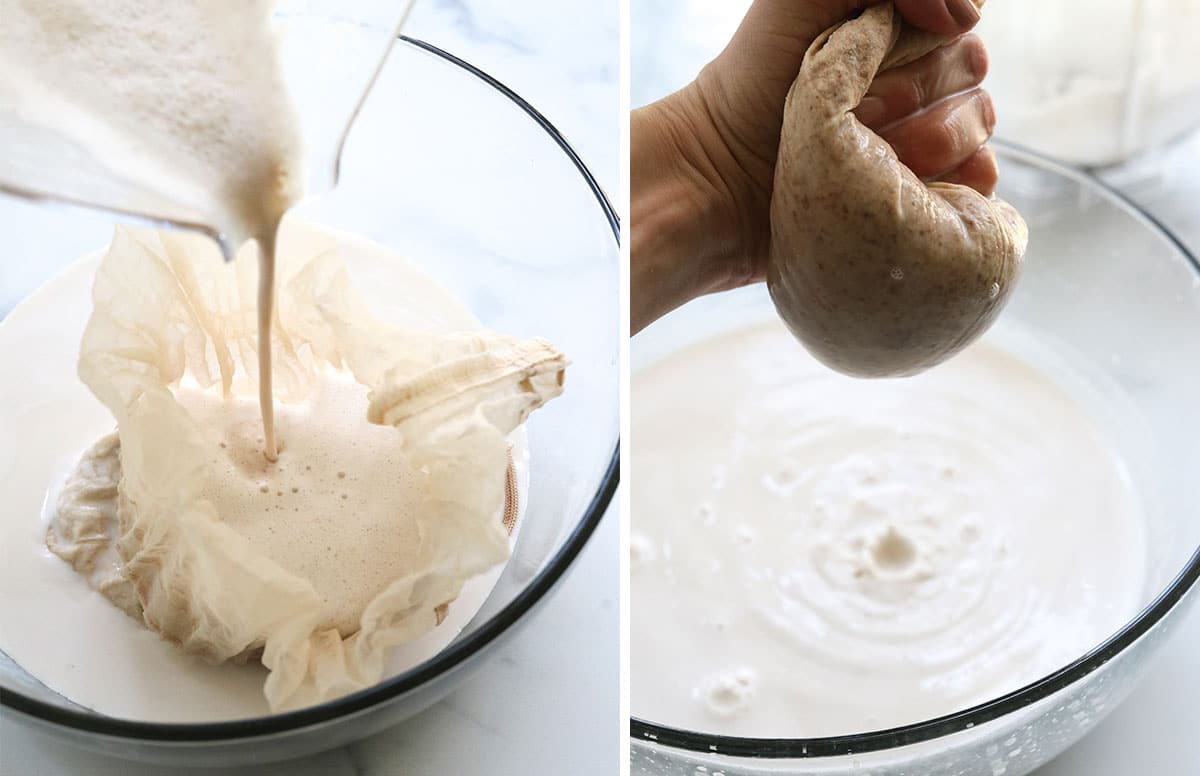 4. Enjoy!
You can use the almond milk right away, or add any extra flavorings to taste, such as vanilla, maple syrup, or a pinch of sea salt. Transfer the almond milk to an airtight container and store it in the fridge for up to 5 days. Or you can freeze it for up to 3 months.
Because this recipe doesn't call for any preservatives, it won't last as long as store-bought milks do. (You'll be able to tell it's gone off when the smell or flavor goes sour.) Be sure to make only what you'll drink in a week, or plan on freezing the leftovers. You can easily scale the recipe as needed!
Frequently Asked Questions
Is drinking almond milk good for you?
Almonds contain important vitamins and minerals, like vitamin E and magnesium. Magnesium is involved in many processes in the body, including blood sugar control, so drinking almond milk may help you reach some of your nutrient needs. It's also helpful if you are dealing with lactose intolerance, and need a dairy-free alternative. 
Why do you wait to add the flavoring?
Straining the almond milk is significantly more difficult when you add cocoa powder into the mix, so it's best to strain the almond pulp before adding flavoring. This also keeps the almond pulp neutral-flavored, so you can use it in other recipes later (like hummus, which would not work with sweet almond pulp).
What can you do with leftover almond pulp?
You can use the wet almond pulp immediately to make a batch of almond pulp hummus, or you can dry the almond pulp in a dehydrator or low-heat oven and save it to use a flour alternative. It's not quite the same as almond meal, because some of the fat content has been removed, but it can also work similarly to oat flour in recipes. 
Looking for more dairy-free milk ideas? You can make homemade oat milk for an affordable option, or try hemp milk for extra plant-based protein.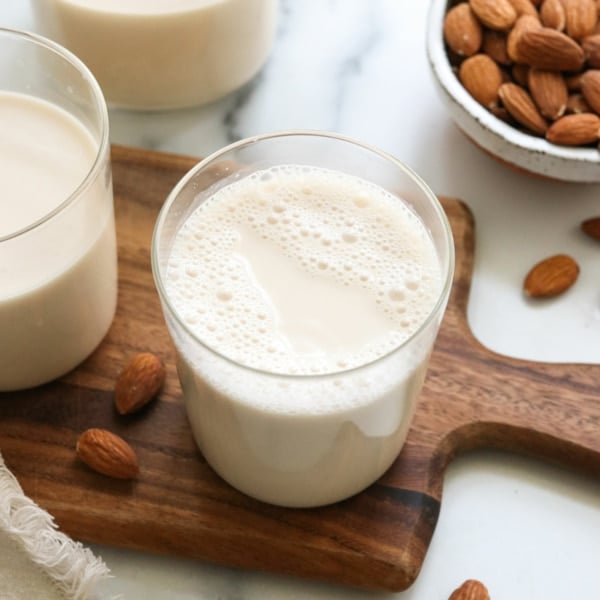 How to Make Almond Milk
Homemade Almond Milk is super-easy to make at home, and tastes better than the store-bought version! All you need is 2 simple ingredients to get started.
Equipment
Ingredients
1

cup

almonds

4

cups

filtered water
Instructions
To soak the almonds before blending, cover them with 2 cups of water in a large bowl or jar, and let them soak for 4 to 6 hours. This step is optional, but may help with blending later if you don't have a powerful blender. Drain the almonds through a fine mesh strainer before moving on to the next step.

Add the almonds and 4 cups of fresh water to a blender. Secure the lid and blend on high-speed for at least 60 seconds, until no pieces of almonds are visible and the mixture looks creamy.

Pour the almond milk through a nut-milk bag or cheese cloth, squeezing well to extract the milk. You can save the remaining almond pulp for another recipe (see the full post for ideas) or discard. If you would like to flavor the almond milk with vanilla or chocolate flavorings, this is the time to whisk in any additions.

Store the almond milk in an airtight container in the fridge for up to 4 days. (You can freeze leftovers, if needed, for up to 3 months, too!)

Video
Notes
Nutrition information is for roughly 1 cup of almond milk, but keep in mind that the nutrition calculator is just an estimate. It doesn't remove the fiber from straining, and it's hard to estimate how much of the natural fat stays with the almond pulp, or is extracted into the almond milk.
See the full post above for vanilla or chocolate flavor variations.
Nutrition
Calories:
112
kcal
,
Carbohydrates:
4.2
g
,
Protein:
4.2
g
,
Fat:
9.8
g
,
Saturated Fat:
1
g
,
Sodium:
12
mg
,
Potassium:
252
mg
,
Fiber:
4
g
,
Sugar:
1
g
,
Calcium:
102
mg
,
Iron:
1.3
mg
If you try this almond milk recipe, please leave a comment and star rating below letting me know how you like it!