These Instant Pot Brownies might be my favorite brownie recipe to date. They require just one bowl and 10 minutes to stir together, and are made without flour for a rich and fudgy texture.
Baking in the Instant Pot
What I love about baking in my Instant Pot is that you can't mess it up. If you get distracted and forget that you're baking something, the Instant Pot will turn off automatically when the cooking cycle is over.
Even if you forget your brownies are in there for TWO HOURS, they won't burn. (Yep, I've done that.)
Since these brownies are cooked with steam pressure, they also won't dry out or brown around the edges. This means you don't have to worry about acrylamide forming, like you might in the oven.
Flourless Almond Butter Brownies
This recipe comes from my book, The Fresh & Healthy Instant Pot Cookbook, and I wanted to share it here so you could have a visual of what the batter looks like. It's not your average "runny" brownie batter!
Because the Instant Pot keeps baked goods so moist, your batter needs to be thicker, almost like play-doh. Instead of pouring it into a pan, you'll need to use your hands to flatten it into the bottom of the pan and then gently press the dark chocolate chips on top, if you want a double-chocolate-style brownie. (I highly recommend this.)
How to Make Instant Pot Brownies
To "bake" these brownies, you'll need to pour a cup of water into the bottom of your Instant Pot. This is the water that will boil and will bring your pot to pressure.
Place the trivet that comes with your electric pressure cooker over that water, then place the pan of brownies on top of that. I like to cover my pan to protect it from condensation that could drip on the brownies, so I do that with an upside down plate. (Just make sure it's oven safe and the same diameter as your pan.) Alternatively, you could cover the brownies with another sheet of parchment paper or with foil.
These brownies only need to cook at high pressure for 15 minutes, but keep in mind that you'll need to wait roughly 10 minutes for the pot to come to pressure before the cooking cycle begins.
You'll also need to wait another 10 minutes after the cooking cycle is over before you can take off the lid, so plan on these brownies taking closer to 30 minutes total. But all of that time is totally hands-off, so you can do something else around the house.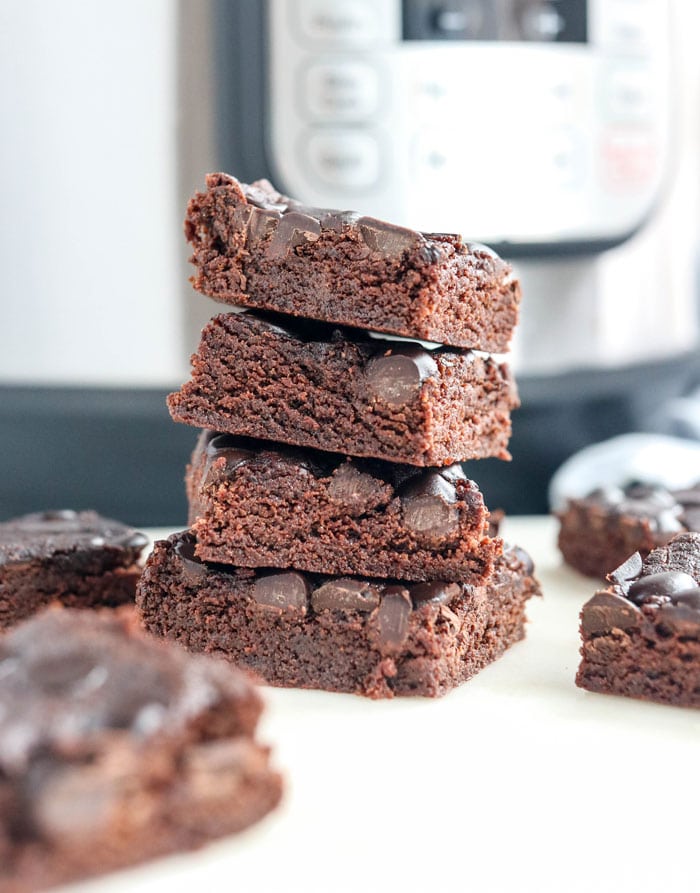 Instant Pot Brownies
These flourless INSTANT POT BROWNIES are rich and fudgy, and couldn't be easier to prepare in an electric pressure cooker. You need just one bowl and 10 minutes to stir them together.

Instructions
Line a 7-inch round baking pan with parchment paper. In a large bowl, combine the almond butter, coconut sugar, cocoa powder, egg, salt, baking soda, and vanilla and stir well to create a thick batter.


Transfer the batter to the prepared pan and use your hands to press it evenly into the pan. Sprinkle the chocolate chips over the top and gently press them into the batter.


Pour 1 cup of water into the Instant Pot and arrange the handled trivet on the bottom. Place the pan on top of the trivet and cover it with an upside-down plate or another piece of parchment to protect the brownies from condensation.


Secure the lid and move the steam release valve to Sealing. Press the Manual or Pressure Cook button to cook on high pressure for 15 minutes. It will take the Instant Pot roughly 10 minutes to come to pressure before the cooking cycle begins.


When the cooking cycle is complete, let the pressure naturally release for 10 minutes, then move the steam release valve to Venting to release any remaining pressure. When the floating valve drops, it's safe to open the lid.


Use oven mitts to life the trivet and pan out of the pot. Let the brownies cool completely in the pan before cutting and serving, as they will be very fragile when warm. Store leftovers in an airtight container in the fridge for 2 weeks.

Nutrition
Calories:
125
kcal
,
Carbohydrates:
11
g
,
Protein:
3
g
,
Fat:
8
g
,
Saturated Fat:
1
g
,
Cholesterol:
10
mg
,
Sodium:
94
mg
,
Potassium:
142
mg
,
Fiber:
1
g
,
Sugar:
6
g
,
Vitamin A:
15
IU
,
Calcium:
56
mg
,
Iron:
0.8
mg
Per brownie: Calories: 125, Fat: 7g, Carbohydrates: 11g, Fiber: 1g, Protein: 3g
Recipe Notes:
You can make this recipe vegan by using a flax egg instead of a chicken egg, and adding 1 teaspoon of vinegar to help react with the baking soda. In this case, increase the pressure cooking time to 25 minutes and follow the rest of the instructions as given.
Feel free to use cashew butter, sunflower seed butter, or peanut butter instead of almond butter, if you like. I have not tested these brownies with another sweetener, so experiment at your own risk, and please leave a comment below if you try something different. We can all benefit from your experience!
–
Reader Feedback: Have you tried baking in your Instant Pot yet?