This Instant Pot Brown Rice turns out perfectly fluffy and tender every time. Today I'm going to show you the exact water ratio and timing you should use to get great results with any type of rice in your electric pressure cooker. I love how it makes the cooking process totally hands-off!
Instant Pot Brown Rice
Brown rice is one of the longer cooking varieties of rice, but the Instant Pot makes the process easier because you don't have to wait for water to boil before you get started. Just add the rice and water, press a button, and walk away! I love the freedom of not having to babysit a pot on the stove.
How do you use rice in the Instant Pot?
You can cook rice 2 different ways in the Instant Pot. The most straight-forward way is that you can pour the rice and water directly into the bottom of the stainless steel pot and cook it on its own. This is the method I use when making a large batch of rice for the week ahead, as part of my meal prep routine. It's nice to have some cooked rice on hand for a quick weeknight stir-fry!
The other way you can cook rice is using the pot-in-pot cooking method. In this case, you put the rice and water in a separate oven-safe bowl, and place that bowl on a trivet in your Instant Pot, with water below it to bring the pot to pressure.
Pot-in-Pot Rice in the Instant Pot
The benefit of cooking any variety of rice using the pot-in-pot method is that you can cook another dish on the bottom of the pot at the same time. For example, my Instant Pot Chipotle Burrito Bowls have dry black beans cook from scratch on the bottom of the pot, while a bowl of brown rice cooks on top of that in a separate bowl.
You can do the same thing with chicken and white rice, with the chicken cooking on the bottom of the Instant Pot while a bowl of white rice cooks on top. The thing to keep in mind when cooking two dishes at once is that both dishes need to cook in roughly the same amount of time. I've listed plenty of pot-in-pot cooking times for you to refer to!
You can even cook chicken and cauliflower "rice" together, like in my Instant Pot Chicken Burrito Bowls.
Instant Pot Rice Cook Times
If you need a quick reference for cooking rice, here is the timing I use for cooking the most common varieties of rice
White Rice (long or short grain): 4 minutes at high pressure
Brown Rice (long or short grain): 22 minutes  at high pressure
Wild Rice: 25-30 minutes at high pressure
With all of these varieties of rice, the water ratio remains the same. I use a 1:1 ratio of rice to water when cooking rice in the Instant pot, because there is no evaporation in the pressure cooker the way there is on the stove.
I do recommend rinsing your rice in a fine mesh strainer first, to help remove the starch that can give rice a gummy texture. If you skip this step (I do when I'm in a rush) I recommend adding an extra 1/4 cup of water when you cook the rice, to account for moisture difference.
How much rice can you cook in the Instant Pot?
The most rice I've ever cooked at one time is 3 cups of dry rice with 3 cups of water. I think you could probably go up to 5 cups of dry rice, as long as you don't fill the pot more than halfway full for safety. (So a larger 8-quart pot will be able to hold more than a 6-quart pot.) Rice creates foamy, starchy water as it cooks, so you wouldn't want it to rise too high during the cooking cycle and damage your pot.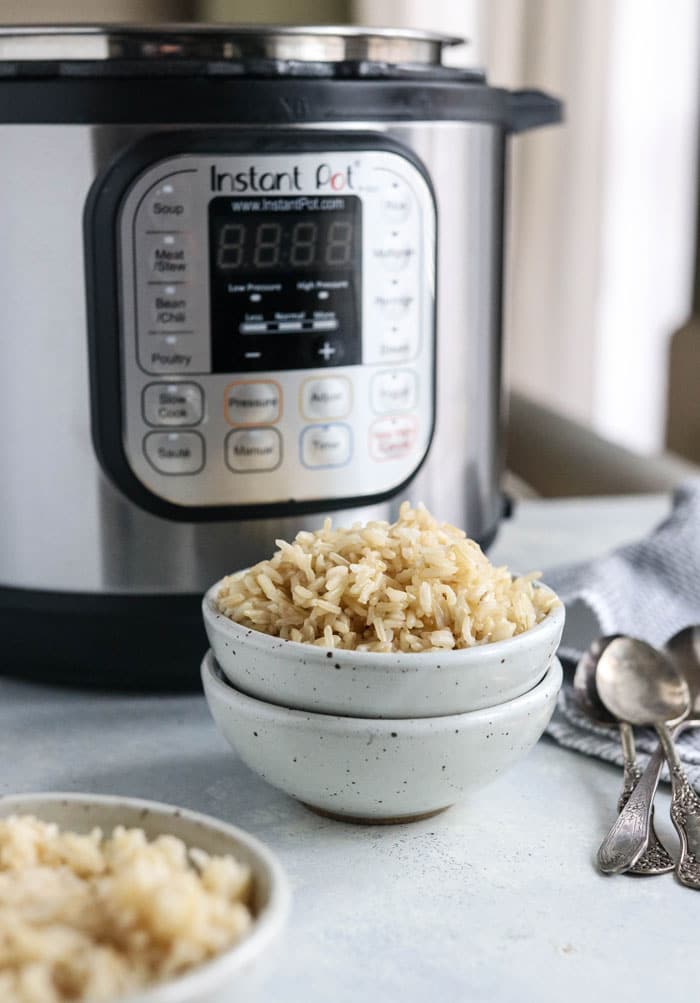 When doubling or tripling a recipe in the Instant Pot, the cooking time doesn't change. However, the overall time will be longer when you cook a larger quantity, because it will take longer for the pot to come to pressure when compared to a smaller quantity of rice.
Instant Pot Brown Rice
This INSTANT POT BROWN RICE is fluffy and perfect every time! You can use this step-by-step recipe for cooking any variety of rice, but the timing will be different depending on which one you use.

Pressurization:
18
minutes
Ingredients
1

cup

brown rice

, rinsed

1

cup

water
Instructions
Combine the rice and water in the bottom of the Instant Pot and give it a stir. Secure the lid and move the steam release valve to Sealing.

Press the Manual or Pressure Cook button and cook at high pressure for 22 minutes. The pot will take roughly 8 minutes to come to pressure before the cooking cycle begins.


When the cooking cycle is complete, allow the pressure to release naturally for 10 minutes. (In other words, don't do anything right away.) When the screen reads LO:10, move the steam release valve to Venting to release any remaining pressure.


When the floating valve in the lid drops, it's safe to remove the lid. Fluff the rice with a fork, and serve warm. Leftover rice can be stored in an airtight container in the fridge for up to 5 days.

Nutrition
Calories:
171
kcal
|
Carbohydrates:
36
g
|
Protein:
3
g
|
Fat:
1
g
|
Sodium:
1
mg
|
Potassium:
127
mg
|
Fiber:
1
g
|
Calcium:
16
mg
|
Iron:
0.9
mg
Per serving: Calories: 171, Fat: 1g, Carbohydrates: 36g, Fiber: 1g, Protein: 3g
Recipe Notes:
If you want to cook another variety of rice, such as white jasmine or wild rice, please refer to the cooking times mentioned in this post above the recipe.
I do not recommend swapping brown rice for white rice, or vice versa, in a pot-in-pot recipe due to the drastically different cooking times. You can check out my Instant Pot recipes here on the site, or The Fresh & Healthy Instant Pot Cookbook for more tested & perfected recipes to cook two dishes at once in your Instant Pot.
–
Reader Feedback: Have you tried cooking rice in your Instant Pot yet? Let me know if you have any other tips or tricks in the comments below! We can all benefit from your experience.