Instant Pot pasta is a life-saver on busy nights. You don't have to wait for water to boil on the stove, and you don't have to watch the pot to make sure that starchy, foamy water doesn't boil over the top of your pot as the pasta cooks. Instead, you can just add the pasta and water to the pressure cooker, press a button, and walk away! Below you'll find the correct cook times for cooking different varieties of pasta, to ensure you'll wind up with perfect results every time.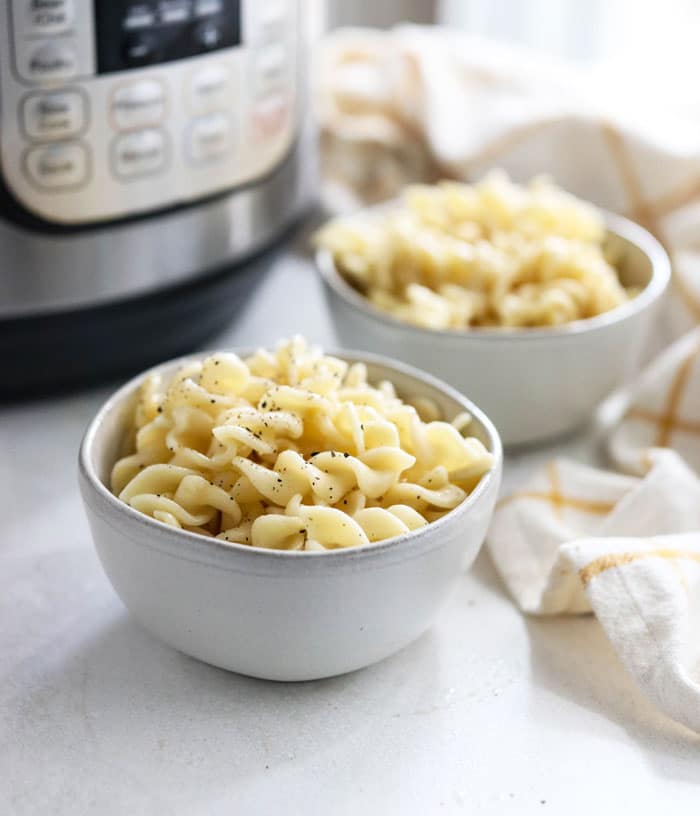 How to Cook Pasta in the Instant Pot
To cook pasta in a pressure cooker, you'll combine the dry pasta and water, and a little salt for flavor. Then you'll cook the pasta at high pressure and allow the pressure to release naturally, using the cooking times listed lower in this post.
I make pasta in the Instant Pot a little differently than most other recipes I've seen online, because I don't believe you should ever perform a "quick release" on starchy ingredients that create foam in your pressure cooker. (If you don't know the difference between a quick release and natural release, make sure you check out my How to Use Your Instant Pot tutorial before getting started.)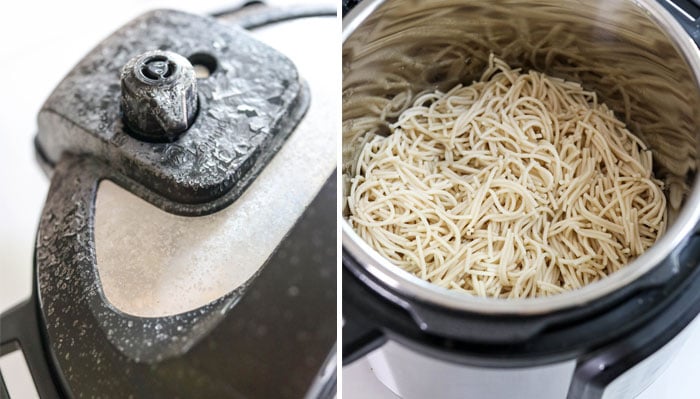 This is what can happen when you quick-release pasta. It's a mess!
Starchy ingredients include things like pasta, grains, and cooking beans from scratch. Instead, I like to use a shorter cooking time and allow for a natural release, so the foam has time to settle in the pot and won't spew out of your steam release valve. This is especially important when you're cooking gluten-free pasta, because it tends to be the starchiest of them all.
Spaghetti Noodles
If you're using spaghetti noodles, you'll need to break them in half, or even into thirds, so that they easily fit into the pot. I also recommend adding them in a criss-cross motion, so that they won't clump together as they cook. (Remember, you can't open the pot and stir the noodles to help break them up as they cook!)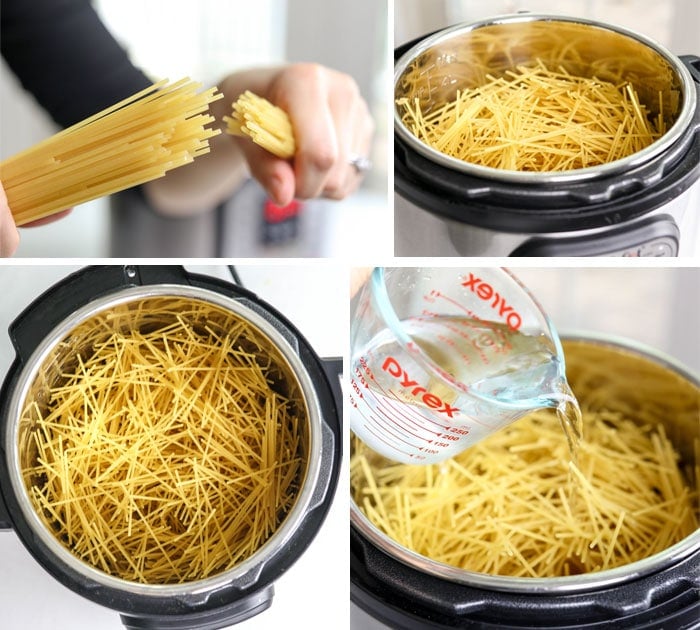 For spaghetti, you'll add the noodles to the pot, pour the water and salt over the top, and do NOT stir the noodles. You don't want to risk them sticking together.
Short-Cut Pasta
Shorter cuts of pasta, like penne, shells, and fusilli, are easier to cook in the Instant Pot because they are less likely to stick together. To cook this type of pasta, you'll combine the pasta, water, and salt, and it's okay to give the mixture a stir.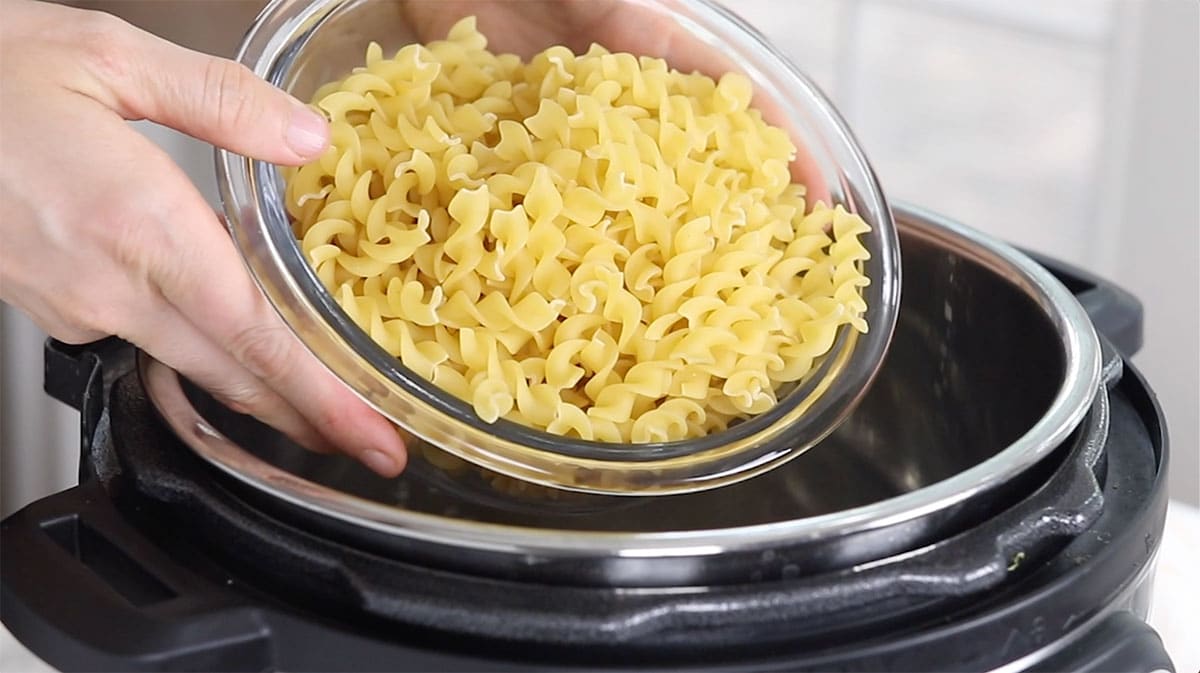 Whether you're using long or short noodles, the type of pasta you're using, such as whole wheat or gluten-free, will determine the cooking time.
How Long do You Cook Pasta in a Pressure Cooker?
There are a variety of methods out there for determining the cook time for pasta in the Instant Pot, but I think the most straight-forward method is to go by the ingredients in your pasta. Here are the general cooking times I've come up with after months of testing recipes for my healthy Instant Pot Cookbook.
Regular Pasta (semolina; durum wheat): 3 minutes high pressure, 10 minute natural release
Whole Wheat Pasta: 3 to 4 minutes high pressure, 10 minute natural release
Gluten-free Pasta: 0 (zero) minutes at high pressure, 8 minute natural release
For an al dente pasta, try using only 2 minutes for the regular or whole wheat noodles instead. You can always simmer the pasta in the cooking water a little longer when you check on it, if needed.
When cooking gluten-free pasta, zero minutes (yes, it's a real setting the Instant Pot!) is the lowest you can possibly go, so that type of pasta doesn't have an al denté option.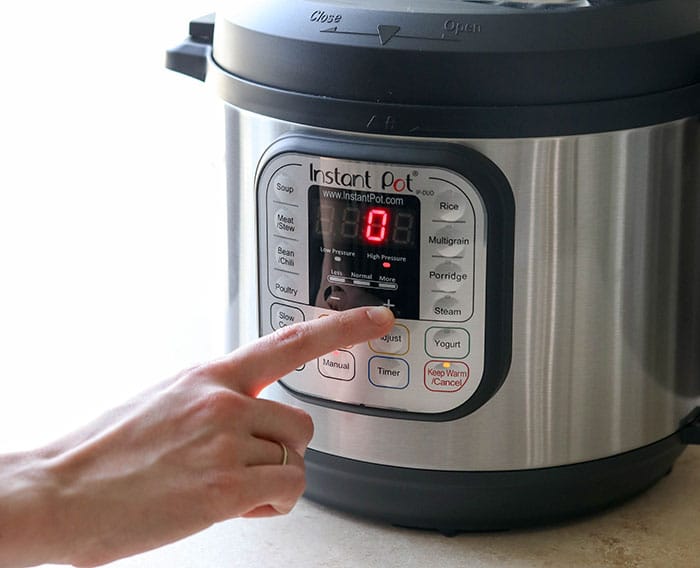 You use a shorter release when cooking gluten-free pasta to help avoid a mushy result as much as possible. You can try releasing the pressure even earlier than the 8-minute mark, but then you'll risk starchy water shooting out of the steam release valve and making a mess on your counter.
Can You Cook Pasta in Sauce?
In some cases, you can cook the pasta directly in the sauce. Try my Instant Pot Spaghetti for noodles that cook in marinara sauce all at the same time (with or without meat!). Or, try my Hidden Cauliflower Mac n' Cheese or Vegan Instant Pot Mac n' Cheese for a creamier sauce option.
I don't recommend cooking gluten-free noodles with marinara sauce at the same time, as the result is too gluey, but you can heat up practically any sauce using pot-in-pot cooking as your noodles cook.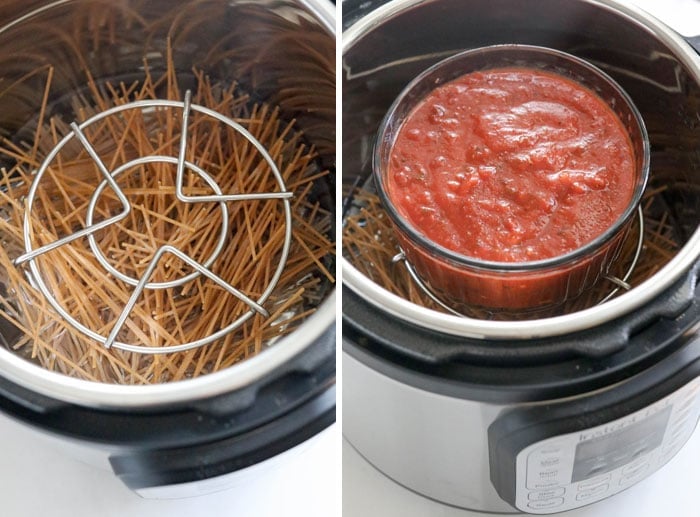 As an Amazon affiliate, I earn on qualifying purchases.
To do that, place the sauce you want to heat up in an oven-safe bowl, and use a trivet to keep the bowl of sauce lifted out of your noodles as they cook. This way, your sauce and noodles will both be piping hot at the same time, but you and your family members still get to control how much sauce is served over the pasta.
Water Ratio for Cooking Pasta in Your Pressure Cooker
The minimum amount of water you need to cook pasta in your Instant Pot is 1 cup of water for every 4 ounces of pasta. This is the ratio I use when cooking Instant Pot spaghetti, but in that case you're also adding a jar of sauce on top, which keeps the noodles covered in moisture.
When cooking Instant Pot pasta on its own, you'll want to use only enough water that your noodles are covered. If you're using a 6-quart Instant Pot (which is the model I use most often), you'll need about 5 1/2 cups of water to cover a pound of pasta, when using short-cut shapes. Don't add any extra water to the pot than is needed to just barley cover the noodles, or it will take longer to come to pressure and may result in over-cooked pasta.
Spaghetti noodles do NOT need to be completely covered, because they will soften and sink under water as the Instant Pot heats up. I usually use the same amount of water (5 1/2 cups) for cooking spaghetti noodles as I do other types of pasta. Just be sure to give the noodles a stir when you are able to open the lid, to make sure all of the noodles feel tender after the cooking cycle is complete.
Modifications for an 8-Quart Instant Pot
I rarely use my 8-quart Instant Pot because it takes longer to come to pressure, and I don't need to cook for more than 4 people in my house. However, if you're looking to make larger portions and have the larger Instant Pot, I'd try lowering the cooking time by 1 minute to see how your pasta turns out.
Since it takes longer for the 8-quart Instant Pot to come to pressure, your food will be inside cooking longer than a smaller pot would. This means that gluten-free pasta will cook longer than it would if you were cooking it in the 6-quart pot. Since you can't set the timer any lower than zero minutes, you might try releasing the pressure after 5 minutes of natural release (instead of the 8 minutes in the recipe below) to see if that helps prevent your gluten-free noodles from over-cooking.
More Instant Pot Cooking Tutorials
If you want to get more familiar with your Instant Pot, try one of the tutorials below. You can also see 6 ways I use my Instant Pot every week for more real-life uses!
I hope this pasta tutorial will make your next pasta night a little easier, too!
Instant Pot Pasta Video (4-minute tutorial):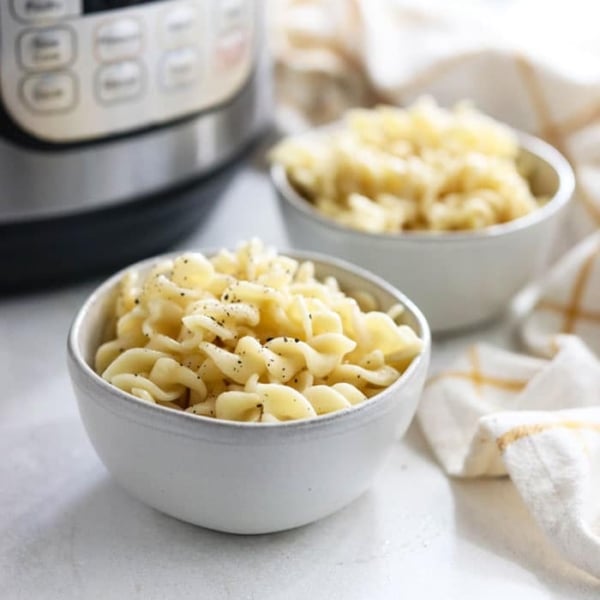 Instant Pot Pasta (Regular & Gluten-Free Noodles)
Here's how to cook pasta in your pressure cooker, using regular or gluten-free noodles. Includes water ratio and cook times for various shapes of pasta!
Instructions
Regular or Whole Wheat Pasta:
If using spaghetti noodles, break them into thirds and add them to the pot in a criss-cross manner, to help prevent them from sticking together as they cook. For other types of short-cut pasta, you can just pour the noodles into the pot. Add in 5 1/2 cups of water and add a teaspoon of salt. It's okay to give the pasta a stir if you're using the short-cut pasta, but do not stir spaghetti noodles. (Spaghetti noodles might stick out a bit from the water, but that's okay because they will sink in as they soften and cook.)

Secure the lid and move the steam release valve to Sealing. Use the Manual or Pressure Cook button to cook at high pressure for 3 minutes. It will take roughly 15 minutes for the pot to come to pressure, so the Instant Pot will only read "On" until the floating valve in the lid pops up, signaling that the pot is pressurized.

When the cooking cycle is complete, let the pressure naturaly release for 10 minutes. When the screen reads LO:10, you can move the steam release valve to Venting to release the remaining pressure. (You'll know it's safe to open the lid when the floating valve in the lid drops.)

Give the pasta a stir and check to make sure it's tender enough, then drain and rinse the pasta to remove any excess starch. Serve warm with your favorite pasta sauce and toppings.
Gluten-Free Pasta
Follow the directions above for either spaghetti noodles or short cut pasta, but use a cook time of 0 minutes (yes, zero minutes) instead of the 3 minute cooking cycle. When the cooking cycle is complete, allow the pressure to naturally release for 8 minutes. When the screen reads LO:08 move the steam release valve to Venting to release the remaining pressure.
Nutrition
Calories:
210
kcal
,
Carbohydrates:
42
g
,
Protein:
7
g
,
Fat:
1
g
,
Saturated Fat:
1
g
,
Sodium:
3
mg
,
Potassium:
126
mg
,
Fiber:
2
g
,
Sugar:
2
g
,
Calcium:
12
mg
,
Iron:
1
mg
Nutrition (per 2 oz. serving): Calories: 210, Fat: 1g, Carbohydrates: 42g, Fiber: 2g, Protein: 7g
Recipe Notes:
When choosing a gluten-free pasta, I've found that brown rice pasta tends to work best with pressure cookers. Lentil and bean-based pastas create more foam than brown rice pasta, and tend to get a little mushier in texture, so be prepared for that if using them.
I'd love to hear any other tips or experience you have while cooking pasta in your Instant Pot! Please leave a comment below if you try this recipe or make any other modifications.
–
Reader Feedback: What's your favorite way to use pasta? This Roasted Vegetable Pasta Salad has been a favorite of mind lately!