Aquafaba mousse is a fluffy chocolate dessert, made with only 3 ingredients. It has an unbelievable fluffy texture, and below I'm going to share all of my tips & tricks for making it. (Because I tested this a lot!)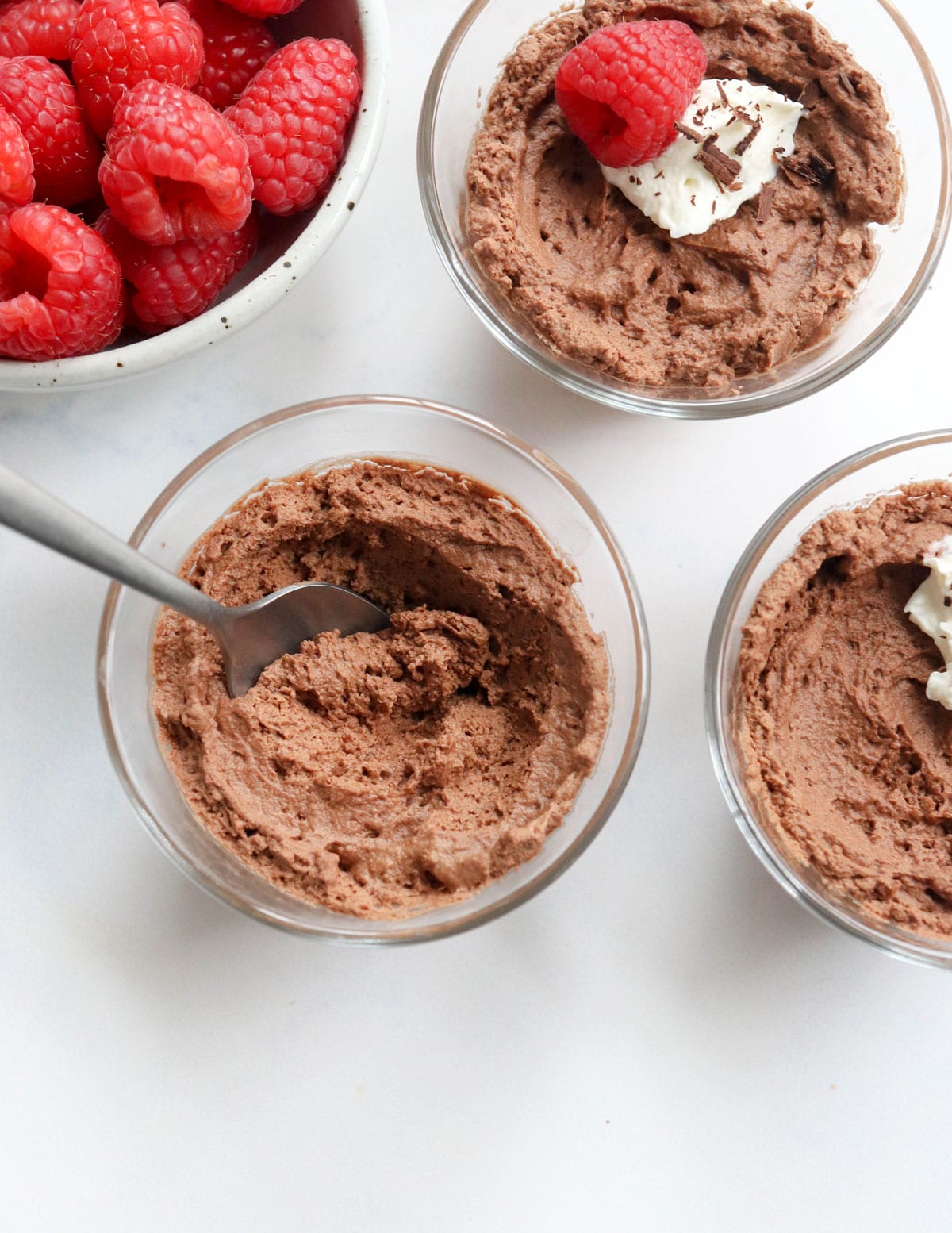 What is Aquafaba?
Aquafaba is the liquid you'll find in a can of chickpeas. You can also use the leftover cooking water from cooking chickpeas at home, but I don't recommend trying that with this recipe, until you've at least mastered the canned version first. (You would need to reduce homemade aquafaba by boiling it, to make it as thick as the canned version.)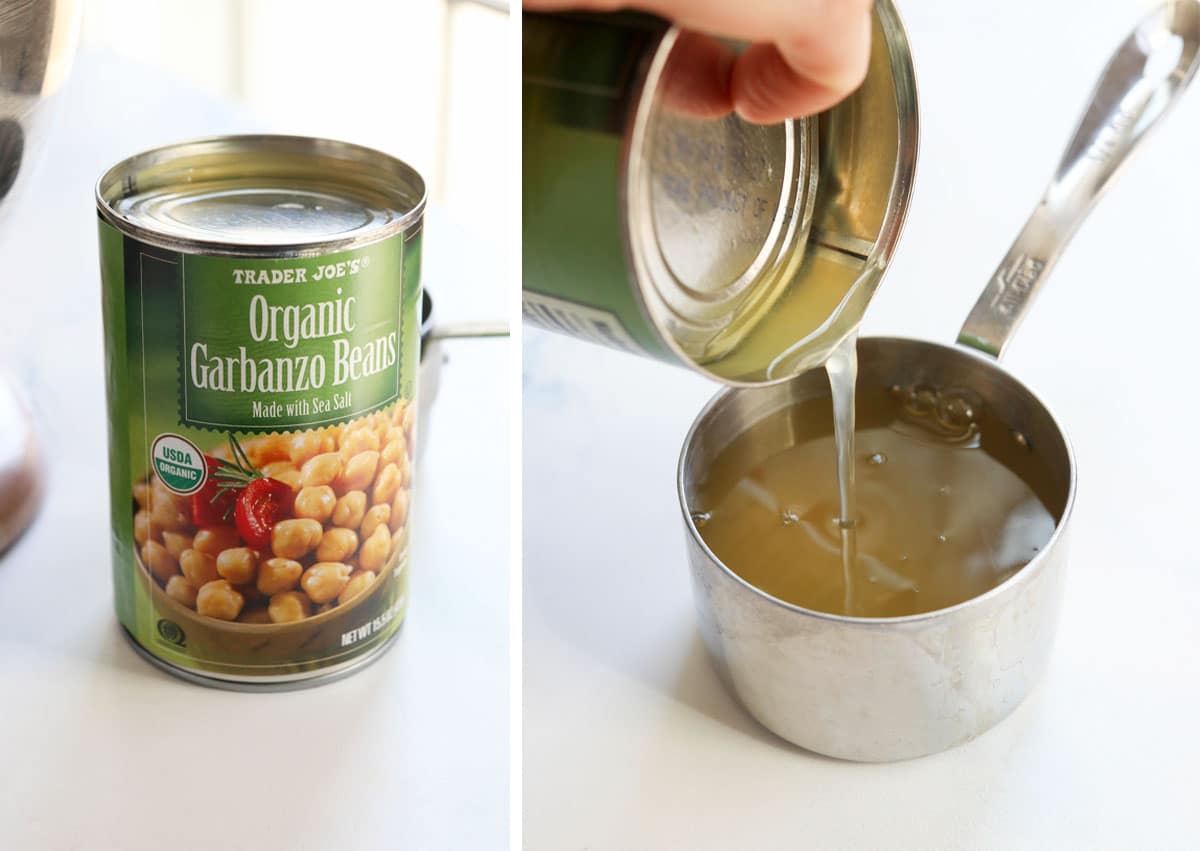 Typically you'd drain this liquid, but you can save it for a recipe like this one, instead! If you're not going to use the aquafaba right away, you can also freeze it for up to 3 months. (Try freezing it in an ice cube tray, for easy portioning.)
What can you do with Aquafaba?
Thanks to its unique properties, aquafaba makes a good egg substitute. Unlike flax eggs, it can be whipped into "stiff peaks" the way egg whites can, and I've used it in my vegan oat flour pancakes with great success.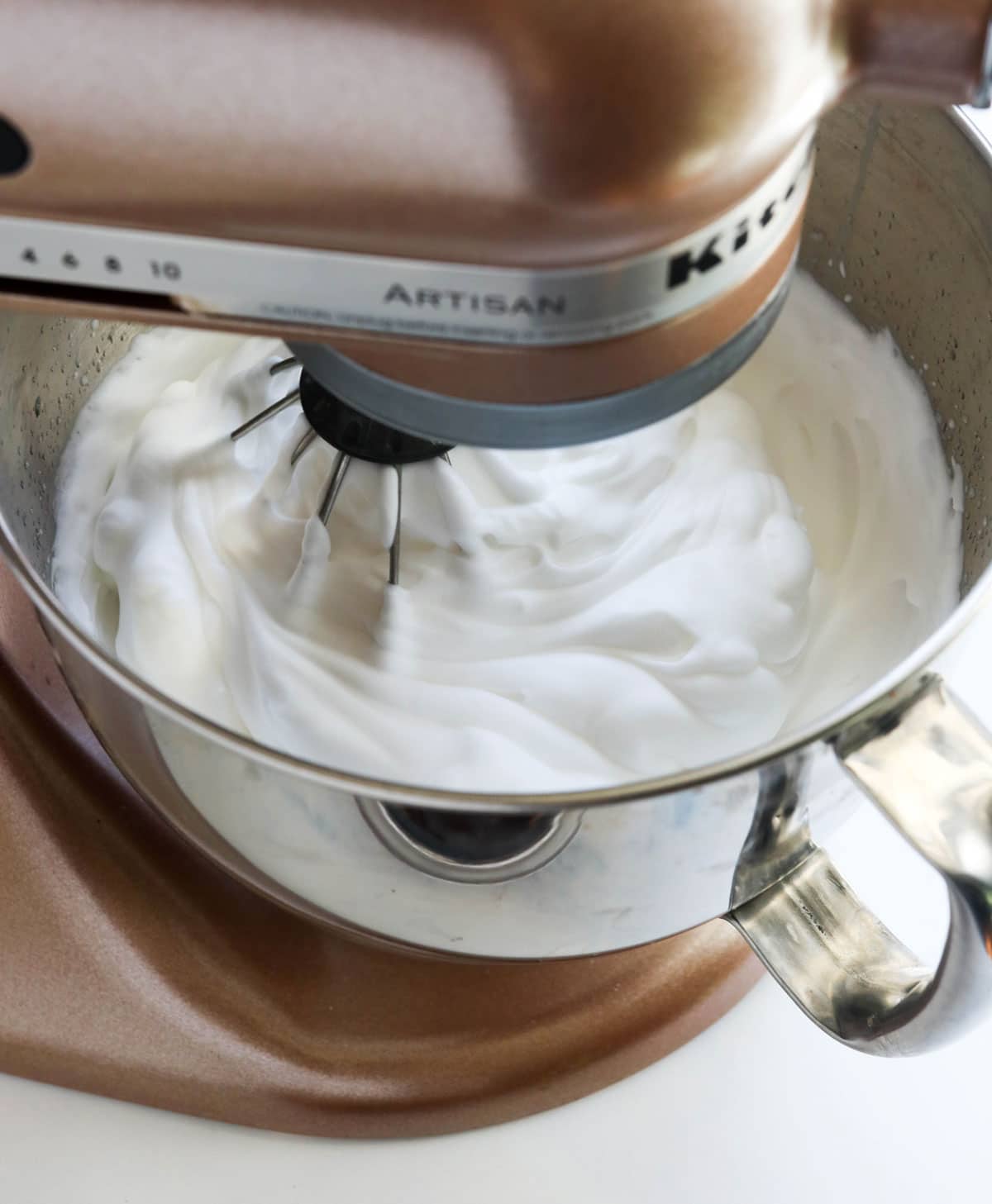 Note: Aquafaba may contain indigestible sugars, which is why many people rinse off canned beans before using them. I did not notice any excess gas or bloating while testing this recipe, possibly because it's a relatively small serving size when you divide this recipe into 6 portions. But, it's something I thought I'd mention, in case you'd like to look into it more.
Tips for Making Vegan Chocolate Mousse
I've experimented with this recipe more times than I'd like to admit (at least 20 times!), and I've learned a lot along the way. Here are my best tips for getting a fluffy aquafaba mousse:
Melt the chocolate first, and let it cool to nearly room temperature on the counter. I'd recommend waiting at least 20-25 minutes after melting it. If you add hot melted chocolate to the whipped aquafaba, your mousse will either melt right away, or have a grainy texture; neither of which is very appealing.
The lower the cacao percentage of your chocolate chips, the smoother the mousse will turn out. My favorite results were when I used chocolate chips with a percentage of 45-50% cacao. You can still use a chocolate that is closer to 70% if you want a less-sweet mousse, but the texture in that case will be a little stiffer. (My kids were almost able to roll the 70% chocolate mousse into a ball with their hands, to give you an idea of the texture.)
I do NOT recommend trying to make your own chocolate for this recipe. I tried it with a combination of coconut oil, cacao powder, and maple syrup and my mousse never did set. If you need a naturally sweetened dessert to impress, I recommend making my Chocolate Pots de Creme instead.
Use a stand mixer for the fastest results. An electric hand mixer works, too, but it's slower. I don't recommend trying to whip this by hand with just a whisk.
Use cream of tartar as a stabilizer. It's not 100% necessary in this recipe, but it makes the process more fool-proof, as your aquafaba will form stiff peaks faster.
Add the melted chocolate while the stand mixer is running. During my trials, I found that if I stopped the mixer to add in the chocolate, some of the chocolate would sink to the bottom and harden, without getting totally mixed in to the fluffy foam. This results in several hard chocolate pieces getting distributed into the mousse– which isn't a totally bad thing, but it's not the smooth fluffy texture we're going for.
You can use canned chickpeas that have been salted or not with this recipe; I haven't found that the added sodium makes a big difference in the final flavor (which surprises me!) but if you want to avoid the added sodium, look for canned chickpeas with no added salt.
How to Make Aquafaba Mousse
Making this mousse is easy, since it calls for only 3 ingredients, but it's important that you follow the steps closely if you want it to turn out well on your first try.
First, you'll melt the chocolate. I measure out 5 ounces using my food scale, but this is roughly a heaping 3/4 cup measurement if you want to measure the chocolate chips that way. (If you use mini chocolate chips, the measurement is a level 3/4 cup.)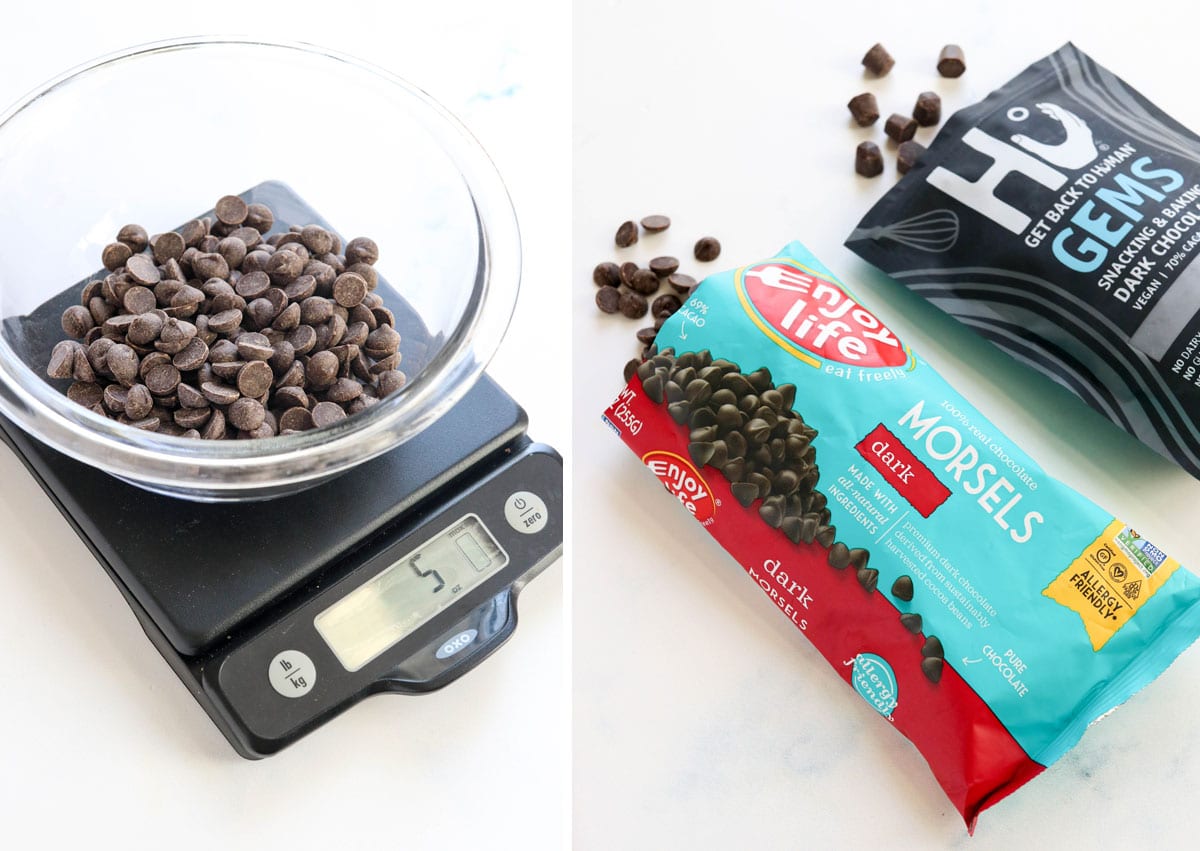 I use a double boiler to melt the chocolate on my stove top. To do this, you fill a small saucepan with an inch of water and bring that to a boil, then place an oven-safe bowl on top of that to hold the chocolate chips.
The heat from the boiling water below will gently melt the chocolate.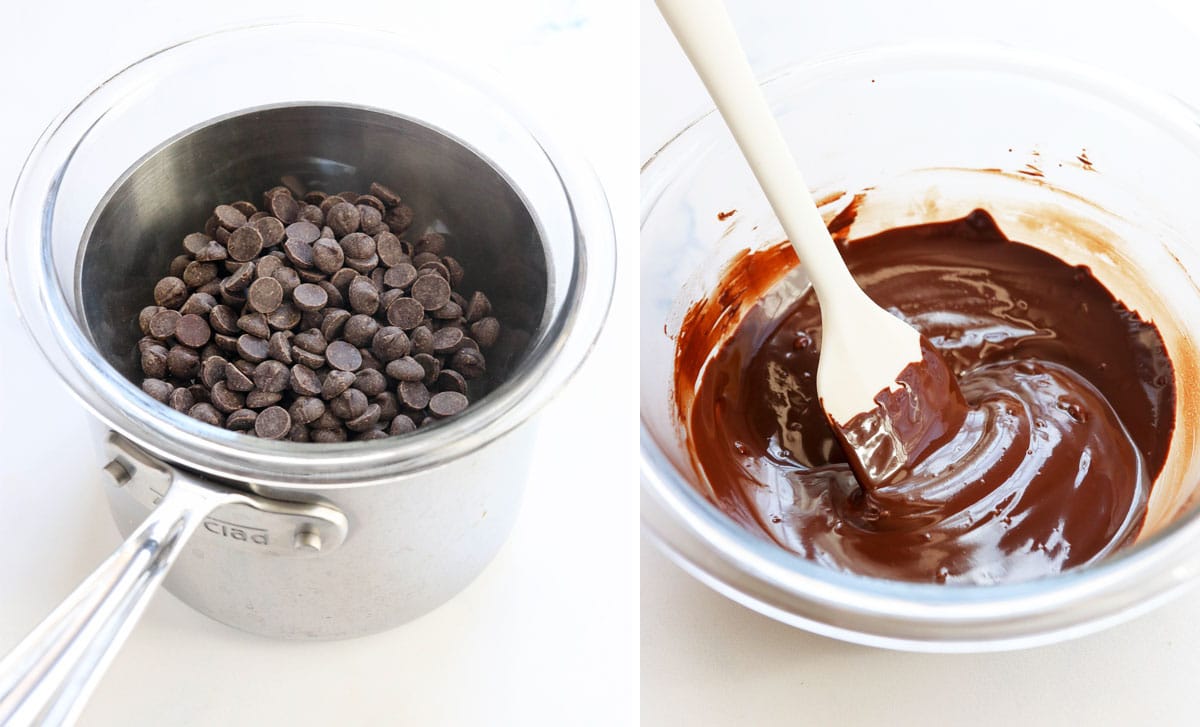 Once it's smooth, you'll remove the bowl of chocolate from the heat, and let it cool on the counter for 20 minutes.
If you don't have a stand mixer, you'll want to start whipping the aquafaba and cream of tartar together at this point, because it can take up to 15 minutes to create "stiff peaks" when using a hand-held electric mixer.
When using my stand mixer, I can whip canned aquafaba into stiff peaks, resembling whipped egg whites, in just about 3 minutes, so I don't start the mixer until my timer goes off, letting me know that the chocolate has cooled for 20 minutes.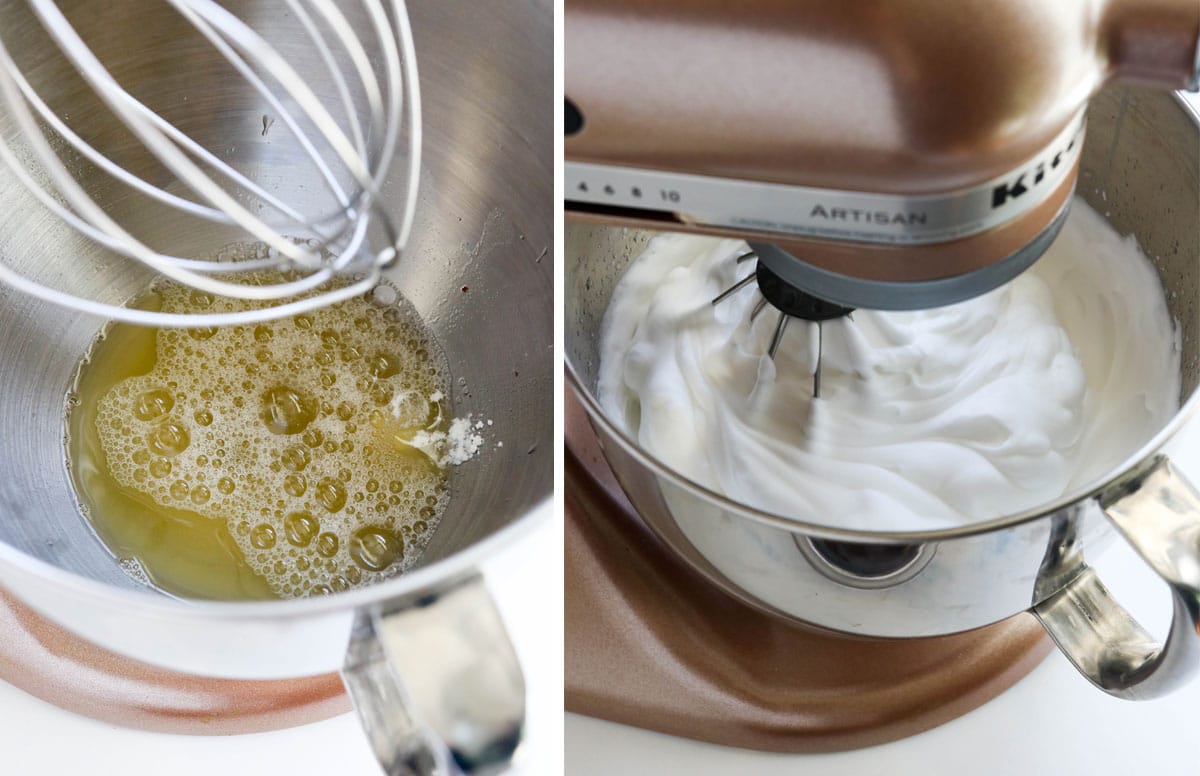 With the mixer running, pour the melted chocolate into the whipped aquafaba. The mouse may look fluffy right away, or it may deflate a bit, but it should have a slightly fluffy consistency either way. If you use hot melted chocolate, it will melt and may never fluff back up.
Pour the chocolate mixture into small glass jars, and smooth the top with the back of a spoon. The mousse is sometimes pour-able, and sometimes it's more scoop-able, depending on the type of chocolate you use and the exact temperature it was when you added it in.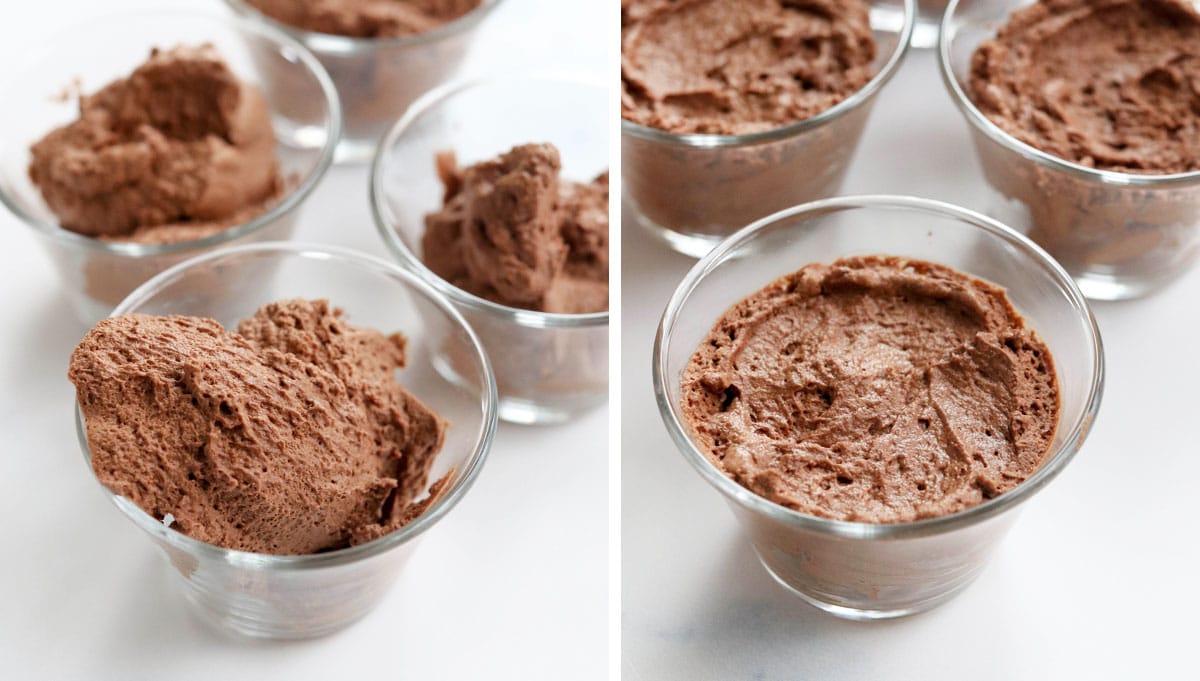 Let the vegan mousse chill in the fridge, then serve cold with your favorite toppings. I hope you'll enjoy this unique dessert!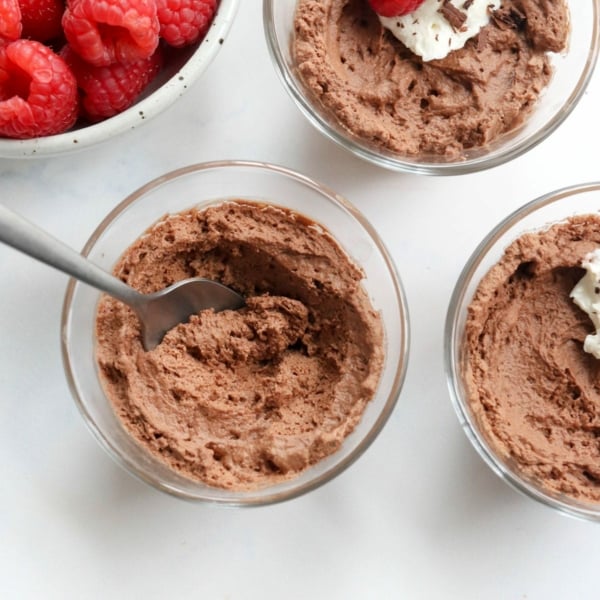 Chocolate Aquafaba Mousse (Vegan!)
This aquafaba mousse is easy to make, with only 3 ingredients. It's unbelievably light and fluffy, without using dairy or eggs.
Equipment
Ingredients
5

ounces

chocolate chips

(heaping 3/4 cup measurement; see notes)

3/4

cup

aquafaba

(liquid from a can of chickpeas)

1/4

teaspoon

cream of tartar
Instructions
Melt the chocolate chips, stirring until smooth. I do this by arranging a heat-safe bowl over a saucepan filled with an inch of water, to make a double-boiler. Bring the water to a boil, and let the steam gently melt the chocolate in the bowl above it.

Once the chocolate is smooth, set it aside to cool and set a timer for 20 minutes. (Do this if you're using a stand mixer; if you are going to whip the aquafaba with a hand held electric mixer or you're using another variety of bean liquid, you may want to start the next step right away, in case it takes closer to 15 minutes.)

When the timer goes off, pour the aquafaba and cream of tartar into the bowl of your stand mixer. Mix the two together, starting on low and then moving up to the highest speed possible, until the mixture creates a thick white foam that forms "stiff peaks." You should be able to turn the bowl completely upside down with nothing falling out. If you can't do that, keep whipping until it happens. This typically takes my stand mixer about 3 minutes when I used canned chickpea liquid. If you use home-cooked chickpea liquid, or the liquid from another type of bean, it can take up to 15 minutes of whipping.

Once you have achieved a fluffy white foam, keep the mixer running on a medium-low speed and pour the melted chocolate into the foam. It's normal for the foam to sink a little bit when you add the chocolate, but it should not be liquid-y. Stop and scrape down the sides of the bowl to make sure the melted chocolate gets evenly incorporated.

Depending on the type of chocolate you use, you'll either be able to pour the chocolate mousse into 6 small glass dishes, or you'll need to use a spoon to scoop it into the serving dishes. (I usually have to use a spoon to scoop it, because it's already fluffy.)

Let the mousse chill for at least an hour before serving. I like to top it with fresh berries and a dollop of coconut whipped cream. Leftover mousse can be stored in the fridge, tightly covered, for up to a week.
Notes
I recommend using a dairy-free chocolate chip that is 45-50% cacao for the best results, but I've also tested this with 70% dark chocolate and that works as well. (It's just less-sweet, if you're trying impress picky guests.) Many chocolate chip brands are dairy-free, but be sure to check the package to be sure of the ingredients if you need certified vegan chocolate chips. Enjoy Life and Hu chocolate brands make great vegan options.
Nutrition
Calories:
119
kcal
,
Carbohydrates:
16
g
,
Protein:
1
g
,
Fat:
6
g
,
Saturated Fat:
3
g
,
Cholesterol:
4
mg
,
Sodium:
16
mg
,
Potassium:
21
mg
,
Fiber:
1
g
,
Sugar:
15
g
,
Vitamin A:
53
IU
,
Vitamin C:
1
mg
,
Calcium:
27
mg
,
Iron:
1
mg
Nutrition info above is for 1 of 6 small servings. From my research, it appears that the calories and nutrients in aquafaba are pretty negligble (about 3-5 calories per tablespoon) so the calories will be determined by the type of chocolate you use.
If you try this recipe, please leave a comment below letting me know how you like it! And if you try something different, I'd love to hear how that works out for you, too. We can all benefit from your experience!
Chickpea Recipes
If you need some ideas to use up your leftover chickpeas, try one of these!
–
Reader Feedback: Have you ever worked with aquafaba before? What would you like to see next?