With the holidays fast-approaching, I feel like having some healthy meals on hand is more important than ever. Both of my kids have had runny noses this week, so I'm doing my best to avoid getting one myself!
As an Amazon Associate, I earn on qualifying purchases.
Speaking of, I used to pride myself on having a really strong immune system. There was a moment in time where I hadn't gotten a cold in years, and I attributed that to my healthy diet… but then my son started preschool. I don't know whether it's because kids get some sort of super-bugs, or if it's how they tend to cough directly in your face, but there's something about the germs that little kids bring home that make me more susceptible to getting sick more than ever before.
I had an event at Golden & Pine last week (thank you to everyone who came!), so I loaded up my body with extra supplements, took extra infrared sauna sessions, and went to bed at 9:30pm most nights to avoid picking up whatever my kids had. I'm happy to say that all of that self-care seemed to work!
We had a bunch of flourless brownies (from my Instant Pot cookbook) leftover from the events this past week, so if I'm being honest with you, I've had a brownie most days with my morning coffee. So, when I mention eating extra-healthy this week, what I mostly mean is NOT eating a brownie every morning to start my day. Sounds reasonable enough, right? Ha!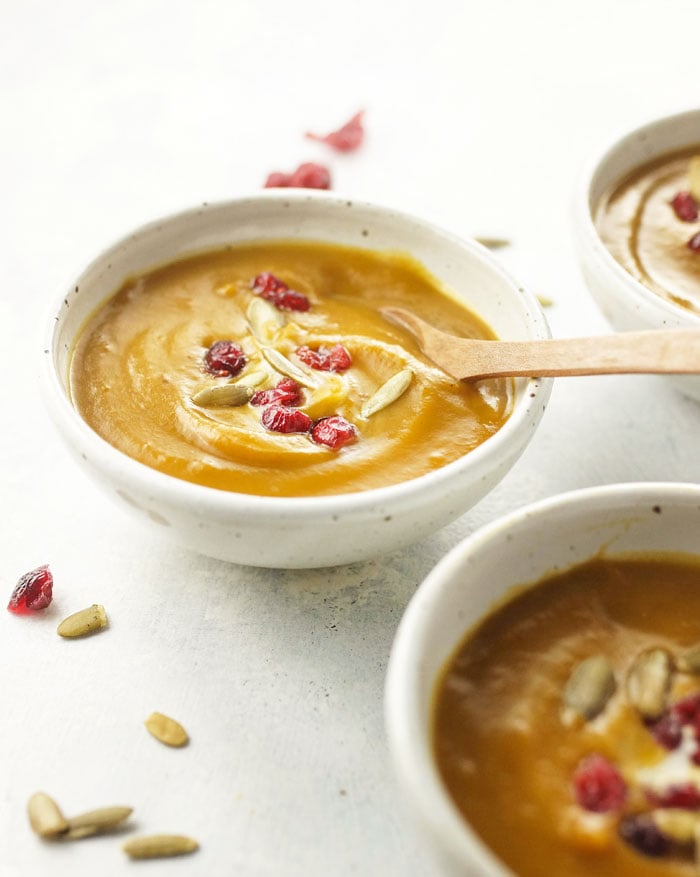 Here's my Meal Plan for the week:
Join me for Meal Prep LIVE!
I'll be making the Quinoa "Pasta" Salad during my LIVE cooking demonstration this week for easy make-ahead lunches. I hope you'll be able to join me on Facebook or Instagram this Monday night at 8:30pm CST. (9:30pm EST / 6:30pm PST) I'm happy to answer any of your questions while I'm there!
If you missed one of my previous cooking demonstrations, you can also watch them on my YouTube channel. If you click the red subscribe button, you'll be notified by email when I add a new video.
My Plan for Breakfast & Lunch:
We almost always have a smoothie for breakfast, like this Blueberry Detox Smoothie or Coffee Smoothie. When I'm craving something warmer, I'll make something quick on the stove, like this Zucchini Oatmeal. (I stirred pumpkin into this week for my daughter, instead of the zucchini, and it was great!)
For lunch, I'm going to plan on having the leftover Quinoa Salad for a few days, and then I'll rely on other leftovers as we go through the week. I rarely have the desire to make something extra for lunch, so I'll just reach for whatever happens to be in the fridge.
–
Reader Feedback: What are YOU planning to make this week? I'll be testing some more Thanksgiving recipes this week, so for next week's LIVE cooking demo I might make something for that instead!